How to Dehydrate Pickles and Use Pickle Powder
Dehydrate pickles and create an awesomely sour snack chip, or powder and have the best salty, sour, seasoning to use with popcorn, chicken salad, potato salad, and more! Use these easy instructions to extend the use of a boring jar of pickles!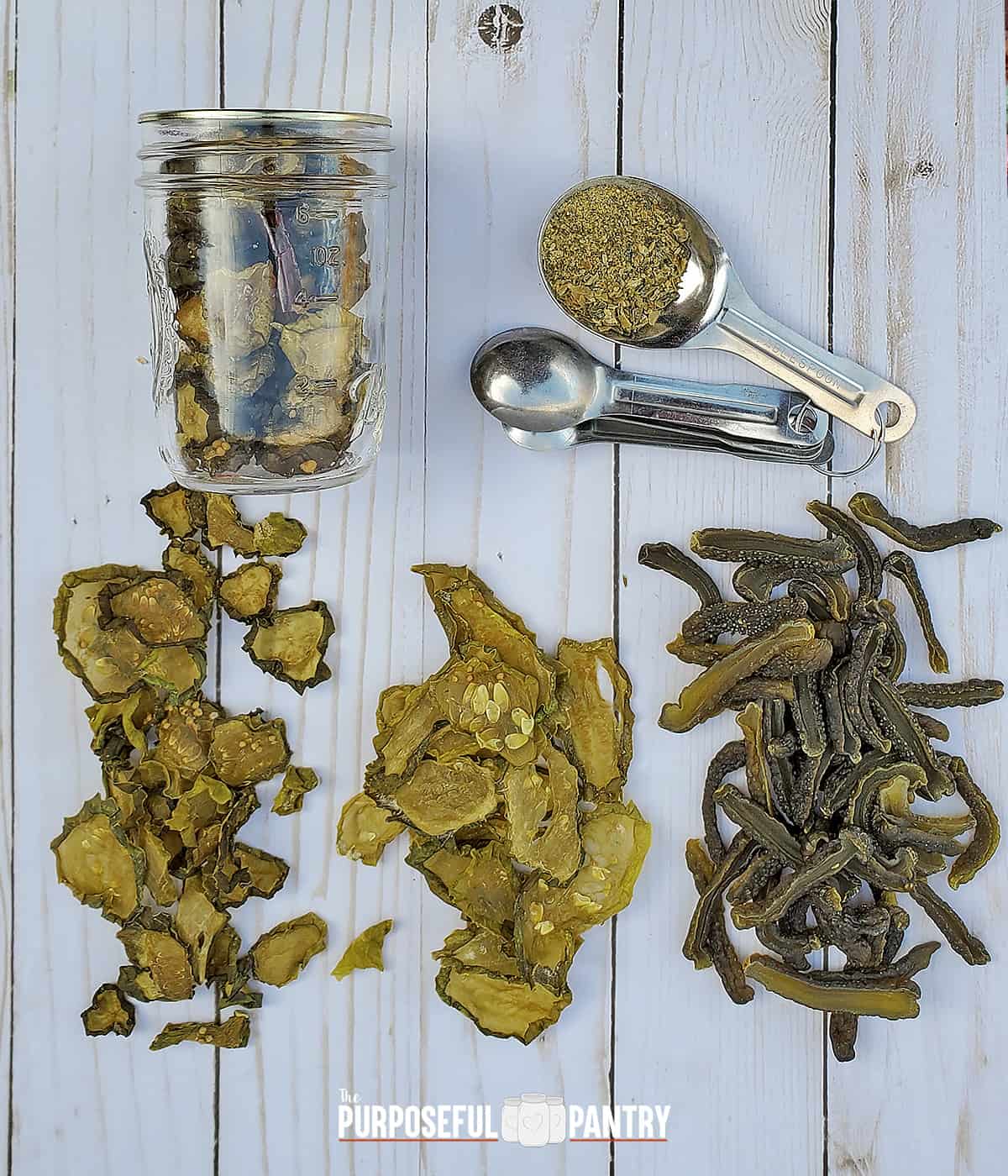 There are always those projects that I love trying because I can.

I was inspired by Shelle @ RockinWHomestead's awesome post about dehydrating pickles, but I wanted to take it a step further by dehydrating SWEET pickles, too!
Why?! Because I can, that's why! And I've got the t-shirt to prove it!
One thing I love about dehydrating is playing with different foods to see what the dehydrating process does for them. My oldest son loves pickles, so as a lark last year, we tried dehydrating some kosher spear pickles. We were SO taken aback by the salt that we didn't finish them.
But we both knew there was more to it. And after hearing people talk about how good it was on popcorn, we gave it another try and he's hooked forever.
But I knew there could be more to it. And with the great pickle experiment, I learned a few important lessons along the way, and wanted to bring you in on the fun, too!
How to Dehydrate Pickles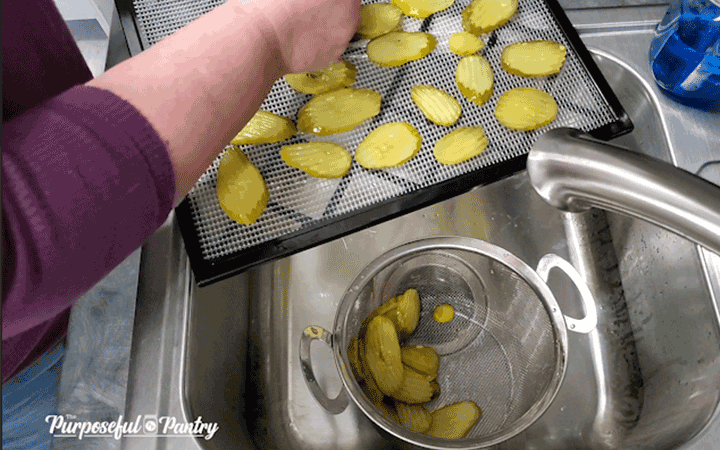 Step 1: Rinse Pickles
Even if you are a home canner, soak or rinse your pickles to help remove excess salt, vinegar, and other seasonings. This gets really concentrated during the drying process, and also contributes to a 'pungent' odiferous air quality in your home.

Because we did so many at once, it made our eyes water a little during this process.

The things I do for my readers! Just kidding – I love you guys!

But don't throw out the brine – here are ways you can use pickle juice!
Step 2: Cut pickles to size

• Spears and sandwich chips – no need to cut. The spears still have so much of the seed core that dehydrates down a lot. However, if your spears are very wide (think 1/2 of a large cucumber), you might want to cut it down lengthwise.
• Whole, half or gherkin type pickles should be sliced thin into 1/2″ to 1/4″ slices The thinner the slice, the crispier the dill and sour will be. Sweet pickles should be cut to 1/4″ to dry them more efficiently.
Step 3: Place on dehydrator trays
You may want to use parchment paper or fruit leather sheets to line your trays. Some pickles may stick after a time.
Step 4: Dry at 135°F / 57°C
Dill or sour pickles 4-8 hours
Sweet pickles – up to 18 hours
Step 5: Dryness Test
Sour and dill pickles should be dry, leathery, and break easily
Sweet pickles should be dry, may be tacky (but not sticky), and will pliable.
Step 6: Condition
Conditioning is important for anything you plan to put back for storage.
If you're only intent is to snack on these pickles in the next few days, conditioning isn't necessary.
Step 7: Store
Store pickles in an airtight container for up to a year. Sweeter pickles may be prone to sticking if you are in and out of the jar a lot. It may be helpful to use a moisture absorber with them to help control that.
When are Dehydrated Pickles Dry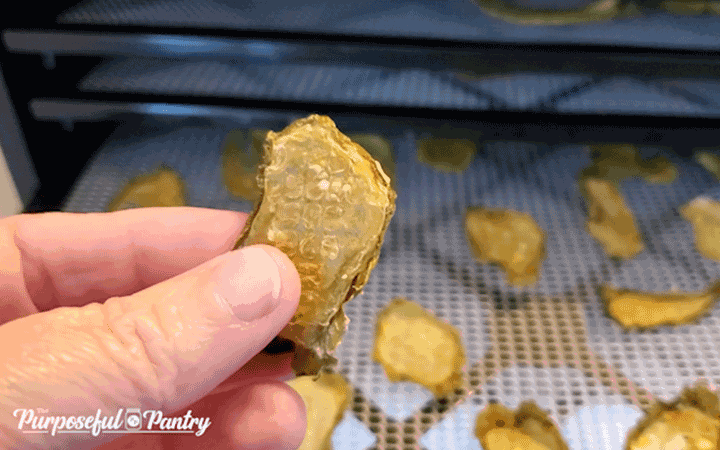 Dehydrated dill/sour pickles are done when they snap when bent. Even spears should be crisp and not slightly gummy.
Dehydrated Sweet pickles are done when they are dry, firm, and hard. However, they will not be crisp like a dill pickle. Some may have a gummy texture like thick commercial fruit roll-ups.
How to Condition Dehydrated Pickles
As with every dehydrating project, conditioning is an important step many neglect to do. Ensuring that your pickles have an equalized humidity between pieces, and are fully dehydrated, helps you keep safer produce on your shelf.
Place your pickles in an airtight container, with enough room for them to move when shaken. Store on a shelf for a week, making sure to shake the jar each day, and look for any signs of condensation.
If you see droplets of water, throw them back into the dehydrator to continue their drying process.
If you see white filaments or fuzzy white blotches, you've developed mold and should throw the contents out, altogether.
How to Store Dehydrated Pickles
Dehydrated pickles can be stored in an airtight container for up to a year on the shelf.
Vacuum sealing in mason jars is the best course for long-term storage, but a simple airtight lid for the short-term is fine. Whether you have a large vacuum sealer or a handheld device, you'll need these Food Saver jar attachments in order to vacuum seal mason jars. They work with most models of vacuum sealers that have a hose attachment.
How to Make Dehydrated Pickle Powder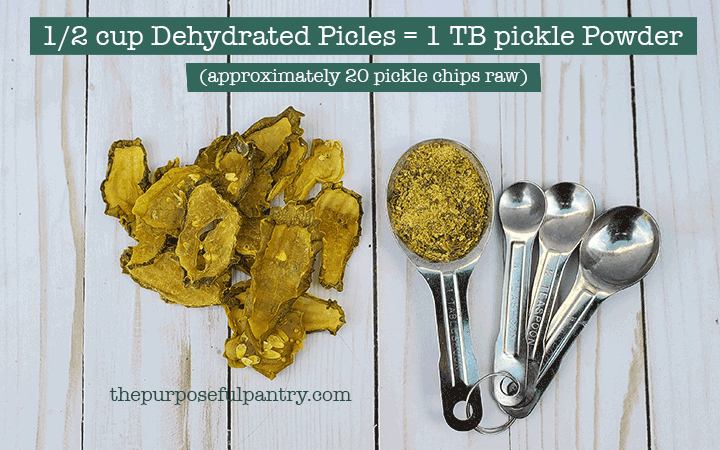 Simply grind fully dried pickles in the grinder of your choice. You need to have enough to create volume in something like the bullet blender that I use, but a coffee grinder would work just fine for small batches that pickles create.
Be sure to store dehydrated pickle powder in an airtight container appropriate to the quantity of powder that you have.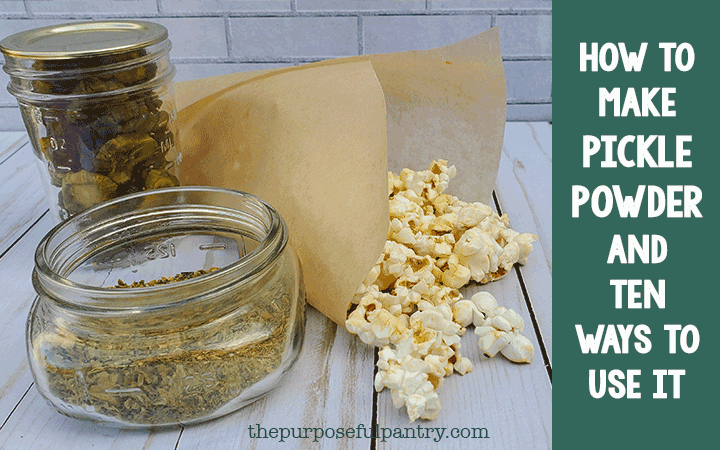 Ways to Use Pickle Powder
Popcorn – one obvious way is the vinegary, salty flavor pickle powder adds to popcorn.
Add to chicken salad or tuna salad without the texture of pickle pieces.
Sprinkle on top of deviled eggs for a tang or mix into the yolk mixture for a savory deviled egg.
Mix with sour cream, along with a little garlic powder, dill, and onion to create a salty, sour, creamy dip.
Sprinkle on dehydrated or roasted cauliflower popcorn. Add a little nutritional yeast for a salty, cheesy flavored snack!
Add to Bloody Marys.
Add to a plain hummus recipe for pickle hummus.
Sprinkle on burger meat.
Sprinkle onto raw, thin, potato slices prior to dehydrating for some Salt & Vinegar 'chips'.
Dust bread & butter powder on ice cream. No, you don't have to be pregnant to do it!
Watch my video to see the process as it happens.
Consider subscribing to my channel, too, for more dehydrating, canning, and food preservation videos coming in 2020!
Ways to Use Pickle Juice
Now that you've created these awesome dehydrated pickles, what do you do with the leftover pickle juice?
DO NOT THROW IT OUT!
Here are some creative ways that you can use that pickle juice!
Soak chicken breast or tenderloins before breading and baking/frying (its a secret to Chick-fil-A chicken, too!)
Drink it! The health benefits of the brine from building potassium to
Make more pickles! You can slice cucumbers into the brine, and store in the refrigerator to create refrigerator pickle slices after about two weeks.
Pickle eggs: Plop in some hard-boiled eggs into the brine and store in the fridge.
Quick-pickle celery sticks: Celery loses moisture pretty quickly, and putting stalks in water to store in the fridge helps keep them nice and crisp. But think about how they'll taste taking in the pickle brine, instead!
Tip: More ways to use pickle brine and not waste a drop!
A Word of Warning about Sodium Content
I'm using commercially canned pickles. The sodium content was from 110 to 220 mg per serving – which is only four slices. So if you are someone watching their sodium intake for any reason, be careful with dehydrated pickles. It will be so easy to over snack – you can't have just four! Well, you can, because they are SUPER salty!
Remember, your results may vary with home-canned and home pickled pickles, depending on how much salt is in your recipe.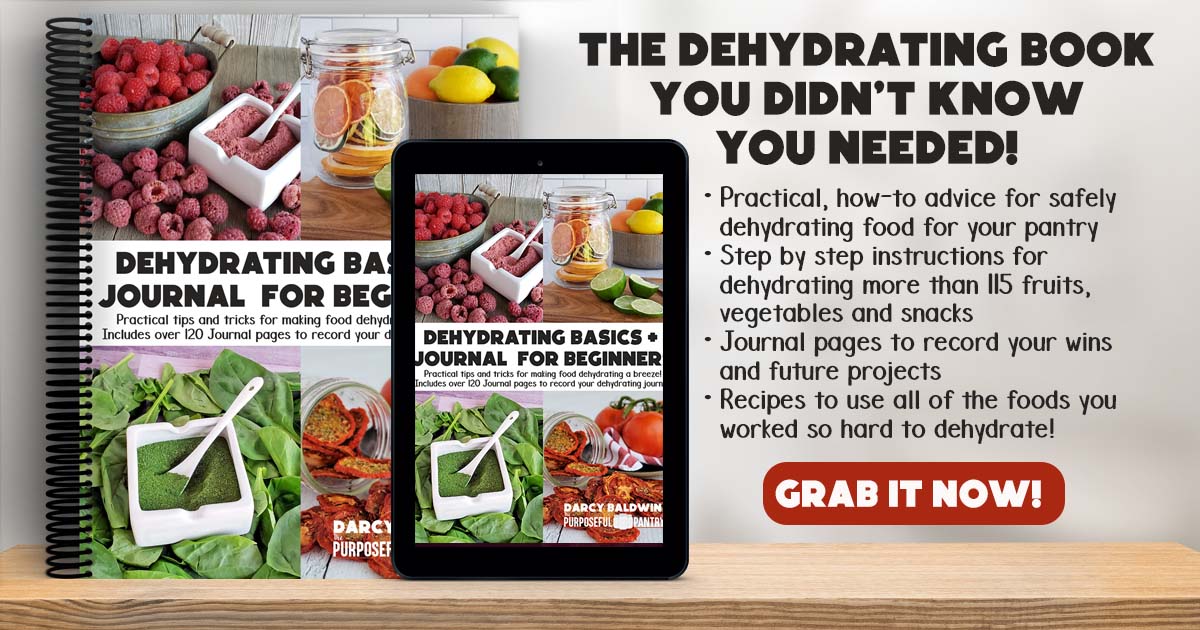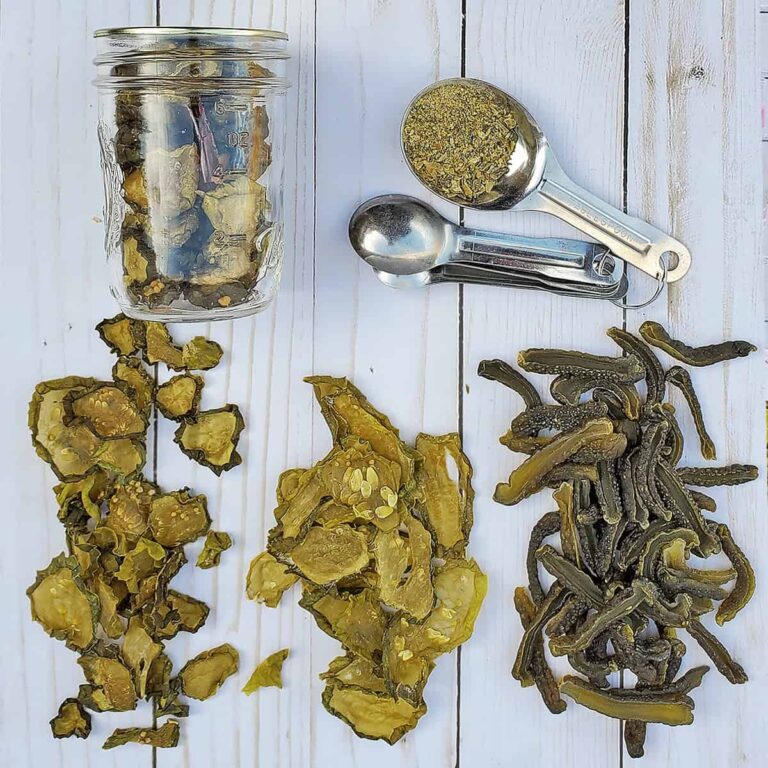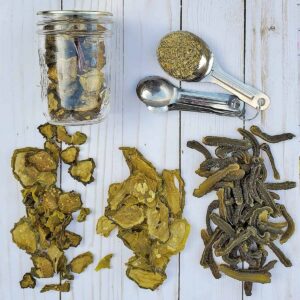 Dehydrate Pickles & Pickle Powder
Dehydrate home canned or storebought pickles for a salty, briney treat that also powders up to make the perfect seasoning for chicken salad, popcorn, etc.!
Print
PIN THIS!
Rate
Ingredients
Pickles

Any kind -sweet, dill, spear, bread and butter, etc.
Instructions
Soak pickles in cold water or double rinse

Slice whole pickles into 1/4" slices
DEHYDRATE
Dry at 135°F / 57°C until throughly dry – anywhere from 4-18 hours depending on size and sweetness.

Store in an airtight container.
POWDER
Place pickle slices into grinder of your choice, pulse to break up, full to powder

Store in an airtight container (sweet pickle powder may clump)
Video
Darcy's Tips
Preparation:
Rinse or soak well. Don't miss this step – your pickle chips may be too salty for your taste if you don't do it.
To Use:
Use as a popcorn seasoning
Use to enhance the salty pickle flavor in chicken salad, on deviled eggs, in rubs
Use on burger meat
Add to hummus
get creative!
Sweet pickles work as chips and can be more 'gummy' than crisp, but are a fun way to use them.
Condition: Place food into a large glass jar, shake once a day for a week to check for any signs of moisture buildup or sticking that isn't released by an easy shake of the jar. If you find signs, put it back into the dehydrator to dry more.
Storage: Store in an airtight container for up to two years in a dark, cool, dry place.
Nutrition
Serving:
4
pieces
|
Calories:
0.5
kcal
|
Carbohydrates:
0.1
g
|
Protein:
0.02
g
|
Fat:
0.02
g
|
Sodium:
32
mg
|
Potassium:
4
mg
|
Fiber:
0.04
g
|
Sugar:
0.1
g
|
Vitamin A:
7
IU
|
Vitamin C:
0.1
mg
|
Calcium:
2
mg
|
Iron:
0.01
mg
Nutritional information is an estimation only. Nutrient information for dehydrated foods is based on fresh. Use 1/4 of the servicing size for the same nutrient information. Thus 1 Cup of fresh fruit has the same sugars as 1/4 dried.
©ThePurposefulPantry. Photographs and content are copyright protected. Sharing of this recipe's link is both encouraged and appreciated. Copying and/or pasting full recipes to any social media is strictly prohibited.