Making healthy pumpkin waffles is easy with this quick, tasty recipe that uses canned pumpkin puree with extras to elevate the nutrition of your waffles!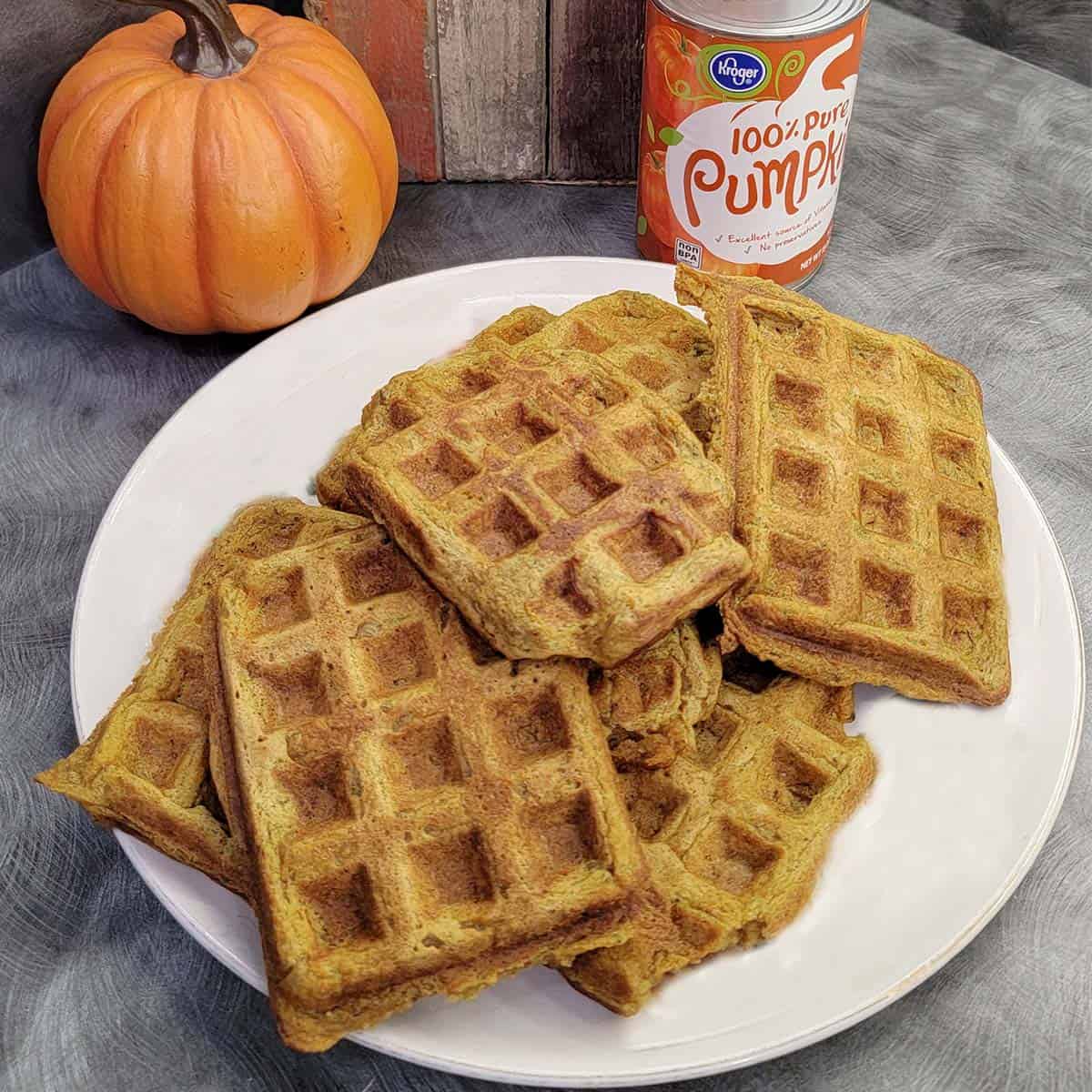 Before we even get started, I'm going to share a huge secret with you!
You can make these pumpkin waffles from ANY waffle recipe of your choice. If you prefer having a general baking mix, or like using a particular protein-packed waffle mix, or have your grandmother's favorite recipe - here's the secret:
Replace each egg in the recipe with ¼ cup pumpkin puree
Yep - that's all there is to it!
Healthy Pumpkin Waffles Recipe
This health(ier) pumpkin waffle recipe is so versatile. You can use the flours of your choice, all flour, all whole wheat, or combinations that you love. You can also add in any extra nutritional ingredients you need (extra protein powder, green powder, and even cacao chips or powder - sometimes I sneak in some chocolate chips for a fun dessert waffle)
Equipment
Ingredients
2 oz (4 tablespoons) butter, melted (if using salted butter, leave out salt in recipe)
1 cup flour
1 cup whole wheat flour
½ teaspoon baking soda
1 teaspoon salt
3 tablespoons brown sugar (out of brown sugar, make your own!)
2 tablespoons chia or flax seed meal
2 tablespoons vegetable powder (optional, but learn how to make your own!)
¾ cups pumpkin puree (about ½ standard 15 oz can)
16 oz of milk of your choice - higher fat milk works best, room temperature preferred
This recipe is inspired by Alton Brown's Buttermilk Waffle Mix
Instructions
Melt butter in the microwave or on the stovetop, allow to cool while gathering other ingredients.
Prepare your waffle iron
In a mixing bowl, mix dry ingredients
In another bowl, mix wet ingredients
Using the muffin method, mix wet ingredients into the dry ingredients
Gently fold ingredients until dry is just incorporated into the wet
Walk away - allow mix to sit for a few moments
Spray waffle iron with high heat oil (or follow the directions for your waffle maker)
Pour in waffle batter
Cook until crispy on the outside
Alternative Ingredients
For Milk - use buttermilk, soured milk (1 tablespoon of vinegar per cup of milk and allowed to sit at room temperature for about 30 minutes), almond milk, coconut milk, powdered milk, etc. A higher fat content helps with the crispiness of the waffle's surface.
For Vegetable Powder - Vegetable powder is home dehydrated and ground ingredient that you can leave out, but it's a great way to sneak some extra nutrients into meals for the whole family! You can also use 1 tablespoon of green powder, as well
For Butter - this is to help 'crisp' the batter of the waffle, so you can use ghee, coconut oil, or other vegetarian or vegan substitutes.
For Flour - use all white flour or all whole wheat flour. This recipe has not been tested for alternative flours.
Boost nutrition:
While I don't follow a special diet as a health issue, I do know many need to have alternatives for dietary concerns, health concerns, or personal preferences. I'm offering these alternatives for ingredients, but you know your dietary needs better than I do, so use these merely as examples of what can be done. You'll need to choose according to your own needs.
Watch me make Pumpkin Waffles & Easy Pumpkin Butter!
Using Dehydrated Ingredients
Freezing Instructions
Pumpkin waffles freeze well for about six months
Place waffles in a layer on a cookie sheet in the freezer
Once frozen, package in airtight container
To reheat
Pop into the microwave for 25-30 seconds until heated through
Pop into the toaster until desired crispiness
Topping Suggestions
Easy Pumpkin Butter - this topping is quick and easy to make while your waffles cook
Maple syrup
Nut butters
Easy Pumpkin Butter
Honey
Pepitas (hulled pumpkin seeds)
Whipped cream and shaved chocolate for a dessert waffle
Cinnamon
Can I use homemade pumpkin puree?
Yes, but remember that most homemade pumpkin puree is thinner than the can. So you'll want to adjust your recipe at the end to get the desired density.
Can I use this recipe for pancakes?
Yes! Just omit brown sugar and butter from the recipe. You might find that you need to adjust the density at the end, by adding a little more milk or water to the recipe.
Even More Pumpkin Recipes
How to Dehydrate Pumpkin and Make Pumpkin Powder
Easy Pumpkin Butter
How to Dehydrate Canned Pumpkin
Healthy Pumpkin Waffles
Making healthy pumpkin waffles is easy with this quick recipe that uses canned pumpkin puree with extras to beef up the nutrition of your waffles! Bonus Quick and Easy Pumpkin Butter Recipe, too!
Ingredients
2

oz

(4 tablespoons) butter, melted (if using salted butter, leave out salt in recipe)

1

cup

flour

1

cup

whole wheat flour

½

teaspoon

baking soda

1

teaspoon

salt

3

tablespoons

brown sugar

2

tablespoons

chia or flax seed meal

2

tablespoons

vegetable powder

(optional)

¾

cups

pumpkin puree

(about ½ standard 15 oz can)

16

oz

of milk of your choice - higher fat milk works best

, room temperature preferred
Instructions
Melt butter in the microwave or on the stovetop, allow to cool while gathering other ingredients.

Prepare your waffle iron

In a mixing bowl, mix dry ingredients

In another bowl, mix wet ingredients

Using the muffin method, mix wet ingredients into the dry ingredients

Gently fold ingredients until dry is just incorporated into the wet

Walk away - allow mix to sit for a few moments

Spray waffle iron with high heat oil (or follow the directions for your waffle maker)

Pour in waffle batter

Cook until crispy on the outside

Top with your favorite ingredients
Nutrition