When homemade brown sugar is so easy to make, tastes so much better than the store-bought version, why haven't you tried making your own brown sugar, yet?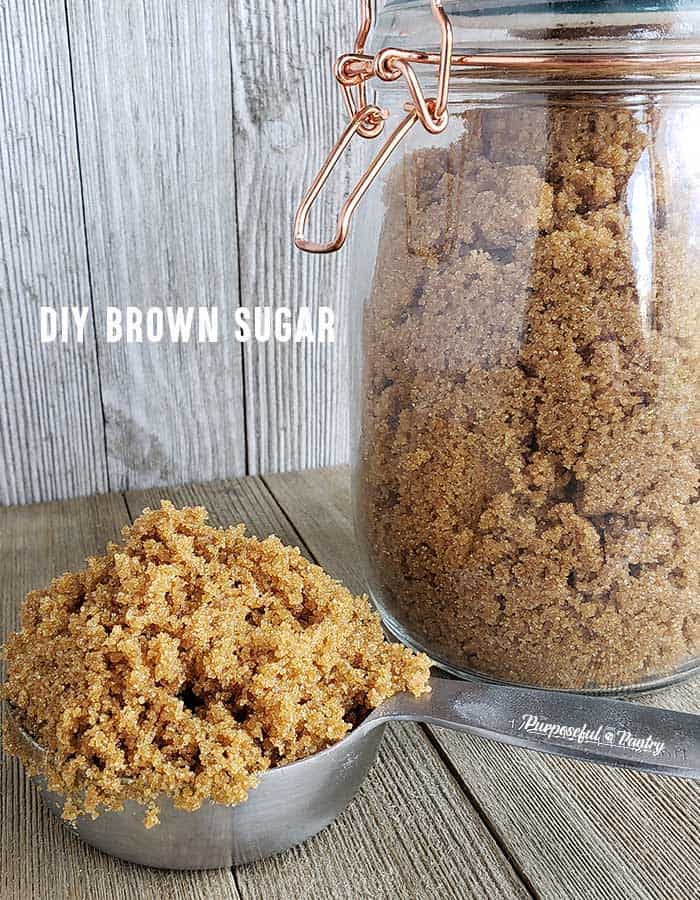 While I do stock a lot of white sugar, I don't store brown sugar, even when it's on sale. It's just too easy to whip up a quick batch, and it tastes SO much better than the stuff at the store. It's part of my Basic Pantry Staples List (here's a free printable checklist to get you started) that I recommend for everyone.
But did you know, that in the process of making sugar from sugar cane, the pressed liquid that you get from crushing sugar cane is, in fact, molasses! Then that liquid is concentrated into a syrup which is basically sugar crystals covered in molasses! It's natural brown sugar!
Of course, that syrup is separated into sugar crystals (which are then refined a bunch to get to white sugar) and the molasses. In the store, the brown sugar you're purchasing is white sugar + molasses. But I can tell you ...it's a blander version of what you can make at home!
How to Make Homemade Brown Sugar
Before we start, let me say that brown sugar is easy to make and VERY forgiving. If it's too dark for your tastes, add a little more sugar. If the flavor isn't deep enough, add a little more molasses.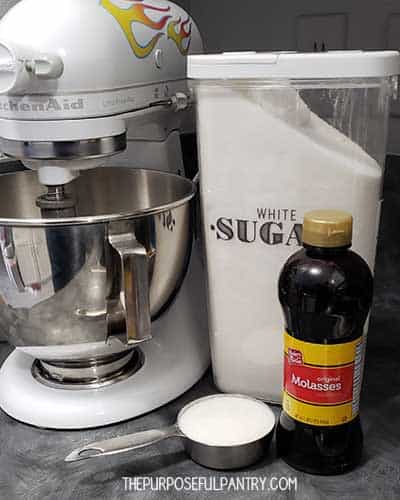 Ingredients
The ratio you use is really to taste. You'll find lots of different ratios depending on which website you visit. My ratio is heavy on the molasses
That's it. Just two simple ingredients.
Now you have the first of many of your own homemade pantry staples to add to your storage!
Directions
You don't even need a stand mixer if you want to do this by hand, with a hand mixer, an immersion blender with a whisk, or even in your food processor. Or let the kids have fun with grandma's old fashioned egg beater.
1. Pour molasses into the bowl of sugar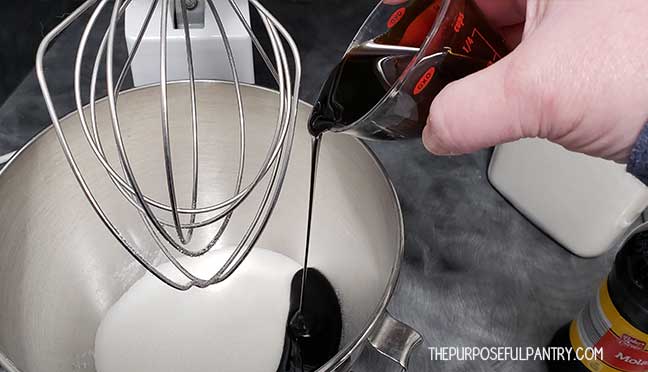 2.Mix well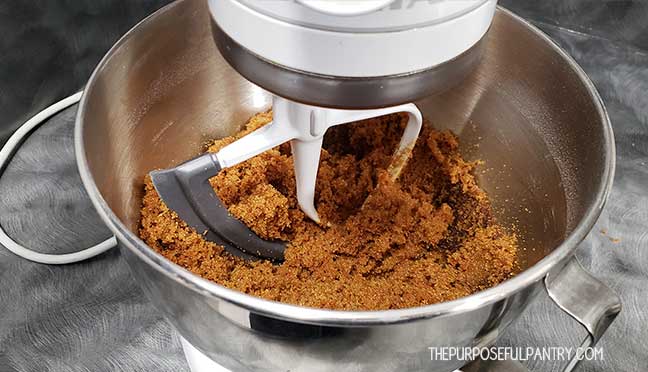 I love this after-market scraper/paddle for my Kitchenaid. I only wish I'd purchased the 2-sided version paddle!
3. Scrape down the sides
4. Adjust the mix according to your taste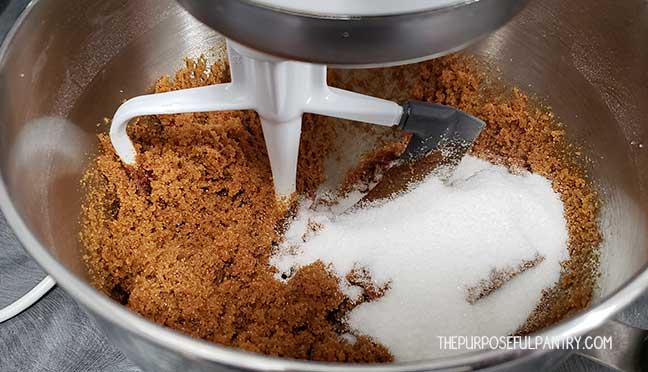 If you find the ratio is too dark for you, add more sugar. If it's not dark enough, add more molasses.
5. Store in Airtight Container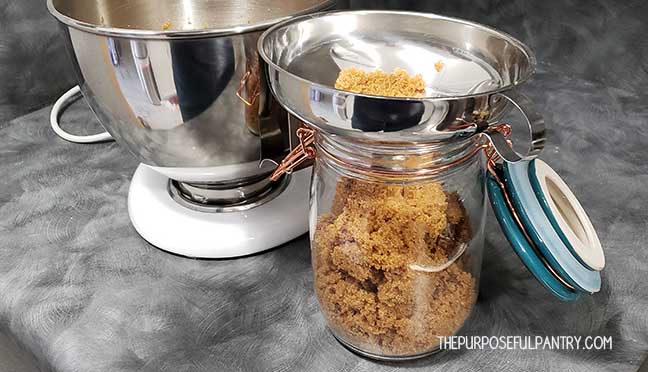 Items I used in this process:
You can also find more recommendations on tools I use to stock my pantry on The Purposeful Pantry Recommends page.
How to Store Homemade Brown Sugar
Store brown sugar in an airtight container. It for quite a long time. (Molasses is a food you can store unopened for up to ten years, and opened up to five. But keep an eye on changes in texture or quality then replace).
You can add a bread slice (that heel piece is great for this) to help keep the brown sugar moist, or consider using a Sugar Keeper, which is a brown terra cotta disc that helps maintain moisture. Better yet, use the Sugar Saver container that is an airtight container that houses the terra cotta disc in the lid so that it doesn't get in your way.
How to Soften Hard Brown Sugar
If you do find that your brown sugar has hardened (this is simply moisture wicking away over time and binding the sugars), here are some easy ways to soften it again for quick use.
How to use Homemade Brown Sugar
Remember...brown sugar measurements are always a packed measurement, unlike regular sugar that is a scoop. The moisture allows the sugar to be fluffier by nature, so be sure to pack it in to get equivalent sugar measurements.
However, the joy of Homemade Brown Sugar is that you can make just want you need each time, and not have to worry about storing it!
Does it Matter if I use Light or Dark Brown Sugar in a Recipe?
The only reason it matters is your taste preference.
While dark sugar has more molasses, thus is a little more acidic and a little more hygroscopic (meaning it holds more moisture), you'll have slightly fluffier, slightly moister cookies, especially if you have baking soda in the recipe.
But the only real change is in the depth of the toffee caramel tones in the final product. I prefer dark brown sugar in just about everything I make, so I make my brown sugar a little heavy on the molasses.
SHARE YOUR THOUGHTS: If you store brown sugar long term, how do you do it?
Other Pantry Posts you might enjoy:
Be sure to pin this DIY to your Pinterest Boards for safekeeping! Make sure to follow me on Pinterest for more great DIY ideas for stocking your pantry!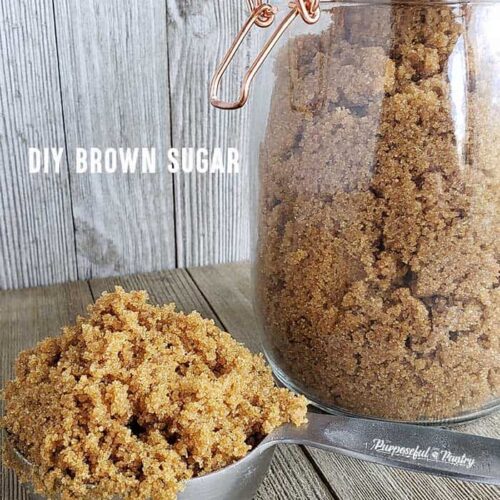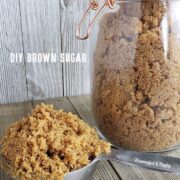 Homemade Brown Sugar Recipe
The easiest diy brown sugar recipe ever! Tastes so much better than storebought, and is less expensive, too!
Print Recipe
Equipment
Spoon (though a handmixer or stand mixer is helpful when doing large quantities)
Ingredients
1

Cup

sugar

1.5

TB

molasses
Instructions
Store in an airtight container
Notes
Notes: 
You can adjust the lightness or darkness of this recipe by adding more molasses for a deeper, darker flavor. 
If yours is a little too dark, add a bit more sugar to lighten it.