Have you wanted to learn how to store dehydrated foods? Here's a basic guide on all you need (which is very little, actually!)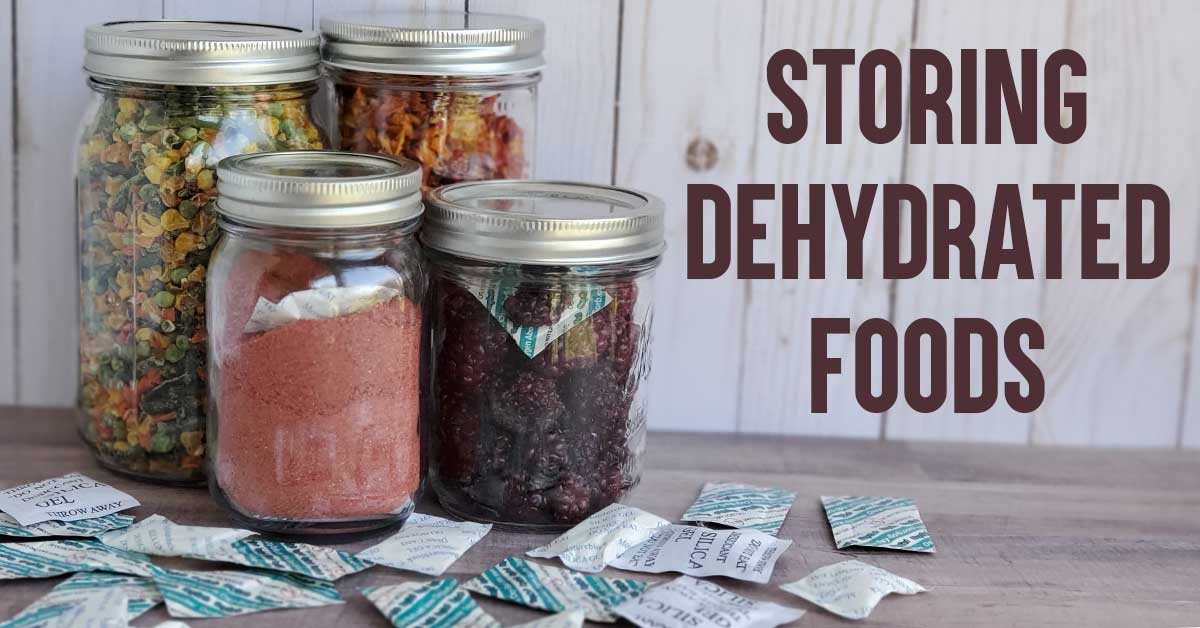 How long do dehydrated foods last?
Properly dehydrated, conditioned, and stored, dehydrated foods are good up to 1-2 years according to the National Center for Home Food Preservation. However, you can likely get a few more years out of that in many cases.
With proper vacuum-sealing techniques, foods can last much longer. Two years is a good time for most foods as textures can begin to degrade (in some foods faster than others - tomatoes are a prime example). Some people find that their foods still have good taste and quality for up to five years!
How do you know if fruits and vegetables are dry?
What Containers to Use?
Airtight containers are what is needed for storing dehydrated foods. Here are few you can choose from:
Canning / Mason Jars
These are the easiest and most flexible of containers to use. They can be used as-is, as long as you are storing in a jar that is equivalent in volume to the food you are storing. In other words, don't use a giant jar for a small amount of dehydrated food.
Jars should be clean (hot soap and water wash is enough, but you can run through a sanitizing cycle on your dishwasher or boil them if you desire the extra clean), dry, and free of knicks and cracks.
A benefit of canning jars is that you can use them over and over again without waste.
They can also be vacuum sealed to help extend the life of your food on the shelf. Here's the handheld vacuum sealer that I use. While the jar sealer attachments that are necessary for this are currently out of stock, you can preorder for the next round here.
How to Use a Brake Bleeder to Vacuum Seal
Another option is using a brake bleeder to vacuum seal your jars. I've included it in my 4 ways to vacuum seal a canning jar video below or you can watch it in its own video here.
What about reusable canning lids? Unfortunately, no! Watch the video here on using Harvest Guard reusable canning lids. There's no tested length of time on them since the company has not provided information on that.
You may have success using a brake bleeder to get your reusable canning lids to seal, but because there is no safe, tested method with reliable results, use them for canning and regular dry storage.
Vacuum sealing bags
Vacuum bags are best for storage of items for the freezer, but can handle dehydrated goods that are not sharp or pointed.
Sharp and pointed edges can eventually puncture the plastic and ruin all of your hard work by allowing air to get in even the smallest of puncture holes. (These generic brand vacuum-seal bags work just as well as the name brand!)
You can see how to use a vacuum sealing bag with a vacuum sealer here.
To use with dehydrated foods, it's best to wrap the dried food in parchment paper, then insert into the vacuum seal bag for sealing. This helps protect the bags from punctures.
Also be mindful that many dehydrated foods are easy to crumble, and vacuum sealing and storing can crush and break them down to small pieces.
A tip: Use a much bigger bag than you need the first time. Open, wash, and cut down to reuse so extend their life.
Mylar Bags
Mylar bags are perfect for long-term storage of dehydrated goods. They are easy to vacuum seal with an O² absorber (see more info on that below), or if they are the rough inside version, they can be vacuum-sealed. They are not easily punctured by dehydrated foods, but are not rodent-proof, so store in larger rodent-proof canisters if needed.
Tip: Do not use mylar bags with clear windows or zipper tops for long-term storage. Both of these options are air permeable and will fail for your storage after a time.
Airtight Containers
Any airtight container will work - but test to make sure it's truly airtight. If you can squeeze the sides and hear air escaping, it's not airtight. Commercial glass jars with good lids, Tupperware, other plastic ware with good seals, lids with silicone inserts.
Zipper-top Bags
While these are not good for short to long-term storage, they are good for storing smaller quantities that will then store in a larger airtight container. Just be sure to use the thicker freezer versions.
I often store things in container sizes in a zip-top bag, then store them in one larger container to make segmenting easier for me. They are also fine for items like fruit leathers that are going into the fridge for a few days, or for jerky going into the freezer for a month or two.
Where to store dried foods?
Dehydrated foods do best in a cool, dark space. As with all food, light, heat, oxygen, and moisture can degrade food's potential for storage.
A closet, a cabinet, a bookcase with a cover over it, a food grade bucket, etc. are the best places to store your dehydrated foods.
Storage Tips
Condition first - nothing is worse than pulling dried fruit out of your machine, putting it into storage, and finding it molded two months later. Follow proper drying and conditioning, and you'll be fine.
Package in smaller quantities - instead of trying to store in a large container that is exposed to air each time you open it, try a daily use container and one you store the excess in.
Powder only as needed - dried foods last longer in their whole form than powder form, so powder only as much as you need for the next month or two.
Label jars - Trust me - dried herbs all look the same, and some may lose their initial smell (crumbling brings it back). Powders all begin to look alike when you have a lot of them. Label your jars with the food item and date dried.
How Long do Dehydrated Foods Last?
By the safety standards of the NCHFP if foods are properly prepared, dried, conditioned, and stored:
Dehydrated Foods up to two years years
Powders for 6-9 months
However, we know that practically, dehydrated foods can last up to five years or more. But some foods, such as tomatoes, will begin to lose taste, texture, and color faster than others, so keep an eye out. This is also another reason why blanching is important for dehydrating some foods!
Powders, on the other hand, like herbs and spices, have a shortened shelf-life because so much more of the surface area has been processed and exposed to light, heat, air, and moisture. So it's best to store whole, and powder on demand.
O² Absorbers VS Desiccant Packs - When, Why, and How to Use Them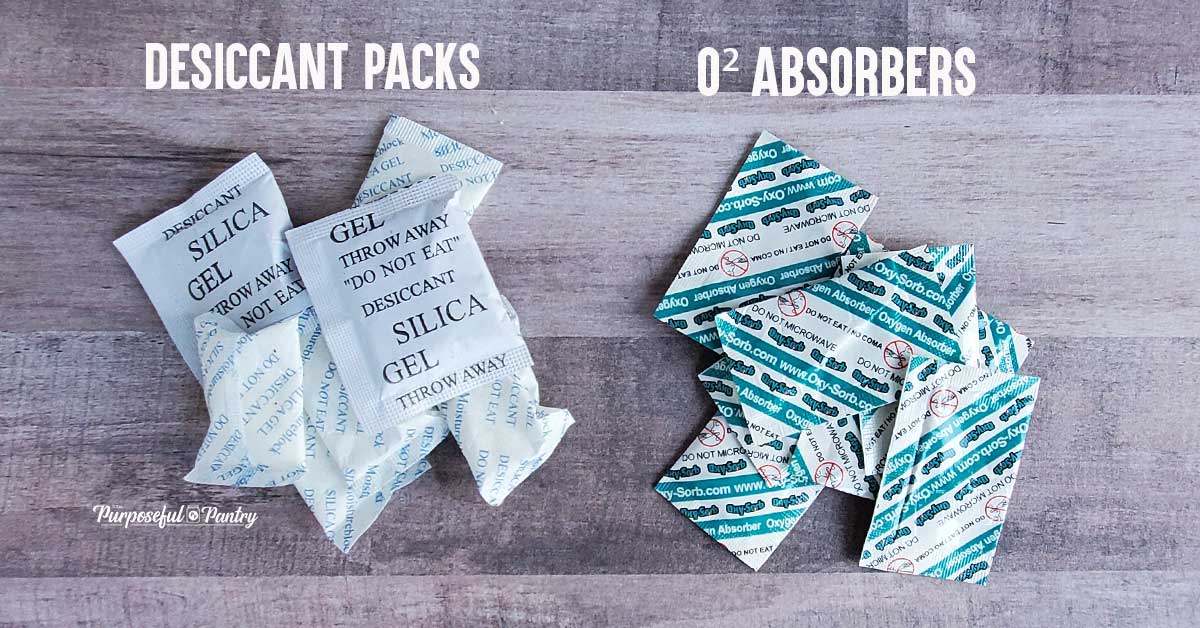 As a note, neither are mandatory to use in everyday dehydrating. A moisture absorber is helpful and can give you peace of mind, but you don't have to use them. O2 absorbers are only really necessary if you have no means of vacuum sealing and you want to store long-term.
However, either can help give you some peace of mind if used correctly. And please NEVER use them together.
Moisture Absorbers/Desiccant packs
Moisture absorbers/desiccant packs/silica gel sachets are all silica bead packets that absorb moisture. They are versions of what you find in shoe boxes, vitamin bottles, and other sundry items.
But please don't use those in your food. They generally aren't food-safe or have residue of things you don't want in your food.
What size to use?
A 2-gram moisture absorber is generally all you need for up to a quart-sized jar.
Moisture Absorbers Benefits
Help control moisture levels in dried fruits from excess space in jar.
Help control moisture in containers that you are in and out of all the time.
Can be recharged by putting into your oven on 250F to dry for 2-3 hrs.
Can Moisture Absorbers Be Reused?
Yes - that's what makes them worth investing in. They aren't expensive in the first place, and can be reused!
Place on a cookie sheet in a 250°F/120°C oven for a few hours
Put into dehydrator at 150°F/65°C for 4 or 5 hours to be completely dry
Store in an airtight container.
DIY option: There is a DIY moisture absorber option to making your own desiccant packs if you'd like to try it.
TIP: DO NOT MIX moisture absorbers and oxygen absorbers in the same container. The O2 absorbers need moisture to work properly, so having a desiccant pack is counterproductive.
Oxygen Absorbers
O² absorbers are used to remove oxygen from a container. This does nothing to help control moisture, but it simply removes the oxygen.
Because an O² absorber is not reusable and is useless if left open to the environment, they are not meant for containers you get into constantly. They are for long-term storage.
Oxygen absorbers
Help control oxygen in containers that you cannot vacuum seal such as food-grade buckets, mylar bags, or large jars that can't be vacuum sealed.
Help control oxygen in jars that have a lot of space and you want to ensure all oxygen has been removed.
Drawbacks:
Ruined if exposed to air (so be prepared to use them quickly and store the rest when using them)
Are not reusable or rechargeable
No DIY option to make your own
Not good for jars or containers that are not airtight.
Tip: When purchasing, spend a little more and purchase in smaller quantities to help reduce the risk of exposure. Several small bags of 5 each are a little more expensive than one bag of 100, but you run much less risk of exposing them all when trying to deal with them.
Alternatives to O² absorbers
The best alternative to purchasing and messing with oxygen absorbers is to use a vacuum sealer. While it doesn't remove 100% of the oxygen in your jar, it removes most, and for the year or two most dehydrated foods are good for, it's enough.
Plus, because there are some foods that are high in fat that you don't want in a completely oxygen-free (anaerobic) environment (this is the reason storing tomatoes in oil isn't a great idea - moisture + bacteria - oxygen = botulism).
Use with vacuum seal bags or with the jar sealer attachments on mason jars.
How much to use?
General formula
100cc desiccant pack / moisture absorber for quarts
2 Grams O² absorbers per quart.
I provide a printable chart for all of the sizes and uses for both packs.
Get a free printable chart in our Printables Library by joining The Purposeful Pantry Newsletter. Get instant access to all of our printables, including the Desiccant / O2 Absorber Chart.
Learn more: Repackaging Freeze-dried foods for long-term storage.
What Do I Personally Use?
I use simple airtight containers and/or vacuum seal. Moisture absorbers are saved for things like onion powder which can easily absorb a lot of moisture in daily use (as many powders, but it is a big culprit in clumping and desiccant packs are one of the better ways of keeping it dry and clump-free. If you want to see some other ways to keep dehydrated powders clump-free, check out these tips.)
Let Me Know if You Have Questions
Questions or want to share your favorite way of storing dehydrated foods? Let me know in the comments below!