PURPOSEFUL PANTRY FREE RESOURCE LIBRARY
Full of free printables to help stock your pantry!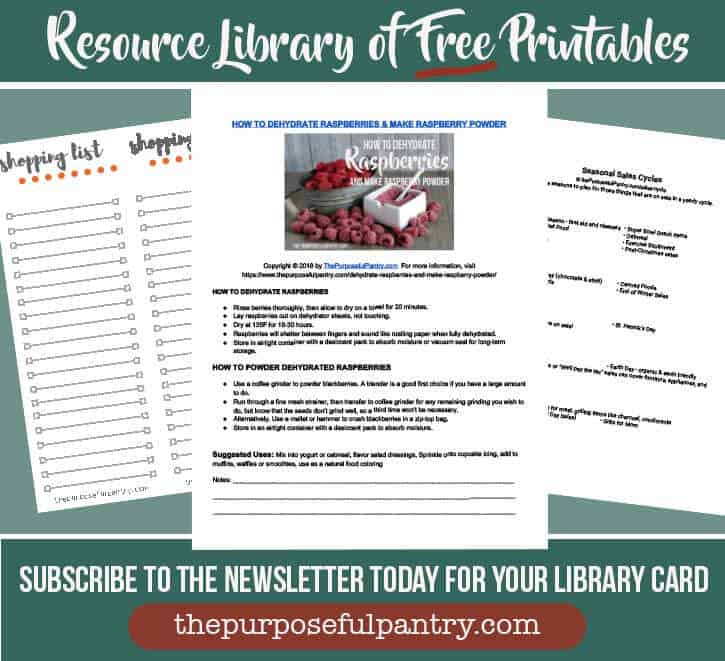 Let's make your pantry (all the pantries in your home) more than just a place to get food for the next day - but a pantry to feed you for months, with healthy ideas, organizational tips, food storage techniques, and more!
This library, full of free printables for dehydrating, food storage, pantry organization, and more, is free and open to anyone. It's mean to be an ever-growing resource for the beginner and a handy tool for the advanced.
When you sign up for my newsletter, I'll send the link and password for my subscriber-exclusive free printable Resource Library where you have access to all of my printables in one spot. No more hunting for specific posts for great resources.
What's Included in the Printable Library?
EVER-GROWING DEHYDRATOR NOTEBOOK
• Printable recipe cheatsheets
• Resource pages for dehydrating times
Coming soon...canning recipes, too!
PANTRY ORGANIZATION
• Shopping List printable
• Sales Cycle printable
•..and more
FREEZER STORAGE
• Freezer inventory Worksheets
PREPAREDNESS
• Water storage worksheet
And more resources, tools, and planners are coming all the time. You will always have access with your Library Card.
SIGN UP HERE
Please note, that by signing up, you're consenting to receive not only your Resource Library card, but also my weekly email newsletter with DIY projects, recipes, and the latest info from ThePurposefulPantry.com Get a weekly tip letter plus printables to make your home more purposeful! Don't miss out - SIGN UP TODAY!
Already a member?
If you are already a library card holder, you can enter the library here.
Remember, your latest newsletter will have the password if you've forgotten it. Or you can email me at [email protected] thepurposefulpantry (dot) com.