The best containers for dehydrated food storage are containers that are airtight. Nothing fancy needed. Learn to see which are the best, and which are the worst to store your dehydrated foods for long-term storage.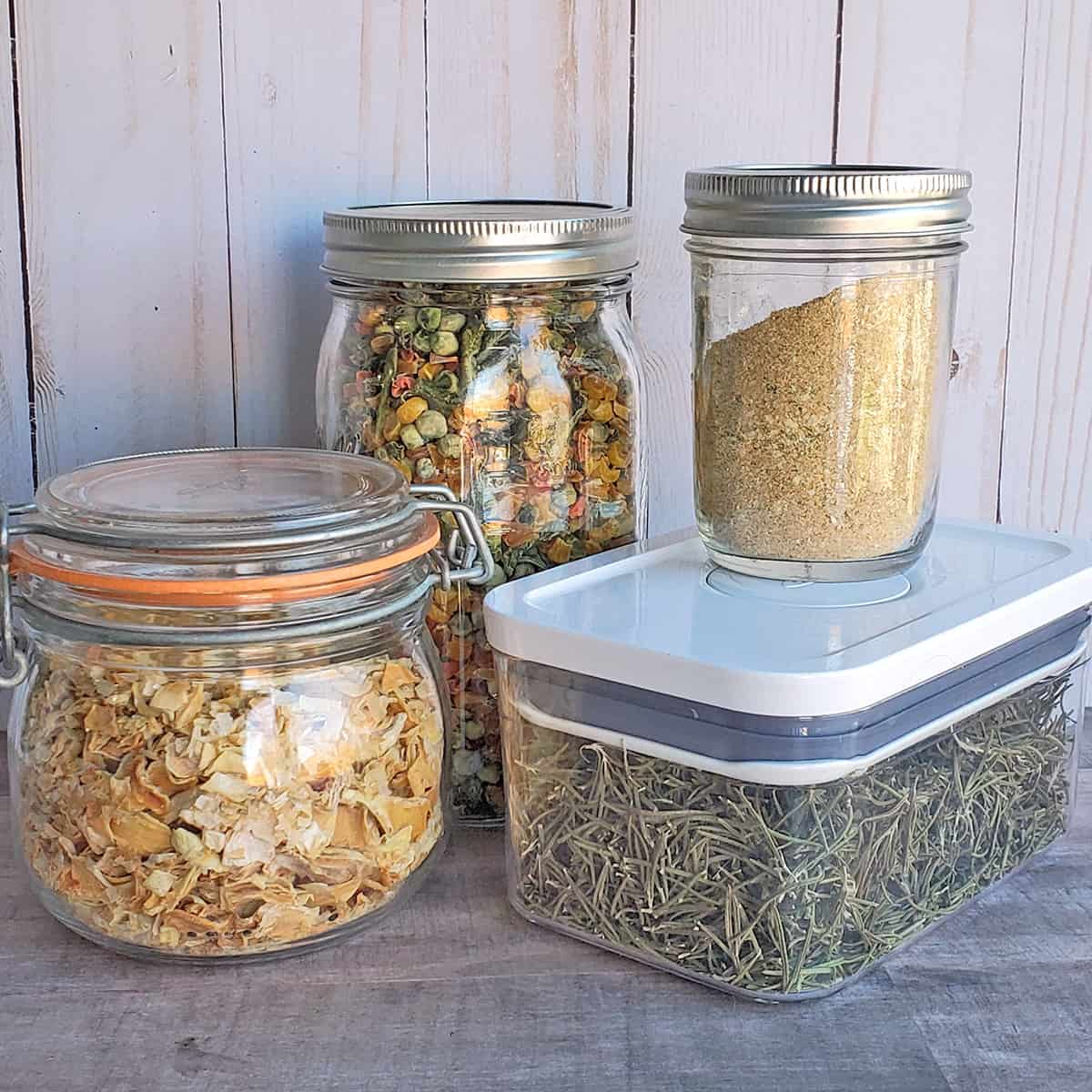 When storing dehydrated foods, the biggest consideration is airtight storage. No matter how cool the storage system is, if it's not airtight, it will eventually allow your foods to soften, to degrade more quickly, and possibly even develop mold.
While any container you use to help store your food is better than nothing, be mindful of what you could do to create better storage to help your food last longer.
While this is written from a perspective of what is available in North American, relatively easily, you may have different containers or options where you are. I'd love to hear what you are using in the comments below!
Best Storage Containers for Dehydrated Foods
You've put all that work into dehydrating the food you want to store for your family, make sure you're using a container that works well!
Mylar Bags
Mylar bags are long-term food storage options that many use for hiking/camping, preparedness, and waterproofing needs. You do need extra equipment
Pros:
While you need extra equipment for these, Mylar is the best for long-term storage as it blocks air and light from degrading your dehydrated foods.
Lightweight
Tearproof
Light blocking
Cons:
Not rodent-proof. So if you have a rodent issue, you might need to find something rodent-proof to store your bags in for long-term storage.
Requires extra equipment to seal
Not modular in nature. These don't easily stack on their own, but work well in a plastic bin to keep them upright and stored like albums.
Canning Jars / Mason Jars
The same product, just a different name, depending on who you are talking to. The food world says canning jars, the crafting world says mason!
In general, this is the most popular and most convenient way to store dehydrated foods.
Pros:
Easy to find
Can be modular - meaning you can purchase a lot of the same kinds of jars and store them efficiently.
Come in many sizes - while not always efficient for organized, perfect storage, the fact that they come in uniform sizes gives you many ways to store - Half-gallon, Quart, Pint and a half, pint, etc. Any size for any need, and always the same.
Canning jars have a lid with a rubberized-like substance with a band to hold it on tight, making the lid airtight.
Are easily useable for regular pantry storage and canning projects as well. So one system fits everything.
Rodent-proof unless you are using a plastic lid.
Cons:
Easily breakable
Not light-proof unless using the darker colored jars that can block out a bit more of the UV rays that help degrade foods more. So these need dark storage.
May not be easy to find in places where canning is not popular
Commercial Glass Jars
Commercial glass jars would be any jar that you can find in your grocery store that store things like spaghetti sauce, alfredo sauce, pickles, etc.
Pros:
These are easier to find in countries other than the US or Canada, and are perfect for anyone who wants to recycle and reuse for their pantry storage.
Most of these containers are airtight if the jar screws on tightly.
Is easily recyclable
Rodent-proof unless you use a plastic lid
Cons:
Easily breakable
Unless you purchase the exact same food to build your supply, these are not modular and might be harder to store on shelves efficiently.
Clamping Jars
Retro-style clamp jars or Weck jars are another way of storing dehydrated goods. There are also acrylic varieties that use a silicone ring that doesn't age or need to replaced as often.
Pros:
Are more readily available worldwide.
Cons:
The rubberized gasket can age and needs to be replaced occasionally
They can be more expensive than regular canning jars
Cannot be mechanically vacuum sealed
LEARN MORE: How to Store Dehydrated Foods
Rigid Storage Containers
These storage containers can range from plastic to acrylic. They are rigid, giving little room for the shape to move making them more airtight. You might know them as Prepworks by Progressive, OXO, Brilliance by Rubbermaid, Container Store Acrylics, Better Homes & Gardens, and so many more.
Pros:
Modular design so and store efficiently
Cons:
Price - they are expensive and quite an investment for any amount of containers.
Some of the containers might not seal well with powders or fine particles on the edges of the lip (OXO is bad about this).
Plastic Storage Containers
Rubbermaid, Tupperware, Sterlite, and many other brands.
These plastic containers are not rigid, but softer, come in many sizes.
Pros:
Convenient
Modular for efficient storage
Cons:
Often not airtight. Check for an airtight seal by squeezing the container. If you hear or feel the air from the lid, they are not airtight.
Not rodent-proof
Not light-blocking
Vacuum Seal Bags
These bags are from Foodsaver, Seal-a-Meal, etc.
Pros:
Convenient and reusable
Lightweight
Cons:
Not necessarily suitable for all dehydrated foods unless wrapped in parchment paper or paper bags first
Not rodent proof
Not light blocking
Requires extra equipment to seal
Why Vacuum Sealing Isn't Necessary (but very helpful).
If you can't see the video, click on the red Youtube arrow to begin playing.
Worst Storage Containers for Dehydrated Foods
Generally, anything that allows air in, isn't appropriate for dehydrated food storage.
While light blocking is important, storing foods in dark, cool place is enough, but airtight store is not a real negotiable.
Why don't I include Freezer bags?
Zip-top plastic bags, whether they are regular bags or the freezer strength, are air permeable over time. Air can seep in through the zipper or even through the plastic, itself. They are not light-blocking, are rodent-proof, and not the best for long-term storage. For the short term, they are fine.