Are you interested in dehydrating, but don't know the dehydrating tools that you really need? Not as many as you may think! Here's a list to get you started!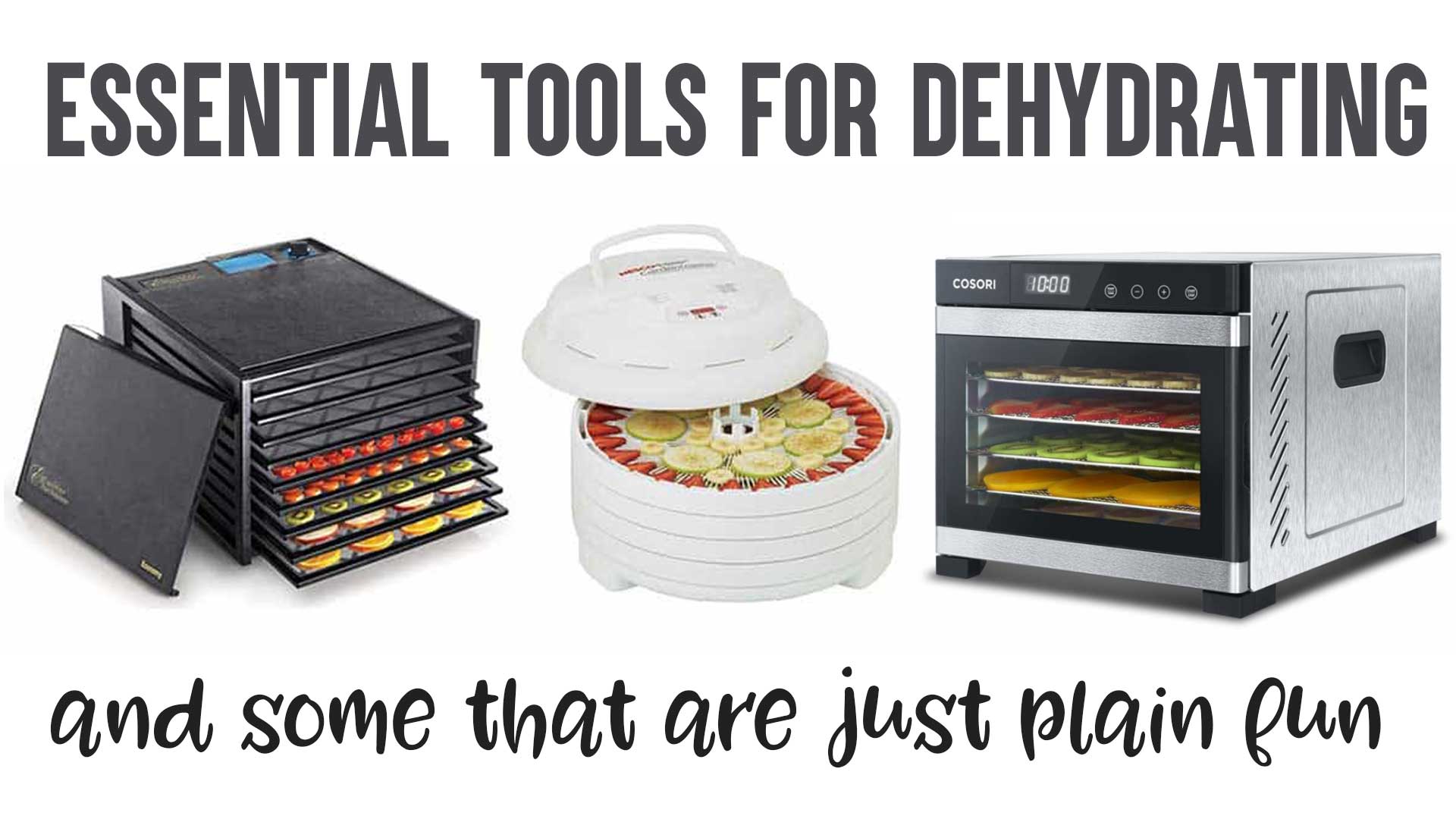 Kitchen gadgets are fun to buy, aren't they? They promise they'll make life in the kitchen simpler; make meal prep easier; make your life happier.
But sometimes, gadgets also require you to have more storage space, and more items to have to clean.
So let's discuss those tools that you really need and those tools which are great to have, and those you probably don't need at all!
To make it easy, you can shop this post now!
Must-Have Dehydrating Tools
Knife
A good sharp knife will get you a very long way in your dehydrating journey. Along with it, a good cutting board is awesome.
Dehydrator

A dehydrator with a temperature gauge is all you really need. It doesn't have to be big and fancy, doesn't have to be stainless steel or even an Excalibur.
I recommend the Excalibur Dehydrator 3900 because it is has a large capacity, does not have digital components, is fast, and Excalibur has an outstanding reputation in the field of dehydrators.
I also recommend a Cosori for it's quietness and small footprint (the Magic Mill is also an option with an extra shelf), and the Nesco series. They are all great dehydrators that can fit any budget.
However, it's not the singular best machine out there for everyone. There may be other machines that work better for you because of
I've created a handy resource to help you choose a dehydrator that is right for you. Plus I give you tips on finding dehydrators less expensively, what to look for, and suggestions in every budget range.
Just know that the best dehydrator is the one you're using to put food in your pantry for your food storage and enjoy!
Dehydrating Mats / Fruit Leather Sheets
While your dehydrator may come with these, it might not, so you'll want to make your own, or use a substitute, or invest in ones that fit your machine.
I find these a necessary tool for running my dehydrator efficiently.
Parchment/baking paper is enough for any need. It helps with fruit leathers as well as keeping small pieces from falling through your trays.
Fruit Leather Sheets - they range from inexpensive generic versions to pricey brand-specific silicone sheets. Many of the inexpensive versions can be cut down to fit almost any tray. Keep an eye out for the lipped silicone trays for the Excalibur - they are awesome!
Mesh Sheets - instead of a solid sheet, this is a lot like the plastic canvas crafting sheets. A mesh to allow air to flow, but capture smaller pieces of dehydrated foods.
The above options are the ones I use personally, but there are a great many varieties of sheets and mats available to fit any dehydrator.
And if you don't want to buy a lipped tray that you'll rarely use, try this hack for creating a liquid tray from your regular fruit leather sheets or parchment paper.
Airtight Storage Containers

No matter what container you choose to use, airtight containment is mandatory for the storage of dehydrated foods. There are many options, so find the one that works best for you.
Remember, you want to pick a container that is similar in volume to the amount of food you have to store. If you want more information on the kinds of containers and why they are useful, I have some helpful tips for choosing the best containers for you.
Canning Jars - this is the best choice for everyday use.
Commercial glass jars with tight-fitting lids - spaghetti sauce jars, salsa jars, etc.
Plastic Containers - think Rubbermaid, Prepware, OXO, Tupperware, etc. - those with awesome seals.
Mylar bags - not the kind with the zippers or windows as those will be air-permeable over time.
Helpful Dehydrating Tools
These tools, while not necessary, can make your job of preparing or storing dehydrated foods easier.

Tools for Dehydrating Prep
Slicers/Choppers
If your knifework skills are less than stellar, or you have fine motor skill issues, having a tool to help you do prep work of slicing, dicing, peeling, cutting, etc., is really helpful.
These suggestions are assuming you do not have a food processor. It's a great all-in-one tool.
Mandoline - there are dozens on the market that are good. I use an OXO mandoline that isn't sold on Amazon any longer, but this standing mandoline gets high praises, too.
Chopper - A vegetable/onion chopper that slices, dices, swirls, and collects it all is great. This chopper is a great tool for prepping onions without tears.
SAFETY TIP: Just remember - using a blade of any sort like this, protect your hand with a protective cutting glove - even if you are using the handguards on mandolines. I have beefy hands and this pair works great for me (I ordered medium).
Grinders for Powdering
Powders make the world go-'round in the kitchen. They are a beneficial way of using all of your dehydrated products in a way that introduces flavor without bulk, doesn't intrude on the finicky palette, and can help you integrate a ton of nutrients into everyday cooking - even if you hate those vegetables.
Here are my suggestions based on volume, but I find that the bullet blender is my go-to in most circumstances these days.
Coffee Grinder - while a removable steel bowl is beneficial, it just about doubles the price of a grinder. This basic model works just fine.
Large Blender - I used a Ninja Kitchen System for years which had the components for bullet blender, food processor, and large blender together. But I finally killed it and moved up to a Vitamix. Though, in hindsight, I wish I had gotten a mid-budget blender and a food processor.
Dehydrating Tools for Storing
Vacuum sealer - Whether you choose a full-sized vacuum sealing machine, a handheld Foodsaver or even a brake bleeder, vacuum sealing is a helpful way to ensure the shelf-life of your food.
Hand-Held Vacuum Sealer - requires the jar attachments, but lets you make quick jobs of vacuum sealing jars for everyday use. Watch how it works.
Brake Bleeder- this is a powerless device used to flush brakes in cars, but works perfectly for vacuum sealing your jars. Learn how to use it here for vacuum sealing here. You still need the Foodsaver Jar Attachments, just not a powered vacuum sealer. But remember, they can take quite a bit of manual hand strength.
Read more: Quick Guide to Using a Vacuum Sealer
Optional Dehydrating Tools
Dehydrating Books

With the vast wealth of knowledge available here, on Youtube, in the Dehydrating Tips & Tricks Facebook group, and on the rest of the internet, you may not need to spend money on a book.
But if you're like me and like to sit in a big comfy chair, have a pen, some sticky notes, a notebook, and browse, read, and plan, books are a tremendous tool for your dehydrating toolbox.
In no certain order, here are some books that I have, used, and can recommend:
You can find more dehydrating books that I recommend and review here.
Fun extras that can make your job easier
These tools are fun to have, but definitely NOT a necessity. They can make small tasks easier, or just are helpful to have:
Final Thoughts:
Of course, you may have tools that you find essential in your dehydrating journey or may find the ones I've listed are just silly and take up space in the kitchen, and are money-wasters.

Let us know those tools that didn't make the cut -- or that you think are just not worth having!