Having a dehydrating FAQ page handy is great for answering all those nagging questions you always have to get started.
So I've created this dehydrating fact page to help you answer the most often asked question about dehydrating and storage.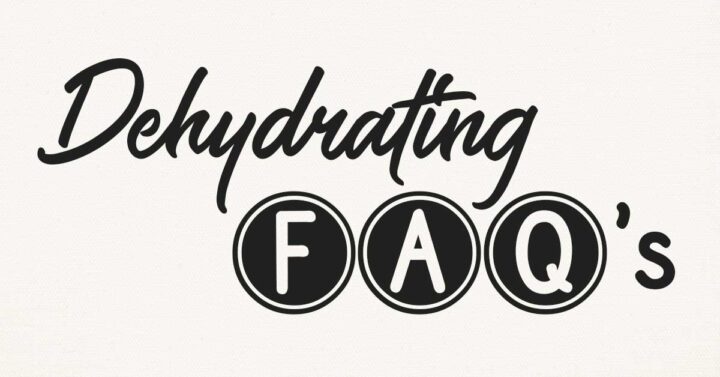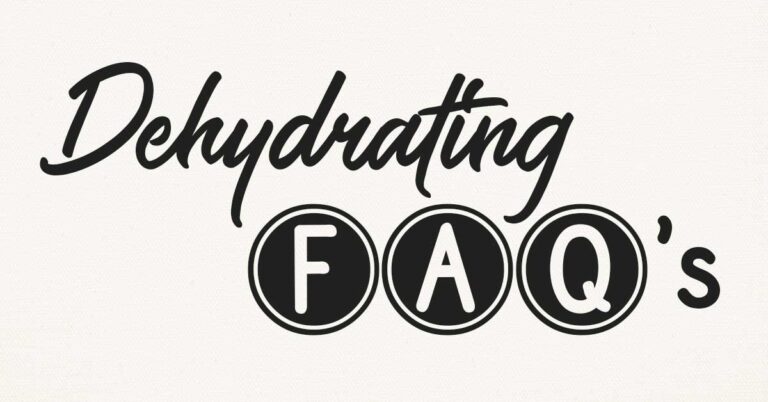 Note: This page was created primarily for our Dehydrating Tips & Tricks Facebook group, so some links do lead there instead of to my blog. Please join, answer all of the required questions, and we'll get you in as soon as we can.
Here are the most often asked questions about dehydrating. I'll answer when a short answer will do, and link to you to a more complete answer when needed.
To see a video companion to this entire page, check out DRYCEMBER on Youtube 🙂
Dehydrating FAQ's
What Kind of Dehydrator Should I Buy?
My recommendation is an Excalibur Dehydrator - but all needs are different, an Excalibur isn't always the best choice. A Cosori brand machine may be more your speed and style, or one of the other great dehydrators that are now on the market.
I know that it may be beyond every budget or every need. So I've recreated a handy resource to help you choose the perfect dehydrator for you: Tips for Buying Your First Dehydrator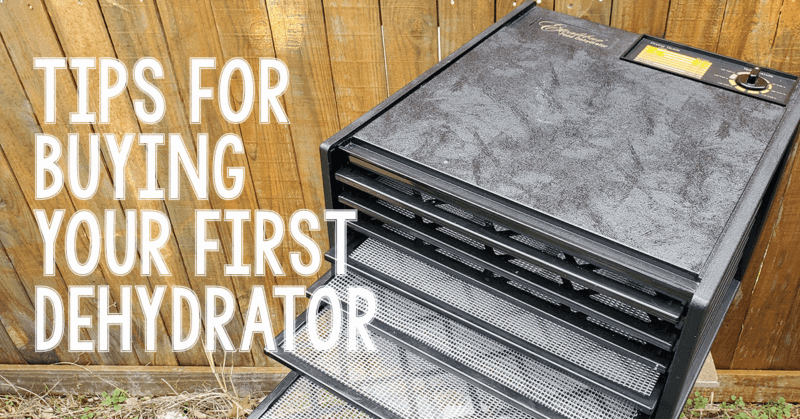 How much does it cost to run a dehydrator?
How much does it cost to run a dehydrator? It depends on your location, the machine's wattage, and more. I'll teach you how to quickly factor the cost (which may surprise you how little it actually is!)
What Temperature Do I Use?
Use this chart to keep in your dehydrating notebook.
LEARN MORE: Why proper temps help prevent case hardening.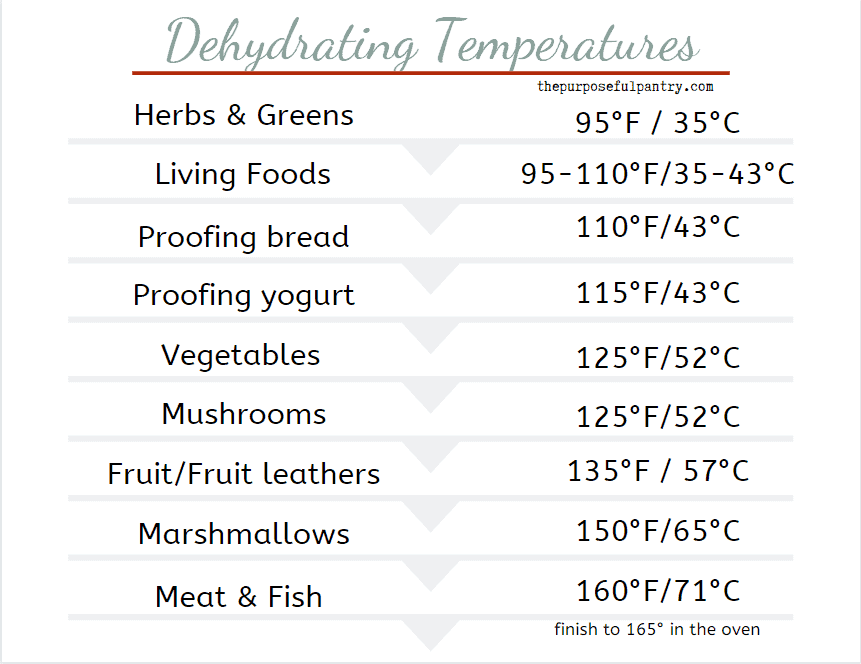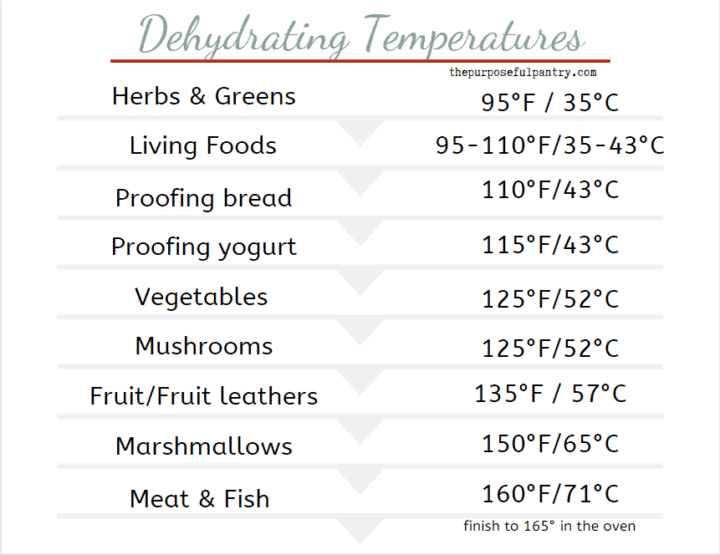 You can purchase a dehydrating temperature magnet or sticker for your machine or dehydrating notebook.
Do I Need to Blanch Vegetables?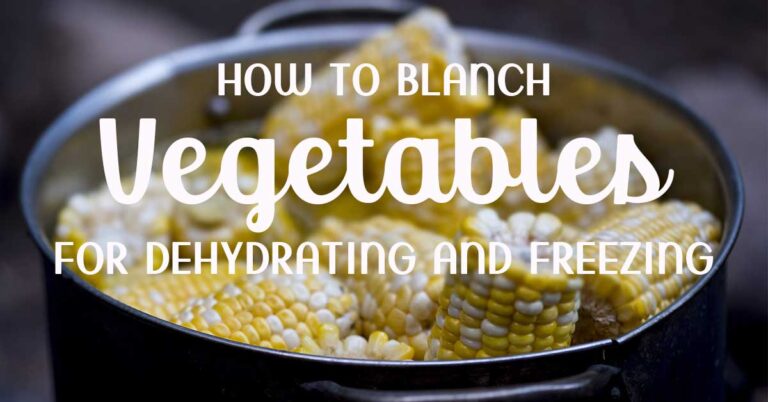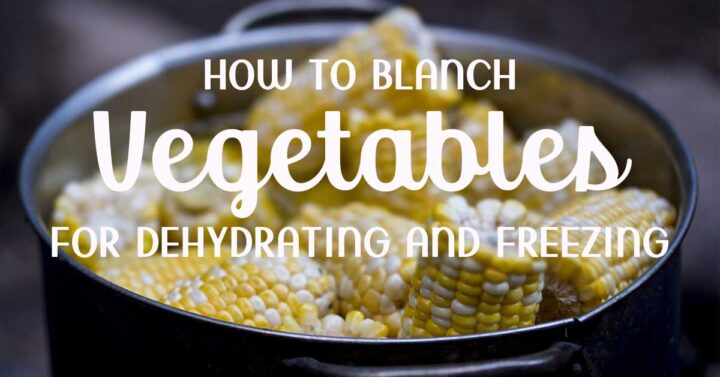 Quick Answer: Yes and no.
Here are some guidelines and a free downloadable chart for what to and what not to blanch and why.

How Long Does It Take?
Quick Answer: It depends.
Time is relative. Use the guides from your manual or book, NCHFP.edu or ThePurposefulPantry or other websites as a guide, not an absolute.
Your machine's strength, your home's humidity, how you prepared your produce, etc. all play into the time it takes to dry anything.
When is Dehydrated Food Done?
Learn how to tell when something is done. Here's handy information on how to tell when something is dried - by texture and look.
What is Conditioning?
Conditioning is that last-ditch effort to make sure all of your hard work doesn't go to waste to mold. Observe your goods in an airtight jar that is shaken once a day for up to seven days and watch for moisture or mold.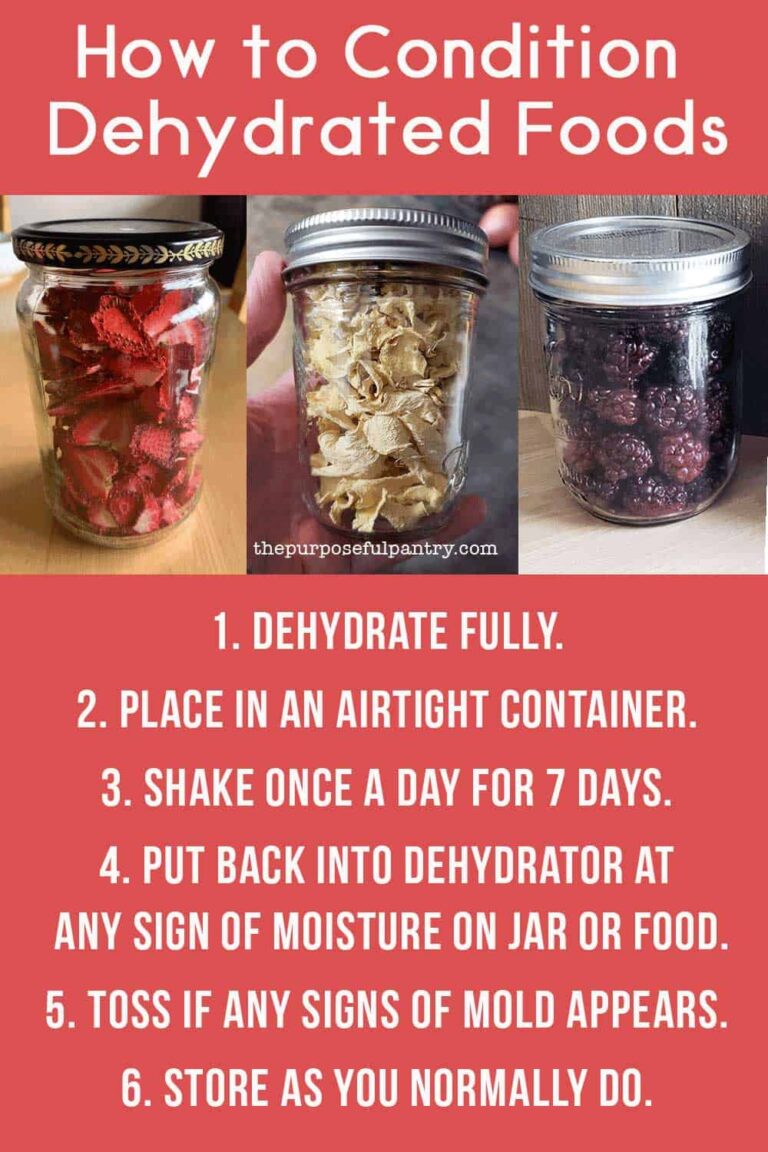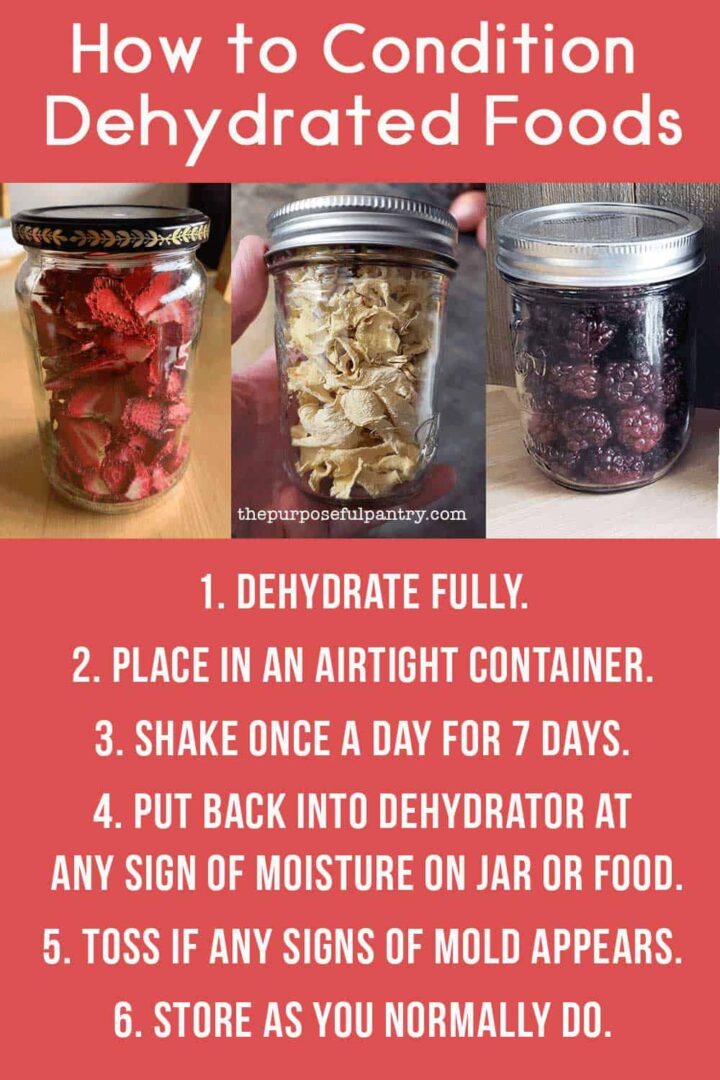 Need more tips? How to condition dehydrated foods.
What are good Dehydrating books?
I recommend the Beginner's Guide to Dehydrating Food simply because of all the before and after shots. You can find other books that I recommend in this rundown of all the best dehydrating books.
Can I run my dehydrator all night?
Quick Answer: Yes.
More Involved Answer: Dehydrators are meant to run for long periods of time. If you do turn it off because you are not comfortable running it when you are gone or in bed, remove the food and place it into the refrigerator while it is not running.
As with all plug-in appliances, be aware to follow proper plug placement, don't use extension cords, etc. There is a chance for fire as with all appliances, use your own judgment.
Can I use My Oven to Dehydrate?
Quick Answer: Yes!
While it's not the most efficient means of drying, you can definitely use it if a dehydrator is not in your budget, or you simply don't have space for one.
Learn tips to dehydrating with your oven here: https://www.thepurposefulpantry.com/how-to-use-an-oven-to-dehydrate/
What's something easy to start with?
I've got 10+ Easiest Dehydrating Projects to do that are almost foolproof that you can do over the weekend.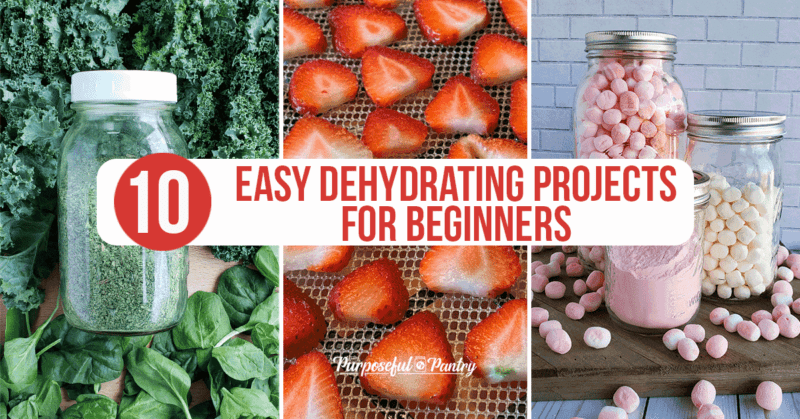 These projects were created with ease in mind, common use that is easy to integrate, and a high success rate to help you feel confident about your dehydrating process. This is why bananas are not on the list. They have one of the highest fail/disappointment rates of many first foods people choose to try.
Want to get started and involve your kids? Here are 12 dehydrating projects kids are sure to love!
Are there foods I should not dehydrate?
Quick Answer: Just about anything CAN be dehydrated, but it doesn't mean that everything should be dehydrated.
Learn more about those foods that you probably shouldn't dehydrate here: https://www.thepurposefulpantry.com/do-not-dehydrate-list/
Should I Dehydrate Onions, Garlic and Peppers Outside?
Aromatics (as well as greens) can be quite odiferous. They put off oils into the air which can be pungent in the beginning and linger. Many people find it better to do in the garage, a closed-off room, or outside of weather permits.
As a point of caution - if you have anyone in your home with lung issues, do this outside, especially peppers.
How do I Use Dehydrated Foods?
Learning to use the foods we dry is daunting if you look at it as a culinary art. Most foods can be used as their fresh counterparts in soups, stews, casseroles, etc.
But if you want to learn additional ways of using dehydrated foods, we've created this nifty database to pick a fruit or vegetable that you want to dry, and find ways to integrate it into dishes you use every day.
Note: You must be a member of the Dehydrating Tips & Tricks group to make use of this database at this time. However, each of my posts gives you ideas on how to use dehydrated ingredients. Our members are just massives storehouses of knowledge and have a lot to offer:
https://www.facebook.com/notes/dehydrating-tips-tricks/how-do-i-use-insert-dehydrated-food-here/2606060036386352/
Can I make full meals?
Quick Answer: No.
More involved answer. You can dehydrate things like chili as long as there are no fats or oils for long-term storage. You can also create "meals in a jar or meals in a bag" for putting quick meals together from dehydrated or even some freeze-dried ingredients.
There are hiking recipes that may take full meals to dry, but they are for short-term storage and should be stored in the freezer for safest storage until the time to be used on the trail.
I recommend using freeze-dried for meats to go into your kits since home dehydrated meats are not safe for long-term storage. You can purchase Augason Farms or other freeze-dried companies from Amazon, Walmart, etc., or you can use ThriveLife foods which give smaller quantities for those not needing the large canisters.
To get you started, try this Taco Soup in a Jar recipe.
Here are other meal in a jar recipes for pantry storage, hiking, backpacking, camping, and emergency meals that you will love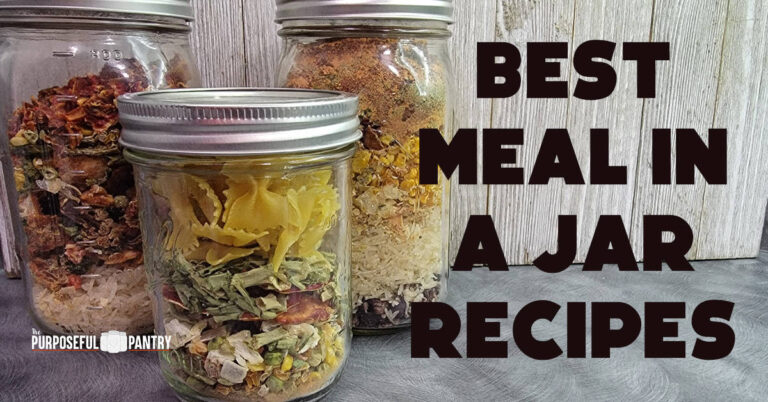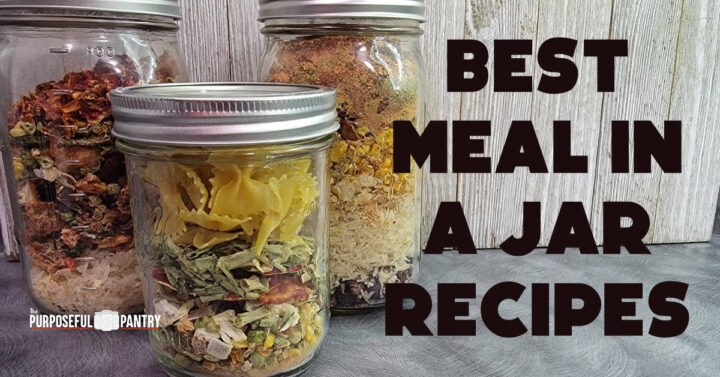 Are Oils Okay in Dehydrating?
Quick Answer: Yes, for snacking.
Longer answer: Not if your intent is for long-term storage as oils can go rancid over time, especially after they have been heated.
Can I Overy Dry Food in My Dehydrator?
Quick answer: No
Long answer: It depends on texture, if you're doing fruit leather or jerky, etc. You can learn more about overdrying dehydrated foods.
How Do I Keep Produce from Sticking?
Use silicone fruit leather trays designed for your machine or you can use parchment/baking paper.
A quick tip: Throw your sheet into the freezer to remove dried produce, or use a razor blade to help release them. Peel the leather sheet away from the product instead of the produce off the sheet. It sounds strange, but it does make a difference.


What is the Yield of Dehydrated Foods to Fresh?
In each of my dehydrating tutorials, I give a breakdown of fresh to dried to powdered. Generally
Dehydrating Ratio
1 cup of fresh = ⅓-1/4 cup of dried = 1 tablespoon of powder.
This will vary from the size you prepare the food to the actual density of the food to the size of grains you powder it. But it is a good equivalent to work from.
Also, you can download a copy of this pdf from the Harmony House Food company that does a decent breakdown of the yield - though again, the factors in size, density, etc. vary.
But the good news is that for most things, the approximation doesn't matter. Cooking can be adjusted to fit your needs easily.
How do I rehydrate dehydrated foods?
Rehydrating is easy with these three simple ways of reconstituting your dried foods. Soak in boiling water, simmer in hot liquid, or do an overnight soak in the fridge. You can learn more about how to rehydrate dehydrated foods here.
DEHYDRATED FOOD STORAGE FAQ's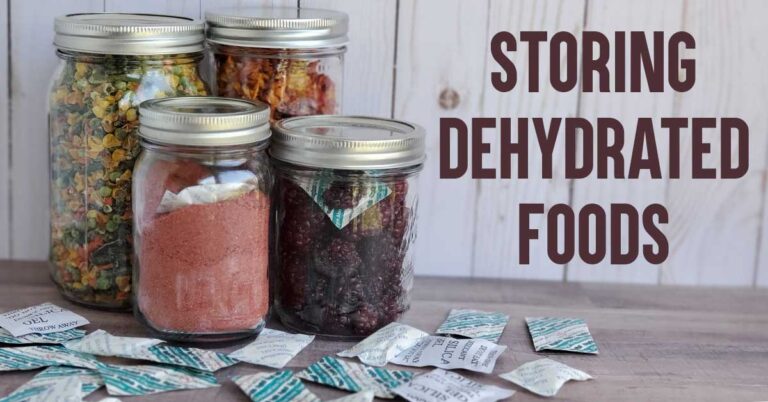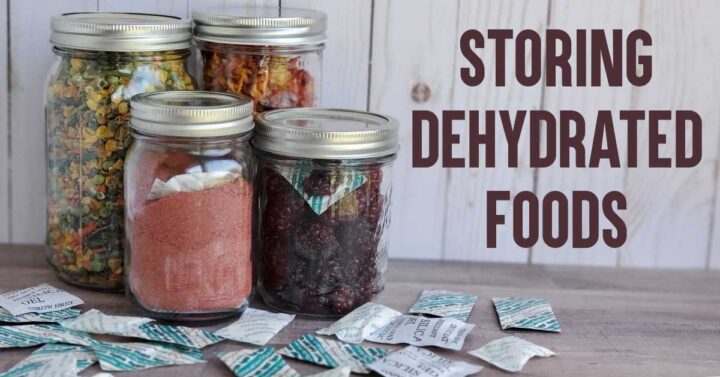 How Should I Store?
Quick Answer - in airtight containers (NOT zip-top bags).
For more information on proper storage for dehydrated foods:
https://www.thepurposefulpantry.com/how-to-store-dehydrated-foods/
How Long Will It Last?
Quick answer: IF you dry properly, condition, and store in an airtight container, you can safely store for 12-18 months for optimum storage. You'll likely get more time out of vegetables, but the quality may begin to degrade over time.
Read more here on the proper storage of dehydrated foods.
Do I Need to use Oxygen Absorbers to keep out the moisture?
Quick answer - you don't NEED either one (sort of).
Learn the difference between Desiccant / Silica packets and O2 absorbers here.
Why do my powders keep clumping?
Quick Answer: You didn't dry enough. Sugar. Or both.
Here are tips and help to keep your powders from clumping.
How do I use a Foodsaver to vacuum seal my jars?
A basic quick guide to using a vacuum sealer for food storage - using both a regular Foodsaver vacuum sealer on bags and jars plus a handheld version.
A review of the Foodsaver Handheld vacuum sealers - new and old. This gives more detail about using just the handheld vacuum sealers.
Dehydrator Care
• Do I have to Test My Dehydrator
• Do I have to Clean My Dehydrator
• DIY Fruit Leather / Liquid / Powder trays for square/rectangular machines
Beginner's Dehydrating Toolbox
Beginner's Dehydrating Toolbox is a bundle full of helpful resources for every beginning dehydrator! From dehydrating temperature magnets, to checklists to resource guides - all the answers you need to dehydrate properly!