Dehydrate Cranberry Sauce into Gummies!
Dehydrate cranberry sauce (use Thanksgiving leftovers) to create amazingly tart and sweet gummies to enjoy this traditional treat!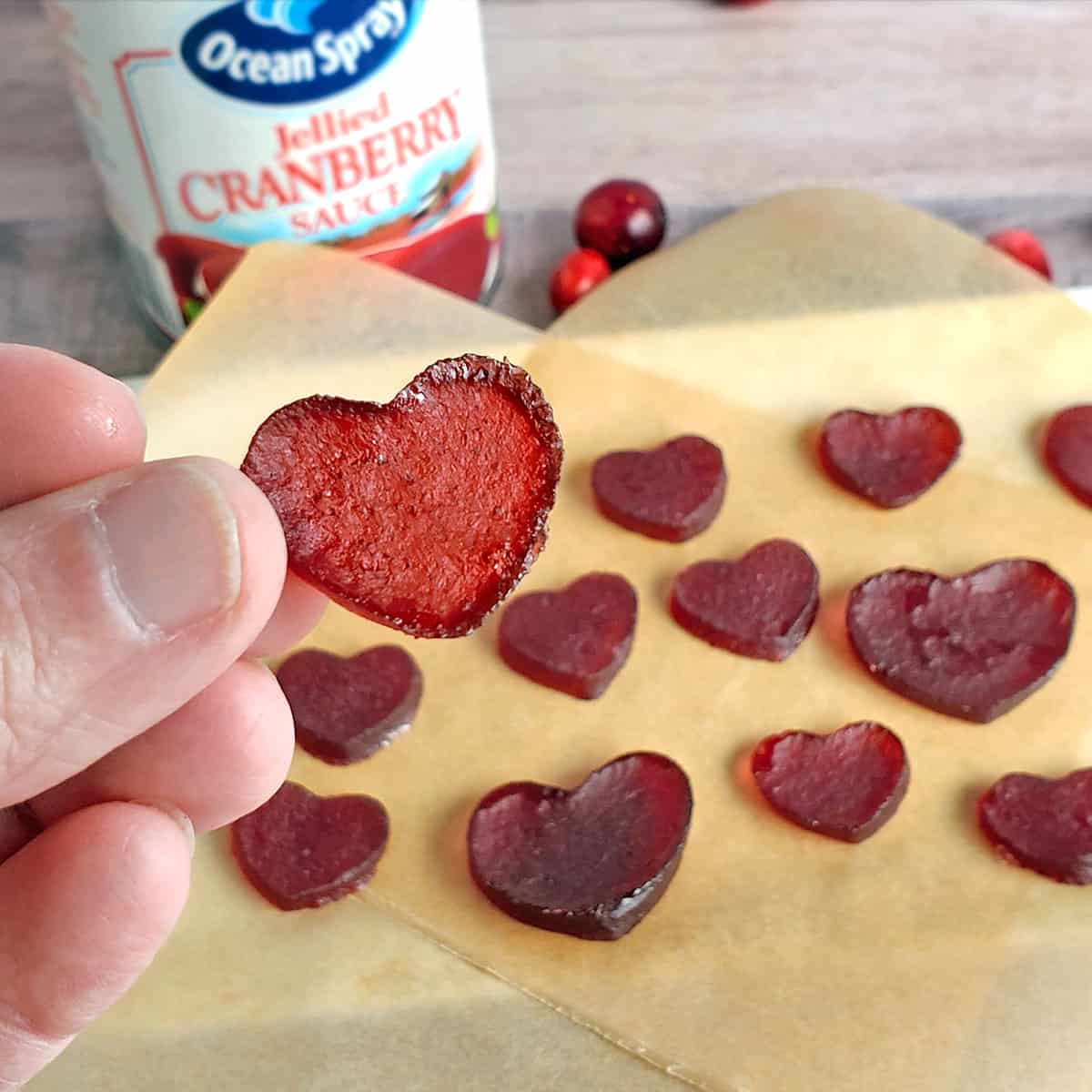 I know…leftover cranberry sauce?! Who has that?! Well, we do, but only because we keep it in our stocked pantry all year long, and I buy an extra can or three just for this reason every Thanksgiving.
This technique is easy since jellied sauce is fairly easy to work with, but here are tips to get you started first.
How to Dehydrate Cranberry Sauce
Tools needed:
Knife
Dehydrator (an oven is not recommended)
Cookie cutters if you choose to do shapes instead of rounds.
Fruit Leather trays (parchment can be used, but the nonstick silicone or Teflon-like trays will work much better)
Ingredients:
If you'd like to make your own, try this recipe from The Modern Homestead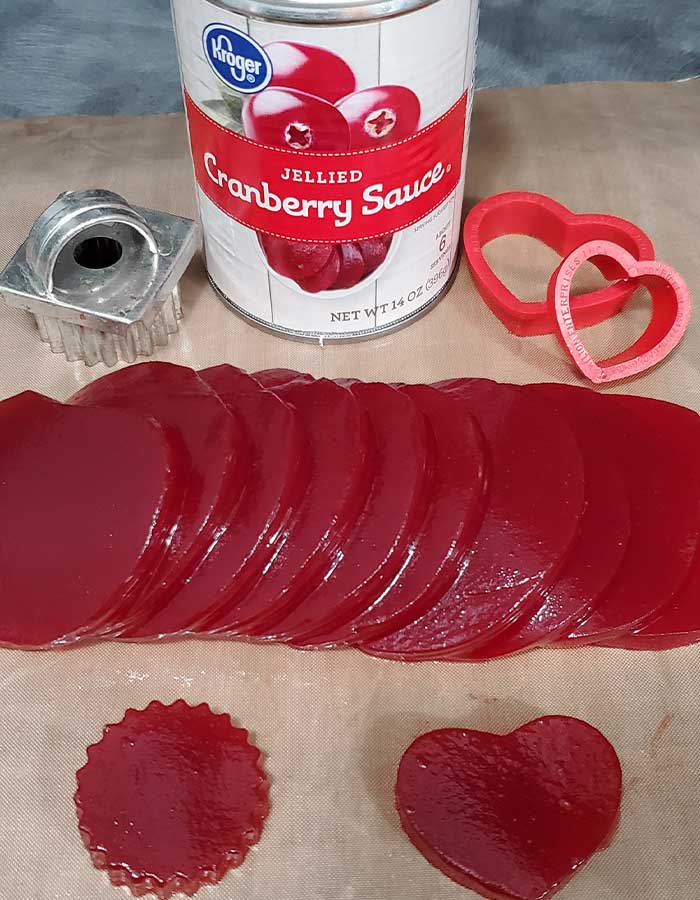 Instructions
Chill for at least 4 hours prior to starting. You want this cold.
Cut into 1/4″ -1/2″ slices. Don't get too thin or they can easily break.
Use cookie cutters to create shapes if desired. I'm using my grandmother's tiny shortcake cookie cutters and my mom's Valentine cookie cutters as a means of remembering them today!
Place on fruit leather sheets. (these are good for the Nesco brand) This works much better than parchment, but you can use parchment instead. Use an offset spatula, or other thin blade, to help lift them off your cutting surface and place them on trays.
Dry at 140F until dry, leather and a gummy consistency. This will take up to 36 hours depending on your machine and your home's humidity. Turn them a few times throughout the process – gently!
Store in layers of parchment, but they don't last long!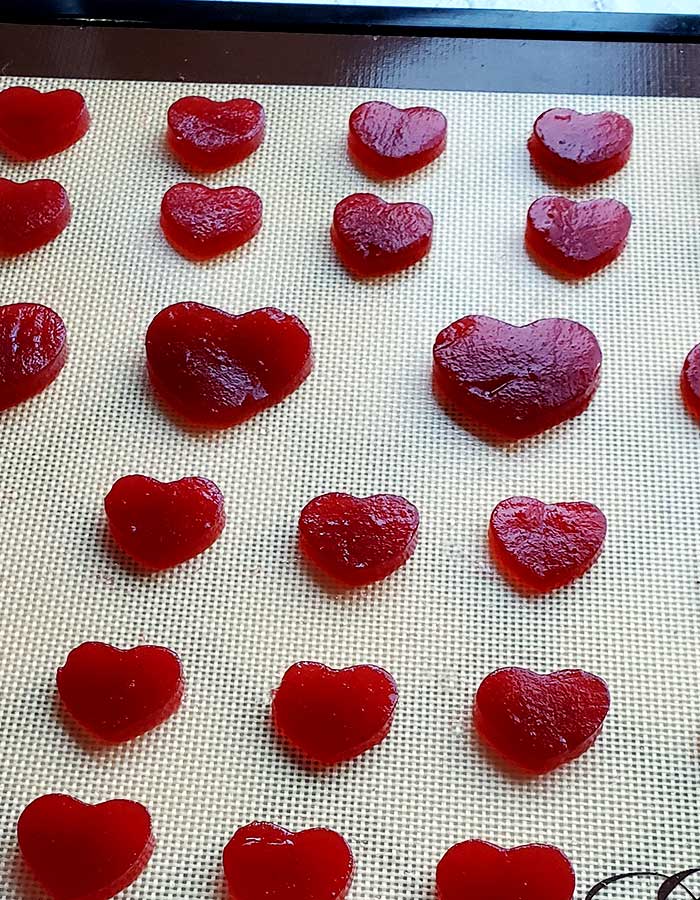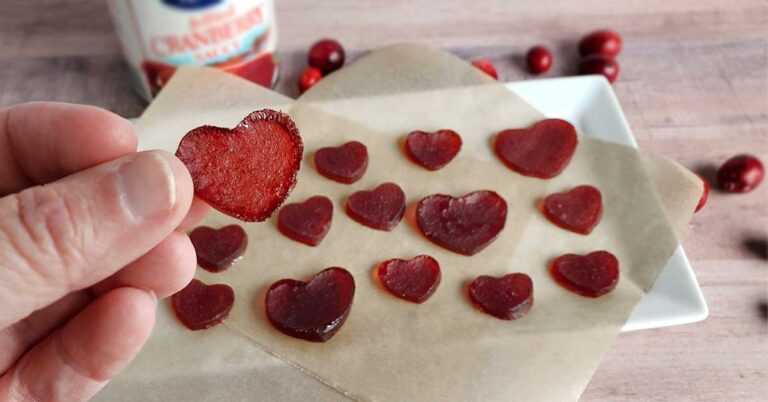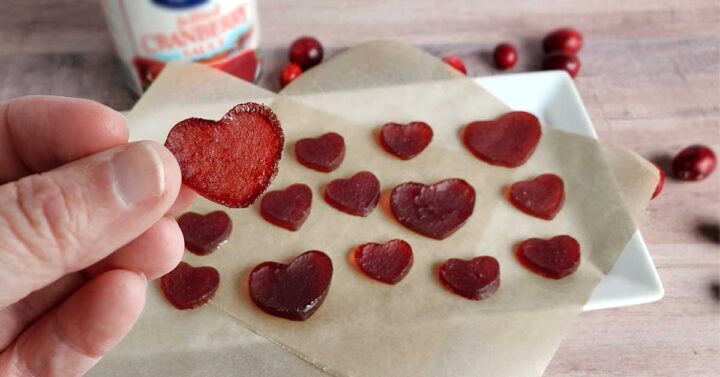 Of course, you can always dehydrate the rounds by themselves, too!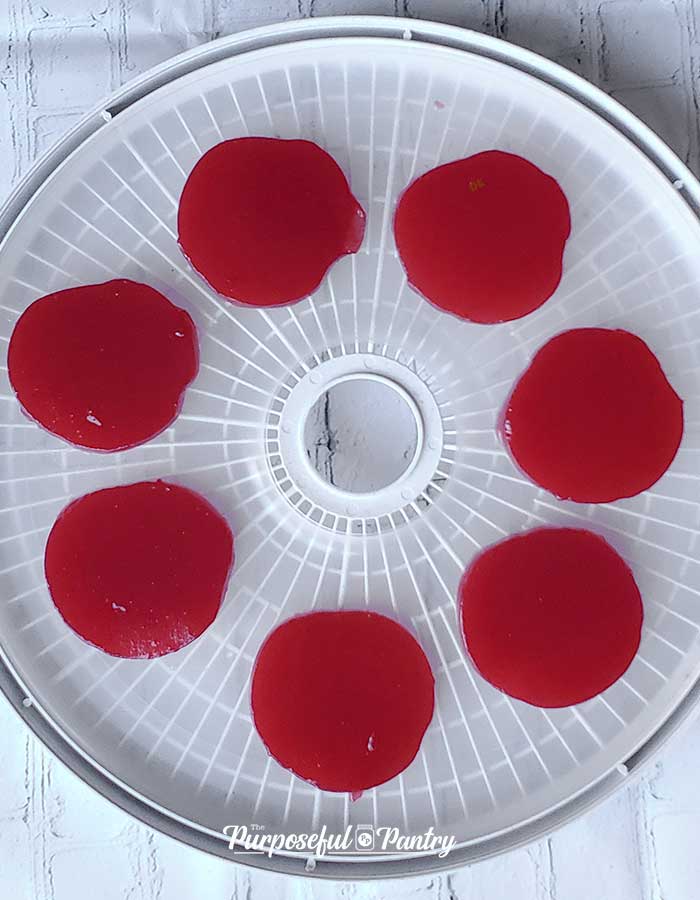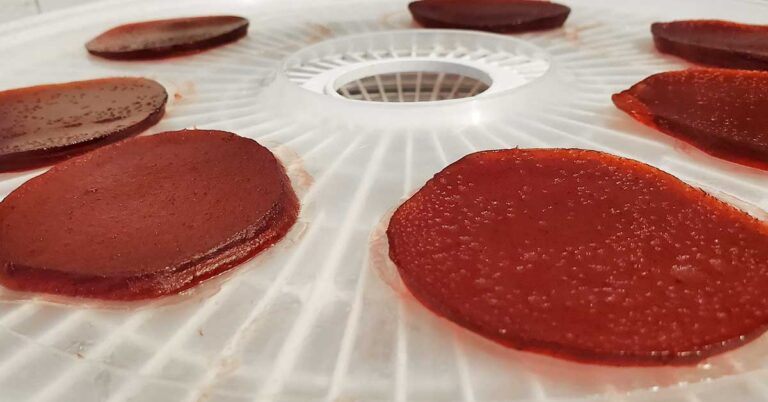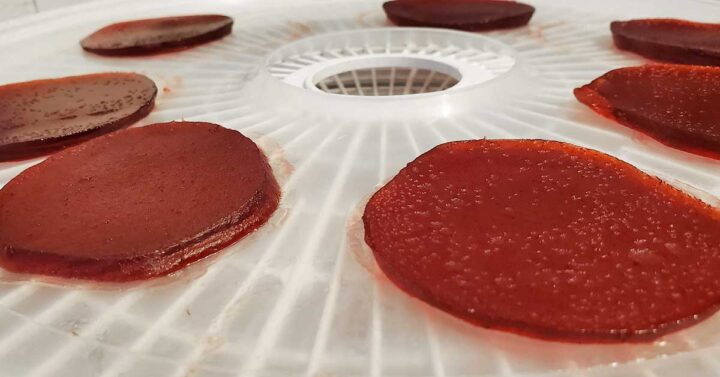 Notes:
You can cut the rounds into shapes, after dehydrating. However, I foudn that the more you handle them, the longer they are exposed to the relative humidity in your home, the stickier they get.
Oven instructions: Unfortunately, your oven likely doesn't go low enough to make this work. It will melt the sauce more than air dry it as a dehydrator would.
How to dehydrate whole cranberry sauce leather
If you have leftover whole cranberry sauce
Mix 3:1 cranberry sauce to apple sauce and puree.
Spread into 1/4″ layers on fruit leather sheets
Dry at 140F until dry (flipping as soon as it is set enough to flip)
Takes approximately 16-24 hrs depending on your humidity.
Transfer to parchment paper, cut strips, roll, and store in an airtight container.
LEARN MORE: 50 More Ways to Use Leftover Cranberry Sauce
How to Store
These will not last long. Sugar is highly hygroscopic, and will absorb moisture from the air quickly. So keep these in an airtight container, using layers of parchment to separate them, and eat them within a few days.
These are definitely not for long-term storage, but fun snack to enjoy over the holiday weekend!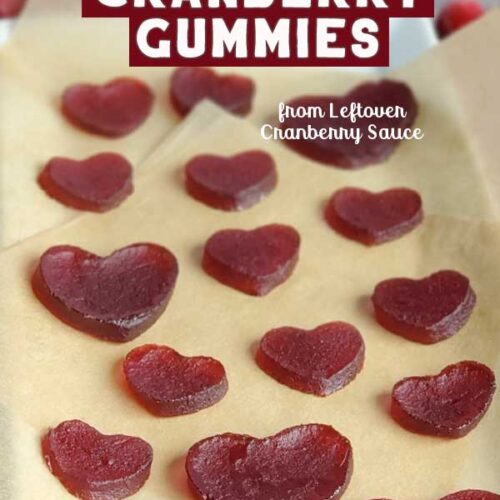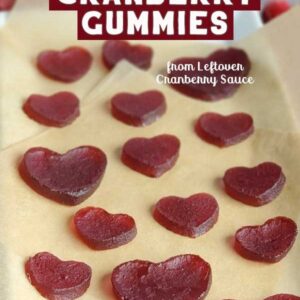 Dehydrated Cranberry Gummies
Create these gummy, tart, sweet treats from leftover cranberry sauce after your Thanksgiving feast (or just buy some extra cans to do this alone – who has leftover cranberry sauce!?). They are perfect little treats made in your dehydrator that make dehydrating fun!
Print
PIN THIS!
Rate
Ingredients
1

Can

Jellied cranberry sauce
Instructions
Slice into 1/4 rounds, cut with cookie cutters if desired

Use a thin blade to lift and place on dehydrator sheets – silicone or fruit leather trays work best

Dry at 140F / 60C until completely dry, matte finished, and not sticky

Store for a few days in layers of parchment paper in airtight container.
Nutritional information is an estimation only. Nutrient information for dehydrated foods is based on fresh. Use 1/4 of the servicing size for the same nutrient information. Thus 1 Cup of fresh fruit has the same sugars as 1/4 dried.
©ThePurposefulPantry. Photographs and content are copyright protected. Sharing of this recipe's link is both encouraged and appreciated. Copying and/or pasting full recipes to any social media is strictly prohibited.