Do you want the best dehydrating books that give you the biggest bang for your buck, yet are still well-informed, useful, and beautiful? I've put together a list here that will help you out!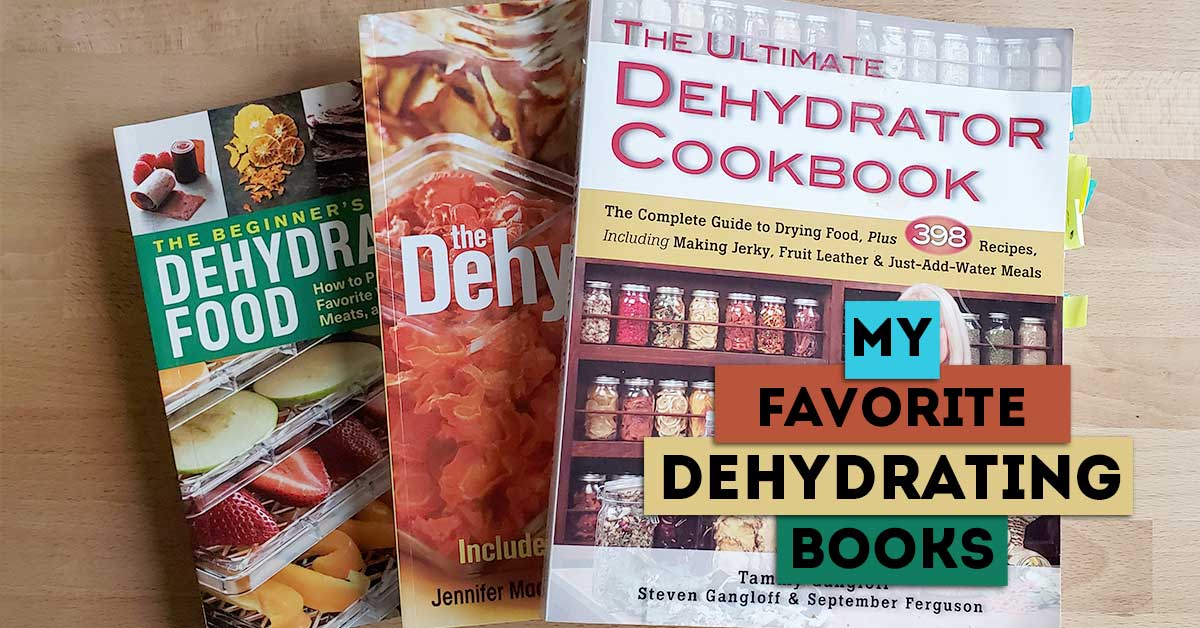 I love books. I love them so much.
I love sitting down with a new cookbook, a stack of post-it markers, a pencil, a notepad and a cup of tea, and an hour to browse and dream and take notes.
While there are tons of free sites (including The Purposeful Pantry) that can give you information, it doesn't always benefit those of us who just love books, or don't have internet bandwidth access, or who don't want to rely on the grid for our information.
A good reference book for dehydrating is a must, and I'm sharing some of the best of the best of dehydrating recipe books to help you with your favorite hobby!
Before we start, these books are dehydrating specific, and don't cover those books who may include dehydrating as a portion of the overall umbrella of food preservation.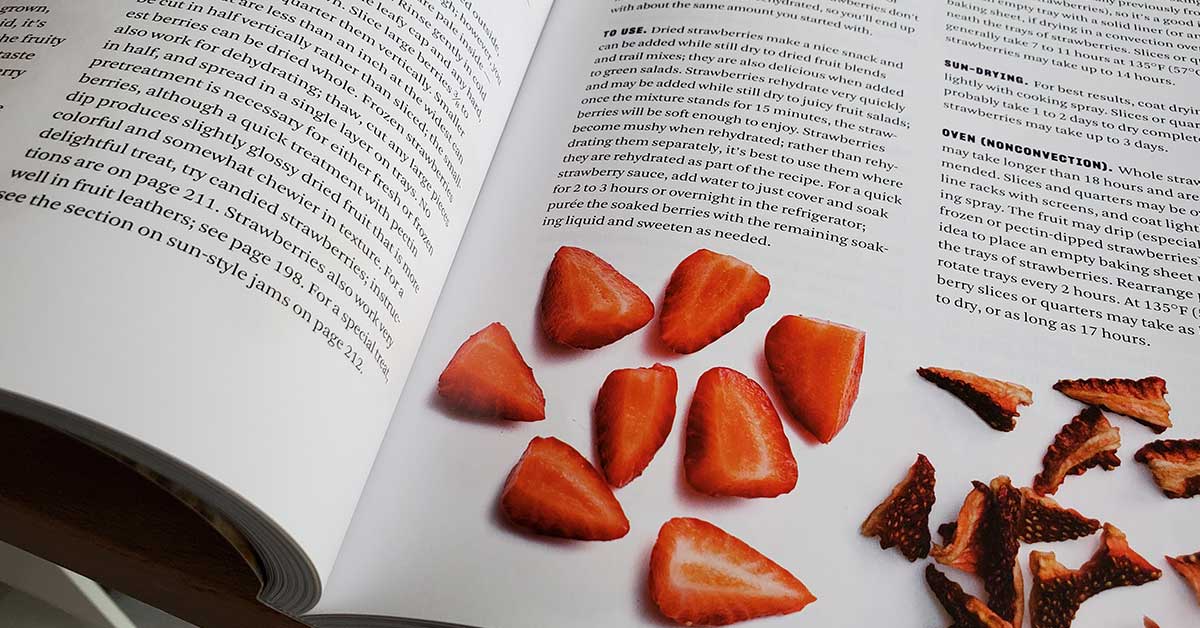 What to Look for in a Good Dehydrating Book
Safe Information - First and foremost, safe information is necessary. Just like with canning, following the National Center for Home Food Preservation standards is necessary. Always compare a book to the knowledge you've gained here and at the NCHFP for safety first.
Useful Tips - Tips are so important as they give depth to the process that is dehydrating. Simply informing how to dehydrate citrus at the standard 135°F is good information - but even better information is explaining about sugars and browning and how backing off the temperature can help alleviate that. Look for useful tips along the way.
A-Z Index - make sure the book covers enough of the foods you would normally have available to you to make it worth purchasing.
Recipes - If you are a beginner, recipes to learn how to integrate dehydrated products are good. If you are experienced, look for those that have mostly recipes!
Good Appendix - searching for what you need is made easiest with a good appendix
Free Tools for Dehydrating Information
National Center for Home Food Preservation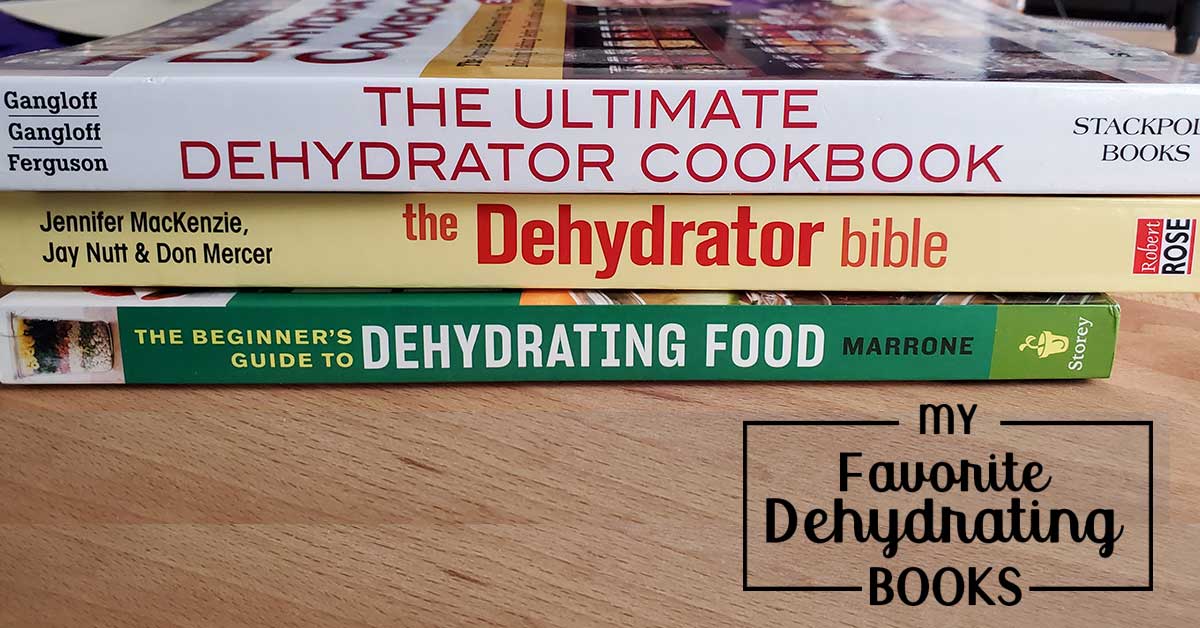 My Favorite Dehydrating Cookbooks
Best Dehydrating Books
The Beginner's Guide to Dehydrating Food by Teresa Marrone
This book has now taken over my number one spot in recommending to folks who are new to dehydrating simply for the awesome before and after photos of dehydrated foods.
The Ultimate Dehydrator Cookbook by Tammy Gangloff
The classic book that I will always recommend simply for the amount of knowledge in tips, tricks, safety, storage, and information that is available in the book.
Mary Bell's Complete Dehydrator Book
One of the original "You need to own this book" dehydrating books. Mary Bell is renowned for her dehydrator knowledge.
A little self-promotion doesn't hurt, does it? I've written this book, not as a how-to guide for every fruit and vegetable, but to teach you the basics and concept of dehydrating. It's to help you learn more about the why's of dehydrating so that you can confidently dehydrate anything - even without a how-to guide for any particular fruit or vegetable!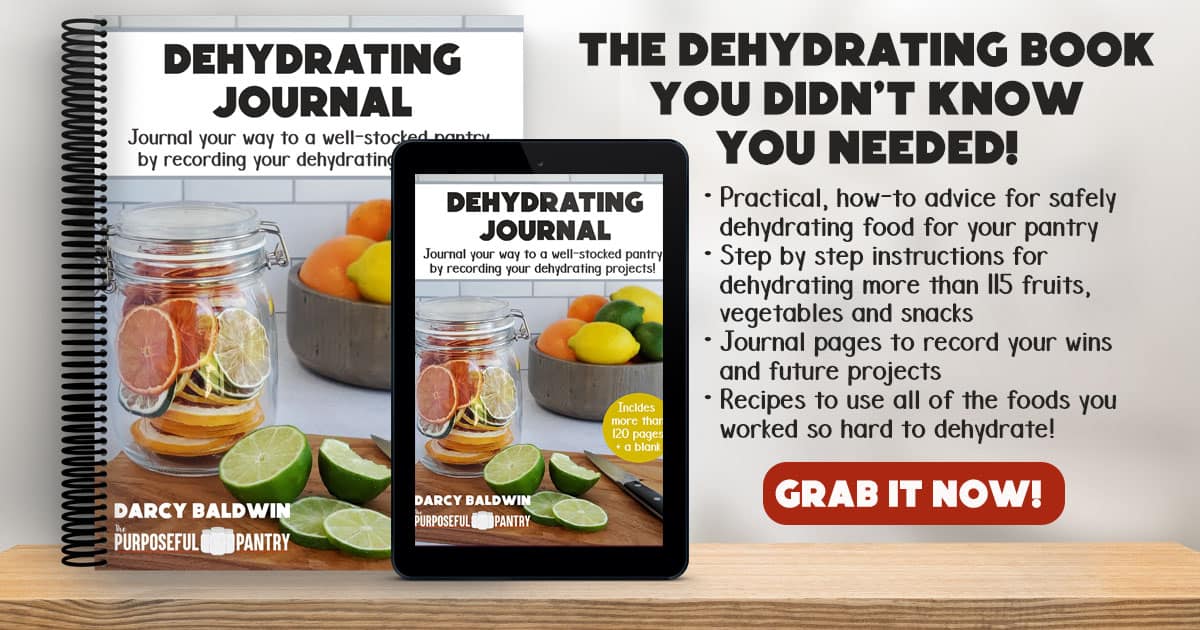 Best Dehydrating Recipe Books
The Dehydrator Bible by Jennifer MacKenzie
A book short on techniques for dehydrating, but long on recipes to learn to integrate your dehydrated foods.
Quick & Easy Dehydrated Meals in a Bag by Tammy Gangloff
For a "meals in a jar" type of book, the recipes are good, but many do require a lot of refrigerated items to cook them. You can always add to the dry mix by using freeze-dried items to replace the eggs, milk, cream etc. used in the recipes
Meals in a Jar by Julie Languille
While not all about dehydrating, it's a great book for creating meals in a jar for your food storage pantry or for gifts for Christmas. Remember, many foods can be replaced with freeze-dried varieties (meats) to extend your shelf life.
Pantry Stuffers Soup Mixes: Using Dehydrated Products by Wanda Bailey Clark
Best Dehydrating Books for Hiking/Backpacking
Recipes for Adventure - Backpacking Meals - Chef Glen McAllister
The Dehydrator Bible by Jennifer MacKenzie
The Dehydrator Cookbook for Outdoor Adventures by Julie Mosier
Food Preservation Books with Great Dehydrating Sections
The Farm Girl's Guide to Preserving the Harvest by Anne Accetta-Scott
The Ultimate Guide to Preserving Vegetables by Angie Schneider
Where to Find Dehydrating Books Cheap!
Remember, you don't have to pay full price to get great information in dehydrating books that are on the market.
Visit used bookstores and thrift stores
Use your local library and their e-book system
Use the Kindle Unlimited Library from Amazon - if you're already signed up, you have so many books at your fingertips. Currently, you can do a free trial for 2 months if you're an Amazon Music subscriber.
Borrow from friends
Ask for them as Christmas or birthday gifts
Tell me
What are your go-to books for your dehydrating reference library?
WATCH THIS VIDEO TO SEE A FLIP-THRU PEEK INSIDE EACH BOOK