Have leftover cranberry sauce from Thanksgiving? Choose one of these fifty ways to create delicious meals with leftover cranberry sauce! Recipes include breakfast, lunch, dinner, and dessert!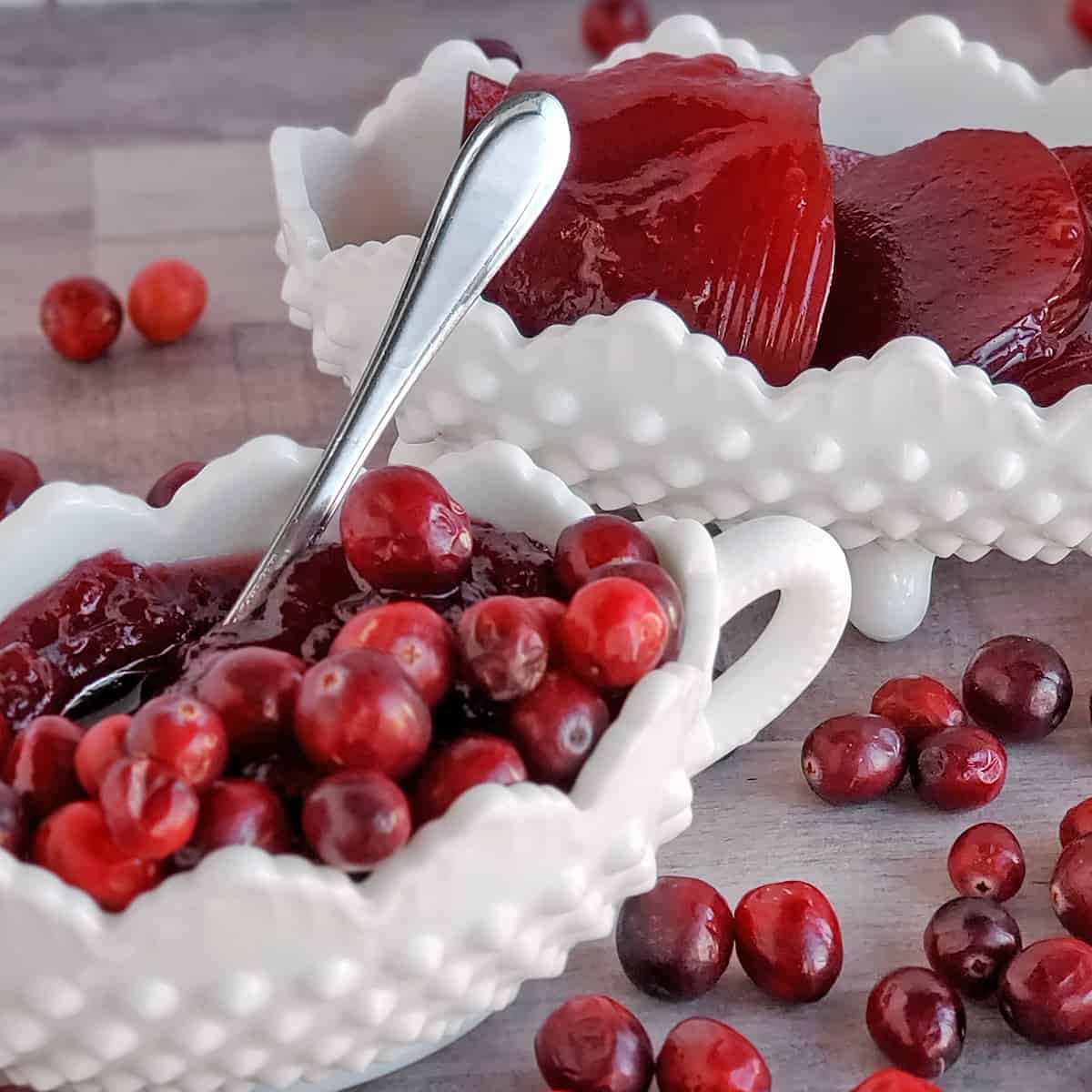 Jellied, canned or homemade. Which is your favorite?
In our home, canned jellied cranberry sauce is hands-down winner. I know...we should prefer the homemade stuff, but don't. I don't like 'floaty' things in my cranberry jelly!
Regardless of which kind of cranberry sauce you have - if you have a lot leftover from Thanksgiving, don't throw it away! You can use one of these ideas to create even more meals using leftover cranberry sauce!
As a tip with all of these recipes - you'll be using leftover cranberry sauce in recipes that may be made with plain cranberries. Yours will be on the sugary side, so make sure to compensate for that within the recipe.
Ways to Use Leftover Cranberry Sauce
Dehydrated Cranberry Sauce
Yes, you can do this. There are two ways you can accomplish this to make extremely tasty, sweet, tart fruit leather treats for your kids (or more to the point, for you!)
Jellied Cranberry Fruit Leather
Slice your jellied cranberry sauce into thin layers, or cut into fun shapes, dry at 140F / 57c until firm, leathery and dry. Think of these as being like cranberry gummies.
Cranberry Fruit Leather
Mix your sauce with about 30% applesauce, use an immersion blender or a blender to get a smooth consistency, spread into layers on your fruit leather sheets and dry at 140F / 57C until done.
See the full instructions here: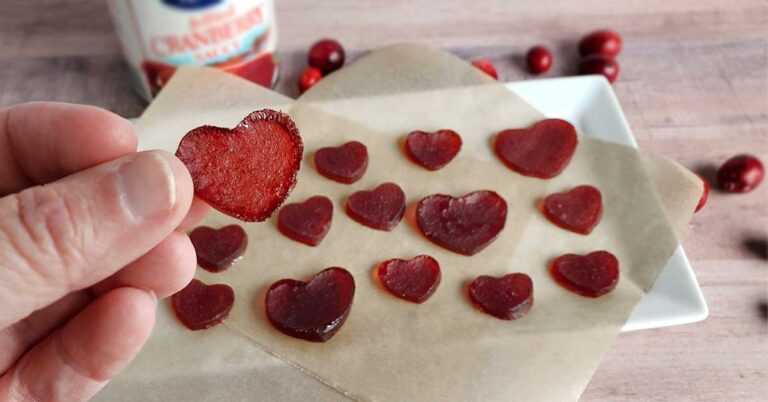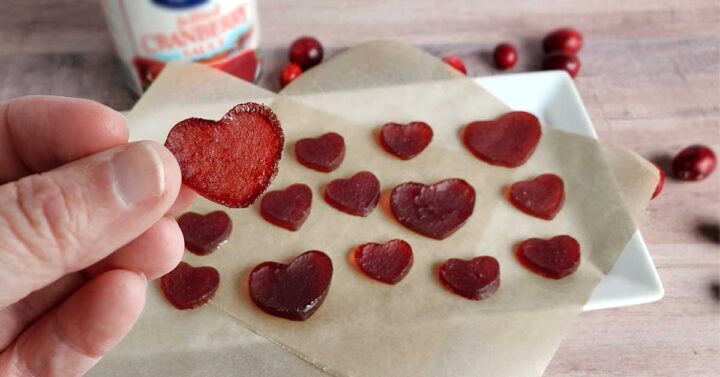 Breakfast
Cranberry Sauce Oat Breakfast Muffins
Pancake Topping - simmer a little of that cranberry sauce with some added orange juice and make a perfect pancake or waffle topping!
Cranberry Sauce Cinnamon Rolls
Bacon Egg and Cheese Cranberry Sauce breakfast sandwich - hands-up if you've ever put strawberry on your homemade breakfast muffins before? This is a perfect way of making it suited for the season! Add a little fresh spinach to remove any guilt from this sandwich!
Cranberry Sauce Breakfast Rolls
Drinks
Cranberry Spreads
Cranberry-Jalapeno Cream Cheese Dip
Cranberry Mayo - sure, turkey sandwiches are all the rage for the week after Thanksgiving, but this sauce is good for
Cranberry Pistachio Baked Brie
Rosemary Cranberry sauce glaze - instead of using cranberry juice, use some sauce with a little extra water and simmer to create a glaze - drizzle over your favorite veggies or meat.
Easy Slowcooker Cranberry Butter
Slow-Cooker Meals
Slowcooker Cranberry Chicken This slow cooker meal is from the Croctober Extravaganza, but with leftover turkey and your cranberry sauce!
Cranberry Pulled Pork - add a cup of cranberry sauce to your favorite pulled pork recipe and serve it up on tasty buns or on top of a baked potato or sweet potato.
Main Dishes
Cranberry Buffalo Chicken Wings
Cranberry Ginger Chicken (remember, replace the cranberry/juice combination with your own cranberry sauce and continue with the recipe)
Cranberry Duck Breast - if you are like me don't like the taste of warm whole cranberries, you can admit those and the honey and replace with your cranberry sauce.
Cranberry Chipotle Chicken Enchiladas
Sides
Sweet Potato with Cranberry topping - what's better than a baked sweet potato for a quick lunch or snack? Top it with a little leftover cranberry sauce and orange zest for a treat!
Sweet potato toast with cranberry - maybe this is an appetizer instead, but sweet potato toast with a little cream cheese and cranberry spread is a PERFECT way to give yourself the goodness of both of this season's favorite flavors!
3 Sandwiches
Of course, the most basic use of any good cranberry sauce is that post-Thanksgiving Day Turkey sandwich with cranberry sauce, stuffing, and turkey meat! But try it as a panini-style sandwich if you have an indoor grill - or even on the outdoor grill!
Here are some other tasy ideas!
Brie & Cranberry Grilled Cheese sandwiches - this is fabulous with goat cheese as well!
Smashed Chickpea, Cranberry, and Avocado Sandwich
9 Desserts
Spiced Tea and Cranberry Poached Pears
Peanut Butter and Jellies Thumbprint cookies
Chocolate Cranberry Sauce Cookies
Popsicles! Simply blend cranberry sauce with your favorite fruit juice or with some yogurt and pour into popsicle molds for a delicious treat!