Don't buy another bottle of ginger powder, EVER! Learn how to dehydrate ginger and make your own ginger powder that is so much better than storebought!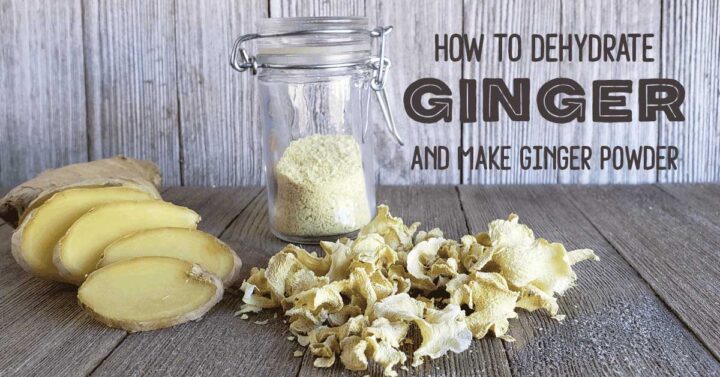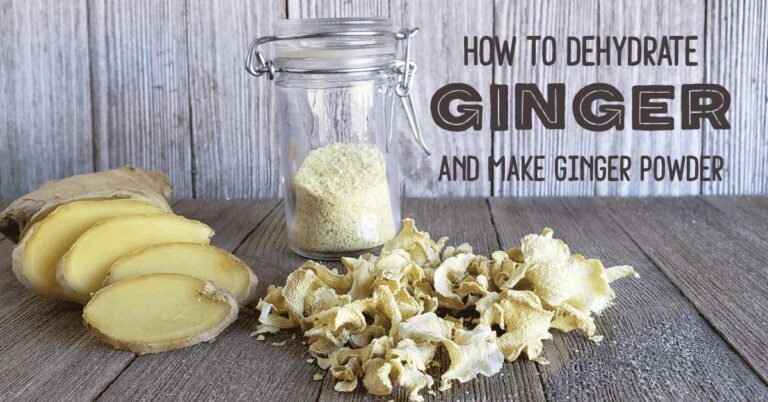 Ginger is actually a rhizome of the Ginger Plant (but is commonly called ginger root, instead). Each "hand" is full of sweet and spicy flavor that enhances many Asian dishes and makes for a great way to flavor teas and other beverages. Ginger is well known for calming upset stomachs, and relieving cold symptoms.
The problem with buying ginger powder from the store is that, unless you are buying in bulk, or in a very busy grocery store with a high turnover of its spice section, the powdered ginger you are buying may be quite old. Fresh ginger powder is amazingly pungent and perfect for your spice cabinet. The secret is...don't store powder 😉 We'll get to that in a minute.
Because it's so easy to do yourself, let's vow to never buy it again, shall we?
How to Store Fresh Ginger
Purchase healthy ginger
You want to choose ginger that is smooth and heavy for its size. Wrinkled, soft or moldy ginger isn't worth buying. Because most of us can get ginger in a bulk bin in the produce section now, pick through carefully to get the best you can get.
If you can find Spring Ginger in your stores, grab it. It's picked a little sooner than most ginger is, so the flesh is less fibrous, the skin quite thing, and you won't even have to peel it!
Store in Fridge
Store it in a freezer storage bag in the coldest part of your fridge. If you've already cut into it, make sure to blot away any moisture on the cut end before storing. You can also wrap it in a paper towel and store in a container. These methods keep for a couple of weeks.
If you can't use it in time, move to the freezer method.
Store in Freezer
Toss the ginger into a freezer storage bag, squeeze out all the air, and put it into the freezer. You can grate ginger fresh, then flash freeze it in mounds and store in the freezer for about six months in airtight storage bags to keep all the air out.
You can even grate ginger, skin and all, straight from the freezer.
How to Dehydrate Ginger Root
►Always preheat your dehydrator when you begin to prep your produce, and dehydrate at the appropriate temperatures. Running at 160F doesn't make things dehydrate faster, it just promotes case hardening, which you don't want! Have you ever tested the temperature on your dehydrator?
Peel Ginger
Ginger's most tender flesh is right below the skin, so you can use a few methods of peeling the root if you'd like. I still prefer this y-vegetable peeler,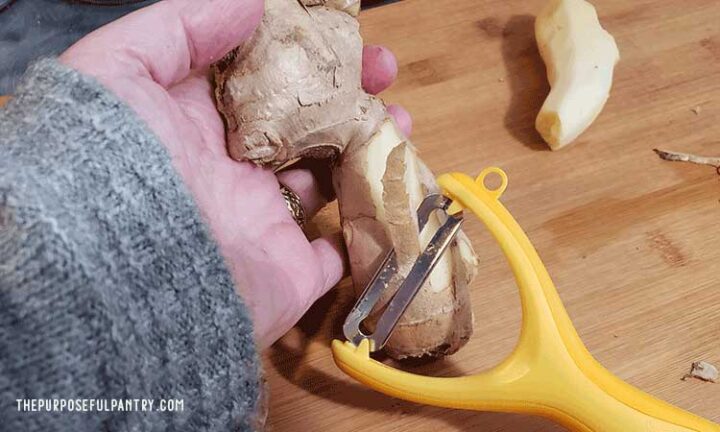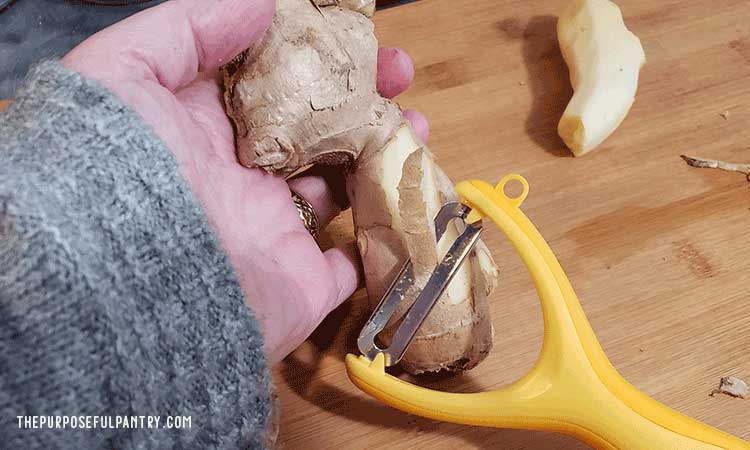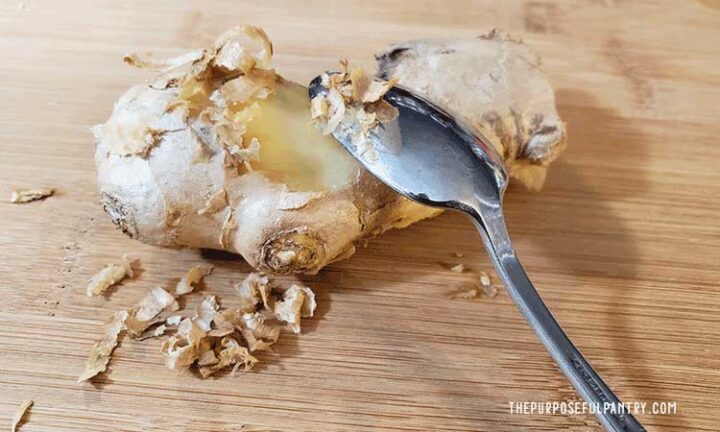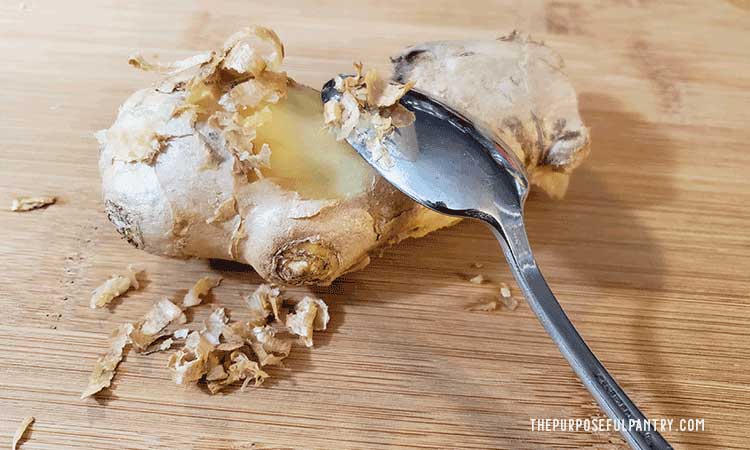 but you can also use a spoon to scrape off the skin. This technique is said to preserve even more of the ginger than using a knife to peel it, but I find it a much more awkward way of doing it, especially if you have a really knotty piece of ginger.
Choose your method of breaking down
• Grating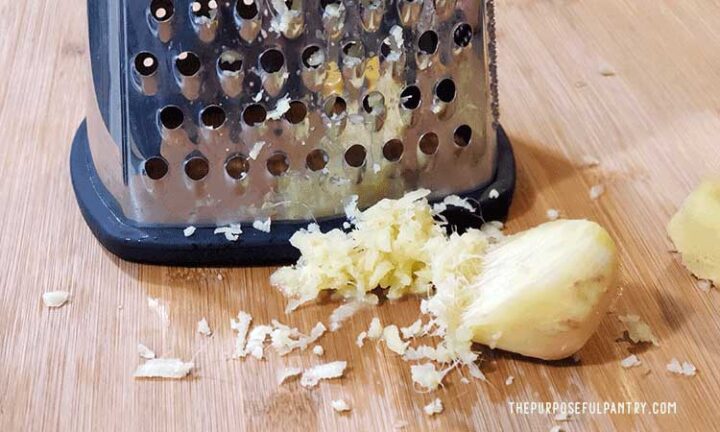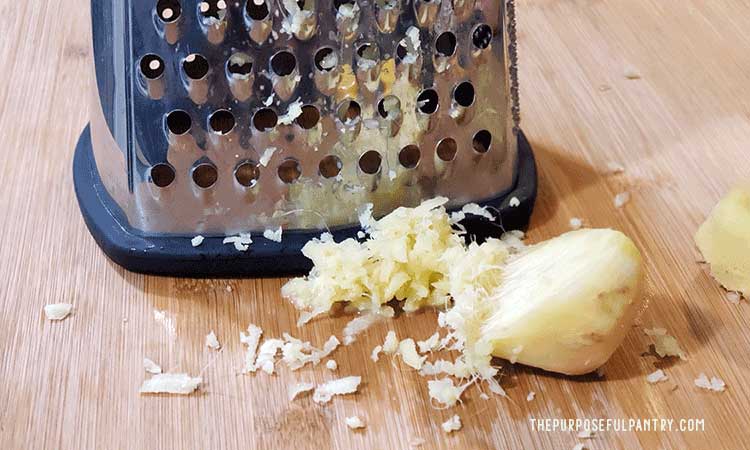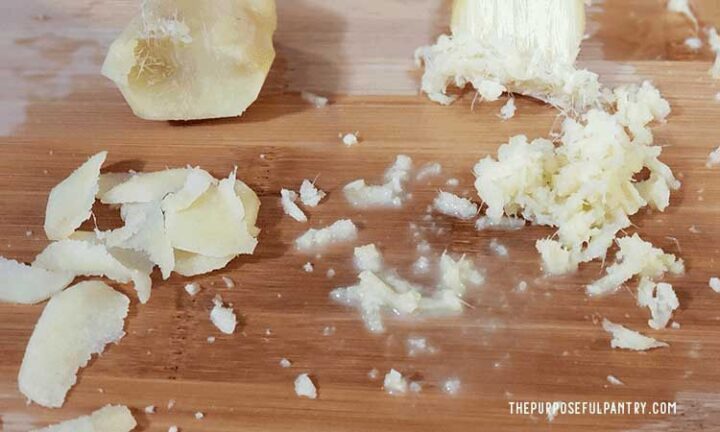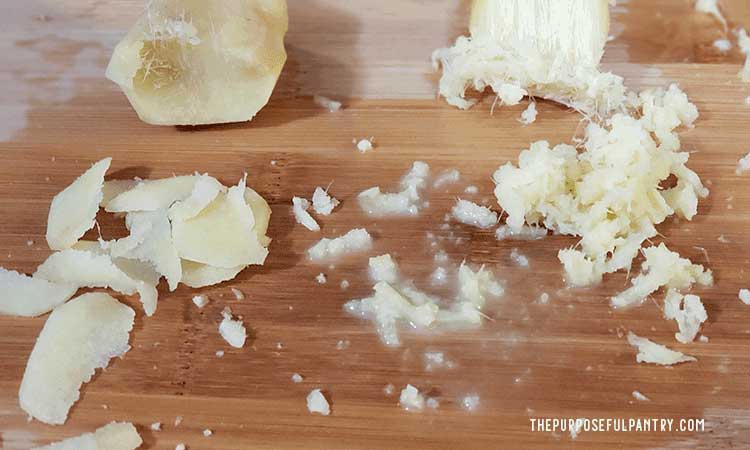 While grating makes sure you have a lot of teeny dehydrated pieces left at the end, you are also left with lots of fibrous issues, lots of juice lost (and while moisture loss is what we're intending with dehydrating, the juice lost from grating is also flavor being wasted). Be sure to pat the grated ginger dry to help remove that extra moisture.
• Slicing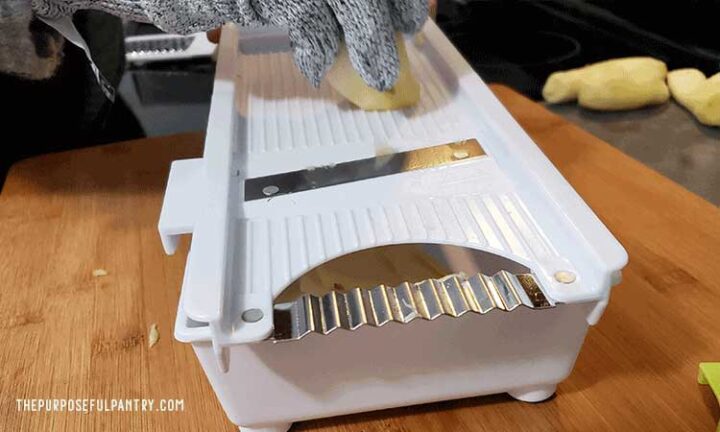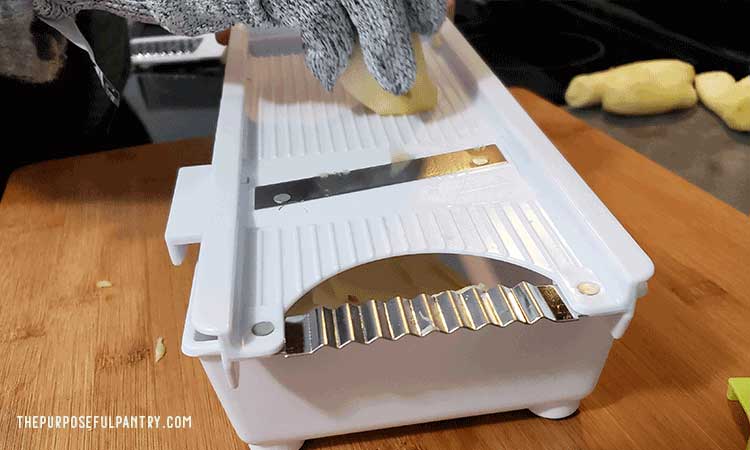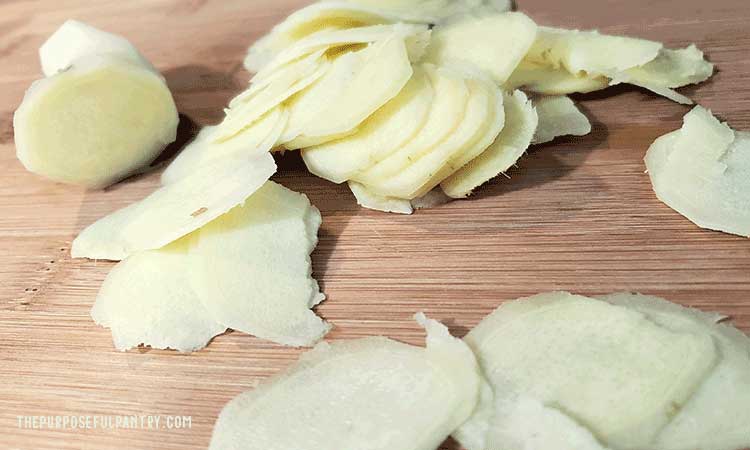 Slice, whether you cut into discs or use a mandolin for thinner discs, makes preparing go quickly. I prefer using a mandolin because it goes so quickly. However, you can easily slice discs with a knife, as well.
Please remember, whenever using a mandolin - protect yourself. I really prefer using a cutting glove over the mandolin guard for better control.
ETA: However, over time, even this cloth glove failed. instead, get a good, 'chain-mail like' cutting glove meant for the sharper edges of a mandoline and slicer.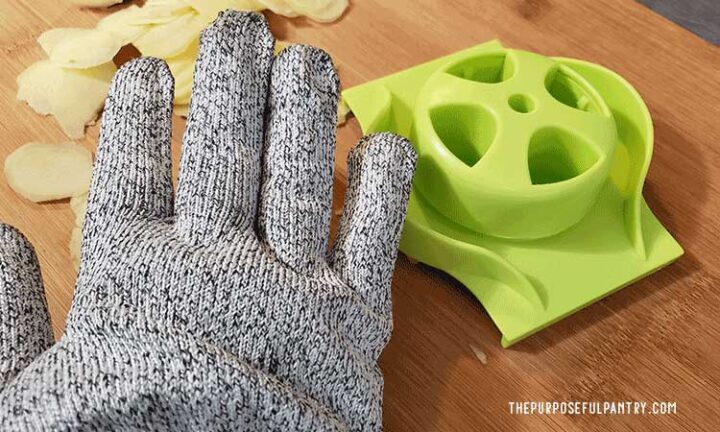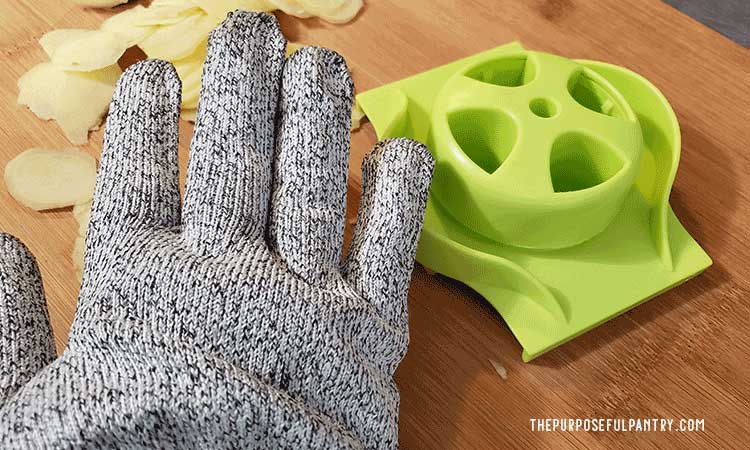 NOTE: I have since updated my glove to an even safer cutting glove after this one failed when trying to cut potatoes.
How to Dehydrate Ginger
If you've grated your ginger, you'll want to use some nonstick mats on your trays. Ginger shrinks a ton, so the pieces will easily fall through the holes. It will help with storage, too.
Dehydrate Ginger @95F / 35C for 5-8+ hours.
Ginger dries very quickly. But remember..drying times are relative. Depending on your preparation, your home's humidity, and your machine, times will vary.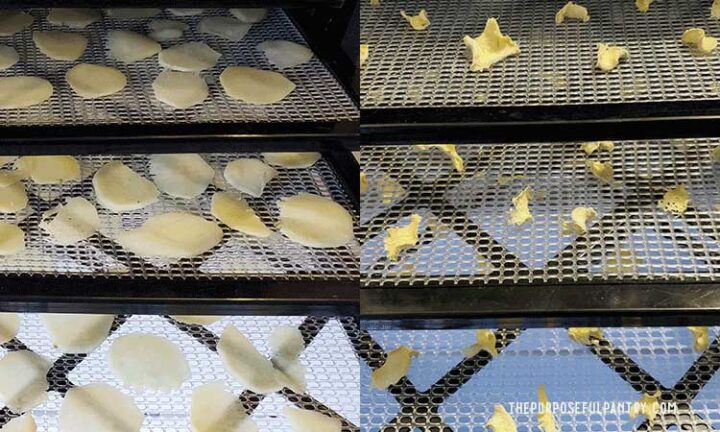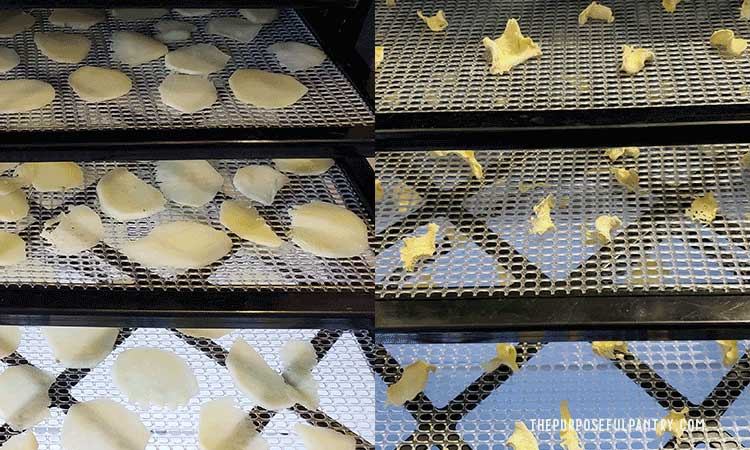 How to Know When Ginger is Done
Ginger is done when the pieces become brittle. Test a few pieces by pulling them from the machine, allowing them to come to room temperature, then breaking them.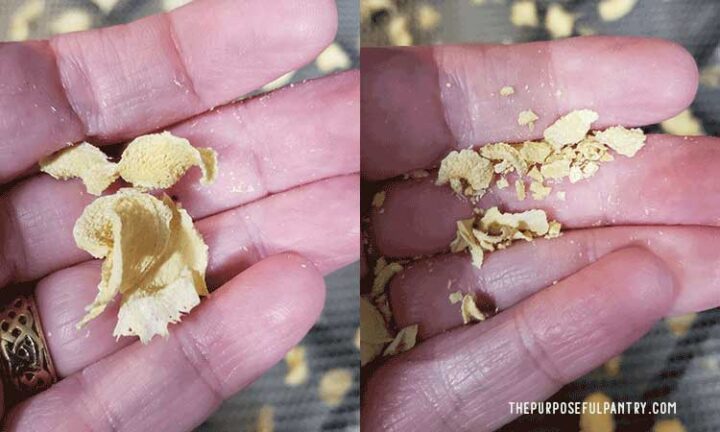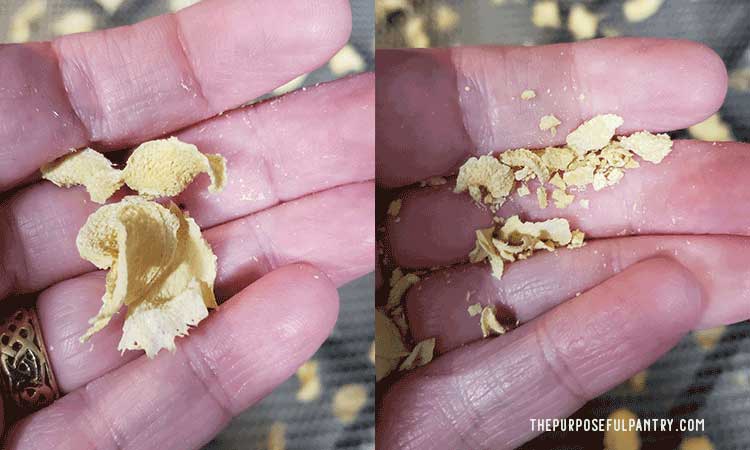 How to Store Dehydrated Ginger
Store Ginger in an airtight container - preferably vacuum-sealed if possible.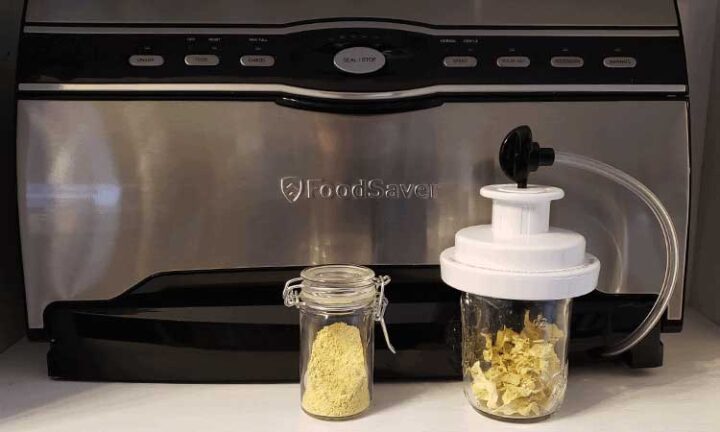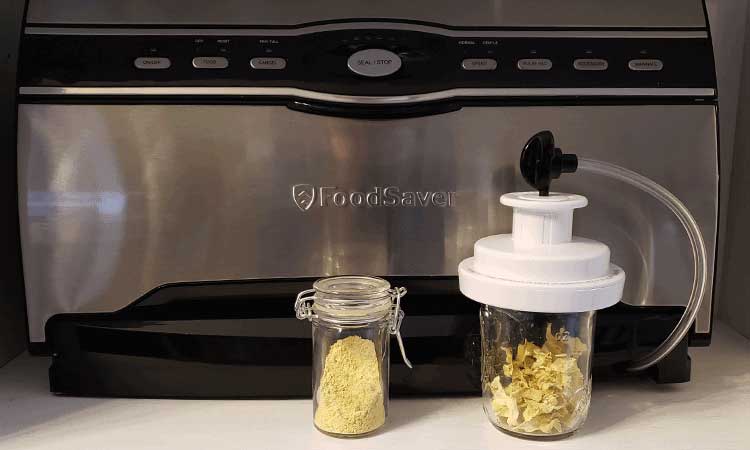 How to Make Ginger Powder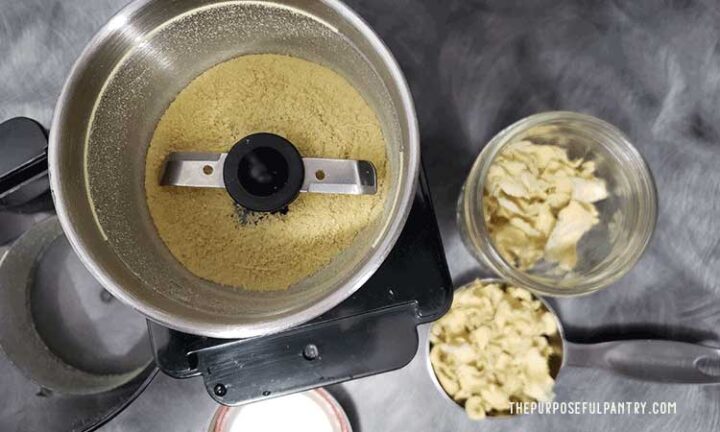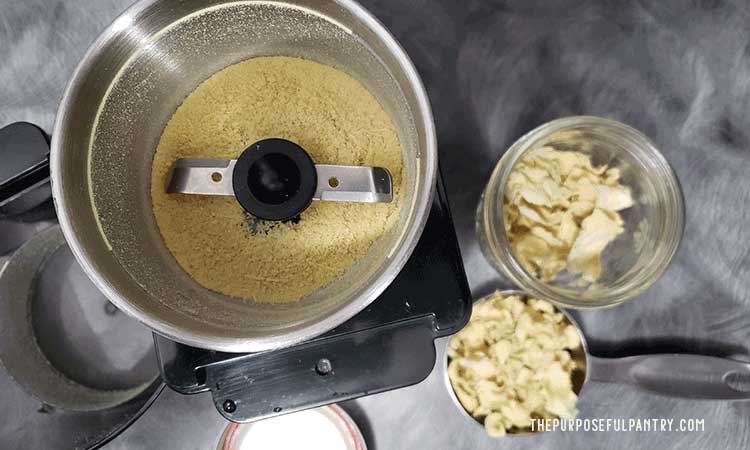 Ginger Conversion
¼ C Dehydrated Ginger = 1 heaping Tablespoon of ground ginger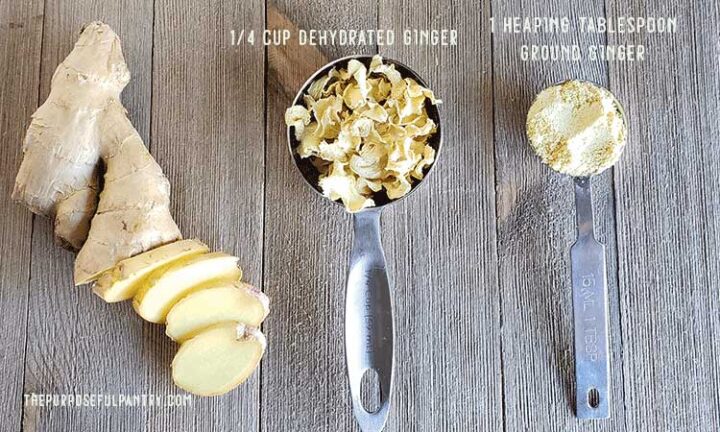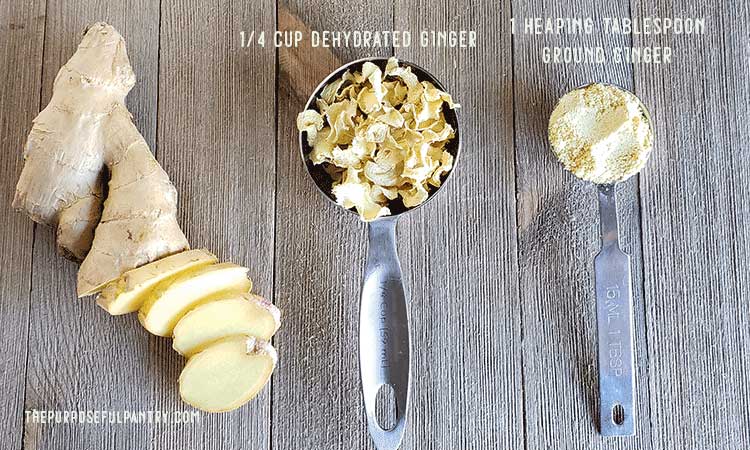 How to Store Ginger Powder
As with most spices, it is best to store in the whole spice form as much as possible. However, no one wants to drag out their grinder every time you reach for a spice. Grind only what you think you'll use in a month, and store the rest whole. Keep in an airtight container, and store in a cool, dry, dark space.
While it is said that dried powders last for about six months - you can test yours by sniffing. If you can rub it in your fingers, and readily identify the spice, the oils are still thriving, and you can continue to store. If the spice smell is faint or mostly nonexistent, it's time to grind some more!
Get Your Free Dehydrating Ginger Worksheet
[mailerlite_form form_id=1]
If you are already a member of The Purposeful Pantry Library, grab your worksheet here.
Want more?
If this intrigues you to start more of your own dehydrating projects at home, be sure to check out the dehydrating section here on the blog, and subscribe to my newsletter where you'll get more projects delivered to your mailbox each week, plus it will give you exclusive access to my Resource Library This is the place you can download ALL the printables and exclusive content! I'm also posting tutorials on my Youtube channel, and would love for you to join my Dehydrating Tips and Tricks group on Facebook for more immediate help and ideas!