DIY Instant Rice with a Dehydrator
DIY Instant Rice is so easy to make in your dehydrator. It's perfect for backpacking meals and quick meals on the fly. Follow these instructions for your own homemade instant rice! And what's even better? You can do this any kind of rice or even quinoa!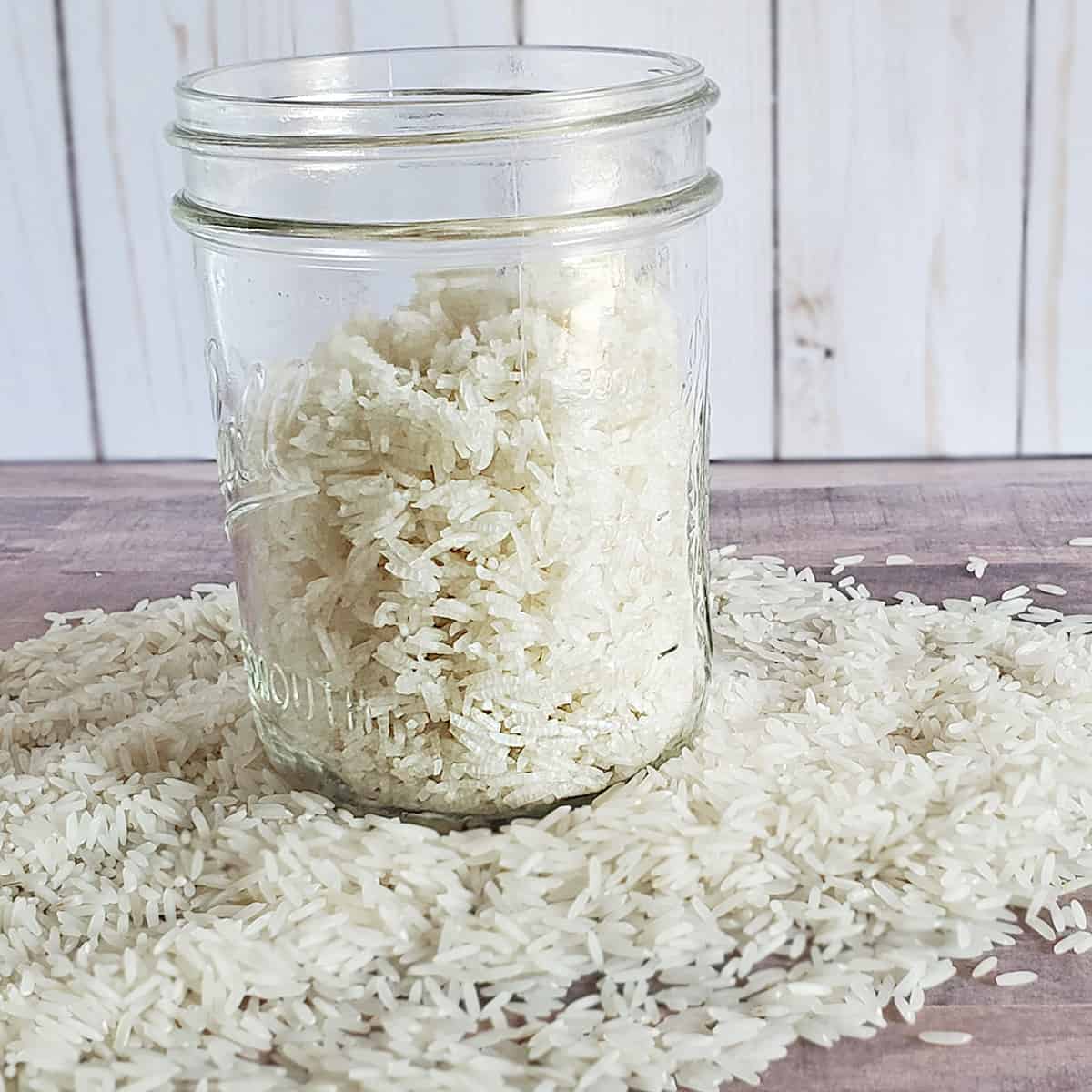 This recipe uses a dehydrator to dry cooked rice and speed up the cooking time in the future when you are ready to use it.
Why dehydrate rice?
Of course, the shelf life on long-grain white rice seems infinite. However, it isn't so easy to use in a few situations where making 'instant rice' seems a better option
Hiking meals – water and heating resources may be scarcer
Meals in a jar are a great food storage 'instant' meal, and using pre-cooked rice can help make prep faster and storage longer on the shelf. Think about how this is great for Christmas gifts, too!
Food Storage – pre-cooking and drying can extend the life of grains like brown rice further than the raw variety
Emergency meals – water and heating resources may be scarcer, and having some easier-to-prep carbs that don't require as much time and heat to make ready.
Cooking rice ahead of time allows you to dry it and create an "instant" rice just like the commercial variety you can get, but the options on what kind of grain you use are infinite! So you can do other grains that are more beneficial to your health than what may be currently available.
Dehydrated Rice and Food Poisoning
Room-temperature rice is a leading cause of food poisoning. So, when dehydrating rice, you need to follow some precautions to make sure you don't harm yourself or your family.
Uncooked rice contains the spores of a bacteria called Bacillus cereus. It can survive even through the cooking process. But the real danger time for it is in the cooling process. (Source)
Cooked rice left to cool to room temperature is a breeding ground for Bacillus cereus. The longer it's left, the more the growth. When you reheat it, it may not necessarily kill the bacteria, leading to food poisoning.
Thus, when dehydrating rice, please start with hot rice that has been thoroughly cooked (and steaming) and place it right onto your trays to alleviate any chance of food poisoning.
Homemade Instant Rice
Ultimately, taking a little time to prepare your rice now will save time and effort at dinner preparation time.
You'll have healthy rice on the table in as little as 15 minutes and will save money by doing it yourself. Start looking for sales and stock up!
Step One – Cook
Cook long grain brown or white rice according to package directions; make sure all liquid is absorbed. I like to use a rice cooker and cook it in half-pound increments. You can even use leftovers from your last takeout.
Tip: I used an Instant Pot (I use this model from Amazon) to cook my rice for this tutorial. I found that basmati works as a better rice overall than regular long-grain rice because sticking is less of a factor. I also used the 'soak/rinse, cook 3 minutes, natural release method' vs the 'rice' button Still took about 25 minutes overall, but less fussing from me, and I had better results for separate grains from all the varieties of cooking I tried.
Step Two – Dehydrate
Cover individual dehydrator trays with parchment paper, fruit leather sheets, silicone sheets, or Paraflexx liners and spread the hot, cooked rice in a single layer. Dehydrate at 150°F / 65°C for 5 to 7 hours.
Step Three – Stir often
Every thirty minutes to an hour, begin stirring your rice to break up any clumps.
Rotate your trays as needed from top to bottom on a Nesco or other stackable machine, or one-quarter turn on an Excalibur dehydrator or other cabinet style machine.
You will know the dehydrated rice is completely dry if it clicks when dropped on a tabletop.
Step Three- Cool and Store
Allow the rice to cool completely, condition for up to a week, then store it in canning jars or mylar bags for long-term storage. Use info found on this post about storing dehydrated foods to help you determine what size oxygen absorber you need for the size of your container.
Alternatively, you can remove the air from your jars with a vacuum sealer and Foodsaver jar attachments. You can see the video tutorial here on how to use them.
This will give you up to 2-3 years of shelf-stable storage.
Of course, simply storing it in an airtight container is fine for up to a year.
If using brown rice: Due to the high-fat content of brown rice, this homemade quick rice should be used within 12 months.
LEARN MORE: How to Properly Store Dehydrated Foods
How to Rehydrate Dehydrated Rice
Here's where the "instant rice" concept really comes into play!
Simply mix 1:1 with the hot liquid of your choice! Let it steep, then add it to your meal.
If you are using a meal in a jar recipe, the rice will rehydrate with the meal and liquid included.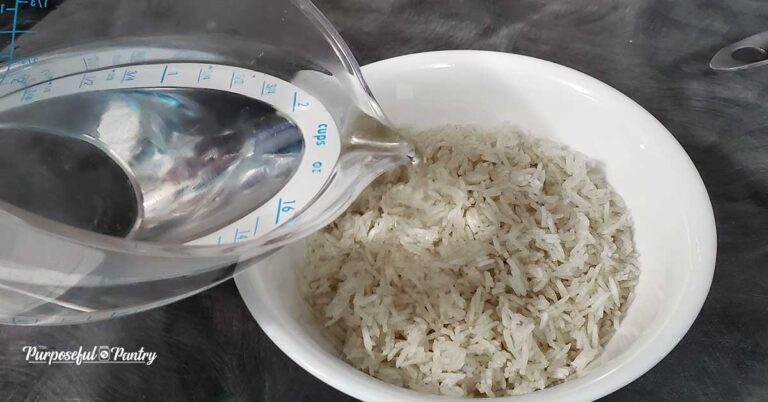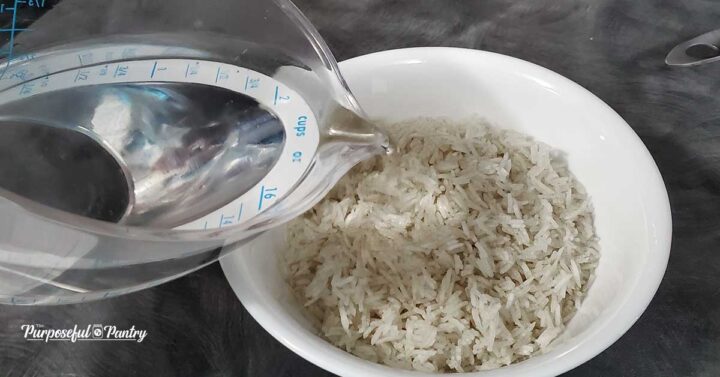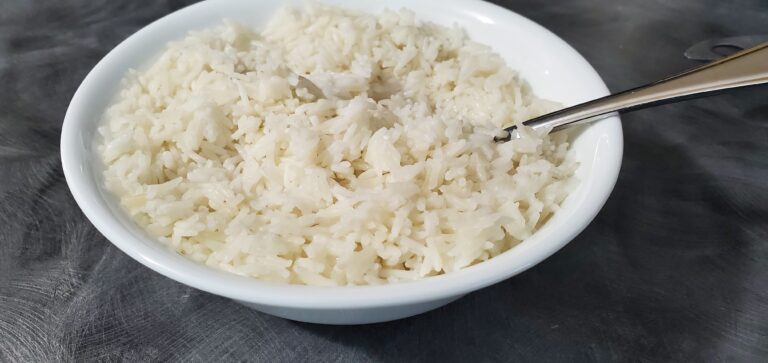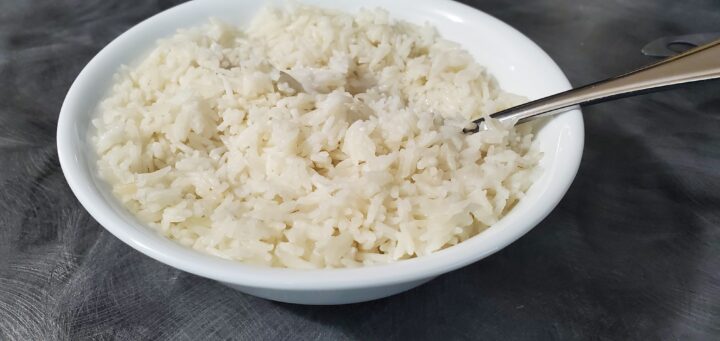 This tastes just like freshly made rice! I tested it with water, but in the future, I would do it with a broth of your choice to add more flavor.
Yield: Makes 2 cups of rice. 1 cup uncooked rice = 3 1/2 cups cooked rice = 2 cups dehydrated rice.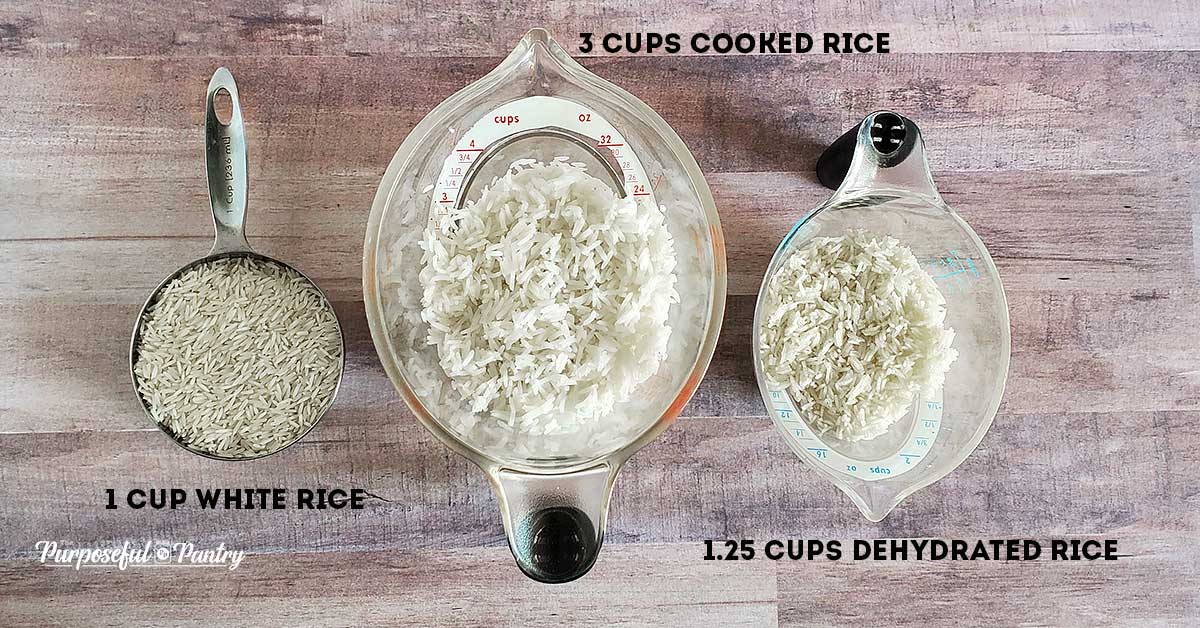 How to Use Instant Rice in Recipes
Add chicken or beef bouillon to the soaking water for more flavor.
Use in any soup in a jar mixture as a grain for added bulk.
Add cinnamon and brown sugar during step 2. It's terrific for a morning treat.
Add dried broccoli and nutritional yeast and make a complete meal.
Add peas, carrots, a little oil, and pasteurized egg white to the mix when rehydrating. Make sure to use boiling water to fully cook the egg.
Dehydrating Rice FAQ
What are the best rice grains to use?
This can be done with any white rice. However, I found that jasmine and basmati work better than traditional long-grain rice. The starches, even when soaked properly, can make long-grain rice stickier, thus harder to separate during drying time.
HOWEVER, use whatever rice you have on hand!
Can this be done with any rice?
Yes. Brown rice, which has a very short shelf life, can be used easily, and it cuts down on your cooking time tremendously from raw.
Plus, because you keep all the layers of brown rice intact, you have more nutrition with this grain than if you are using simple white rice.
And yes, this can be done with wild rice, too!
It also extends the shelf life of brown rice by twice as long! Due to the high-fat content of brown rice, this homemade quick rice should be used within 12 months.
Can this be done with other grains?
Yes, in fact, quinoa and barley are great alternatives to instant rice to make for hiking and backpacking meals or meals in a jar kits.
Is dehydrated rice safe to store?
Of course, cooked rice needs to be stored properly. However, for dehydrating, take your cooked rice straight to the dehydrator and dry it at proper temperatures. Eat the rehydrated rice quickly.
But storing dehydrated rice is perfectly safe as long as you follow the proper dehydrating process.
How long can you store homemade dried rice?
While your storage time may vary,
White rice will last up to two years.
Brown rice, and other whole grains, will last up to a year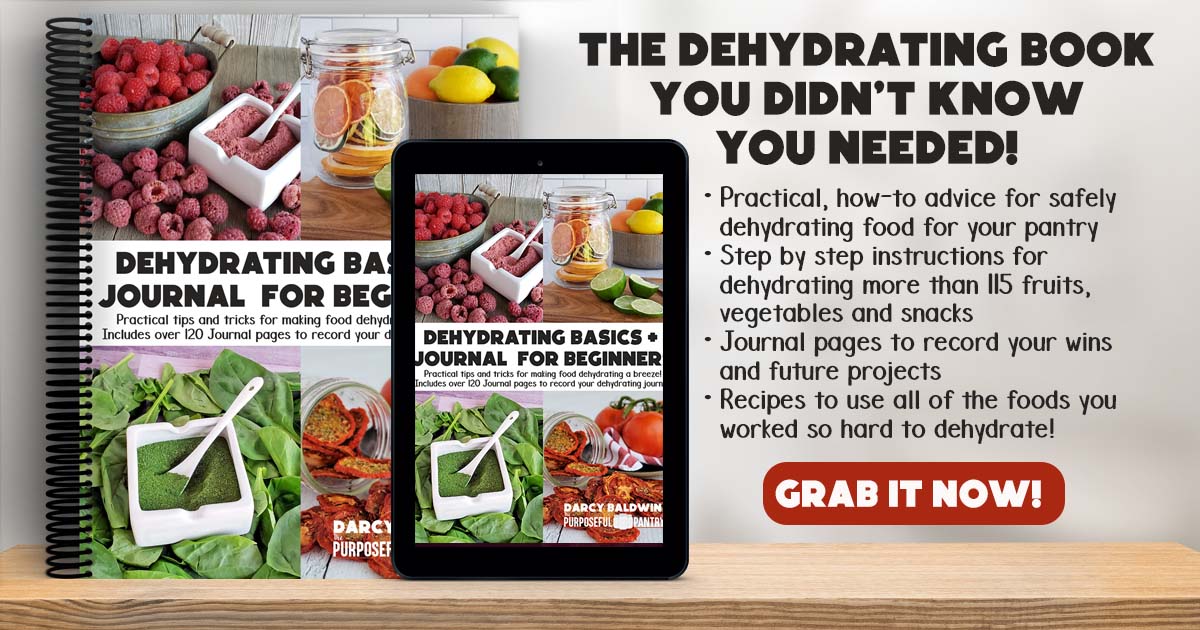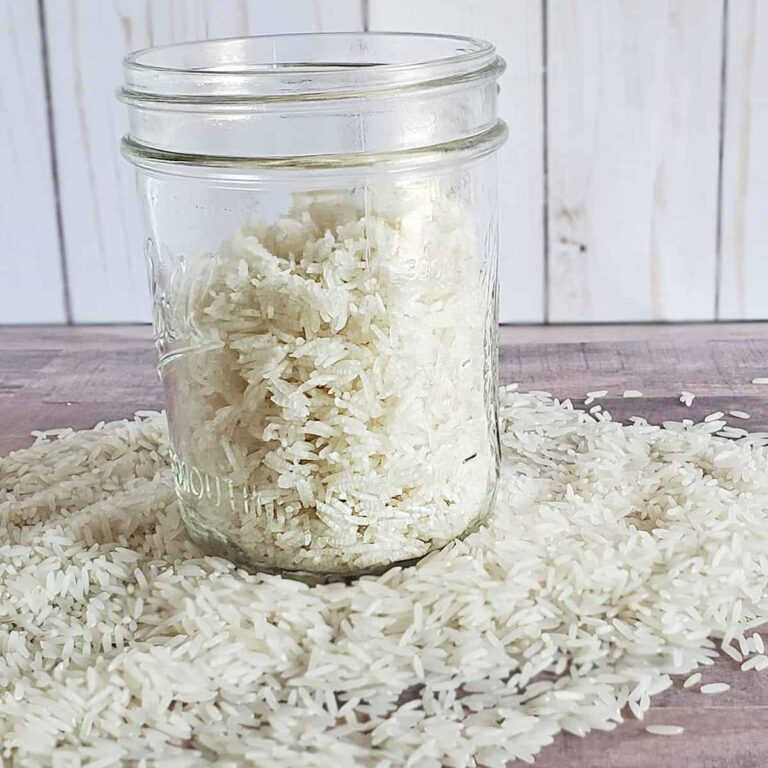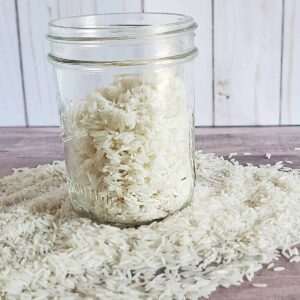 DIY Instant Rice
Create an instant rice from any variety of rice (and other grains, too) to make creating meals in a jar, hiking meals, and emergency food storage a little easier!
Print
PIN THIS!
Rate
Instructions
Cook rice according to the package directions

Place warm rice on dehydrator trays and spread out the best you can

Dry at 150°F /65°C for 5-8 hours

Periodically stir rice to separate grains

Dry until translucent and 'ping' when dropped on a solid surface

Cool and store in an airtight container
Nutritional information is an estimation only. Nutrient information for dehydrated foods is based on fresh. Use 1/4 of the servicing size for the same nutrient information. Thus 1 Cup of fresh fruit has the same sugars as 1/4 dried.
©ThePurposefulPantry. Photographs and content are copyright protected. Sharing of this recipe's link is both encouraged and appreciated. Copying and/or pasting full recipes to any social media is strictly prohibited.