Dehydrate canned pumpkin and save tons of space in your pantry, plus give you tons of ways to use pumpkin powder all year long!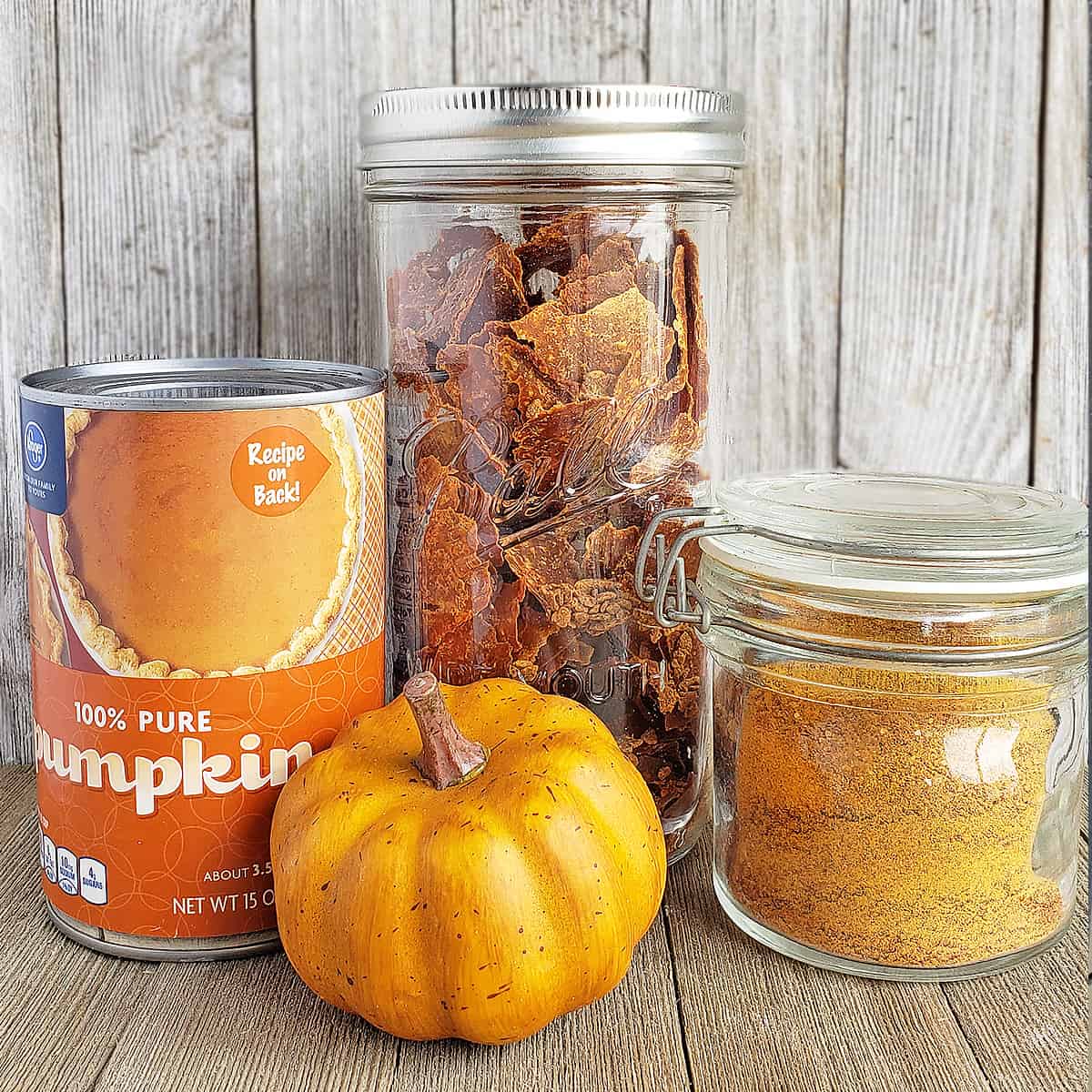 I have a confession to make. I hoard pumpkin. Lots of it. Do you remember the pumpkin shortage of 2011 (and 2017 and 2018 and 2019...)? My habit started then. I'm sure of it.
I use pumpkin all year long. We love muffins all throughout the year, and will make pumpkin pancakes or smoothies if we're in the mood. Especially if we're partaking in a little Harry Potter movie marathoning. But seriously, we eat pumpkin all year long.
Why dehydrate pumpkin when you've already got it canned or frozen in your freezer? Space-saving, my friends, space-saving. Especially if you are one who tends to be a bit purist about when you can eat pumpkin, you can stockpile through the season, and create space by dehydrating your overstock.
Plus, it's another powder to add to your powder collection in the pantry!
Quick instructions on how to cook fresh pumpkin
For those of you looking to dehydrate pumpkin puree from a fresh pumpkin, here are the quick instructions.
Wash your pumpkin
Split in half
Scoop out fiber and seeds (you can save those seeds to roast later!)
Place pumpkins face down on a protected cookie sheet with about ¼ cup water
Cook at 350F until tender
Allow to cool
Skin should slip right off, or use a knife to help remove the last of it
Scoop out flesh and blend with a little of the water if you want a super smooth consistency
You can see a video and tutorial on how to dehydrate fresh pumpkin here.
How to Dehydrate Canned Pumpkin
And bonus that this works on your home pureed pumpkin as well!
Canned pumpkin is super easy to dehydrate because it is as easy as pouring onto your tray, spreading it out, and putting it into your dehydrator trays. Homemade pumpkin puree is best, but there's just something fundamentally awesome about easy dehydrator projects that require very little work!
1. Wash can tops
This is important as can tops can collect all sorts of ick from the store shelves, and even from your own, so always give them a good cleaning first. A simple wipe with a hot rag or vinegar dip is fine.
2. Spread onto trays in a thin layer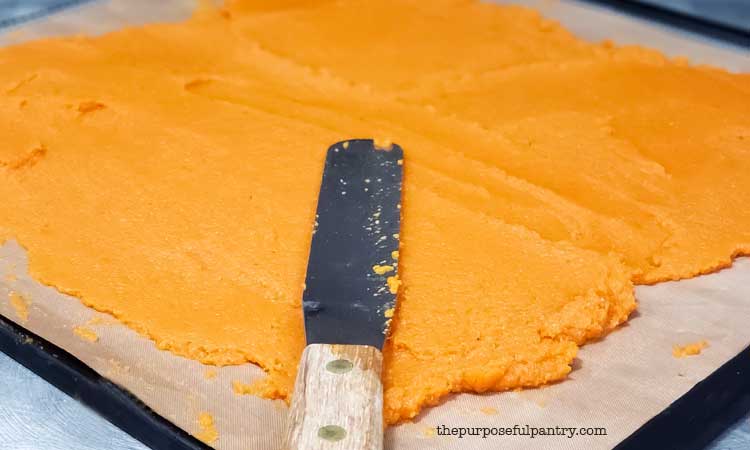 You'll want to use parchment paper or tray liners for this project. I have both the Excalibur Paraflexx sheets and a generic set of nonstick sheets. Both work equally well, though the Paraflexx sheets move around less as you spread. You'll find more ideas of what I recommend on The Purposeful Pantry recommends page.
You may find that you like using an icing knife (or even better, an offset spatula) better than a regular silicone spatula.
Make sure to spread the puree out into the thinnest layer possible. It will make it easier to dehydrate and go more quickly.
► Tip: If using homemade pumpkin puree, measure by the cup as you put them on trays. It will help you later in knoing how to store and reconstitute.
3. Dry at 125°F/52°C for 10-12 hours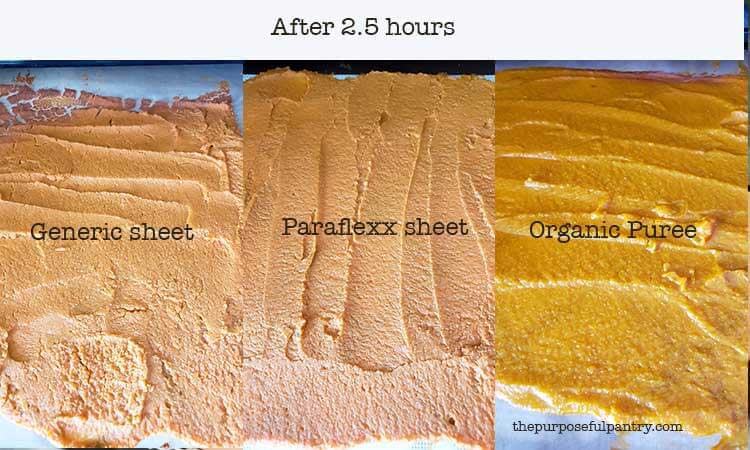 4. Check for dryness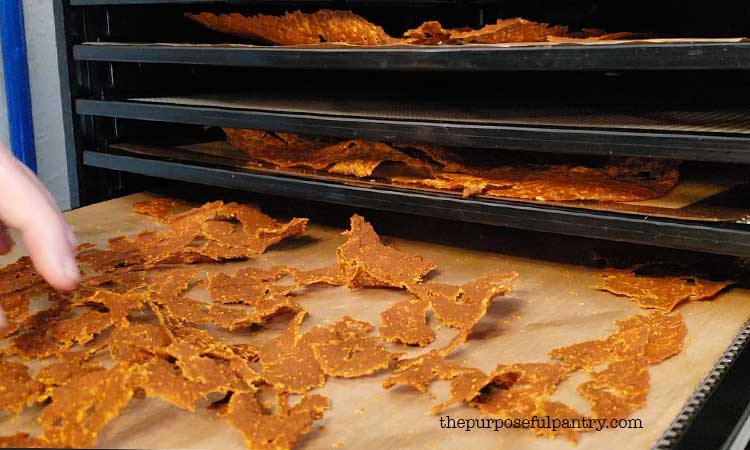 Before testing, be sure to allow leather to cool. I dry to brittleness since this isn't going to be a snack. The sections should break easily, and not bend.
5. Condition
Conditioning your dehydrated produce is imperative to the safe storage of your dehydrated products. Follow the steps for conditioning your dehydrated food, and you can be sure that you won't experience issues with mold or softening.
Dehydrating Pumpin Q&A
Should I rotate my dehydrator trays when drying pumpkin?
I rotate (spin) my trays every two hours or so. I find that with my Excalibur, it dries from the back to the front, so rotating the trays every couple of hours helps it dry evenly for solid leather like this.
If you have a vertical machine, rotating the trays top to bottom every four hours or so is best practice to have trays drying at approximately the same rate.
Should I cook down pumpkin puree?
If your puree is from a box vs a can, it may be moister and need to be reduced before drying to cut down on drying time. Simply simmer on the stovetop until the puree has become thick.
A note about Dehydrator Sheets
The last time I dehydrated pumpkin, I didn't use the Paraflexx sheet. I had enough of the generic sheets for the project. This time, I did use both and I noticed something ...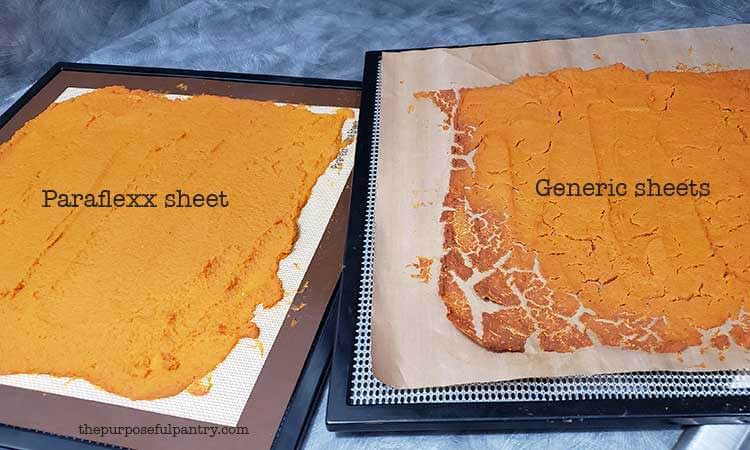 The generic sheets are allowing the pumpkin to dry much faster, cracking (which is fine for this process since I'll be powdering), and browning up faster.
Now, I may have spread these a little too thin on both sets, but I was surprised to see the difference in how each tray is responding. And all the generic sheet trays are doing the same. I've been rotating them often to keep them from getting too dry on one side and not the other. Nothing is burned, but it was interesting to see how each sheet reacted.
This is not to give preference to either as being better than the other. But just something to notice that if you do things differently between trays, be sure to keep your eye on it so that you can react accordingly.
STORING DEHYDRATED PUMPKIN
At this point, you can store your pumpkin sheets in airtight containers to rehydrate as needed. I use a vacuum sealer + jar attachment (which are one of my favorite budget-friendly food storage tools!) to vacuum seal my pumpkin chips in a mason jar.
If you don't have a vacuum sealer, O2 packs (oxygen absorbers) can be put into your jar, and which will help form a vacuum after about 24 hours. This would be necessary if you're going to be storing these for three months or longer since they are one-time use items. If you're in and out of the jar often, desiccant packs are better to help control moisture.
Learn more: How to Properly Store Dehydrated Foods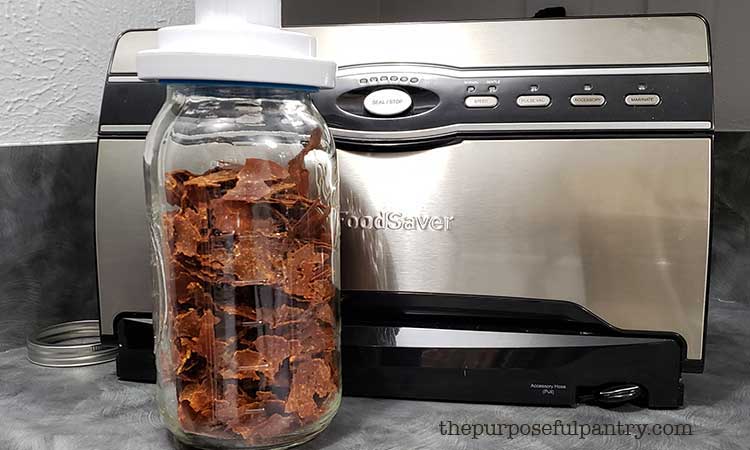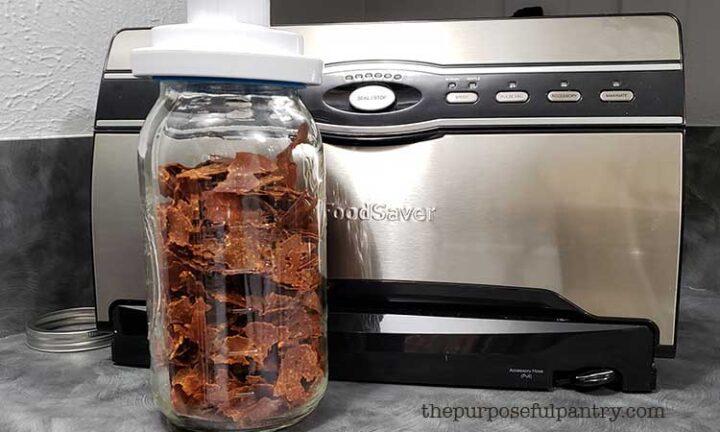 This time, however, I'm going to show you how to take it one step further and make pumpkin powder!
How to Make Pumpkin Powder
If you plan on making pumpkin powder from your dehydrated pumpkin puree, you don't need to worry about how much each sheet holds. You'll be measuring out the powder in a ratio to water to get the final end product.
Grind your dehydrated pumpkin until you're down to a powder. You'll want to sift it through a wire mesh strainer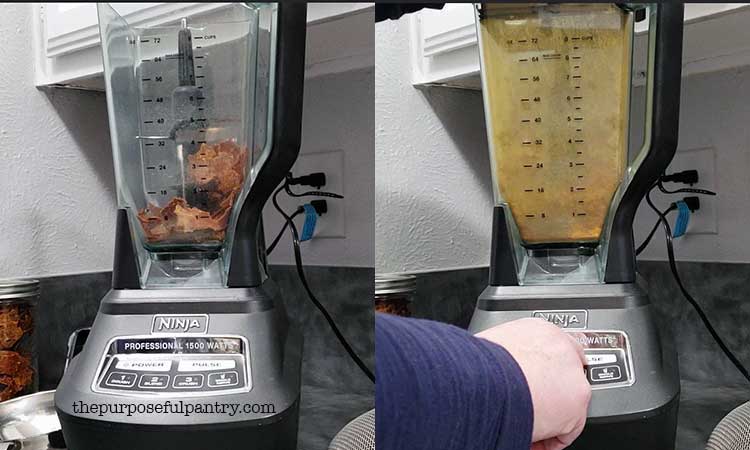 Repeat this with the leftover bits as many times as you need to. It took me 3 times of running through the blender to get to the point where I was happy with the amount of powder I got, and threw the last little bit into my coffee grinder for the last bit because it works better that way than in a large blender.
LEARN MORE: How to Dehydrate Pumpkin Leaves and Make Green Pumpkin Powder
How to Use Dehydrated Pumpkin Puree
The ratio of rehydrating powdered pumpkin is this:
To rehydrate, use a 4:1 ratio of water to pumpkin powder and allow it to sit for 20-30 minutes to fully rehydrate.
2 C water to ½ C pumpkin powder = 2 C pumpkin puree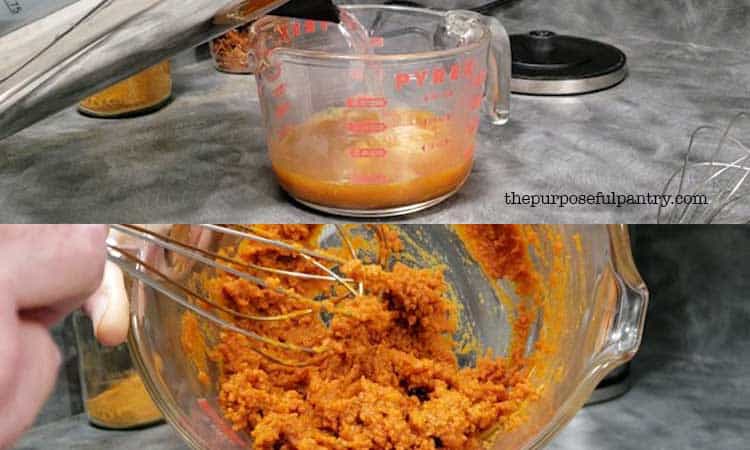 This particular ratio was ¼ C to 1 C of water and was a little too thick. I added about 1 C more to make it more of the consistency of the original canned pumpkin. Though the ratio is 4:1 - you may have to play a little to get exactly the consistency you want.
Use puree as normal in pies, muffins, etc!
LEARN MORE> Make Health(ier) Pumpkin Waffles with your rehydrated pumpkin powder!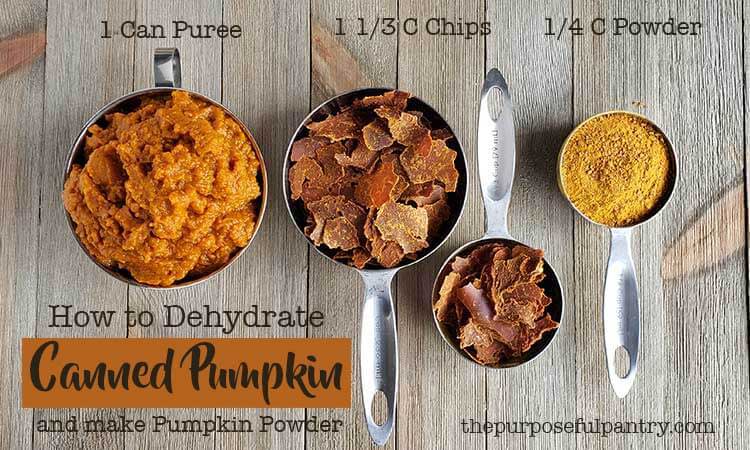 When I realized just how much of my pantry could be dehydrated to save space for more food storage, I was astonished! This is my favorite thing to have handy to make soup, pie, muffins, and anything that helps me get the feeling of fall again, all through the year. So why don't you give dehydrating canned pumpkin a try!
Other uses:
Use the ratio above to recreate the pureed pumpkin to use in any recipe you'd use pumpkin for. OR you can use powder to add flavor to any recipe you're already making!
Soup
Replace a portion of the flour in a bread or muffin mixes for pumpkin flavor without the moisture of pumpkin puree
Smoothies
Pumpkin pie
Pumpkin Spice Coffee Mix

6 tablespoons pumpkin powder (adjust to your taste)
3 tablespoons ground cinnamon
2 teaspoons ground ginger
2 teaspoons ground nutmeg
1 teaspoon ground allspice
1 teaspoon ground cloves
Shake a little into your coffee for a pumpkin spice flavor!
(reminder, this will not dissolve the way drink mixes do, so expect a little fiber left at the bottom of your coffee cup)
How to Store Pumpkin Powder
Pumpkin powder should always be stored in an airtight container to help preserve its nutrient levels and to keep from clumping. You can learn how to keep powders dry here, and how to fix it should your powders begin to clump.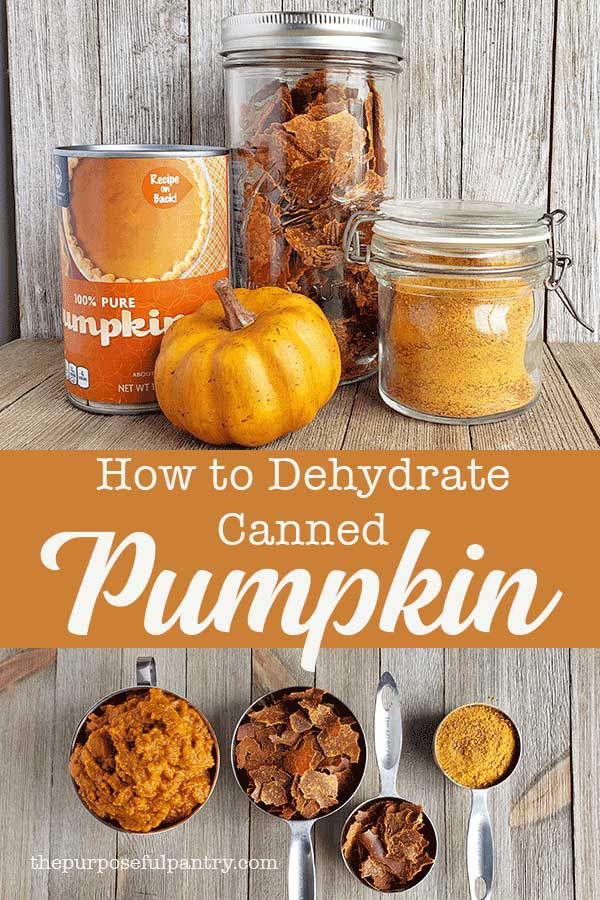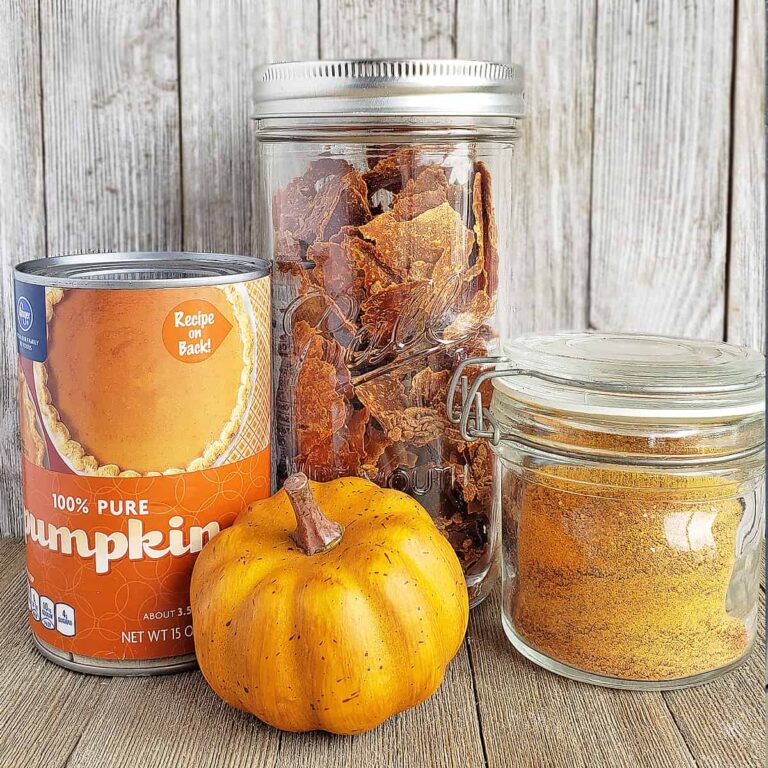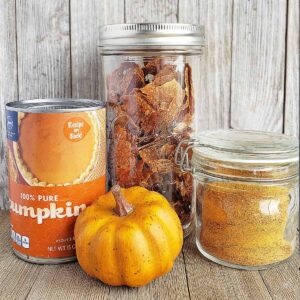 Pumpkin Spice Coffee Mix
Create a pumpkin spice coffee mix perfect for enjoying fall, and then having all year long!
Print
PIN THIS!
Rate
Ingredients
6

TB

Pumpkin Powder

3

TB

Ground cinnamon

2

teaspoon

Ground ginger

1

teaspoon

Ground allspice

1

teaspoon

Ground cloves
Instructions
Shake a little into your coffee for a pumpkin spice flavor
Notes
This coffee mix doesn't dissolve the way commercial drink mixes do, so consider putting into a reusable muslin tea bag or a fine mesh tea strainer in order to allow the flavors to infuse in your coffee if you don't like having grains at the bottom. 
You can also experiment by adding them to your coffee grounds before brewing.
Nutritional information is an estimation only.