These 25+ amazing uses for watermelon will elevate your traditional summertime treat! Preserving watermelon is so easy with freezing, dehydrating, canning, pickling, and more!
Did you grow up having watermelon as a traditional summertime snack at picnics and baseball games?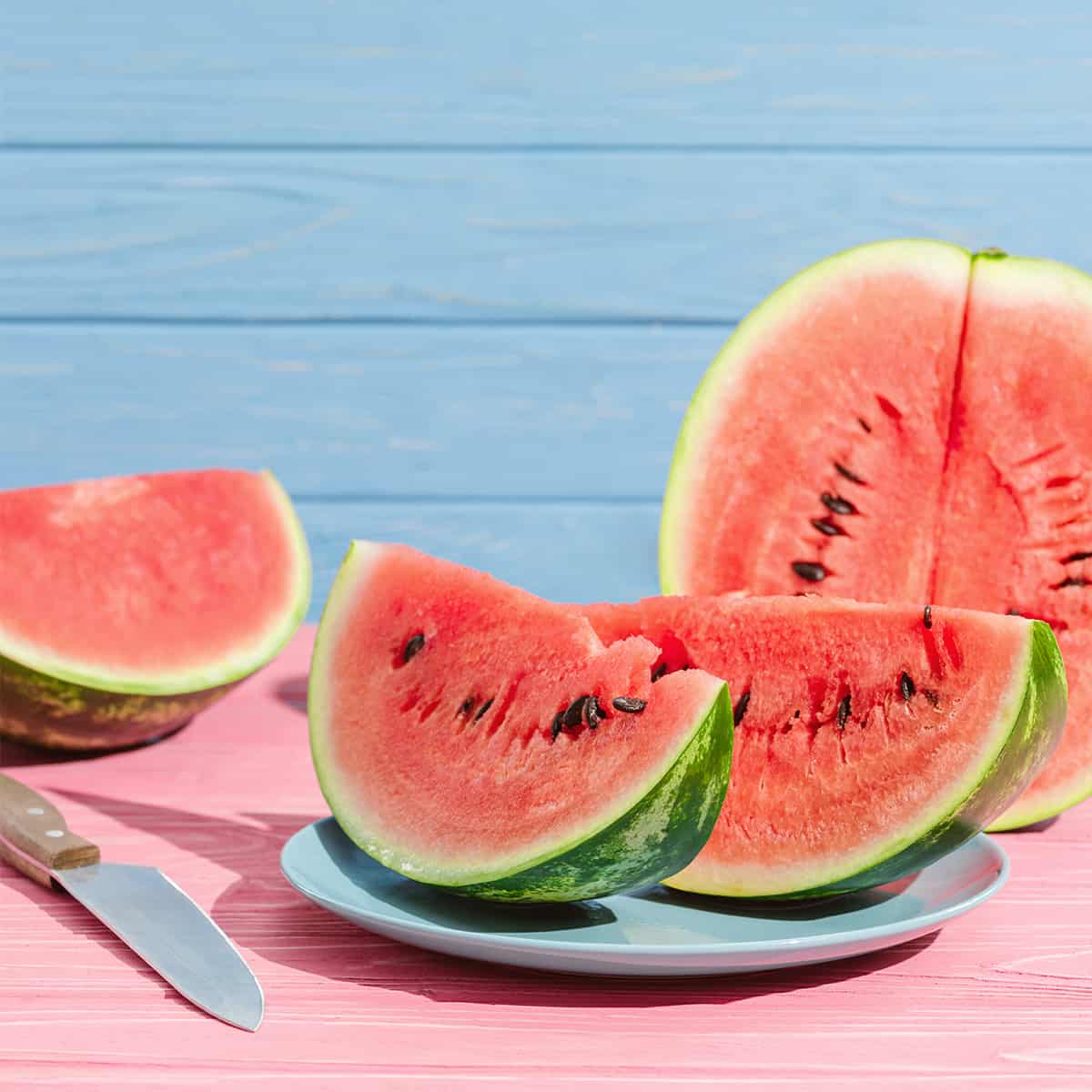 But there's so much more to the experience of a ripe watermelon than just eating the triangles and spitting seeds as far as you can go!
25+ Ways to Use Watermelon
Ways to Preserve Watermelon
Watermelon Jerky - aka dehydrated watermelon or watermelon taffy is one of my kids' favorites. Slightly chewy like taffy, fruit leathery to store, it's a perfect shelf-stable way to keep watermelon going well past harvest season! Sprinkle with a few finely minced mint leaves to flavor.
Watermelon Fruit Leather
Watermelon Ice - cut up in blocks or puree and freeze in cubes for use anytime of the year in drinks, smoothies, etc.
Ideas to Serve Watermelon
These fun uses for watermelon are for fresh, grilled, or even frozen watermelon for drinks, appetizers, main dishes, and dessert!
Appetizers and salads
Watermelon Salsa - like the salad, watermelon salsa is not a specific recipe, but one that you can make your own! Experiment with flavors like jalapenos (smoked would be good, too!), grilled corn, onions, garlic, mint or cilantro, mangos, etc.!
Watermelon Salad - there are so many ways to serve this salad that you can experiment for days and not get the same salad twice!d
To watermelon chunks add:

Mint, feta cheese, and onions
Honeydew, canteloupe, watermelon balls (or squares and make it a quilt grid!), sprinkled with feta and mint - a classic!
Watermelon, balsamic vinegar, cucumber, and cojita cheese
Lettuce greens, jalepeno, avocado, and sprouts

And to add an even more robust flavor, grill the watermelon ahead of time!
Add cubed cucumber, mint, and watermelon and mix with a poppyseed vinaigrette!

Watermelon Gatzpacho
Main Dishes & the Grill
Watermelon BBQ Sauce! - imagine this on ribs or chicken on the grill with a watermelon salad and watermelon cocktails for an adult picnic!
Watermelon Kabobs: Watermelon bites, bundles of prosciutto or bacon, chunks of Havarti cheese, a mint leaf, drizzled in a balsamic glaze
Grilled Watermelon - spears or triangles grilled over a low flame. You can brush on a mixture of flavorings like brown sugar, lime, and cumin or salt, chili powder, and brown sugar.
Watermelon Chicken - instead of plopping a chicken onto a beer can, form a bowl from half a watermelon, and place your chicken inside to grill and smoke it.
Desserts
Drinks
Fizzy Watermelon - puree watermelon and mix with a little seltzer water!
Blend it for juice - you may want to strain it if you're not a fan of pulp, but cold watermelon juice is VERY refreshing.
On the Homestead
Finding other ways to use food that aren't something we immediately intake is not a waste of the food. Everything that goes back into our food source to nourish the next crop is extra nutrition for us.
Feeding frozen watermelon or even sliced watermelon to your chickens, pigs, ducks, goats, cows, etc during the hot summer will help cool them off
Compost - yes, you can compost the rind or the flesh if you just have too much to deal with!
More information on Growing and Harvesting Watermelons
How to Pick a Ripe Watermelon
Pick a watermelon that feels really heavy for its size and is a good rich color. Expect to find a patchy area where it is yellow/brownish. This is fine - it's where it was allowed to ripen on the ground instead of being picked early
How long does fresh watermelon last?
A whole watermelon can last for a week or two in the fridge. The more you cut the watermelon, the faster it begins to break down. So cut within only a few days of serving for the best texture you can serve!