Freezing cherries is a simple way to preserve them for use later! Learn to freeze cherries to use for baking, canning, dehydrating, and more!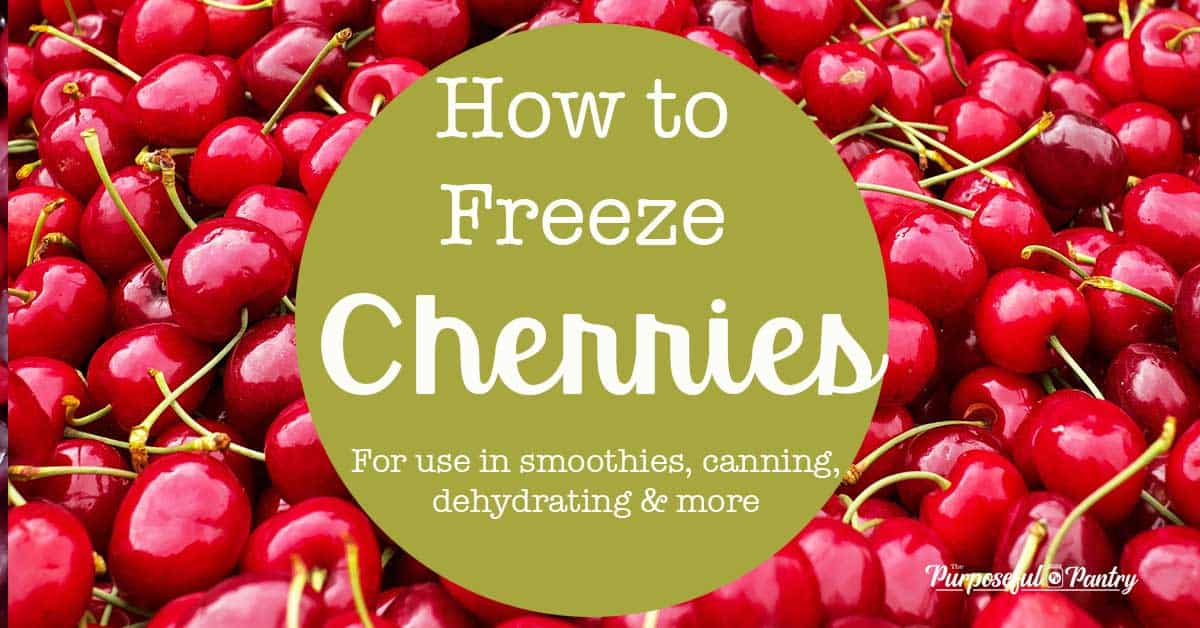 Jump to Recipe
Freezing cherries is such an easy process once you get past how to pit them! And it is a perfect way to preserve smaller amounts of cherries to save for larger preserving projects. Even if you don't have enough cherries this week, save them until you do so that you can make large batches of cherry jam or dehydrate them!
How to Freeze Cherries
Wash
Destem / Pit (but don't toss them - cherry pits and stems are still useful)
Flash Freeze
Store
It really is that easy!
Here are some tips to make each of the steps a little easier!
Preparing
I soak in a sink of water, pull out any bad cherries, and destem as I remove them.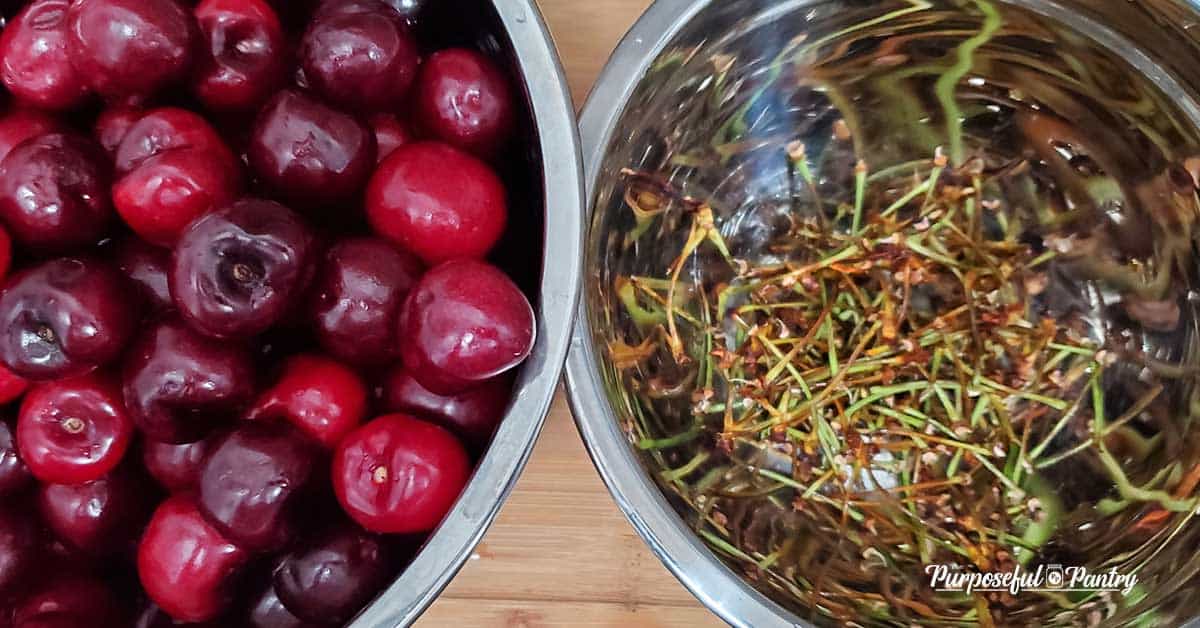 You can choose to save the stems to make cherry tea down the way. Just throw them into the dehydrator to dry, and dry in an airtight container. Steep in boiling water and you have cherry tea! Mix with a little cinnamon for added flavor.
How to Pit Cherries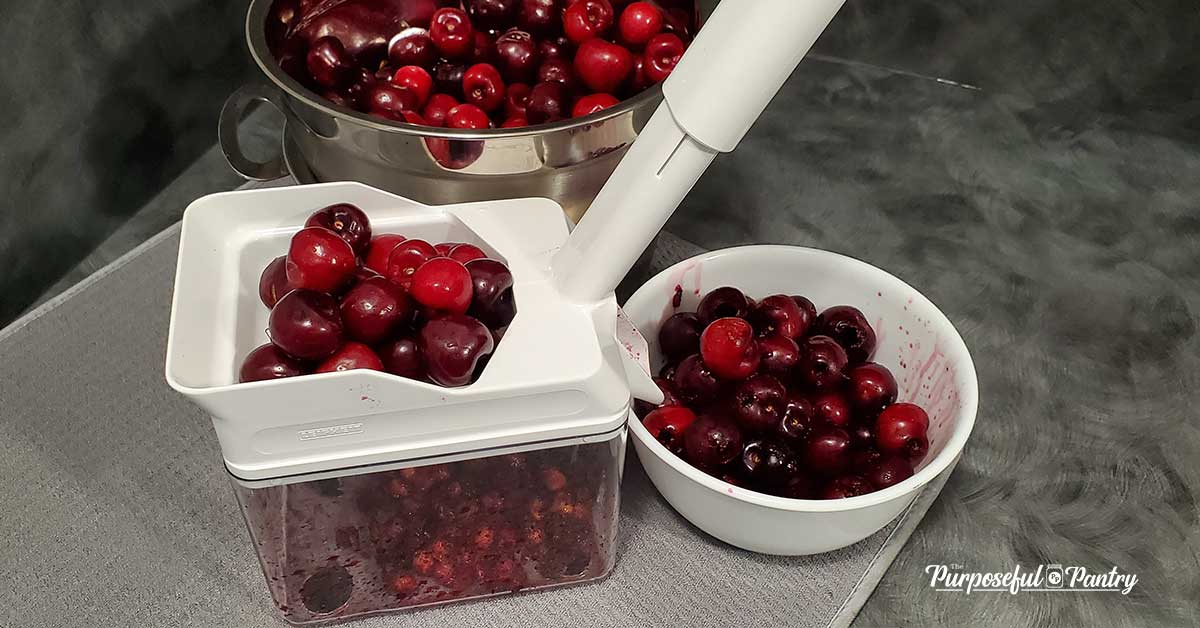 By hand - use a paring knife to cut into the flesh, and dig out the pit.
By machines - use a cherry pitter to mechanically remove the pit.
By Straw - a sturdy straw pushed through the stem end will help remove the pits.
And remember, the pits are useful (though poisonous to ingest, but still useful!)
Flash Freeze Cherries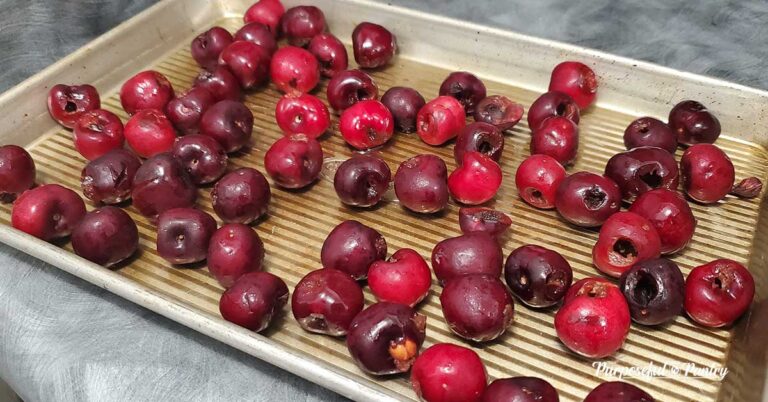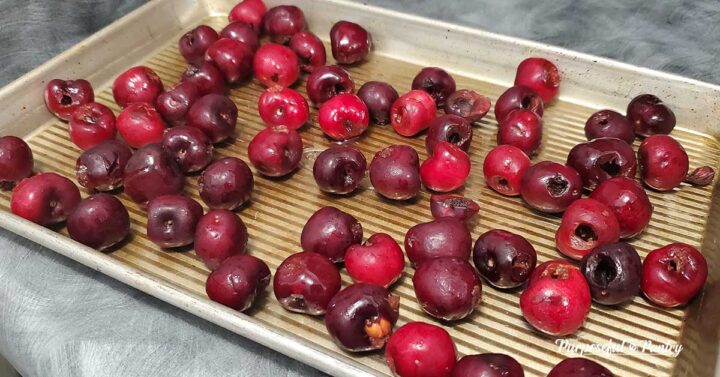 Flash freezing allows cherries to be frozen without touching, which can lead to them being frozen in a lump. While they are much more forgiving than many other fruits, it's a way to ensure being able to pull out only the number of cherries you need in the end.
You can choose to leave them whole or cut them in half, depending on your needs.
Storage
Storing frozen cherries is also VERY forgiving. Any airtight, freezer-safe container is great. I personally love these silicone freezer bags because they allow very little air permeation and keep things in better shape for storage. While they are expensive, they are an investment, and there are other less expensive options on the market.
Frozen cherries are good for up to a year in the freezer.
Uses for frozen cherries
Use to make any product you would make fresh cherries from! I've put together amazing ways to preserve cherries that can be made with frozen cherries, too!
I suggest putting them into a strainer over a bowl to allow the juices to flow, saving it for making cherry juice ice cubes, simmering to make cherry syrup for cheesecake drizzle, pancake syrup, etc.
📖 Recipe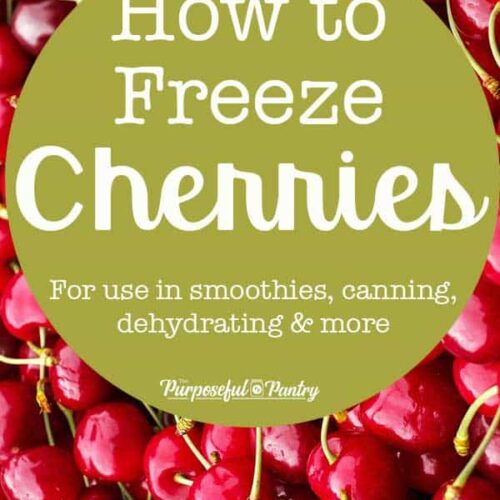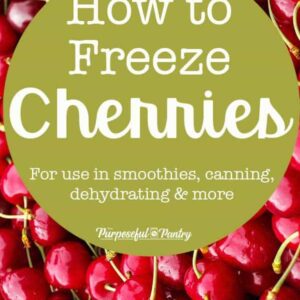 Instructions
Store in an airtight container in the freezer
Nutritional information is an estimation only. Nutrient information for dehydrated foods is based on fresh. Use ¼ of the servicing size for the same nutrient information. Thus 1 Cup of fresh fruit has the same sugars as ¼ dried.
©ThePurposefulPantry. Photographs and content are copyright protected. Sharing of this recipe's link is both encouraged and appreciated. Copying and/or pasting full recipes to any social media is strictly prohibited.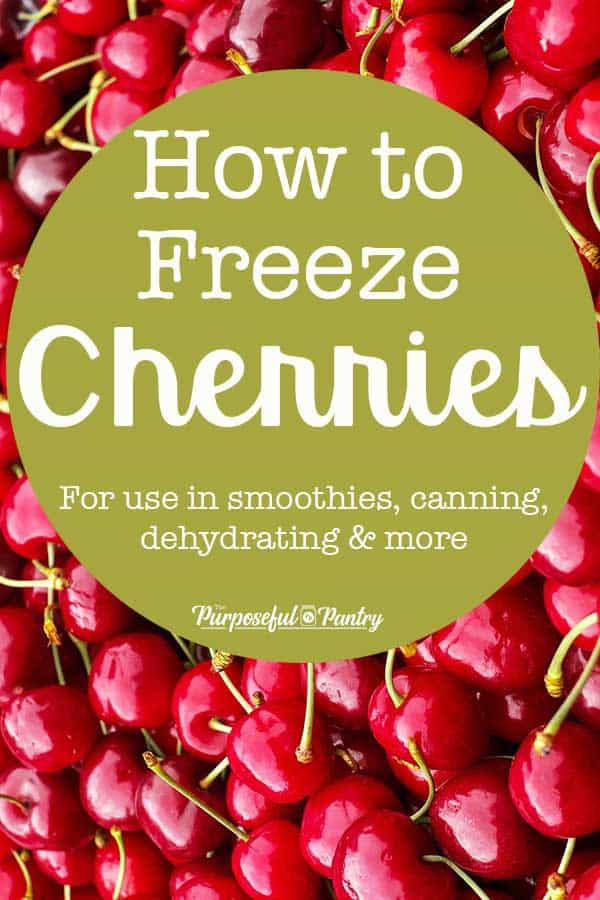 [mailerlite_form form_id=1]