Twelve Daylight Savings Time Chore Checklist You Can Tackle This Weekend
Whether you love it or hate it, Daylight Savings Time is here to stay, and here are twelve chores semi-annual chores you can tackle that weekend to help you cope! Make sure to get the Daylight Savings Time Chore Checklist to add to your home binder today!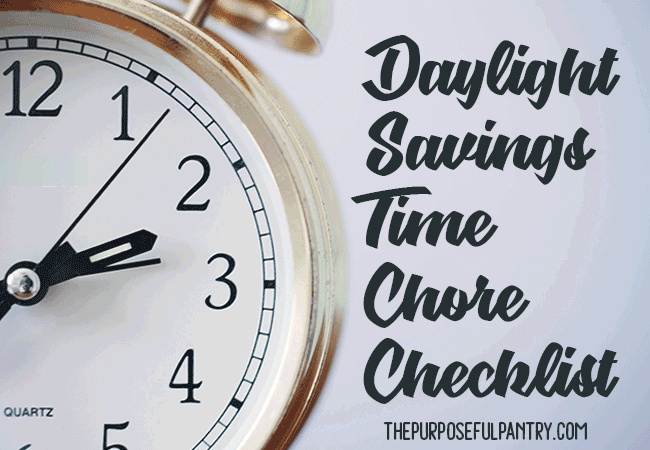 Remembering to do chores is hard enough, so make it easy on yourself to schedule these easy chores during the time change (or seasonally if that makes more sense for you). And while all of these chores aren't specific to your pantry and kitchen, they are connected to keep your home running smoothly and safely all year long.
Daylight Savings Time Chore Checklist
• Reset Your Clock
Obviously. Make sure you change your car's clock if it isn't automated! Or are you one to just learn to 'translate' that time until DST is over again
• Replace Your Batteries
Not only in your smoke alarms and carbon monoxide detectors, but in your flashlights, in your weather radio. Any equipment that you use for preparedness reasons – make sure to put fresh batteries in each change of the clock/season.
►Tip: DST Battery bin – we have a bin where we keep those batteries changed out during the time change to replace for other non-emergency electronics like our TV remotes, toys, and wireless keyboards/mice. This way, we're able to use the full life of the battery without adding more into the dump unnecessarily.
►►Tip: Be sure to inspect your fire extinguishers, too!
• Refresh Your Emergency Kits
While you may choose to do this particular chore at the turn of seasons, it's good to have it on your semi-annual chore list no matter what time period you choose.
Change out seasonal gear.
Refresh water and food and medications if not done monthly.
Clean/repair/declutter.
Rotate any supplies that have been there awhile.
Inventory and resupply.
• Rotate, Inventory and Restock Pantry
It's always a good idea to do a semi-annual reorganization of your pantry to make sure you're rotating your food properly, restocking things you've let slip through, and taking inventory on items you're using fewer of or using more quickly. Use this time to:
Remove out of date foods;
Donate foods you won't be using;
Clean and inspect containers;
Resupply from extended pantry stock;
Clean spills, dust shelves;
Reorganize space if needed.
• Deep Clean Appliances
Who knows what is lurking in the recesses of your kitchen and laundry room, but keeping a check on it twice a year helps ensure an even bigger surprise and keeps your home healthier. Before you start, be sure to follow the manufacturer's instructions for your appliances.
Pull out your fridge, stove, dryer and washer and clean vents, filters, and dust.
Defrost, rotate and clean out your freezer. Be sure to vacuum out the vent to ensure quality airflow. Be sure to have your freezer running optimally in case there is a power outage.
Deep clean the drawers, shelves, and gaskets of your fridge.
Many home fires are actually started in dryers – mostly during the fall/winter months. Deep clean the lint trap in your dryer and washer (newer washers have traps to clean, too.) I use this tool to help me deep clean the lint trap (not just the screen, but down in the machine), and I pull off the hose to shake out any residual lint build up.
Clean your oven. Keeping build-up of old food spills cleaned out of your oven helps make it run more efficiently, so take the time to run a cycle if you have a self-cleaning oven, or try a DIY oven cleaner to clean out the stuck-on grime. Here's how to clean your oven naturally.
Run a vinegar cycle through your coffee maker
Do a deep clean cycle in your dishwasher – either purchase a cleaner or just run an empty cycle on your hottest settings. Clean your filter per manufacturer's suggestions. Be sure to clean those gaskets, too!
Clean the filter in your exhaust fan/hood. I simply soak mine in hot, soapy water + vinegar, then gently scrub with a soft brush if needed.
• Inventory / Refresh / Rotate Supply Pantry
Whether you call it your linen closet, your medicine cabinet, your extended storage, or your stockpile, here are a few quick chores to tackle:
Properly dispose of expired medications. Check your municipality for prescription medicine donate times – please don't flush or throw away these meds!
Inventory and rotate personal items, beauty supplies, first aid supplies, linen needs, paper goods, etc.
• Check Furnace and Fireplace
Whether you're at the beginning of the season or end, doing a visual check of both your furnace and fireplace will help against accidental fires or malfunction. Clean out filters, check for blocked flues, call for service if it's been a year, etc.
• Rotate, Flip and Vacuum Mattresses
Rotating and flipping a mattress can help further the useful life of your mattress. Modern mattresses are a little harder to flip, but at least rotating can help give you a longer shot at not developing the deep valley rift between you and your partner.
Vacuuming monthly is suggested for maintenance to remove dead skin and other icky things we just don't really want to talk about. But shoot for doing this at least semi-annually if you haven't done so before.
►TIP: Sprinkle on some baking soda that has had a few drops of lavender essential oil. Not only does the baking soda help refresh your mattress, the lavender also helps promote better sleep.
• Rotate Your Tires
Most tire shops offer free rotation on a schedule – take advantage to make sure your tires are ready for the oncoming winter or rainy seasons.
• Inventory Your Seasonal Clothing
This is a good weekend to rotate, clean, and inventory your seasonal clothing. Put away out of season clothes, hang out linens to refresh for the new season, inventory kids' clothing for size changes coming, and inspect weather gear and replace if necessary.
• Clean and Inspect Gutters
Whether cleaning out the autumn debris that has collected, or inspecting for the oncoming rainy season, keep those gutters in good repair. Be sure to also check the fascia board behind your gutters for leaks you may have incurred and get those repaired to save any more water damage to your home. This may also be a good time to look at water barrels for your downspouts to save water for your home.
• Wash Your Windows
Yeah – the dreaded chore, but it makes your house feel so refreshed to either clean up from a long-winter or dusty summer. You can make it really easy with an extendable squeegee and this window washing soap. This is a good time to also inspect for seals, weatherproofing, weather stripping on doors, too!
Take a Nap
Not only does that time change really mess with our natural sleep rhythms…all those chores can make you tired! Kick back and enjoy a clean house that is up to date, stocked, and ready for the next season.
Tell me ….. what's a chore you try to make sure to do during the time change?