Use a price book to track sales and stock your pantry without breaking the bank! I'll walk you through how I use mine and give you great suggestions on how it can work for you to save money on groceries every time you shop.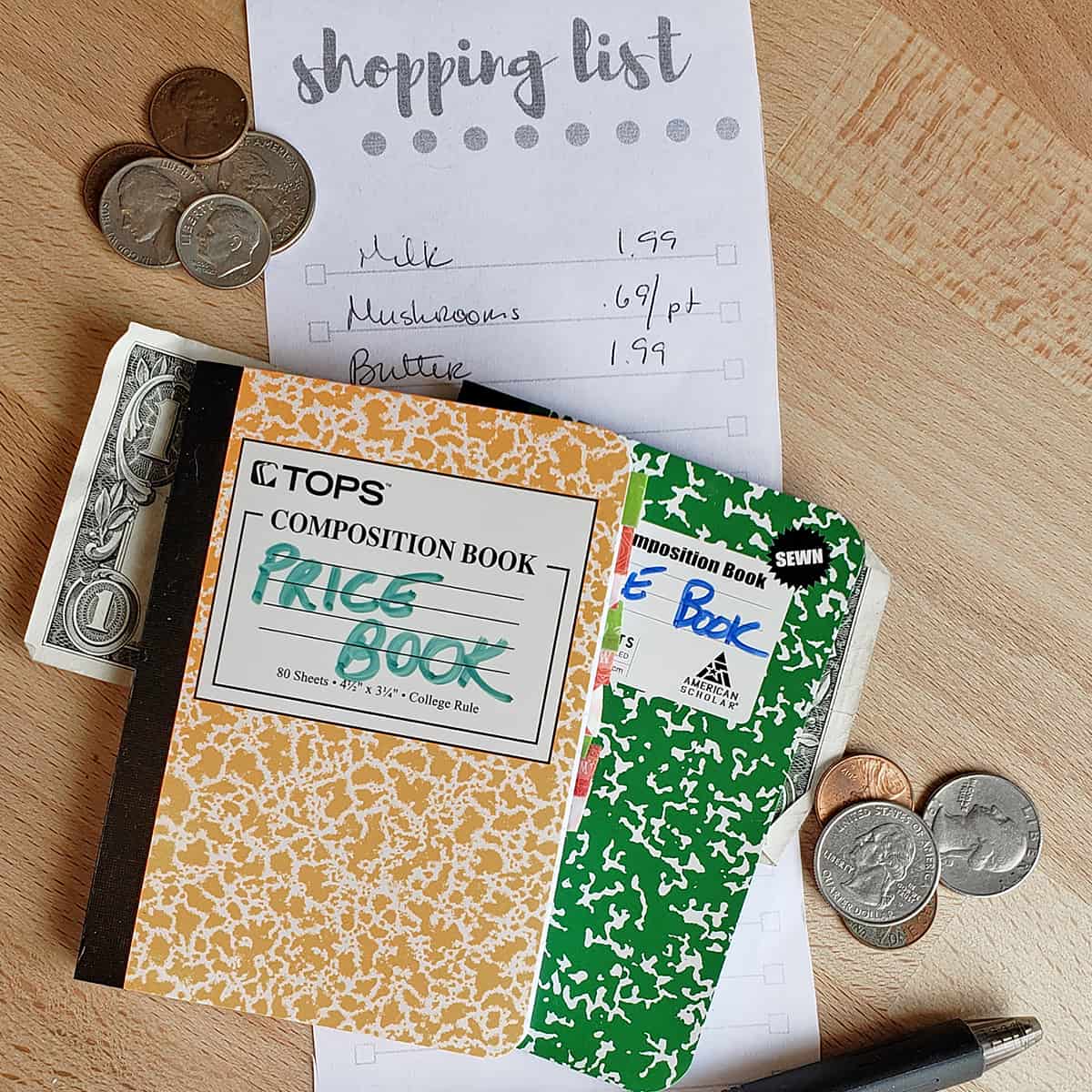 Have you ever stood in front of a shelf at the grocery store, debating whether to stock up on a sale item, but unsure if it's even a great price or not? Then you go all in, buy a year's worth to stock up, only to find out that it really wasn't a great price after all.
Or inversely, you pass it up or only buy a couple of units because you just aren't sure, and have missed out on a stock-up sale price to beat all sale prices.
It's a sinking feeling to try to stretch every dollar and not really know if you're getting a good deal or not. For some of us, keeping prices in our heads is a natural superpower. For others, it's just not how our brain works. So we make use of other tools to help keep us going!
WHAT IS A PRICE BOOK?
A price book is a price tracking tool (whether paper or electronic), that allows you to track the prices of the products you buy on a day-to-day basis. This tool can help keep you on track with your grocery budget or stretch every dollar you have.
When you're purposeful in how you stock your pantry, a price book allows you to focus on just what you need for your family, without wasting money.
BENEFITS OF A PRICE BOOK
When I was first married, I didn't really worry a lot about the grocery budget. We had some money set aside and used it, and I didn't really think about trying to manage it more than that. As we had babies, and I began staying at home instead of working, I had to learn to really make my dollar stretch as far as possible.
For the longest time, I had the price book superpower. I knew the prices of everything. But as I got older, and as I began shopping a little differently, I wasn't buying things regularly, and price points began slipping. I needed a way to keep track and came up with this awesome idea!
KINDS OF PRICE BOOKS
You don't have to stick to the price book that I'm showing you. It happens to be a good fit for me, but you may like another way of doing it. Here are a few different kinds of price books or price sheets you can use:
A spreadsheet;
Several sheets of paper, folded into quarters, and stapled together;
Spiral notebook; This index card spiral notebook might be just the thing for you!
Three-ring binder - This one from Amazon would be perfect to tuck into your purse and keep you organized.
Apps - I don't use one, but did find this free price book app that might work. Please read the reviews before using. Out of Milk (on both Android and Itunes) is also another great app to track across a number of things like meal planning and shopping lists.
HOW TO MAKE A PRICE BOOK
This tutorial will be on how I make MY price book. But there are hundreds of ways to go about it. If you do a search on Pinterest, you'll come up with TONS of ideas.
You can also catch the chat I had with Leisa at SuttonsDaze over on Youtube.
Filling out your price book
If you're just starting on the journey to tracking prices, meal planning, and stocking your pantry with purpose, you may not know the rock-bottom prices you should be paying. It may take you a few weeks to get going (thus use a pencil!), so here are some steps to help you fill out your price book:
Track your purchases - keep your receipts and track what you've been paying and look at trends in the pricing. Sales are cyclical, so you may see where prices dipped quite a bit when you grabbed something on sale. Check out this post to learn about sales cycles.
Read your store's circulars - those prices on the front and back called the are often very low prices on seasonal produce and meats. You can start with those prices and adjust as you see lower prices as not every sale price is the lowest of the year. But it is a good place to start.
Transfer those prices into your book or spreadsheet as you begin to get comfortable.

Keep pricing simple. Per piece or per size unit. Only focus on brands if you are brand loyal.
Do one category at a time, update again the next week with a new category as you build your book
Add columns for location if you plan on tracking multiple stores
Use index tabs or diy your own using washi tabs like in this example to make getting to categories easier

Update as you find a price that is cheaper.
TIPS FOR USING A PRICE BOOK
Use a pencil. We are all messy people, and prices change. You don't want to reinvent the book every time you have a change in info.
Don't fuss about perfection - you're creating a tool to help yourself shop, not trying to keep up with the Pinterest-worthy.
Break down the book on how you shop NOT necessarily the layout of the store. Stores rearrange constantly (I think mostly throw us off and make us spend more money!) A three-ring binder will allow you to rearrange if you choose that way.
Price per unit - not necessarily per package. Look at pricing per ounce, per piece more than what the package costs. Manufacturers change packing all the time, or have wildly different packing. You want to price equally amongst options, so pick the price per as your go to.
Focus on basic items that you use and buy routinely. Don't try to track every product you've ever purchased. As you get comfortable with the book, you can add more and more items to help stock your pantry at the lowest possible cost.
Shop your pantry. Stand in front of your pantry and look at the things you purchase most often, and track those first.
Be flexible. Know that in shopping sales cycles, prices fluctuate. You may not be able to purchase the item at the rock-bottom price you've ever paid because you need it now. But use it as a guide to help you know when to really jump on a sale and when to just get by with a few.
Don't sweat it. Too often I see people burn out because they try to get too detailed too quickly, think that the price they input into their book is the only price things can be purchased at. Use it as a guide.
Start Small. You may just want to start with a sheet of paper you keep handy that has your very basic items and their pricing as you begin. The thought of setting up a book may seem daunting, so start small with just a sheet or a page or two in a book to get you used to the concept.
Time is money. Unless you have all the time in the world to visit 5 stores per day for small trips to maximize your dollar output, your time (and gas) is worth money, too.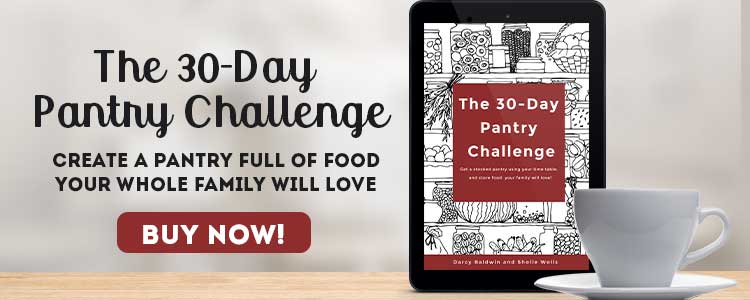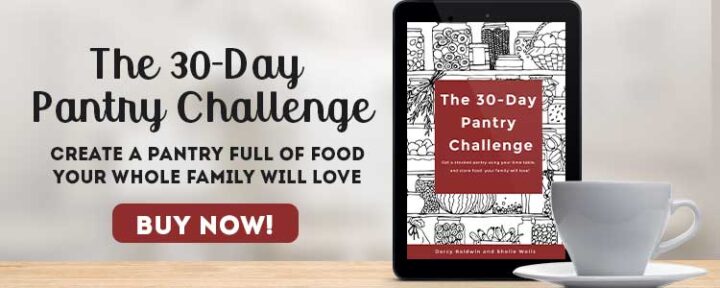 Free Printable Price Book Options
Printable Price List Bundle from ThePurposefulPantry. Note: These are the same basic forms in 3 formats - please choose your favorite format and download it.
Printable forms - Money Saving Mom has some printable forms you can use if you're a binder person
Printable Spreadsheet - from No Credit Needed
Do you use a price book? Do you have any advice to give our readers? Be sure to drop a comment below!