Is your pantry swimming in product you can never seem to remember to use? Are you always missing foods that you need for everyday meals? Do you need just a little help in keeping an organized pantry? I've got a few simple steps to help make your pantry – whatever size and whatever eating system you practice – more purposeful for you. A truly organized pantry made just for your family.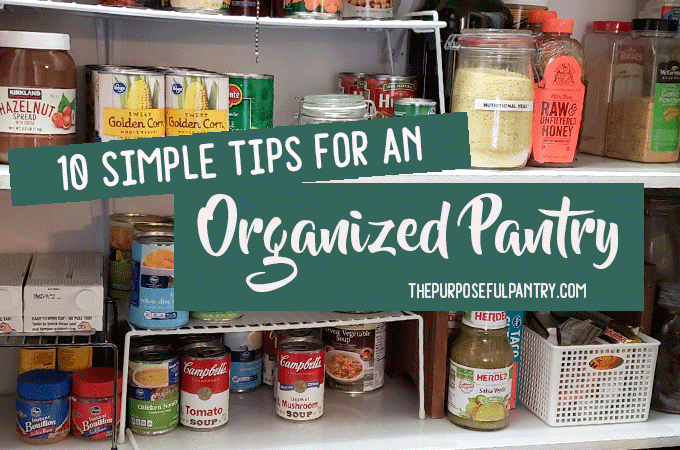 Pantry organization seems to be a fixation in many circles now. The premise is based on how cute can we make it (how much money did you spend on those containers??!), how color coordinated can we make it (who has time to source a bunch of Tiffany blue from every Dollar Tree in the country?), and how sleek can we make it (nevermind that there's not any actual food there).
I certainly don't want to have a post demeaning people who can create beautiful, functional and purposeful pantries for their families. That's a wonderful gift. But while I was researching for my latest video and the reworking of my own pantry, I ran across a ton of cute, spacious, and color-coordinated pantries that seemed to be for the sake of fashion more than real function. And I am all about the function — with a side of pretty!
10 Simple Steps to Keep Your Pantry Organized
Label Your Containers
Do you have 'Labelitis' – it's the condition of putting something into a container, assuming you'll remember what it is in three weeks, then promptly forgetting….forever.
Whether you use painter's tape and a pen, a label maker, pre-printed tags, or chalkboard labels and chalk pens … find a way to label all of your containers. I'd also suggest doing this to your boxes, as well, not just your cans or large containers.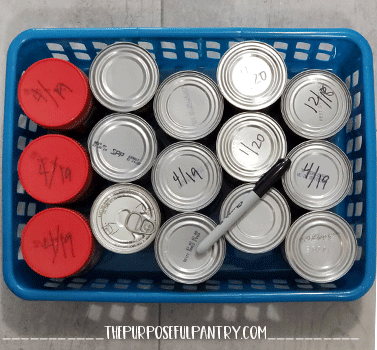 DATE – mark your cans and jars with a timetable so that you can keep track.
NAME – mark your jars (and your freezer foods) with the name of your product. A member of our Facebook group, Stock Your Pantry, suggested to making sure that you mark the name of the canned food on the top in case you ever lose the label. This can happen over time with moisture loosening the paper.
ROTATE ROTATE ROTATE
Rotation, or more precisely not rotating, is one of the biggest mistakes you can make in your pantry. Keeping your food rotated means you'll have less chance of spoilage and waste. As you shop, put your products with the furthest "best by" date at the back, use up the closest dated items first.
This might seem counterintuitive to organization as you're constantly making a mess in rotating, but it also keeps you focused on knowing that what you're pulling off the shelf is still good to eat, and allows you a quicker means of getting meals together.
► TIP: Be sure to add a major inventory and rotation to your semi-annual checklist!
Start With a Menu Plan
You may find it easier to begin your pantry organization by sticking to a few familiar, family-favorite meals, and stocking up on those ingredients first. Then begin to branch out in increasingly larger circles with meals and single ingredients. There are some great "every pantry needs this" kind of lists you can download. However, if you don't know how to cook with them, or they are not the food plan your family needs, those staples may not work for you.
This helps keep you organized from the beginning – you're not stocking food you have no idea how to use, and taking up valuable space for foods you need. It also helps keep you focused on filling your pantry purposefully and not haphazardly.
Keep a Record
Whether you do a full inventory database on your computer, or simply keep a thumb-tacked piece of paper to write down holes, knowing what is in your pantry is important in key. Not only will it save you time, it can help save you money, too!
When I am doing a grocery run (you can see a few of my grocery hauls here), I will go into the pantries, take note of what needs to be restocked, do a quick once over for increasing stock in any particular area, and get on my way. This way, I'm not having to take a full inventory every time I go to the store. Nobody has time for that!
• Keep a list handy – I find it most helpful to keep a list next to each major storage area – both in my pantry and in my linen pantry. This way, I can just jot down what we just used, and restock it.
► I keep a small shopping list attached to a wall in my pantry to write down items as we use them up so that I can quickly restock from the list.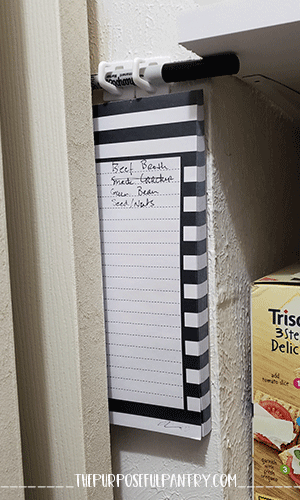 • Have a full inventory check-list. I keep a full grocery inventory of my most used items in a spreadsheet that I use for major shopping trips. Short trips just use the above shopping list.

This is my working inventory list. To save for yourself so that you can make changes, save as your own Google Sheet or convert it to Excel. You can also just print it out and hand-write changes as needed. I did not include a price column because I use a dedicated Price Book for pricing.
To save the price sheet to your own Google Drive choose File>MakeaCopy>Save to Your Drive.
Organize in Zones, Not Package Types
Think about these zones to start your organization. It's how my brain works and how I organize my pantry. Think through how you look at food and meal prepping and make the system work for you. You might try these categories:
Breakfast
Baking Staples
Grains
Meals – you might consider keeping all of the ingredients for a spaghetti night in one area)
Snacks
School prep
YOU MIGHT LIKE THIS>> 10 Creative Ideas for Using Beans from Your Food Storage (Even if You Hate Them)
Use Visible Organization
Whether you are a visual person, or like to have everything tucked away in matching boxes, one of the biggest issues with pantry organization is being able to see what you have. If you can't see it,  you might not be making the best use of the foods you have there. A visual organizing system may work for you:
Items to Use for Pantry Organization:
Glass canning jars – you can go old school canning jars, or get all fancy with Weck jars, or even just recycle some of your commercially jarred glass containers.
Clear storage containers – while clear containers aren't as good as opaque containers to keep food longer from light infiltration, you're pantry doors are closed most of the time, aren't they?
Trays instead of boxes – use simple trays instead of large storage boxes to organize boxed items, sets of cans, packaged items, etc. It allows you to still pull out your products, but they aren't hidden from view – making visual checks much easier. Or you can use these clear storage bins to organize your pantry if having a larger storage compartment is important to you.
Lazy Susans instead of boxes – this can help keep bottles off odds and ends handier, makes using corners more functional, and allows you to grab things without necessarily knocking the rest of the shelf over!
Clear, stackable bins – if you only have room for one – it makes a great drawer that you can also stack on top of. Or you can add a couple of your shelves are far apart. I actually use these on the floor of my pantry, stacked, to create segmented spaces for snacks and keeping large quantities of items.
Use Food-Grade bulk storage items like these pet food containers. These come with a gamma lid opening that is easily accessible. You can line the floor with them for bulk foods like grains or cereals, or stack them to create large storage areas.
Undershelf storage – sometimes, you may have wasted space when your items leave large gaps – you can fill this with undershelf storage shelves that can be deep or shallow.
Think differently about how you can repurpose items. In this photo, I'm using a bathroom stool my father made for my boys, when they were little, for increasing storage room in my pantry. Not only is it repurposed to give me a more organized space, it makes me think of my Dad every time I open the pantry. You'll see another example in the hack section, below:
Use Hacks for Odd Spaces
One of my biggest issues was spaghetti boxes. I would buy a year's worth (2 x a month x 12 months) when they would go on the best sale of the year. I would then just stack them on the shelf. Inevitably, they'd fall the minute I tried to remove one, and I'd end up with a mess. So, here's how I solved it:
You can also use this idea to stack your boxes of food warps like this:
Another idea to expand on the magazine holder is a mesh hanging file rack to create potato/onion storage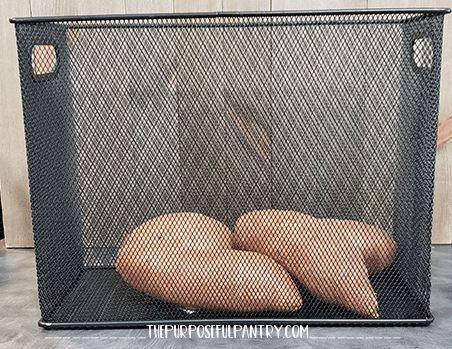 ►PRO TIP: Hang things from the ceiling! We hang some wine glasses we use 2-3 times per year from the ceiling on a stemware hanger similar to this. I hang my canning rings on a modified clothes hanger from a slim space on the side of my pantry. Find nooks, crannies, extra spaces and add extra shelving or hang stuff!

Keep Kid-friendly foods at Kid Level
Or – way above if you don't want them freely accessing foods they'll be interested in.
This is a good rule about your whole pantry. Keep your most used foods at reachable levels. Those foods or equipment you don't use as often should be stored on the top or bottom of your pantry.
*TIP – if it took a stool to stock it, you'll need a stool to get it down. Make sure to keep a fold-out stool somewhere close!
ADVANCED TIP — ADD EXTRA SHELVING!
If you need more shelving – find ways of doing it. Hang things from the walls or the ceiling. Add extended shelving. You'll see a bit of what we did in our pantry we just reorganized a few weeks ago:
Here's how I recently decluttered and organized my storage pantry, too!
Be Flexible
Be willing to not make your first organization be your last organization. You'll find that as needs change, as seasons change, as stock changes, you need to reorganize for a better fit.
Keep your family out of the pantry!
(and this one came from my husband)
Just kidding (NOT REALLY). Once you've organized your pantry label the shelves and baskets so that it is easy for everyone to stock. Use picture cards if you want to teach your pre-readers what's inside their baskets. Then walk the whole family through the pantry, so they understand your thought process in how you organized it. It will help make it easier for everyone to maintain.
Clean Up While You're at it!
Here's a quick list on where to focus to clean out your pantry while you're already in there organizing!
Final Thoughts:
Just remember…it is so easy to create a beautiful pantry and just stare at it. Do it for an afternoon, then dive in! Make some amazing meals for your family. Then be amazed at how easy it is to maintain, restock and plan from.
Share your thoughts:
What are some of your best tips for organizing your pantry? Let me know in the comments below!
OTHER POSTS OF INTEREST
How I buy Cheap Food at the Grocery Store