Spring Clean Your Pantry Checklist
Spring cleaning your pantry doesn't have to be a huge ordeal. Follow these helpful hints and have your pantry spic and span and organized with just a few hours of work!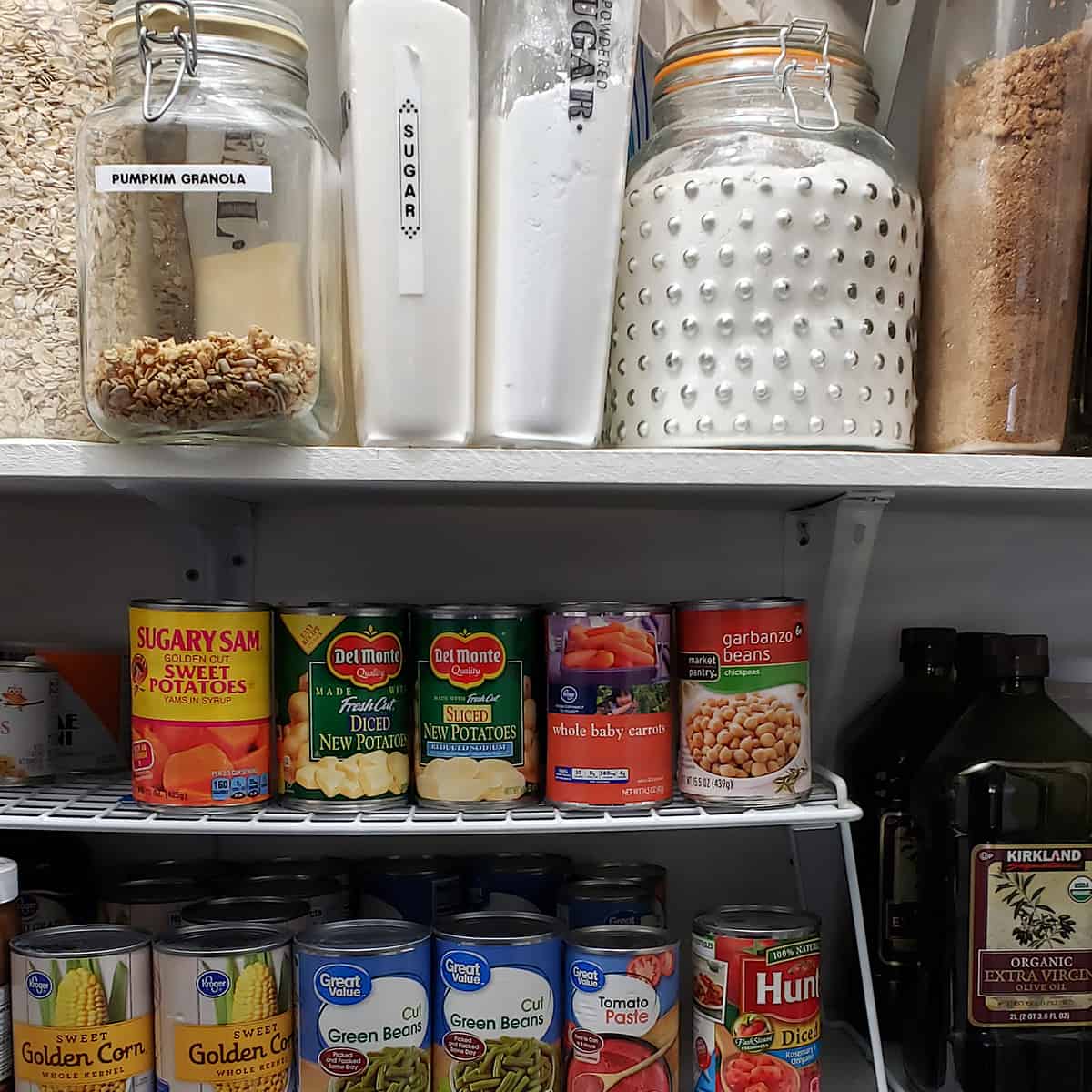 Spring cleaning is either something you really look forward to or something you dread all winter long.
But it doesn't have to be a three-day ordeal (unless you have a massive pantry!) If you're following along with these pantry organization skills, your pantry spring clean shouldn't take long at all!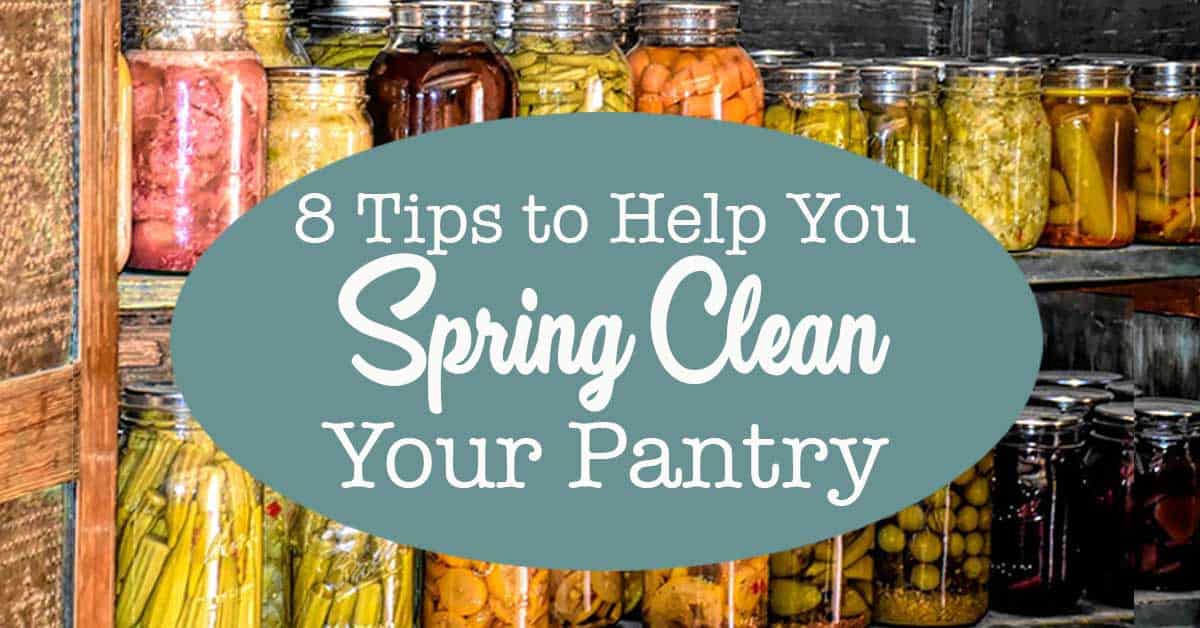 How to Spring Clean Your Pantry
Stare at Your Pantry Shelves
I mean it. Just stand there and look at your open pantry.
Does it still make sense to you?
Do you see areas where it's just so junky that no one can put anything up
Do you have items you haven't touched in two years?
This is the time to visually evaluate your pantry and how it's working for you. If you do find that you haven't touched some of your items in two years, consider moving them to a new storage area and make room for that area that is always so overcrowded and full.
This is also a great time to clear out any food that you no longer eat. Donate anything that is usable and not six months past the "best by date". Since these aren't actually expiration dates, some pantries do take limited, outdated product for their clients. Anything past six months is usually not usable at all.
* Note: A product is not expired simply because the "best by" date is tomorrow. That is more an industry date for rotating product at stores, and to let you know that this is the peak of the food's goodness – but it won't be expired the next day and unfit to eat.
Pull Everything Out of Your Pantry
I hear those groans, but really, once or twice a year, it's necessary.
If you need to, pull off one shelf at a time and follow the rest of the post – and just repeat each shelf as you go.
Clean the Shelves, Floors, and Walls
A quick spritz of an all-purpose cleaner (or a homemade vinegar spray) will work for this. Over the year, shelves get dusty, things leak and glob, and shelves and walls get dirty. I use e-Cloths that don't require chemicals to clean, but also use a homemade solution for all of my general cleaning.
My Homemade Cleaning Solution Recipe
2 C Vinegar
1 C Water
10 drops Tea Tree Oil
and a good squirt of Dawn dish soap.
►Tip: Line your shelves with lining paper or even Dollar Tree cutting mats to help make cleanup easier down the road. There are tons of cute patterns to match any decor now!
Clean, date, and rotate
As you're pulling out products, be sure to clean and date* each jar, box, and container that you'll be keeping. Dust or clean off anything that has accumulated dust and dirt over the year.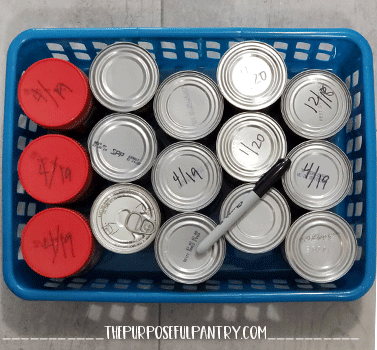 You can certainly do this step before you put things back on the shelves (it's how I do it).
►TIP: This is also a good time to check any seals on your jars.
Evaluate Storage Containers
Do you find that
Bins are overflowing all the time?
Bulk containers are rarely full?
Do you have 3 small containers for the same product?
Can you package things in better storage containers?
This is the time to evaluate how you'll want to place food back into your pantry. Don't go buy a bunch of organizational items and hope they'll fit. This is the time to make that decision. Try to reuse something you already have first, then purchase any additional stock you might need.
Inventory
NOW is the time to inventory your shelves. You've cleaned, you've decluttered, you've made space, you've re-evaluated your needs. Only now do you really know what your space looks like and what your inventory needs to be? This is a good time to make a meal plan of foods that you have noted need to be used quickly.
Stock Up
So fess up – which one are you? Do you just love spring cleaning and the fresh start on the year it brings your pantry and home? Or do you clean your air filters and call it all good for another year?
This is a good time when your price book will come in handy to help you determine what the best stock-up price is, and plan out your shopping instead of spending tons in one shopping spree.
It's also a good time to look at your preserved inventory to determine any adjustments you need to make with canning and dehydrating for the next year.
Don't Stress
This can be a project that takes days for some, or a quick thirty-minute stretch for others. It depends on
how organized you stay throughout the year;
how large your pantry is;
how long you have to complete the project.
If you need to take a week to accomplish the task in chunks, then take that time. The important thing is that you are cleaning out your pantry, rotating your stock, and knowing what you need to pick up to fill your inventory again!
Tackle the next closet!
You can use this information for not only your food pantry, but any other storage area you have in your house! Check out how I did it in my Storage Pantry (Linen closet).
30 Day Pantry Challenge
Do you want help creating a pantry that will feed your family?
Want to learn to stock your pantry and actually save money?
Tired of looking at your pantry and having no idea of what you can actually make from it?
TAKE THE FREE 30 DAY PANTRY CHALLENGE TODAY!