15+ ways to reuse canning jars or mason jars in your home - purposefully. Don't relegate old canning jars to holiday crafts - use them in your home purposefully to store, ferment, create, decorate, use, and more! I've got more tips below...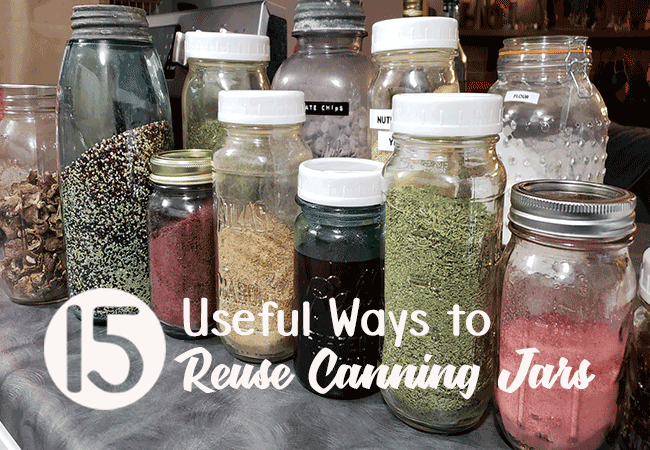 If you're like me, you kind of cringe at using canning jars for frivolous projects that make that jar unusable. However, many canning jars DO become unusable when the rims are chipped or cracked and become unable to form airtight seals. But there's no point in simply toss them into the garbage when you can repurpose them!
Or perhaps you have vintage jars that can no longer be used for food storage, yet don't want to leave them taking up valuable shelf space simply because they were old and should be 'preserved'. Find a new way to use them in your home or as a gift to bless another home!
15 USEFUL Ways to Reuse Canning Jars Purposefully
1. Make a Canning Jar Soap Dispenser
If your canning jar is unusable for storing foods, use it to store soap 🙂 You can DIY the project like this one, or you can purchase pump lids like these to add to jars you already have and love. If you want to DIY a foaming soap version, that works, too!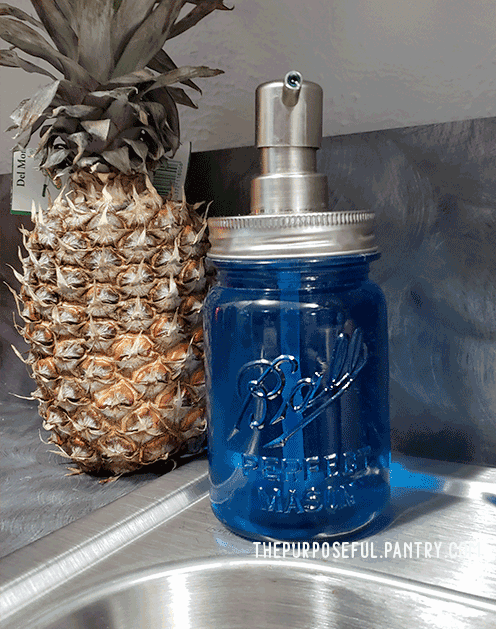 This is a great aunt's antique blue canning jar that I put a new pump and lid on. This reminds me of her every day when I am in the kitchen doing the same things she always did for her family.
2. Can Food for Long-Term Storage
It may seem obvious, but did you know you can actually can food in canning jars 🙂 We're so used to seeing them used in cute decorating projects, but they actually work to store food!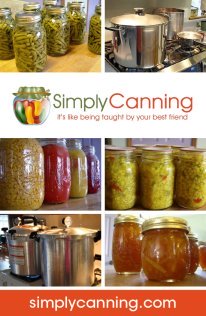 3. Create a Mason Jar Sewing Kit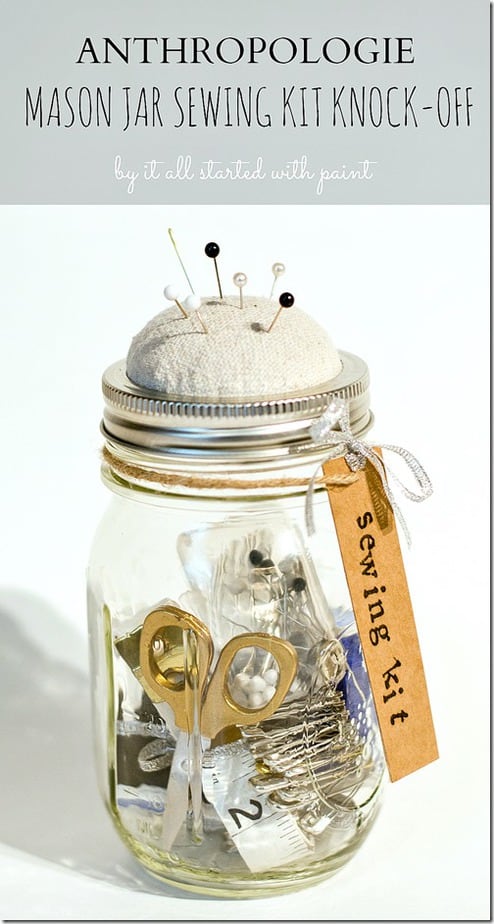 This cute canning jar sewing kit is the perfect gift for a new crafter or sewer. Or perhaps as a gift to your daughter as you both embark on learning to sew for homeschooling or home economics class. This would make a cute gift for boys going off to live on their own, and having some handy sewing things without having a full-blown kit. It also makes an awesome decorative piece for a farm-style or vintage craft area. Thanks to It All Started with Paint for an amazing idea!

4. Create Mason Jar Salt and Pepper Shakers
There are some cute salt and pepper shakers inspired by canning and mason jars, but this simple project from The 36th Avenue makes it readily available for your house without contributing to the consumerism. You can also do this for spice jars (without the holes in the lid, obviously), and create a whole style around your food storage! Or consider it for doing a toothpick jar (OR..use the salt container spout method below to do them, too!)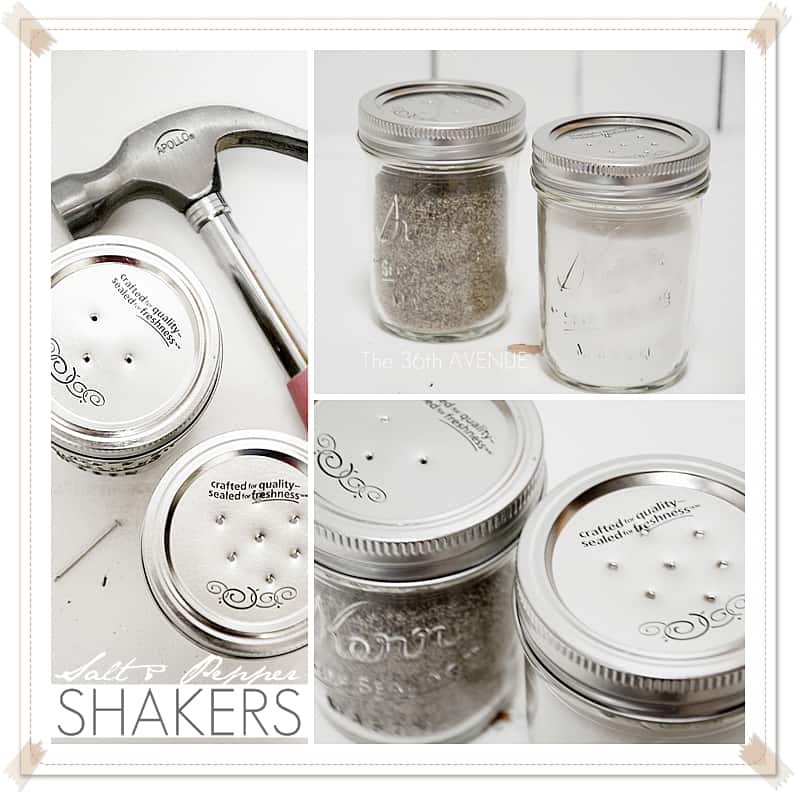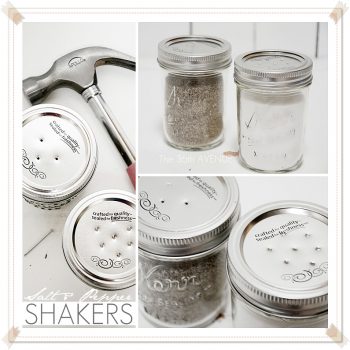 Click image for the full tutorial
5. Make or Grow Your Own Food in Mason Jars!
Canning jars can be used, not only to store in, but to create in as well. Here are a few methods you can try.
TIP: Why baking with canning jars is unsafe
6. Create Spice Jar Containers with Canning Jars
This uber-cute tutorial from Raising Up Rubies is a great way to repurpose canning jars into spice holders. You can do this and add some magnets to the back to display on the side of a fridge or on a large framed, metal sheet on a wall. Or you can use larger canning jars and place in your pantry.
A cool bonus is that you can do this for so much more than JUST spices. Think about doing this in a craft room for buttons, safety pins, and other baubles, or in your office for paperclips, thumbtacks and so much more!
The only caveat I would give is to make sure the paint doesn't get on the underside of the lid, thus touching the food that you store this way.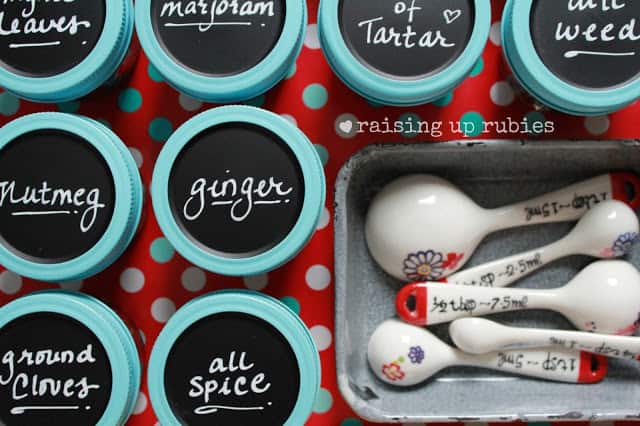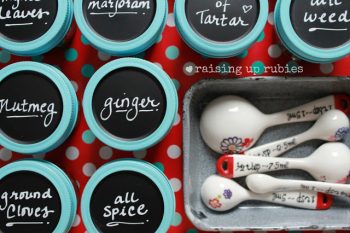 Alternatively, you can add these mini jar lids meant for pouring or shaking herbs and spices to add to your small, 4 oz mini canning jars. Of course, if you want to do this project and you don't have small canning jars, but you love the idea, Ball makes a version of them here.
7. DIY Mason Jar Bird Feeder
This really purposeful project from Little House Living helps around the homestead, too! No matter how big your yard or balcony, feeding the birds is as important in the winter for those birds who call your area home in the winter as it is in the summer! This bird feeder utilizes a galvanized steel chicken feeder base plus a canning jar for such a sweet addition to the yard!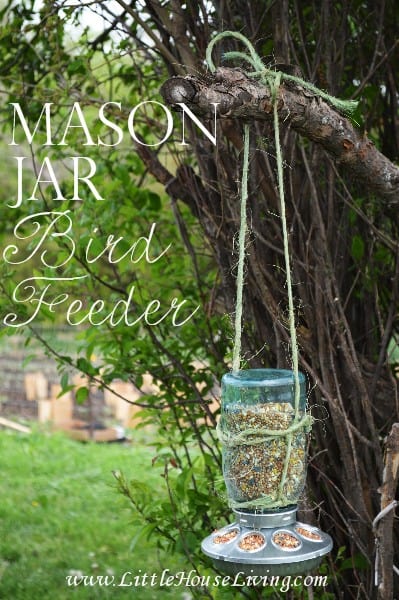 8. Reuse Canning Jars as Vases or Decorative Jars
You can paint them, tint them, wrap them or decopauge them, but you can use jars simply as decorative pieces in the house to give a beautiful flair to your home. Pinterest has a ton of ideas on how you can do this.
9. Light Up Your Life with Mason Jar Accents (multiple uses)
Here are some fantastic ideas on how to use mason jars to bring light to your home.
Replace glass globs with canning jars
Use Canning Jars as Candleholders
And to go along with those candle holders, how about this fun project:
10. Food Storage in Canning Jars
Obviously, regular food storage is a great way to reuse canning jars of all sizes to stock your pantry. Whether you put your dry goods in jars for everyday use, or you create long-term storage for your food, canning jars are great ways to keep foods safe from the effects of plastic, are sustainable as they can be reused or recycled easily, and make beautiful visuals all in a row! This is a great way to store the bulk food you purchase or make, in containers that are food safe, pretty, and resourceful!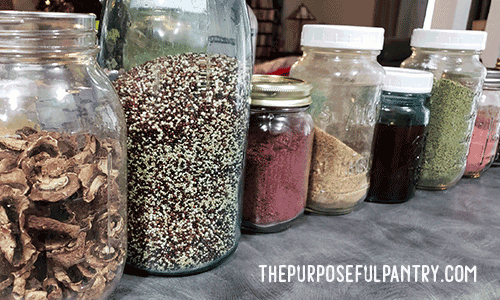 Left to right: Dehydrated mushrooms, quinoa, dehydrated blackberry powder, dehydrated vegetable powder, honey, dehydrated green powder, dehydrated raspberry powder.
Note: Just like with canning, please follow safe food storage techniques, even when using canning jars. You want airtight seals, you want to vacuum seal for long-term (or use oxygen absorbers for the same effect), and check and rotate your stock often. You can watch this tutorial of how to vacuum seal blackberries to get an idea of how it works - and then apply it to everything you want to seal long-term in your pantry.
► FREEZER TIP: You can also reuse canning jars to store food in your freezer! Just make sure to only use wide-mouth mason jars in the freezer as the regular mouth doesn't allow for food expansion in the same fashion and may cause the glass to shatter.
11. Create a DIY Canning Jar Match Box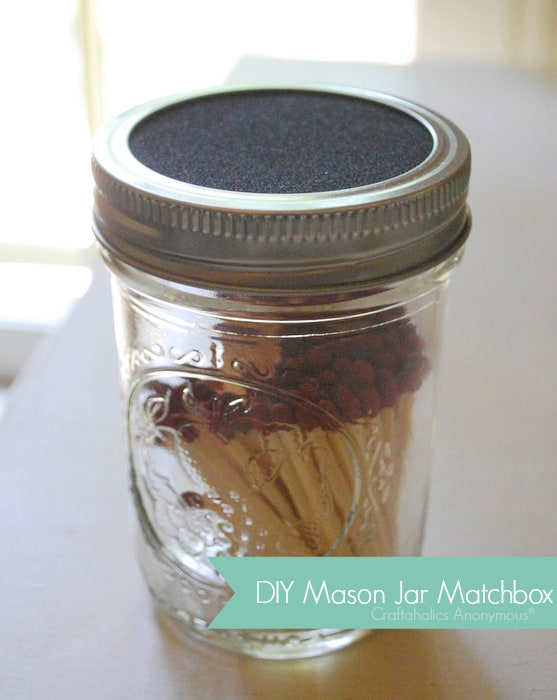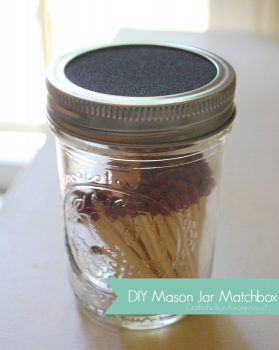 This is a great idea for a DIY Matchbox stays together longer than cardboard. But I want to one-up this idea by merging it with another I found.
Follow the above tutorial on how to create a sandpaper striker, but then take the idea of using a Salt Container spout, then attach the sandpaper to the top (instead of the scrapbook paper as in the sample below), then the lid, and you can have one that still dispenses matches without having to take off the lid, but still gives you protective qualities of a closed jar.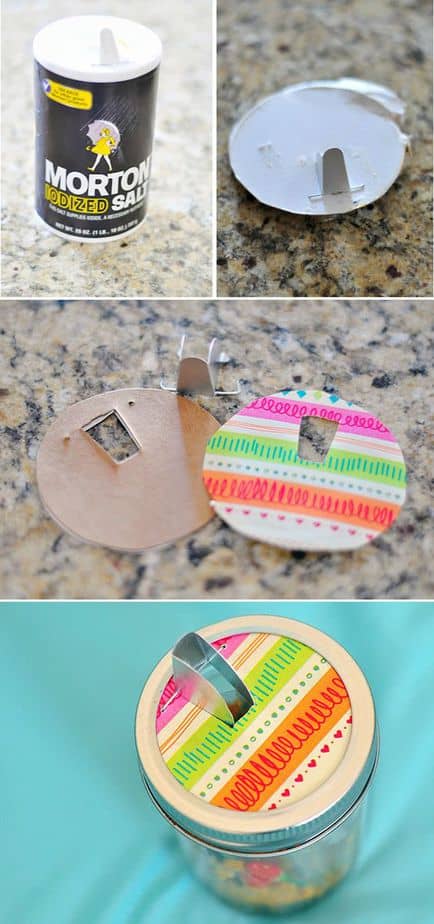 click here for full tutorial
12. DIY Canning Jar Drinking Glasses
We all know that it's so easy to simply use a canning jar to drink from, but this cute idea of using canning jars and glass candlesticks to create Mason Jar Wine Glasses. This is more than a simple craft, but elevating the repurposing of a canning jar to greater heights. This would be especially nice for a farmhouse style wedding or for Christmas. Or heck, even for the morning's juice for breakfast. Thanks to Modern Day Mom for the great tutorial.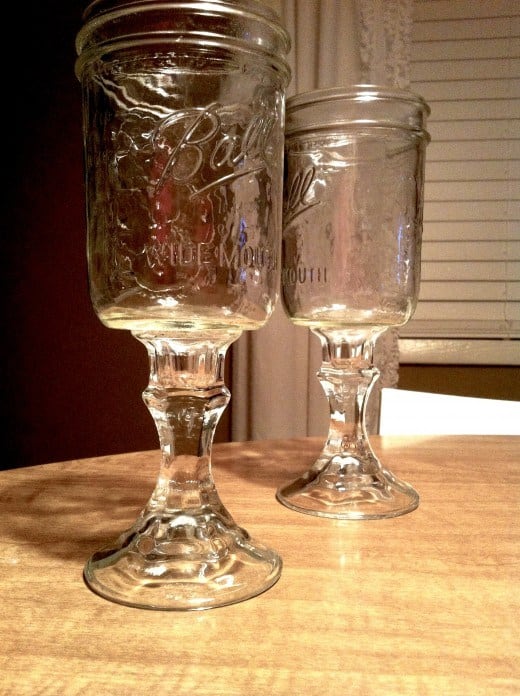 We also use these coffee cup/straw lids on our canning jars for on-the-go drinks, or just to have for special drinks. We use smaller canning jars for juice and small sips, too. By the way, it is full of evening treat of cinnamon eggnog for our Advent celebration.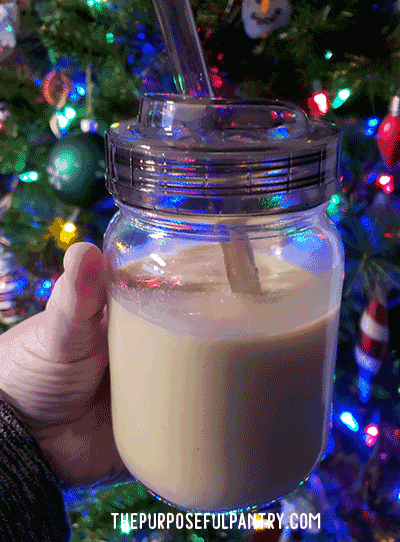 (You can get this lid at Walmart for around $7.50/2 - don't forget your Ebates rebate when you checkout!)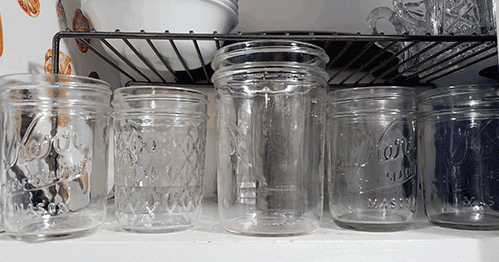 This is just part of our small jar collection for morning juice drinks or sips of water in the night.
13. Create Shakers for Powders
Repurposing your canning jars to become shakers with the help of a cheese in a jar lid is awesome.
Unless, of course, you don't eat cheese from a jar 😀 In which case, I'm really sorry for you. Judge or don't, but this makes canning jars much more useful in everyday life!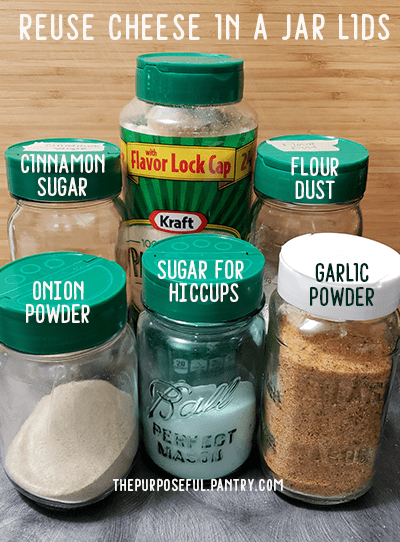 ► You can use this handy attachment to also create a shaker if you prefer not to eat this much freeze dried cheese (remember..no judging...or do, that's up to you).
►TIP: The Sugar for Hiccups jar - we have a history of violent hiccups in our family. When my husband or one of the boys get them, we grab a teaspoon, scoop some out, and hold it in their mouth for a few moments, then swallow. There's medical jumbo about how the sugars and enzymes and stimulating the vagus nerve to help signal the diaphragm to calm the heck down and stop. And it seriously works for the boys. Every.single.time. We store it this way just above the sink so we can quickly reach it in a time of need. The larger sugar container is in the pantry.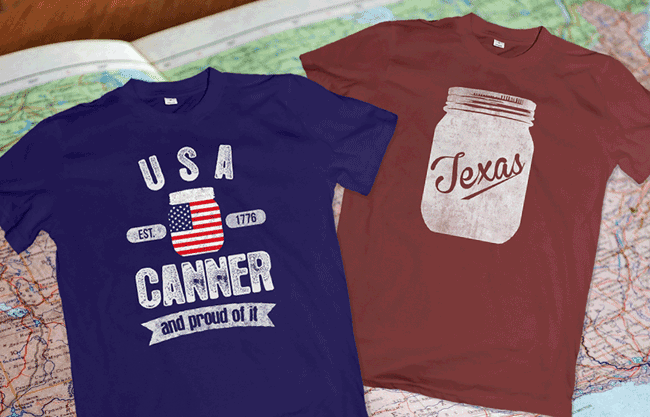 If you or your friends love canning jars as much as I do, here are some awesome state canning jar t-shirts you'll all be proud to wear!

Do you have other ways you purposefully use canning jars in your home? I'd love to hear how you do it in the comments below!