Dehydrated Chicken Jerky Treats for Dogs are one of the best ways to show your dog you love them, and save money in the meantime!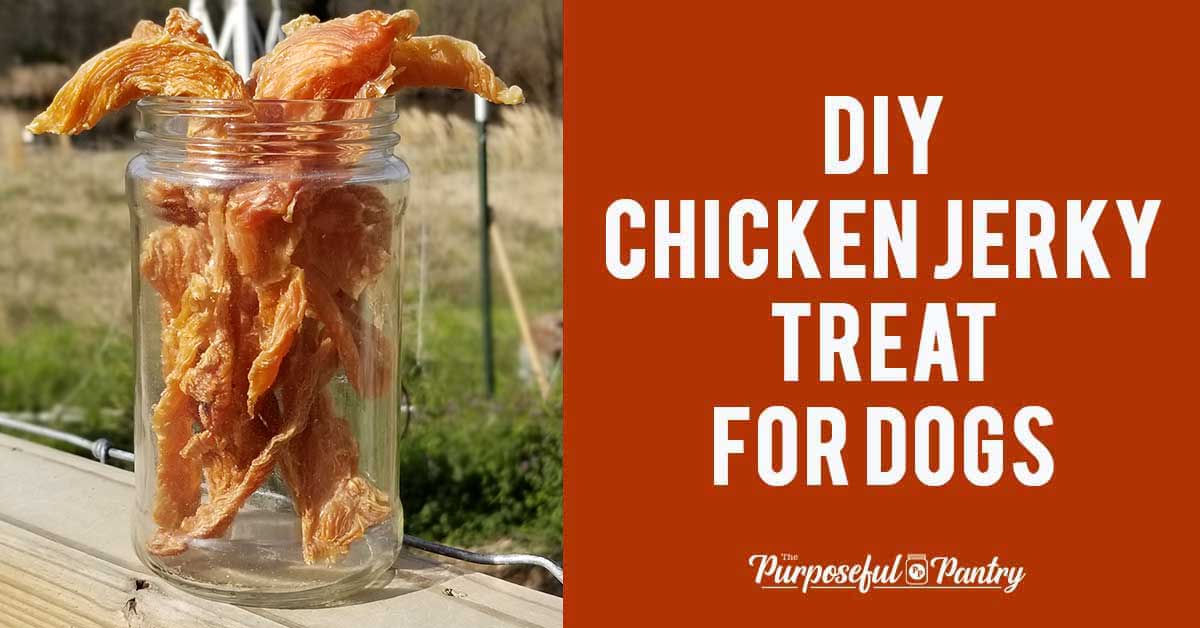 Many jerky treats for dogs are made with chemicals we wouldn't eat ourselves, so why feed them to our best friend?
This easy chicken jerky treat for dogs will make you feel better about what you're offering your fur babies. And it will make your fur babies extremely happy that you're doing it for them!
► Tip - before you get started, you can freeze your chicken breast or tenders for an hour or so to make slicing easier.
Are these Dehydrated Chicken Jerky Treats Safe for Humans?
Unfortunately, while dogs can eat just about anything, the human body cannot deal with chicken jerky prepared in this manner. Chicken jerky for humans must be thoroughly cooked first, then dried, to ensure that all harmful bacteria have been killed.
What Kind of Chicken can I Use?
Breast
Tenders
Livers & gizzards - while they are not the focus of this particular process, they can also be done for dog treats.
Do I Need a Dehydrator? What Kind?
A dehydrator is a useful food preservation tool to have for putting away garden produce for use down the line. It's also great for making jerky for your family.
I use an Excalibur Dehydrator, but have used a Nesco Dehydrator in the past. I've also shared some great tips for buying your first dehydrator including what to look for in a dehydrator, how to get them a little less expensively, and some great models in every price range.
But to answer the question, no, you can use your oven, too, and those instructions are further down the page.
And thanks to my Dad for grabbing these shots the last time he made jerky for his dog, Shelby!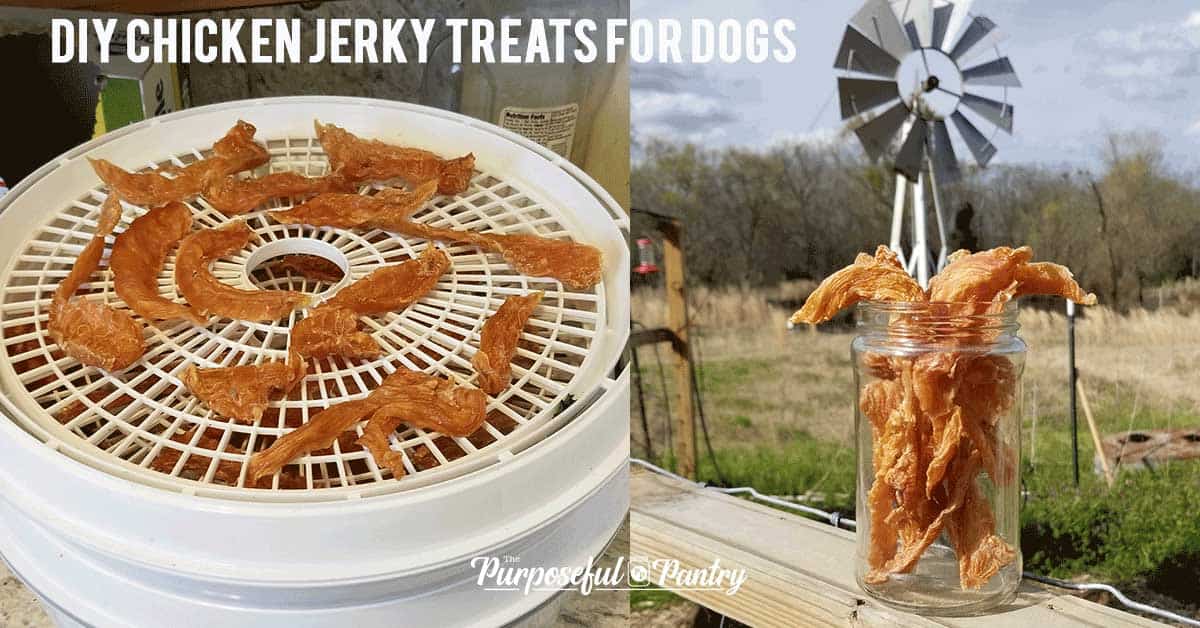 How to make Dehydrated Chicken Jerky in a Dehydrator
1. Preheat your dehydrator to 160°F+/71°C
Preheating allows the machine to get hot while you are preparing your strips, and keep your chicken at a safe temperature, longer.
2. Slice your chicken breasts in ¼ slices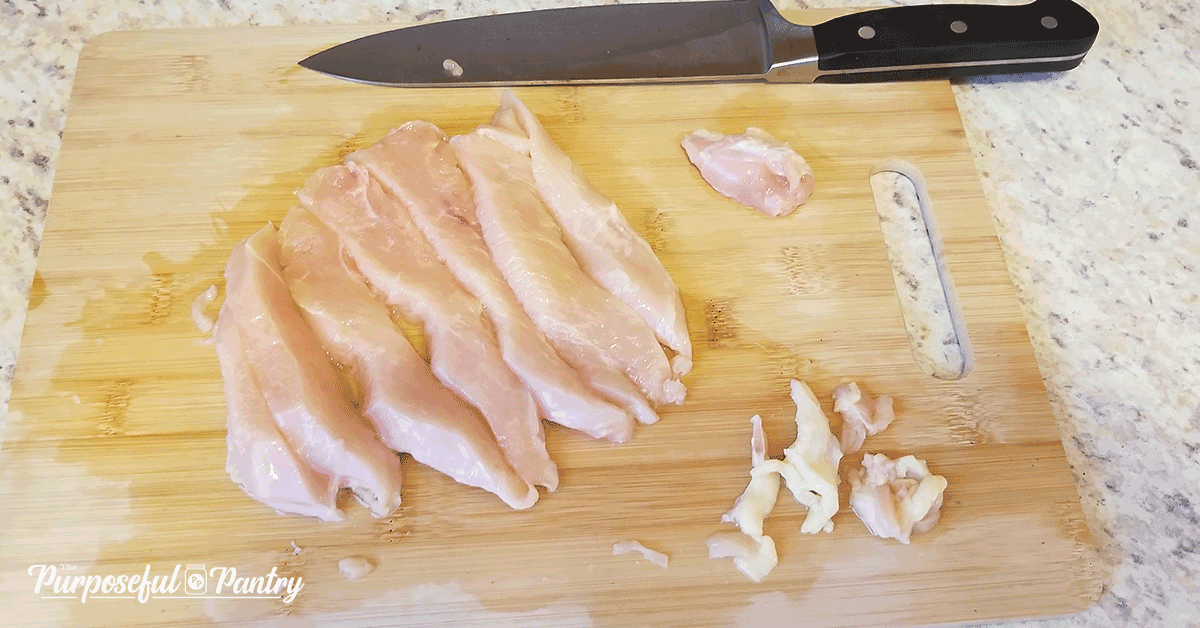 Freezing for an hour or two ahead of time can help make this task a little easier.
Be sure to trim away any visible fat. Fat is great except when dehydrating. Fat can go rancid quickly!
3. Season with dog-friendly seasonings of choice.
This is the point where you can sprinkle a little turmeric or ginger on your treats.
4. Place on Dehydrator Trays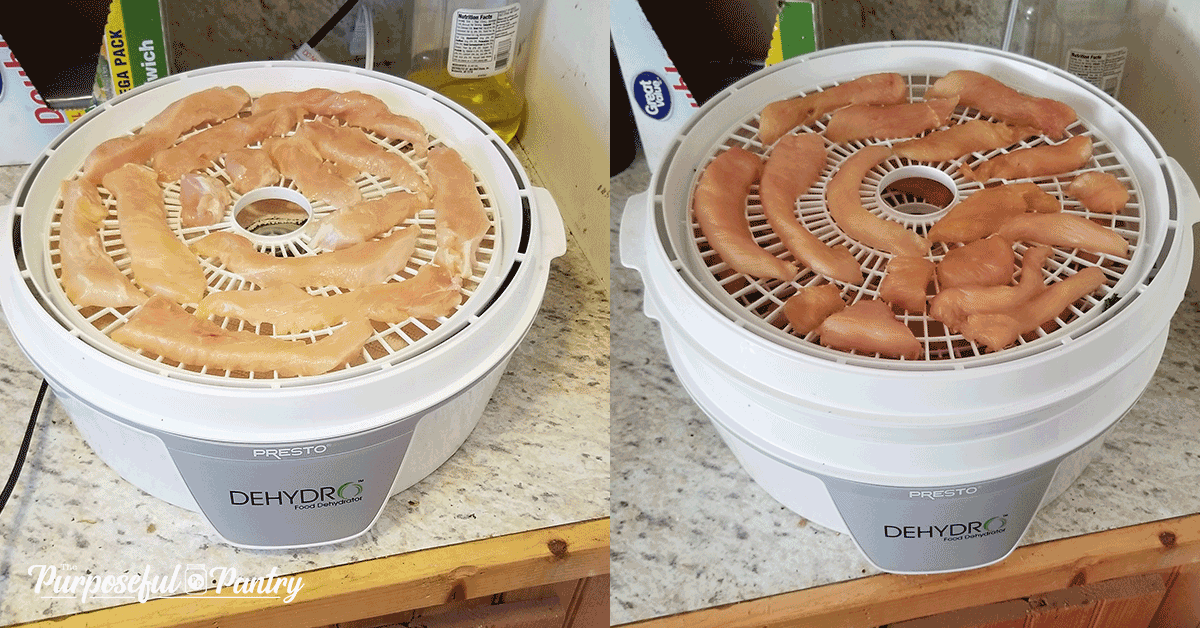 Dry @ 160°F/71°C for 10-12+ hrs
It's helpful to set your dehydrator as high as it will go. You'll see a lot of recipes that call for 145°F degrees. Unfortunately, this is not a safe dehydrating temperature for chicken.
And even feeding it to your dog, YOU are handling that meat. So keep it safe to kill the bacteria for you and your pet.
Time will depend on how thick your chicken strips are, how powerful your machine is, the humidity in your home, etc. So begin checking, and keep checking until it is crispy and dry.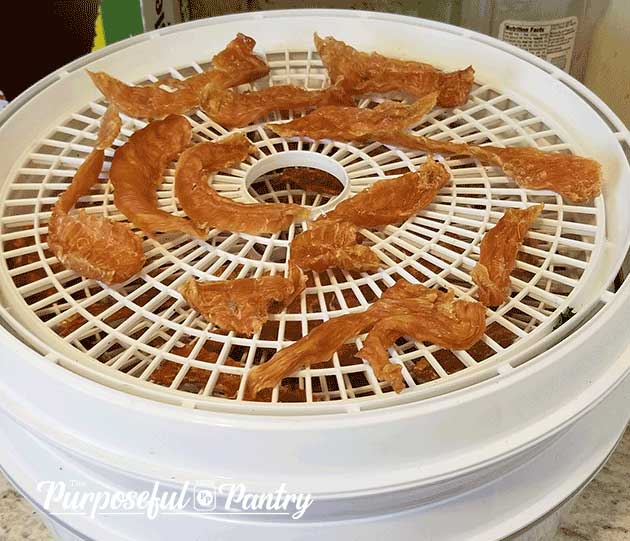 One More Tip: You might find that the jerky might be too pointy for your pup. You can either break the sharp points off, or you can make thicker pieces that are less likely to injure, and just know that it will take longer to dry.
Dehydrated Chicken Jerky for Dogs in an Oven
Preparation is the same for oven and dehydrator, so follow the above prep steps.
1. Preheat oven to 250°F/121°C
2. Slice chicken breast
Thin strips between about ⅙" . Freeze for an hour to make slicing easier.
3. Season with dog-friendly spices if desired
Tumeric or ginger are good options.
4. Place on an oven-safe rack over a cookie sheet
5. Dry for 2-3 hours
After the first hour or so, flip so that they are evenly dried. Check every half- hour after to get them dried, but not burnt.
When is Dehydrated Chicken Jerky Done?
When the chicken is crisp and leathery.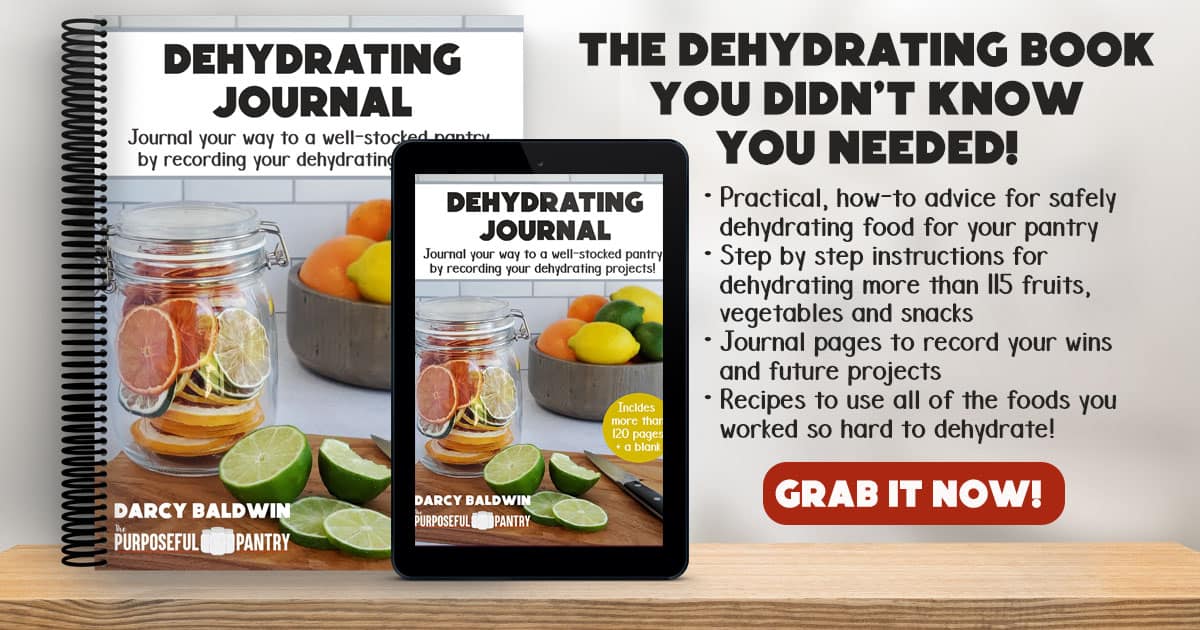 How to Store Jerky?
Once cooled, it is important to keep the chicken in an airtight container of your choice. Keep it in the fridge or store it in the freezer for longer-term storage.
Dehydrated chicken jerky is not for long-term storage on the shelf. So be sure to keep it in the freezer.
How Long do Chicken Jerky Treats Last?
They can safely be stored in the fridge for up to a month. Beyond that, they should be stored in the freezer.
You'll also see people keeping these on the shelf for longer. Chicken is a much leaner meat than beef, and you may be able to do it a little longer. But to be on the safe side, tuck it away in cold storage if you're going to keep it longer.
How Much Does 1 Lb of Chicken Breast Make?
Generally, you'll get about ½ weight of what you started with. So 1 lb of chicken breast will make approximately ½ lb. of jerky.
More Dehydrated Dog Treat Ideas