How to Dehydrate Canned Black Beans
Dehydrate canned beans and have shelf-stable, instant beans ready for meals in a jar, hiking or camping meals, or emergency meals when cooking is a problem. They are a super-easy dehydrating project perfect for beginners to pros!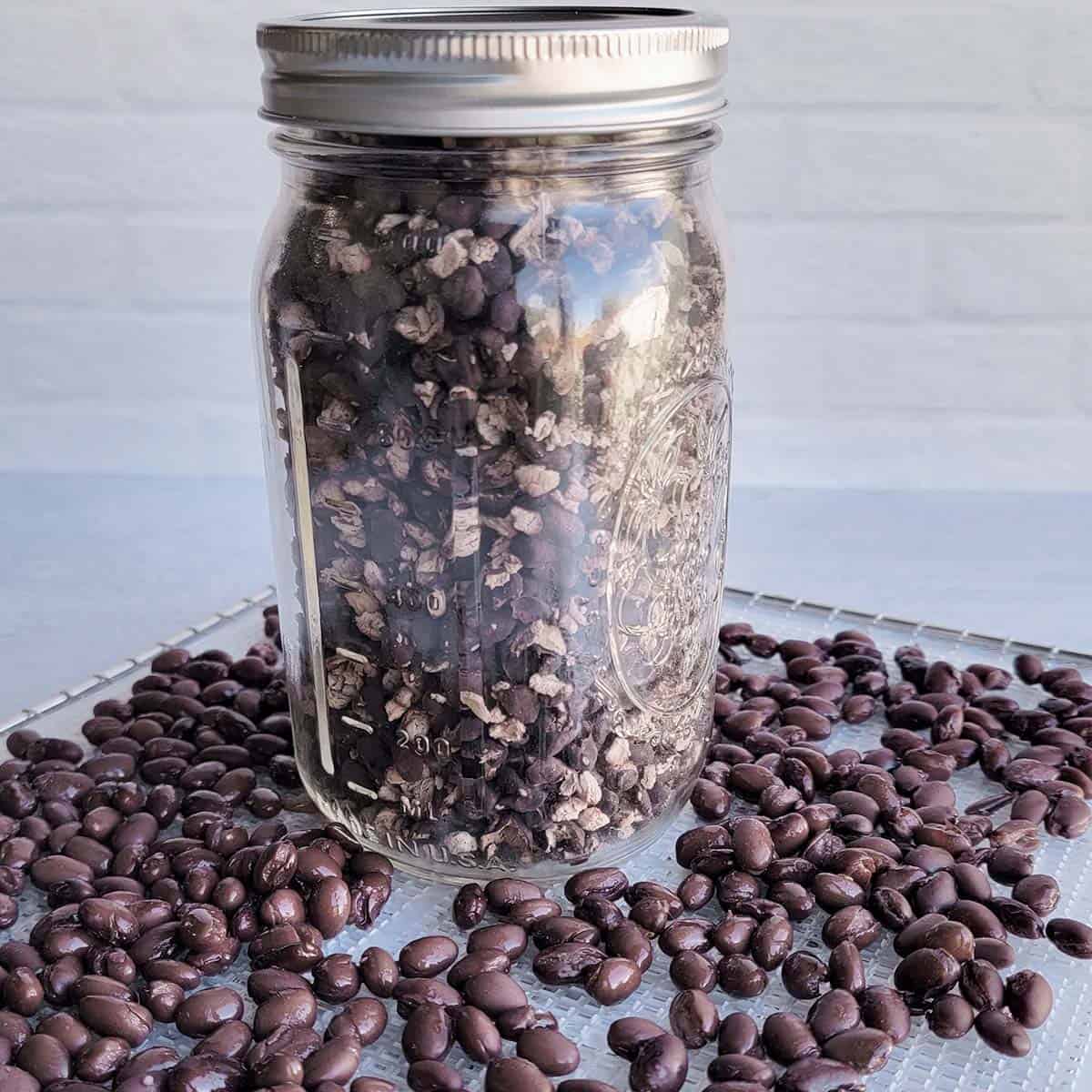 Why dehydrate canned beans?
Dehydrating canned beans makes them shelf-stable to add to other meals for easy storage and transportation for:
Emergency meals
Meals in a jar quick pantry meals
Meals in a jar for Christmas gifts or holidays
To help build a pantry for someone in need
Hiking/backpacking/camping meals
House warmning gifts for newlyweds or single adults moving out for the first time
Reduce pantry space
How to Dehydrate Canned Beans
Use your favorite cooked bean for this process.
Step One: Rinse Beans
Rinsing beans helps remove the excess sodium and the starchy bean liquid they are canned in
Step Two: Place on Dehydrator Trays
You do not have to line your dehydrator trays as long as your trays have a small grid. If not, you can use mesh or fruit leather trays (there is a possibility of staining depending on the bean). This will also be helpful when the beans are dried as they do have a lot of skins that dry small and can get all over the place.
Step Three: Dry at 125°F / 35°C
This may take anywhere from 5-8 hours depending on the:
Texture of your beans
Humidity in your home
Your machine
How tightly you pack your trays
Step Four: Dryness Test
Your beans will be dry when they are crunchy (you can test one or two with a taste test), have begun to break through, and plink when you drop them on a hard surface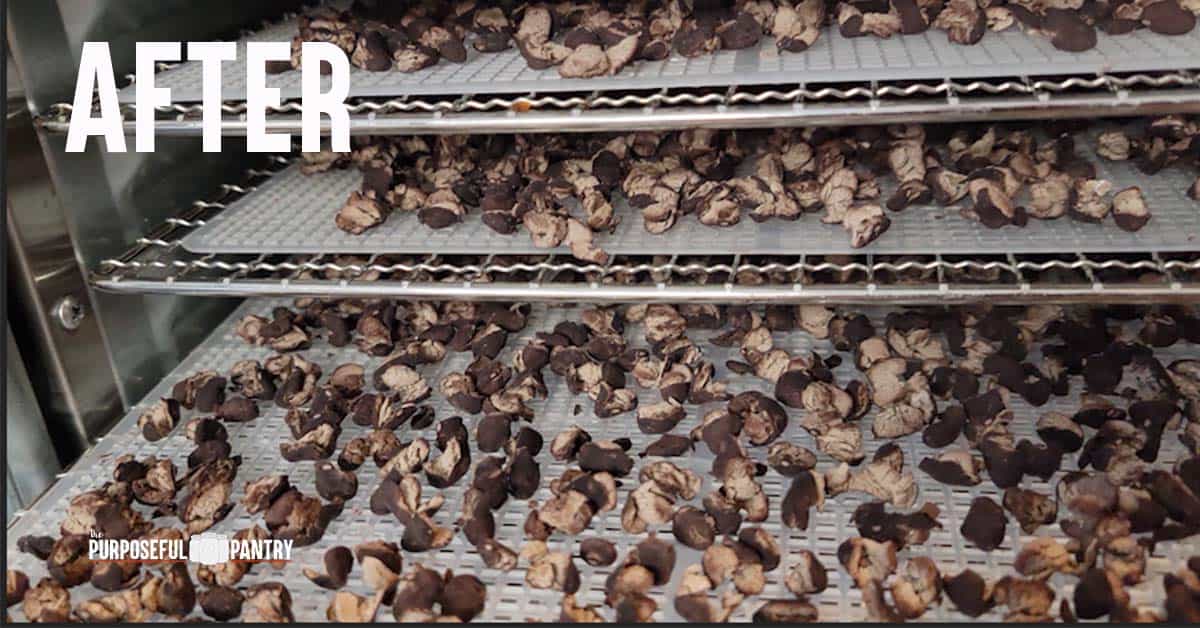 Step Five: Condition
Condition your beans by placing them in a large jar, shaking them once or twice a day, and look for signs of moisture build-up. Conditioning is important to equalize the moisture within the jar and to check for signs of sticking or moisture build-up on the jar lid or sides. If you notice that, put them back into the dehydrator to dry more.
If you see mold buildup, you need to toss out the contents of the jar and start again.
Step Six: Store in an airtight container
A canning jar, an airtight plastic storage jar, mylar bags, or plastic vacuum seal bags will work, depending on which is best for your pantry storage. Use an Oxygen Absorber if you'd like for long-term storage, but nothing is needed for short-term.
Beans will last for two years and more, if properly stored.
Watch me dehydrate black beans and make a meal in a jar
Yield of Black Beans
1 15 ounce can of beans = 8 ounces of beans (drained) = 2.5 ounces of dried beans (1 cup of dried beans)
6-8 cans of beans will fit into a half gallon jar (depends on the size of beans and the size of the can.
How to Use Dehydrated Black Beans
To rehydrate:
To use beans:
In a pot or container, cover beans with just enough water to cover them, and simmer until desired consistency.
For soups, stews, casseroles
Toss into the soup/stew and allow them to simmer and warm. They are already cooked, so need no extra time other than to rehydrate, which happens fairly quickly.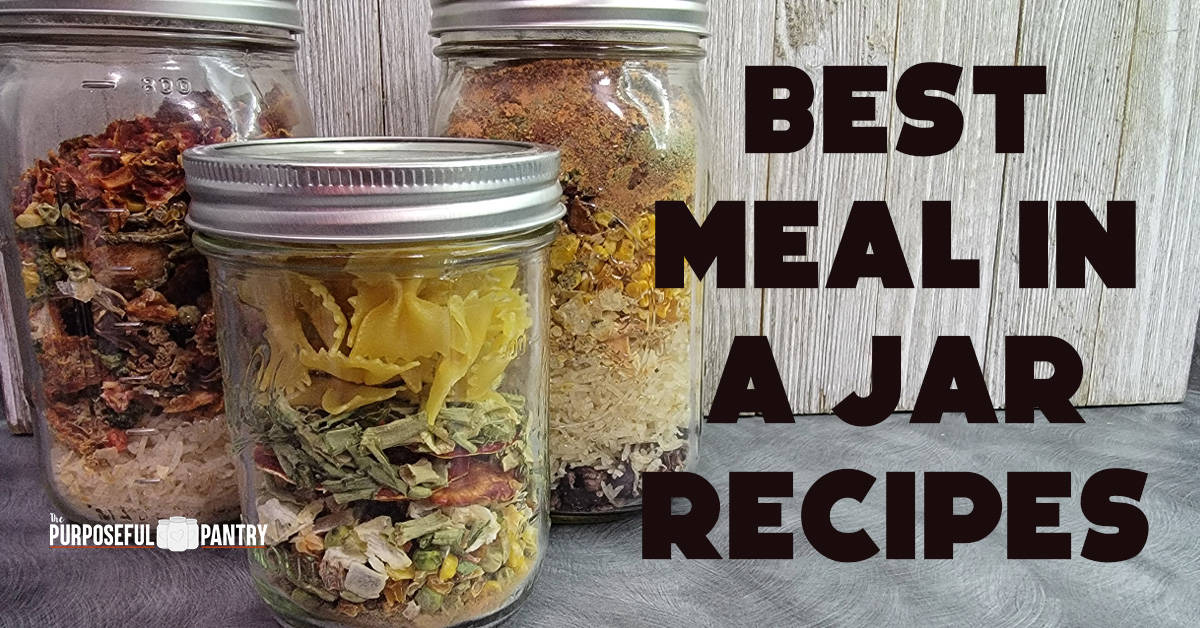 Questions and Troubleshooting
Can I use home-canned beans?
Yes, just remember that they have a tendency to break, depending on the firmness of the beans
Can I do these from dried beans?
Yes, simply cook your beans the way you like, and then dry them
My beans broke – is that okay?
Yes, depending on how long they were cooked, the thickness of the skin, and the firmness of the beans, you'll find that between 20-80% will break. That's okay! It's the way it works.
What kinds of beans can I use?
Any cooked bean will work!
LEARN MORE: More ways to use beans, even when you don't like them!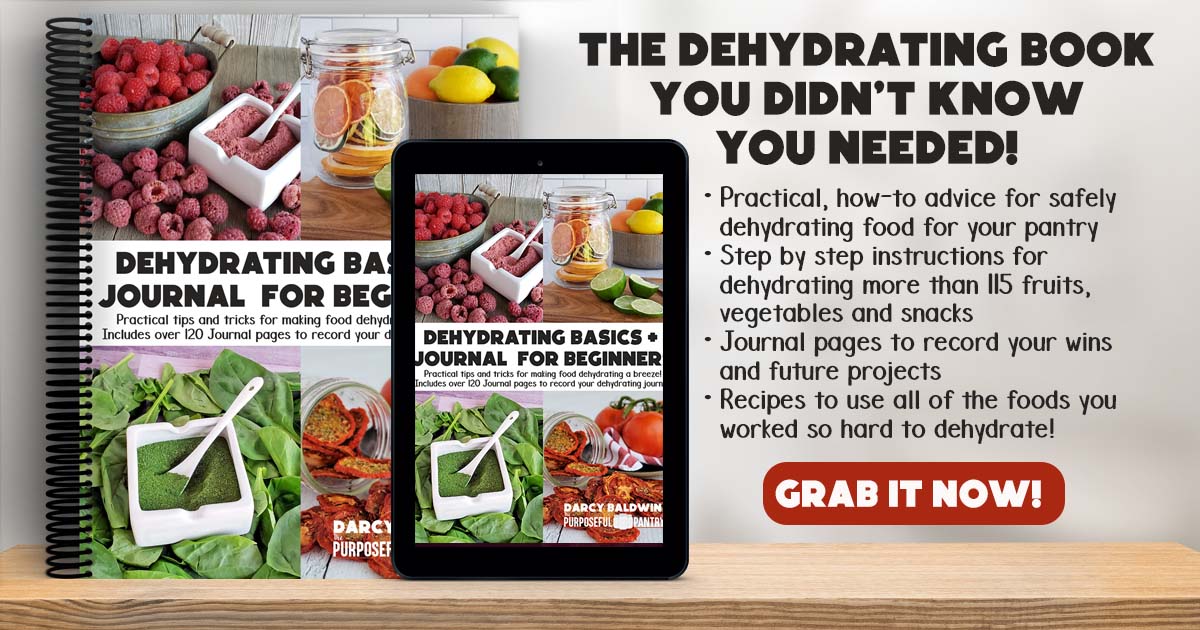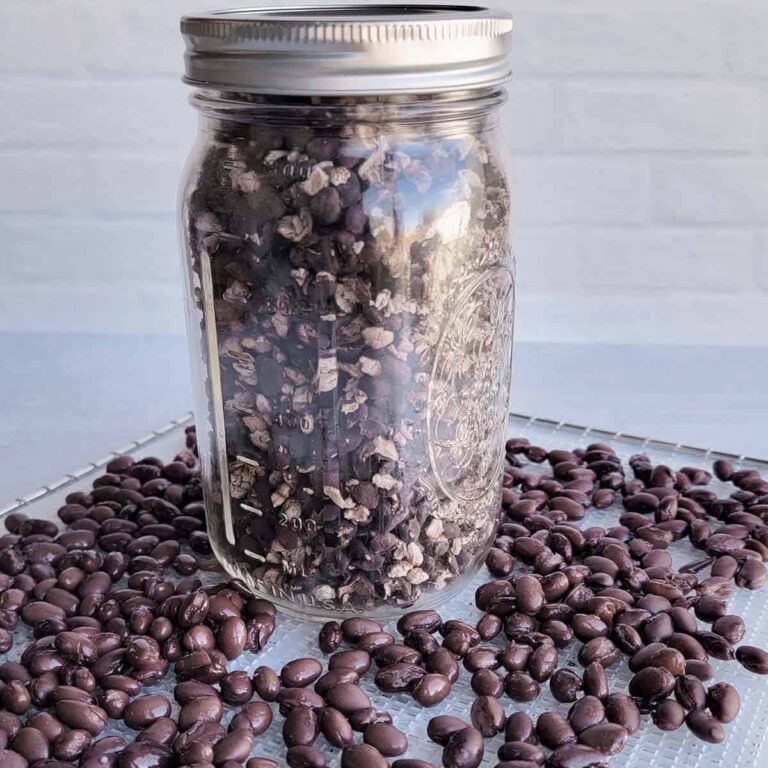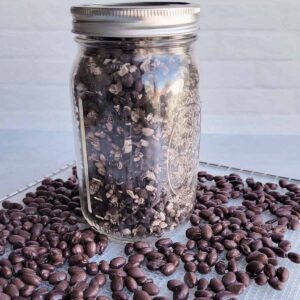 Dehydrate Canned Beans
Dehydrate canned beans to save room in your pantry, create meals in a jar for pantry storage, gift giving or emergency meals, prepare meals for hiking and camping.
Print
PIN THIS!
Rate
Ingredients
1

Can of beans

use any bean of your choice
Instructions
Spread onto dehdyrator trays

Dry at 125°F / 52°C for 5-8 hours

Store in an airtight container for 2+ years
Darcy's Tips
Dryness Check:
Dried beans should be hard, dry, and will likely have split.
Yield:
1 can = 1 Cup dried (2.5 ounces)
Substitutions:
Home canned beans will work well, also.
To use:
Use in any meal – this Taco Soup Meal in a Jar is a great place to start!
Nutrition
Calories:
0.5
kcal
|
Carbohydrates:
0.1
g
|
Protein:
0.03
g
|
Sodium:
2
mg
|
Potassium:
2
mg
|
Fiber:
0.04
g
|
Vitamin A:
0.02
IU
|
Vitamin C:
0.01
mg
|
Calcium:
0.2
mg
|
Iron:
0.01
mg
Nutritional information is an estimation only. Nutrient information for dehydrated foods is based on fresh. Use 1/4 of the servicing size for the same nutrient information. Thus 1 Cup of fresh fruit has the same sugars as 1/4 dried.
©ThePurposefulPantry. Photographs and content are copyright protected. Sharing of this recipe's link is both encouraged and appreciated. Copying and/or pasting full recipes to any social media is strictly prohibited.