How to Dehydrate Rosemary
Don't buy bottled rosemary from the grocery store – learn how to dehydrate rosemary in these handy step by step directions for both a dehydrator and air drying.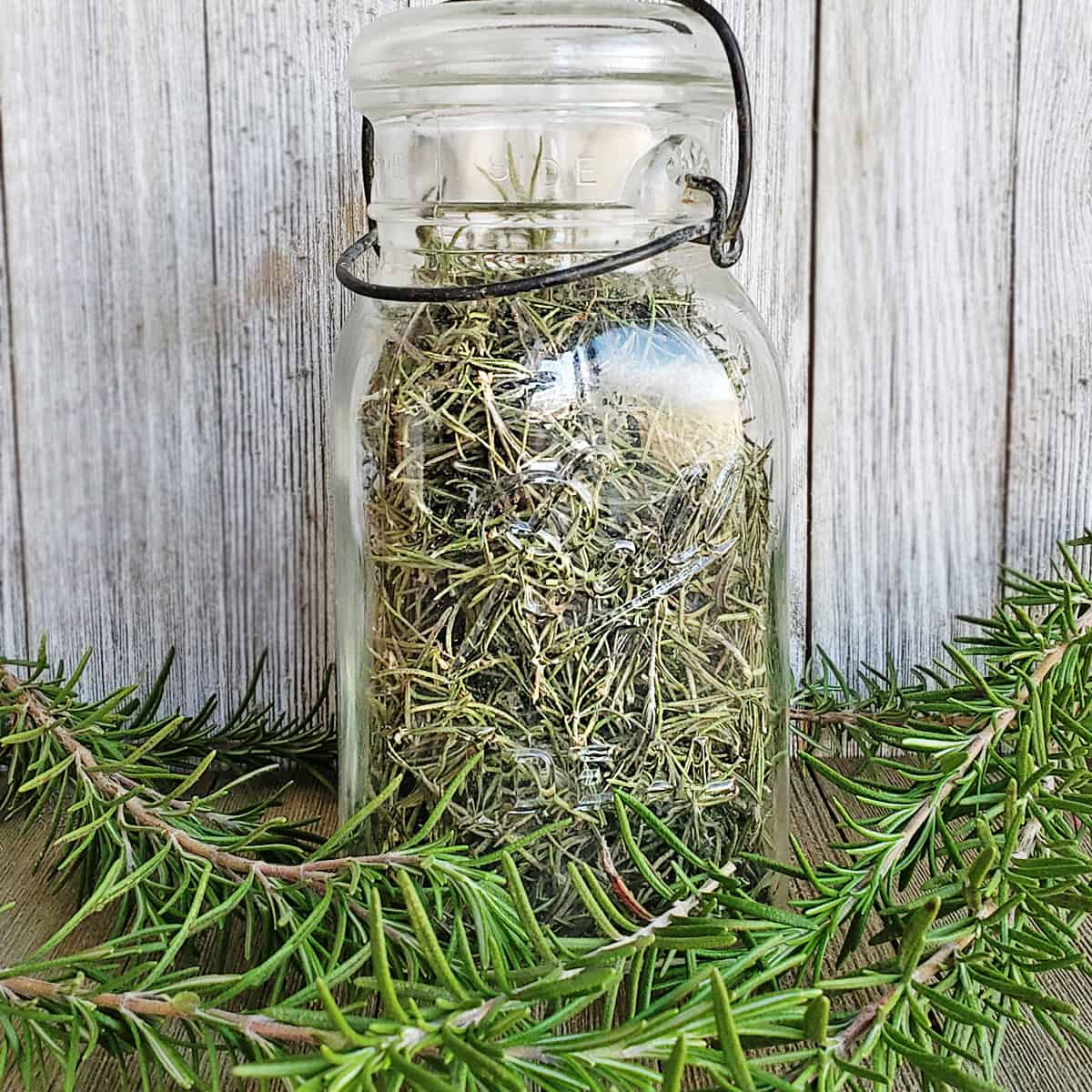 We have a ginormous rosemary bush in front of our house that started out as a wee little rosemary Christmas tree topiary about eight years ago. Now I have neverending rosemary for every dish we can imagine. But even though I have it fresh outside my door, I still dry it for stocking my spice cabinet as well.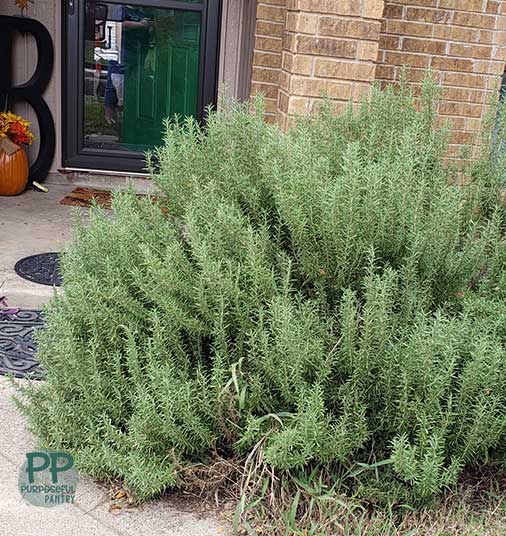 Update – RIP Rosemary Bush – 2020
Rosemary is an evergreen that is in the mint family. If you have a healthy bush, you can harvest it year-round (though it's always best in the spring and summer as the leaves are full of fragrant oils). Rosemary is also one of the easiest herbs to dry because it is foolproof.
But sometimes, you just don't want fresh rosemary. You do want it dried for herb mixes or to put in stews to infuse flavor in the stewing time as opposed to the strong fresh flavor punch in the end. The herb not only tastes good in culinary dishes such as rosemary chicken and lamb, but it is also a good source of iron, calcium, and vitamin B6. (source).
How to Dehydrate Rosemary
Equipment needed
Dehydrator
Airtight container
1. Wash Rosemary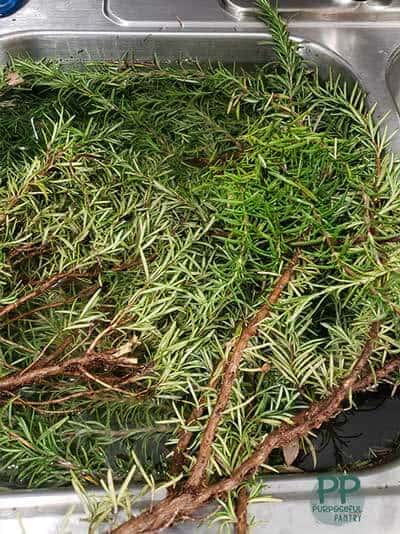 While all the research is up in the air about what to use to clean your produce (a heavy vinegar to water ratio, a baking soda soak, or plain water and a good soak), you do need to wash your produce.
Even though our is organically grown, debris and dirt get on the springs, in the needles, and it all should be washed beforehand. I do a 3:1 vinegar to water wash. I'm in the camp that a splash of vinegar does nothing helpful.
2. Remove Excess Moisture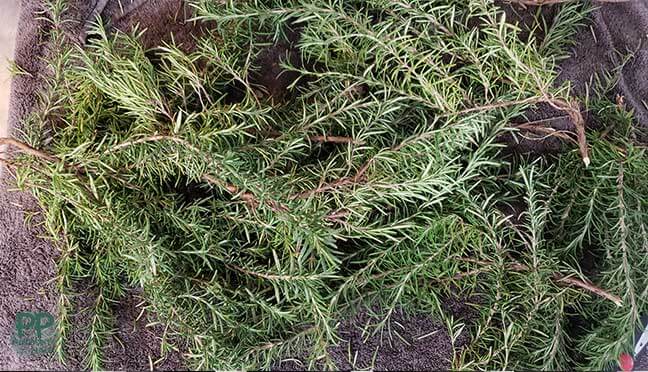 Whether you shake your sprigs outside or lay them out on a towel to drain, getting rid of the excess moisture from the wash will help the dehydrating process go much more quickly.
3. Place springs out on dehydrator trays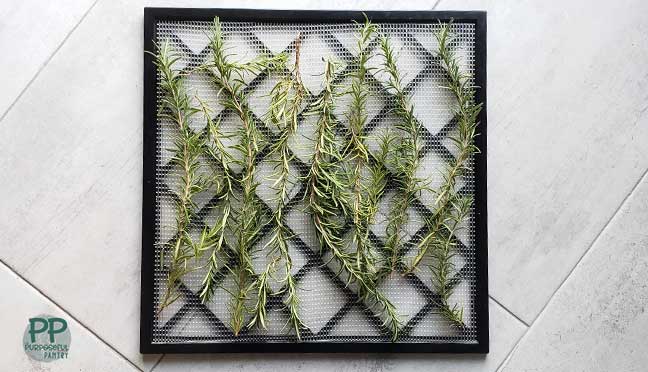 While this is the easiest way to dehydrate rosemary (the entire process is easier from start to finish as you'll see later), for those of us with insertable trays like in an Excalibur, large rosemary sprigs take up 2 spaces, which means you cannot pack as much in the machine. So you may wish to do the next step, instead.
3A. Strip Sprigs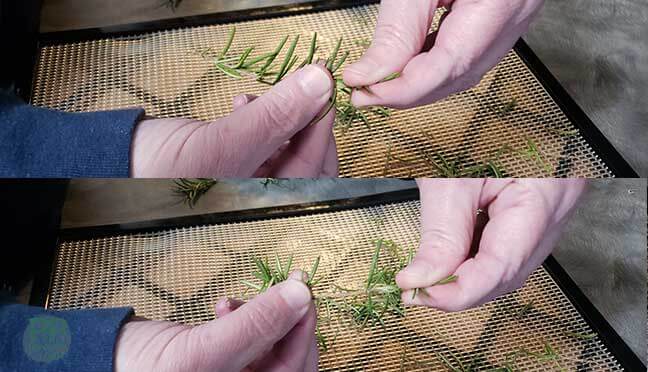 You can strip each sprig easily by pinching a sprig, and running your fingers against the 'grain'. If you have a lot to process, be prepared for oil-stained hands that will require a bit of a soap scrub to remove.
4. Place on Dehydrator Trays
Hearty herbs like rosemary do not blow around much in a dehydrator, but you may wish to cover your tray with parchment paper or an extra tray mesh liner for added protection.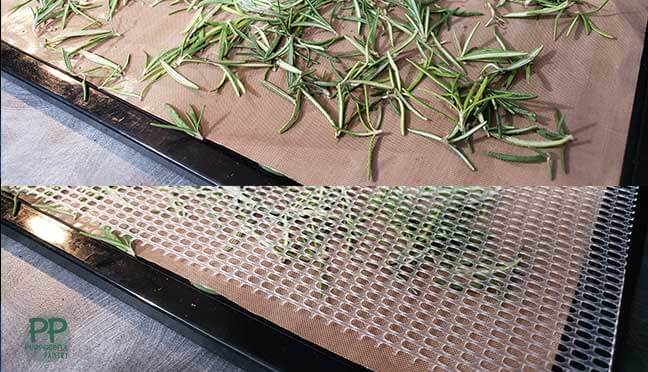 I typically do not use the nonstick liner on my trays, but do keep one on the bottom of my machine to catch all the 'drop thru's'. But I set up this batch so that you could see how it would work with that nonstick liner. This will keep your machine cleaner in the end. Having handy tools while dehydrating, and knowing how to use them, will make this process so much easier!
5. Dry at 95F-115F / 35C-46C
You should expect between 4-8 hours, depending on how much moisture is in the rosemary, the relative humidity of your home, the power of your dehydrator, etc.
If you cannot be there when you think it should be done, don't fret. You can't overdry rosemary, so setting overnight is a great option.
When is Rosemary Dried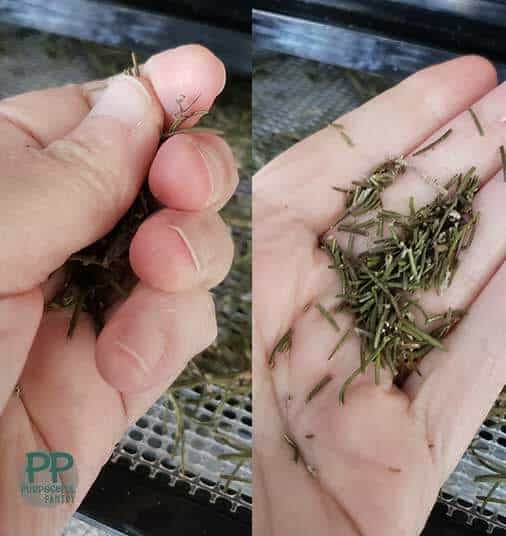 How to Remove Rosemary from Sprigs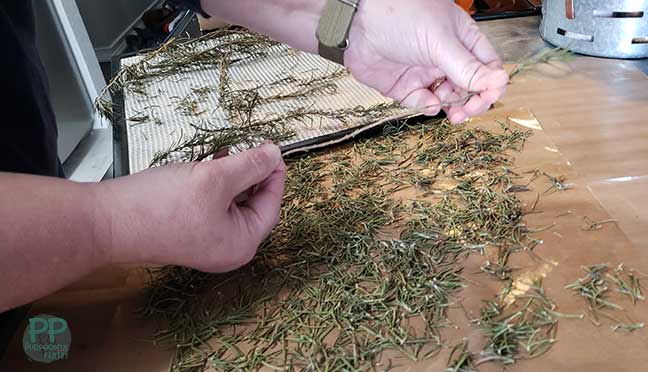 Stripping dried needles from the stems is so effective once dried. They slide right off. And there's no accumulation of oils on your fingers as when you strip the fresh twigs.
You can even gather quite a few sprigs together, and just twist them, and most of the needles fall right off.
How to Store Dried Rosemary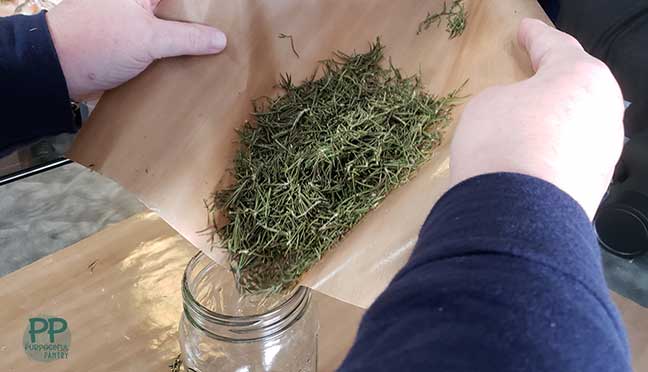 My handy tip is to strip all of your rosemary onto your nonstick tray liners or a tea towel (tea towels are typically smooth, unlike terry kitchen towels, so that needles will not get stuck in the cloth as easily.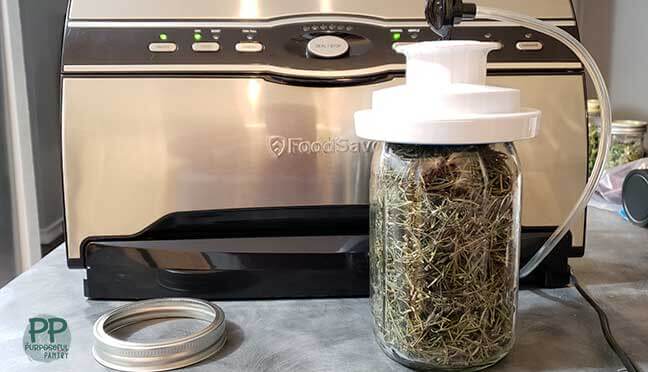 Vacuum seal your rosemary in a mason jar. You can use a regular vacuum sealing machine, or you can use the handheld version – though it's a little more work for the smaller version when there's a lot of air in a jar like this.
You can also just store your rosemary in an airtight container, but removing the air is recommended for longer-term storage. If you happen to have oxygen aborbers, you can throw one in and have the same effect as a vacuum sealer after about twenty-four hours.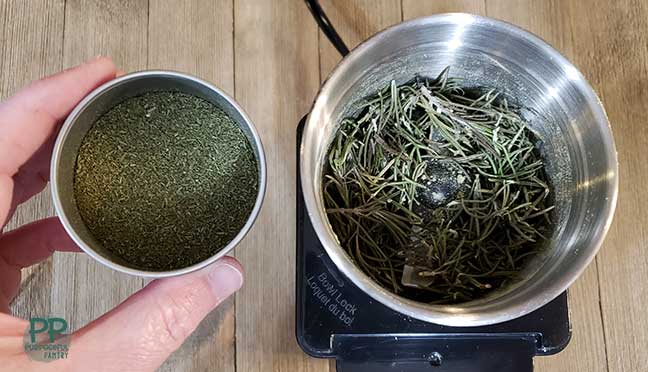 As much as I love rosemary, I don't like biting into the large dried needles in my cooking. So I usually fill the bowl on my coffee grinder and powder down some rosemary for my day-to-day use. I don't powder it all at once, because it holds it's flavor better as a whole leaf. But I do a small portion to have on hand. I use a version of this metallic herb container for my quick reach herb and spice blends, but store most of mine whole in canning jars in my pantry.
Items I used in this process
These are Amazon affiliate links.
You can also find more recommendations on tools I use to stock my pantry on The Purposeful Pantry Recommends page.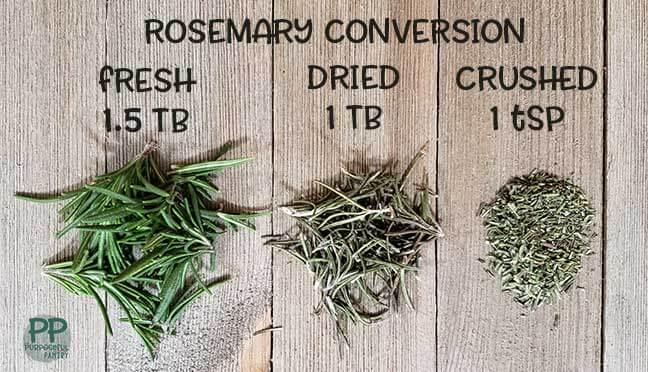 How Long Will Dried Rosemary Last?
Most herbs are listed as being good for about six months.
But a better way to check your dried herbs is to crush them – and then smell them. If you still can identify the smell strongly, the oils have not dissipated and you can continue to use your herbs. If you can't easily identify it by smell, it's time to replace.
How to Air Dry Rosemary
If you don't have a dehydrator to dry herbs, you can opt for air drying. This is a preferred method by many because the herbs tend to keep their color better.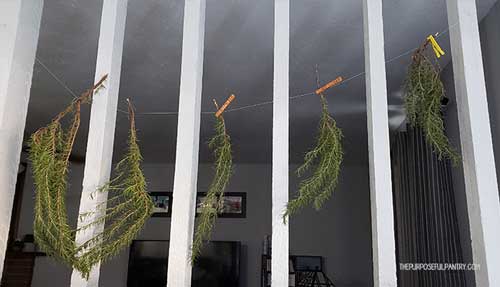 This is my drying area – right above my desk area so that I can keep an eye on them all the time!
Bundle your Rosemary branches and tie them together (or just hang larger ones)
Hang in a cool, dry place for a few days.
They will be dry when the needles come off from touching.
If you're worried about dust, you can bundle these inside a paper bag or cheesecloth as well. Or, if you have space, you can use this hanging herb drying rack inside or out.
Ways to use Dried Rosemary
YOUR THOUGHTS? What are your favorite ways to use rosemary?