How to Dehydrate Bell Peppers & DIY 'Paprika'
Learn how to dehydrate sweet bell peppers and make them last even longer for your pantry – and make a mock paprika powder for your spice cabinet!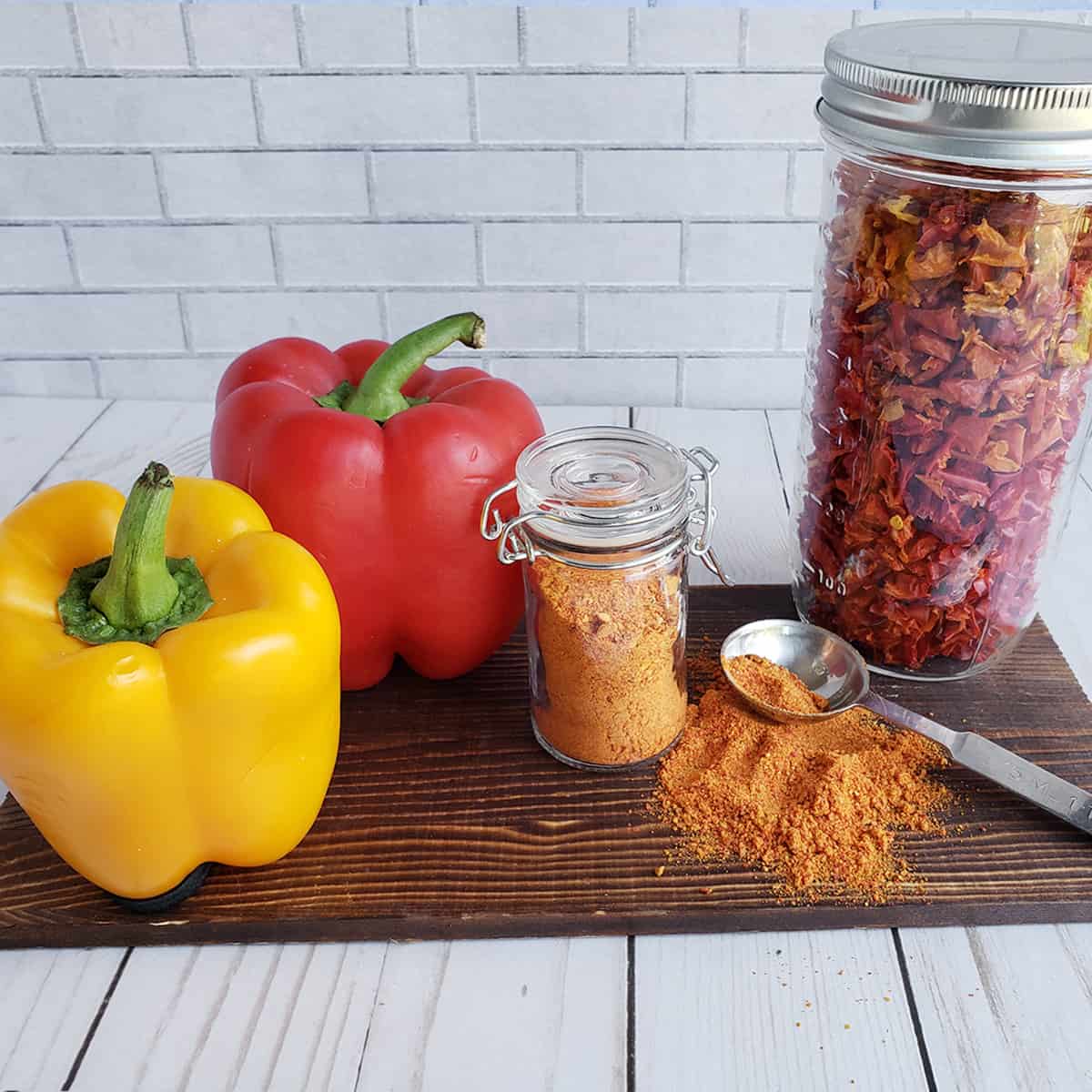 Are you tired of running out to buy one bell pepper for a soup, stew or casserole, and always buy a second or third because you might need it later, only to let them go bad because you didn't need it after all? Or you just hate having to pay $2+ apiece for them and wish you knew how to preserve them when they are $.75 each during the season?
Dehydrating bell peppers is so easy to do, and can give you peppers for cooking all through the year without paying high prices for them out of season.
And at the end of the post, I'll show you how you can dehydrate bell peppers and then make them into a 'mock Paprika'!!
I also use dried bell peppers are part of my holy trinity blend!
How to Dehydrate Bell Peppers
► QUICK REFERENCE: Dehydrate at 125F/51 C for 6-10 hours
1. Wash Bell Peppers
Even though bell peppers look perfectly clean coming home from the store, and they have a super-thin wax coating to protect them, who knows how many hands have been handling them in the grocery store before you get a chance to pick your perfect one? Seriously — wash them.
2. Cut the Core and ribs and discard seeds
Are you Team core and rib or Team Roll With It? Either method works just fine!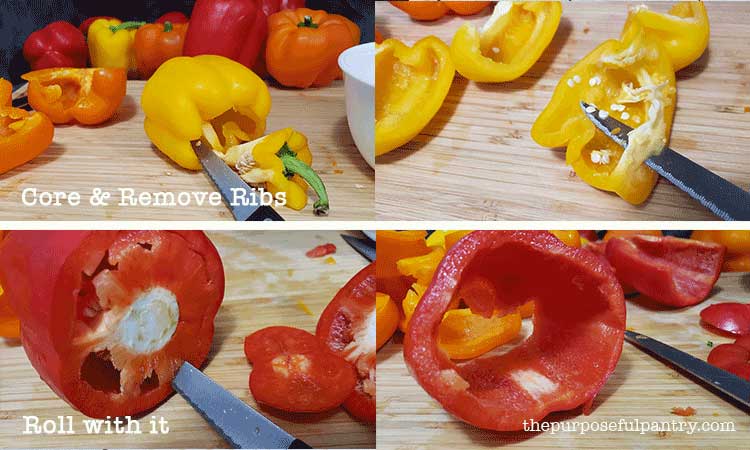 3. Chop into small pieces
You can chop by hand, use a handy-dandy chopper like the one I use here, use a food processor or whatever works easiest for you. You may even choose to just slice into long slices because you prefer that. Any method works well.
Just remember, when you dehydrate bell peppers, the smaller the pieces, the fast they dry.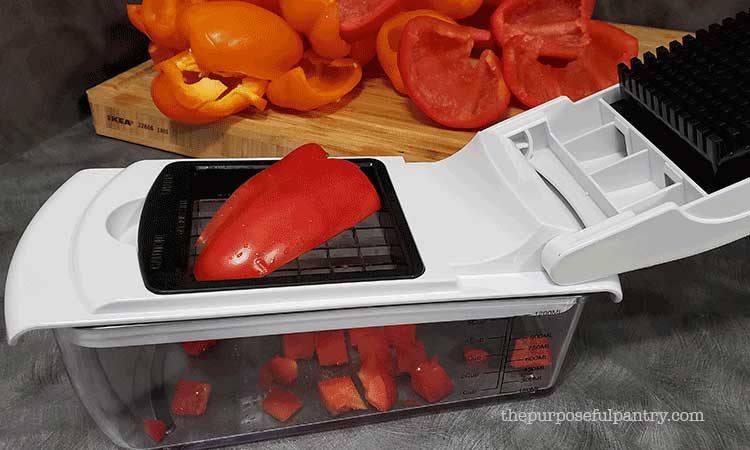 One bell pepper makes approximately 2/3 Cup of diced peppers. But that is dependent on the size of your pepper and the size you dice it.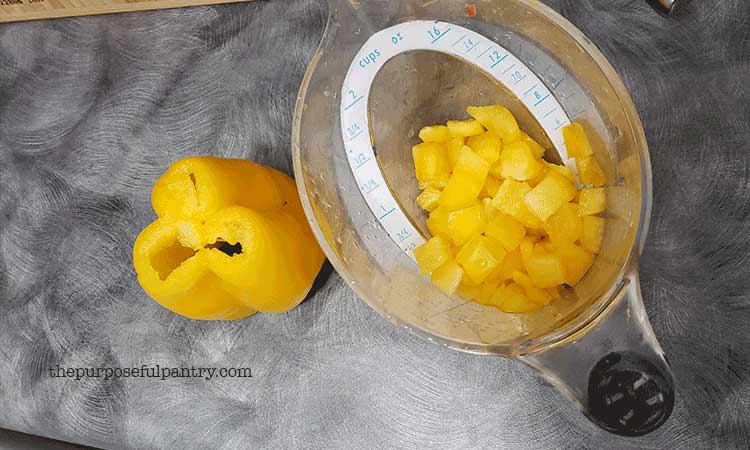 Using the OXO Good Grip Angled 2 cup measuring cup
4. Place on dehydrator trays
WARNING ON THIS STEP!
I totally forgot to put down protection on my sheets before I did this. Bell peppers WILL stain your mesh. So put parchment paper or use some ParaFlexx silicone sheets to protect your dehydrator mesh (or you can use a less expensive variety).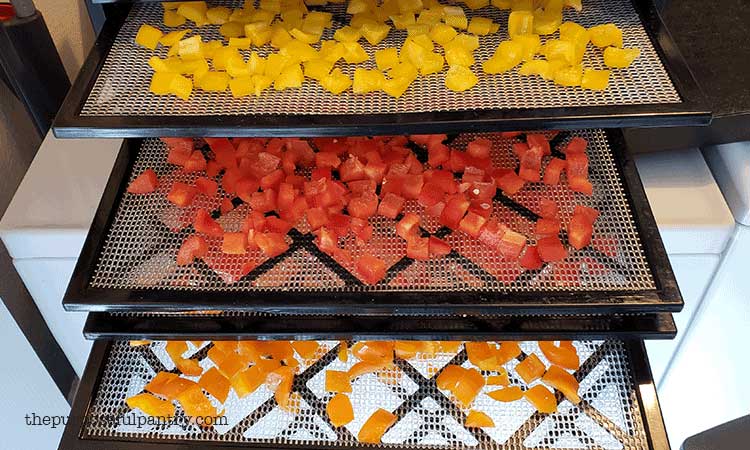 I use an Excalibur dehydrator, but any dehydrator will do. But if you're looking for one – be sure to find one that has an adjustable temperature control!
5. Dry at 125F / 52 C
Peppers take approximately 6-10 hours to dry. The wide gap is between how hydrated your peppers are, what your home humidity level is, and the power of your machine. My Excalibur took about 8 hours to fully dry the peppers I had, but they were packed heavily on the trays.
How Do I Know My Bell Peppers Are Dry?
Bell peppers are fully dry when they snap apart.
To test: Allow them to come to room temperature and then try to break them apart. They should snap. If they are still a little bendy, put them back into the machine for a while and test again in another hour.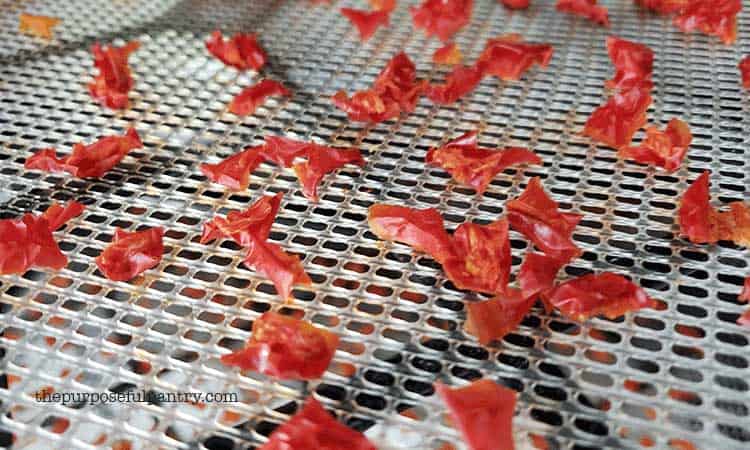 At this point, condition your bell peppers. What is conditioning? It's the act of making sure all of your bell pepper pieces are at an even humidity level (should be about 10% for vegetables.
How to Condition Dehydrated Capsicums
Did you catch that name change? In Australia, bell peppers are known as capsicums.
Place in a jar to about 2/3 full.
Shake once or twice a day and look for signs of humidity – water on the inside of the jar, water droplets on pieces.
Repeat for 7-10 days.
Store as normal when through.
►If you see water on the jar or on pieces, throw back onto the dehydrator to fully dry your food.
►If you see mold on anything at any point, toss the produce and sanitize your jar and lid.
How to Store Dehydrated Bell Peppers
Store dehydrated bell peppers in an airtight container (keeping dehydrated powders dry is really important) in a cool dark place. Vacuum sealing works best as it gets the extra air out of your jar.
If you choose to vacuum seal in a Food Saver-type bag or mylar, please be sure to put the peppers in a paper bag first, then vacuum seal. The sharp edges of the bell pepper pieces could pierce a hole in your plastic bags over time.
Rehydrating Bell Peppers
When using bell peppers in dishes, rehydrating is recommended if you aren't doing a slow-simmering soup or stew.
To Rehydrate Bell Peppers
Soak in a bowl of hot water for up to 30 minutes, or
Soak in a bowl of water in the refrigerator overnight.
Uses for Dried Bell Peppers
Toss onto pizzas
Use in salad or chicken salad
Rehydrate for adding into quick cook meals like this Taco Soup in a Jar meal
Toss into spaghetti sauce to rehydrate and cook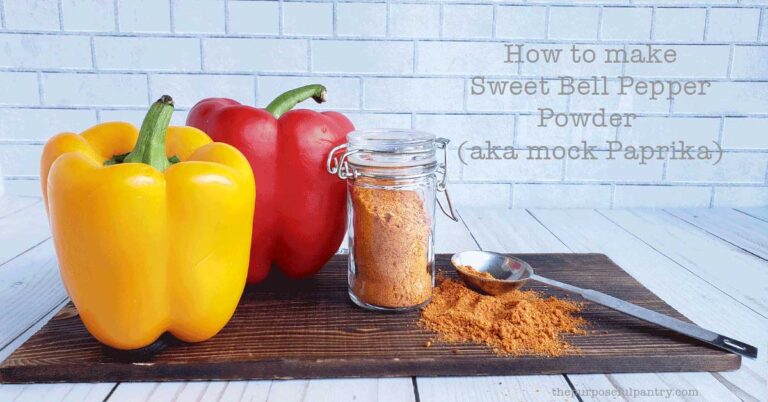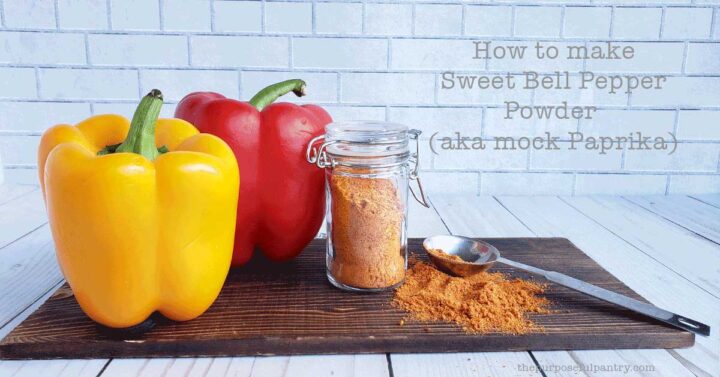 Put in your desired amount of peppers to a coffee grinder (I use this Cuisinart Coffee Grinder), a small blender (I just started using this Nutri Ninja Blender and really love it for larger amounts), or a blender.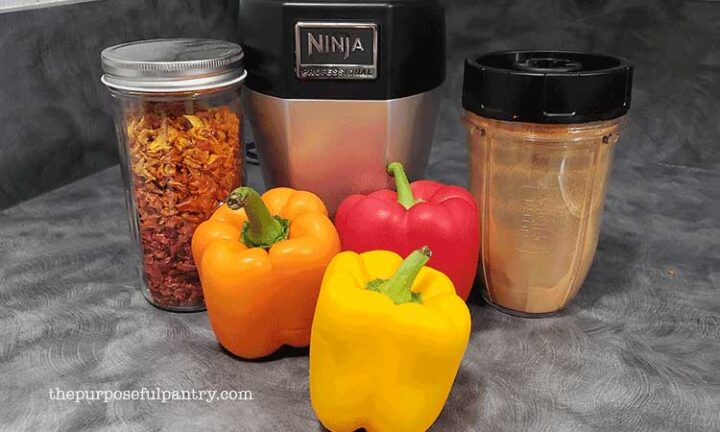 Conversion Measurements
1 Bell Pepper is approximately 1/2 Cup of dehydrated bell pepper which is approximately 1 Tablespoon of Bell Pepper Powder (Mock Paprika)
How to Use Bell Pepper Powder
In many of the ways you would use sweet paprika or mild paprika, you can use this powder. It's slightly sweet and slightly spicy.
Meat rubs
Sprinkle on popcorn
Use in tomato soup to make it pop
Add to breading to give a fun flavor and color
Garnish deviled eggs
Sprinkle on hummus
Sprinkle on corn on the cob
What do you think?
Do you think this is a project you'll tackle at the height of summer when all of your peppers are maturing at the same time? Or is this a fun project to do for a whim, but not something you'd do often?
Want to learn more about dehydrating?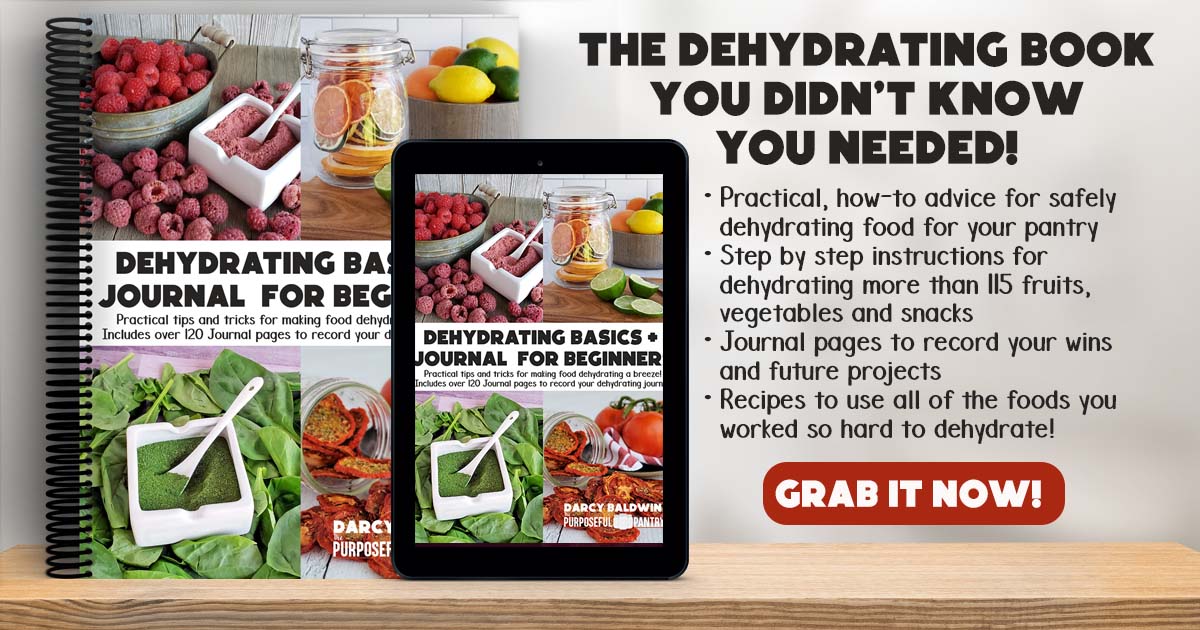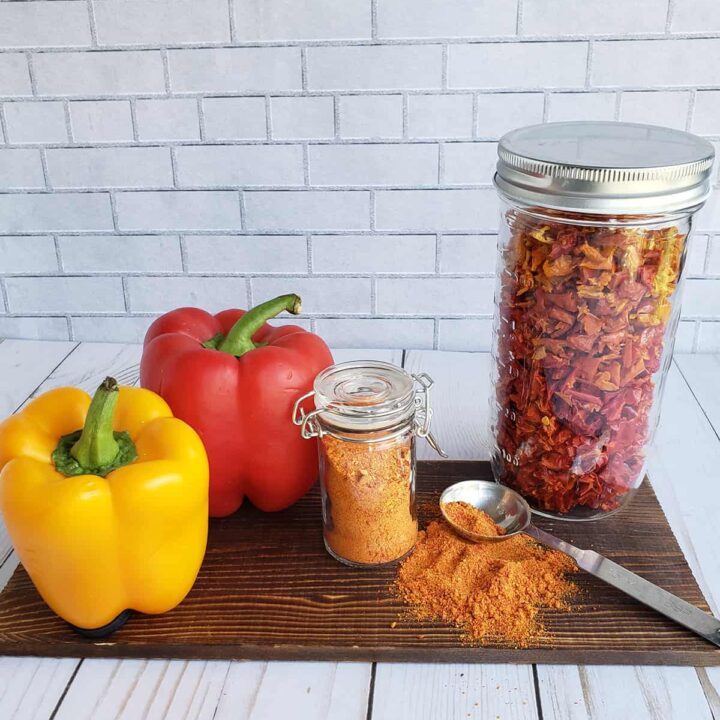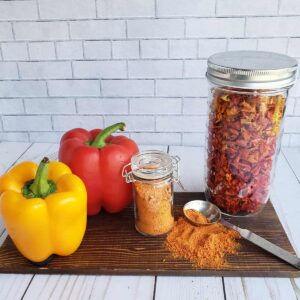 Dehydrate Bell Peppers
Learn to dehydrate bell peppers to use on pizza, in sauce, and salads all year long!
Print
PIN THIS!
Rate
Equipment
Liner

Parchment / baking paper, fruit leather sheets
Ingredients
Instructions
Wash peppers well

Remove stem and core

Trim ribs if desired

Cut into strips, rings or dice

Place on dehydrator trays protect by fruit leather sheets or parchment/baking paper as they can stain

Dry at 125°F/52°C for 10-14 hours

Test: Will be dry, pliable, hard, and should break easily when dried (cool before testing)

Condition

Store in airtight container for up to two years
Video
Darcy's Tips
Rehydrating Note:
When using bell peppers in meals, remember that they need to be rehydrated and still need some time to cook. You typically saute peppers before putting them into meals, but if they aren't cooked before dehydrating, they do need a little time, in the end, to soften up in the dish.
DIY Mock 'Paprika' Powder
Blend pepper pieces in a coffee grinder or bullet blender. Depending on the sweetness or spiciness of your pepper, it can be used to substitute for paprika.
To use:
Toss onto pizzas, into salad or chicken salad

Rehydrate for adding into quick-cook meals

Toss into spaghetti sauce to rehydrate and cook
Nutrition
Calories:
24
kcal
|
Carbohydrates:
6
g
|
Protein:
1
g
|
Fat:
0.2
g
|
Saturated Fat:
0.1
g
|
Polyunsaturated Fat:
0.1
g
|
Monounsaturated Fat:
0.01
g
|
Sodium:
4
mg
|
Potassium:
208
mg
|
Fiber:
2
g
|
Sugar:
3
g
|
Vitamin A:
440
IU
|
Vitamin C:
96
mg
|
Calcium:
12
mg
|
Iron:
0.4
mg
Nutritional information is an estimation only. Nutrient information for dehydrated foods is based on fresh. Use 1/4 of the servicing size for the same nutrient information. Thus 1 Cup of fresh fruit has the same sugars as 1/4 dried.
©ThePurposefulPantry. Photographs and content are copyright protected. Sharing of this recipe's link is both encouraged and appreciated. Copying and/or pasting full recipes to any social media is strictly prohibited.