Taco Soup in a Jar Recipe
Want a shelf-stable meal in a jar perfect for busy nights or emergencies? Try this Taco Soup in a Jar recipe that will also make a great gift!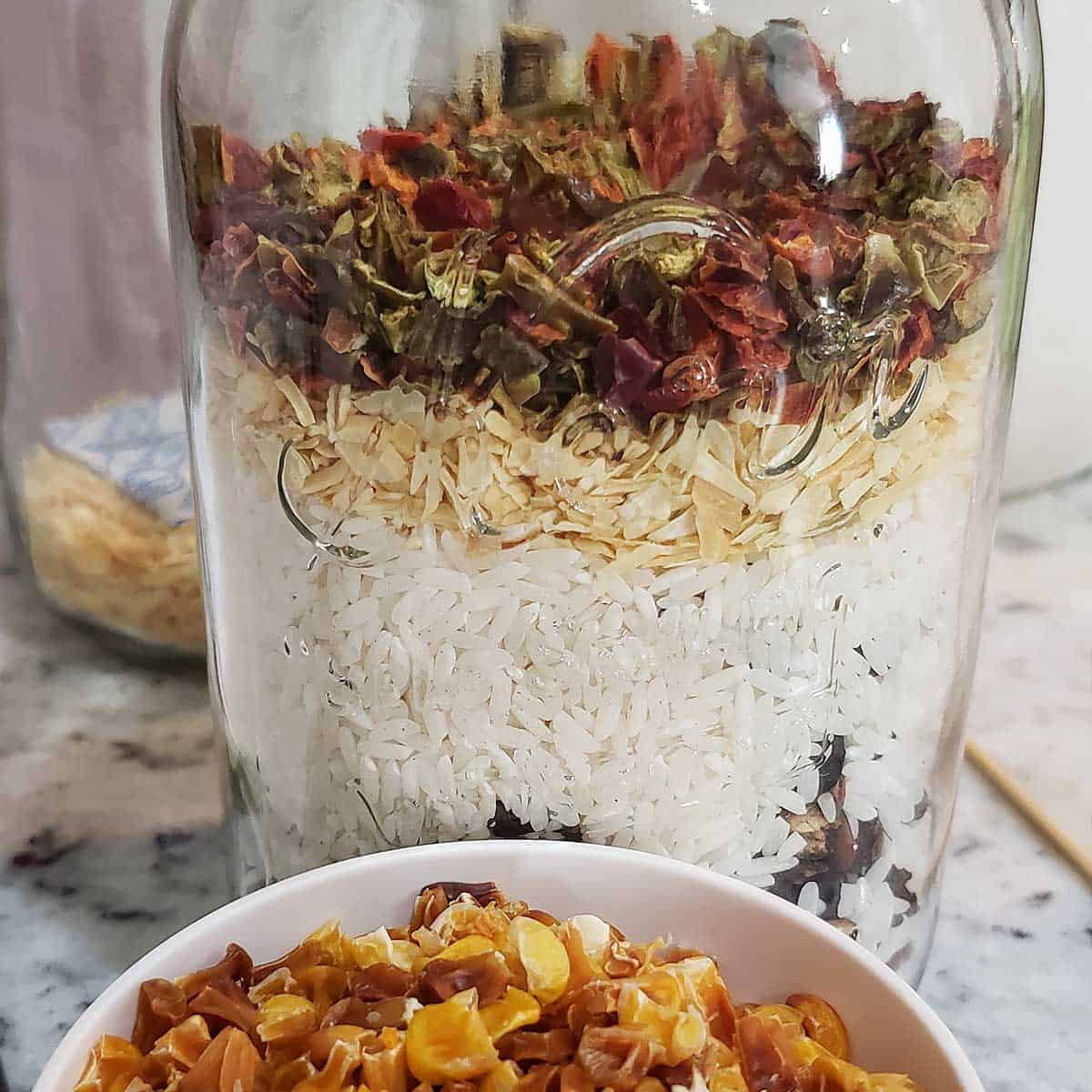 This recipe is loved by kids and adults alike. While there is some pre-planning in the form of dehydrating the ingredients, once you've got them all together creating the soup in a jar only takes minutes to put together.
Taco Soup in a Jar
For each quart Mason jar you'll need:
*Optional: Dehydrated powders are a great way to sneak a little extra nutrition into any meal you make, and soups are perfect for it.
Note – you can use freeze-dried versions of all the ingredients, as well.
Jar Layering Directions
Use a widemouthed quart-sized jar
Add the beans to the bottom of the jar, tamp them down
Add the rice over the beans, tamping and shaking the jar to get the rice to fall inside the beans (optional, you may like the look of the layers instead)
Add the onion, green pepper, and corn
Add the tomato powder, seasonings, and taco seasoning, tamping and shaking the jar to get the tomato powder to call inside the vegetables
Tighten the canning jar lid and (if giving as a gift) decorate with paper or a cloth square.
NOTE: If this will be on the shelf for longer than one year, add a 300cc oxygen packet to the jar before capping.
Cooking Directions
Place the contents of the jar into a 4-quart pot
Add 8 cups of water, stirring to mix the ingredients
Bring to a boil and then reduce heat to medium, simmer for 20-30 minutes until the vegetables are tender
Serve with tortilla chips and sour cream, if desired.
Substitutions
Meat: Substitute fresh meat (about 1 lb for this recipe unless you like more). You can use chicken or any red meat and even shredded pork
Vegetarian: If you don't eat meat, substitute the meat with unflavored TVP (it has a longer shelf life) or more beans for bulk
Beans: You can use cooked fresh beans, canned beans, dehydrated beans of any variety that you like.
Carb: You don't need to use a carb here, but you can use rice, pasta, quinoa, or crackers. Pasta and quinoa can be dehydrated like rice to make a 'quick cook' version for meals in a jar if you'd like.
To Store:
On the Shelf:
The Meal in a Jar should last at least a year, maybe longer, depending on the ingredients. It's helpful to add an oxygen absorber if you are storing it for a year or more to protect the freeze dried meat.
Once cooked:
Store in the fridge for 4 or 5 days in an airtight container.
Freeze for up to six months. I love storing in these SouperCubes from Amazon.
Watch me make Taco Soup!
Meals in a Jar / Bag Books
If you are interested in more meals in a jar (bag), check out these books available online and at many bookstores: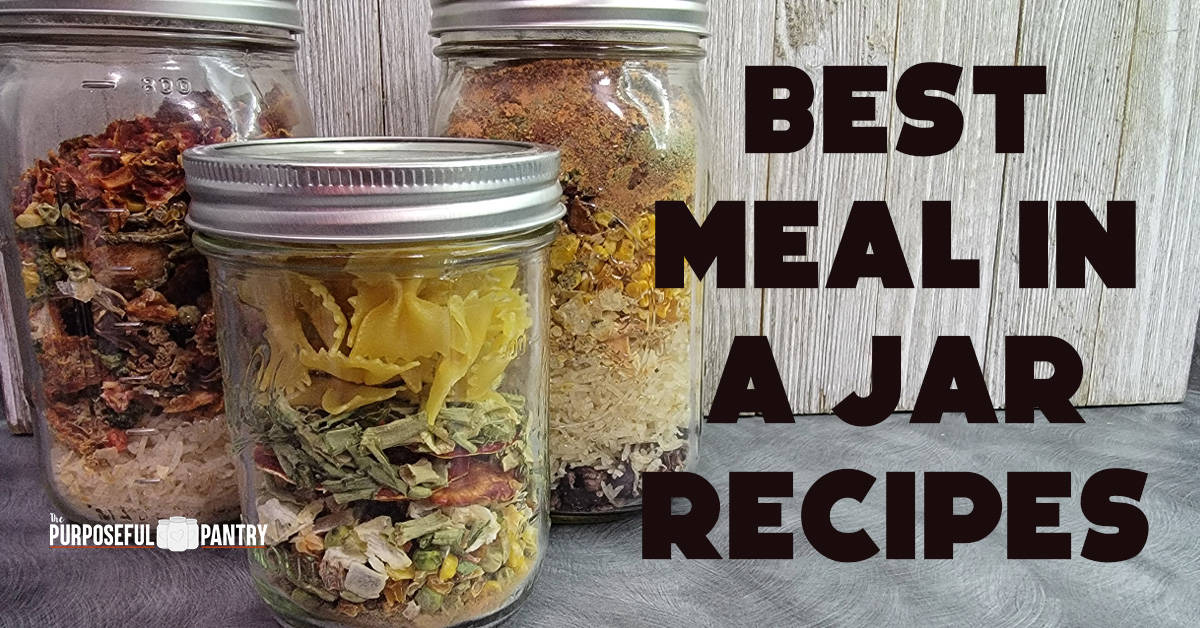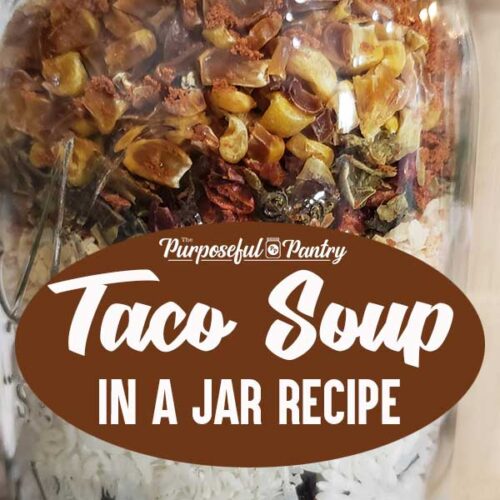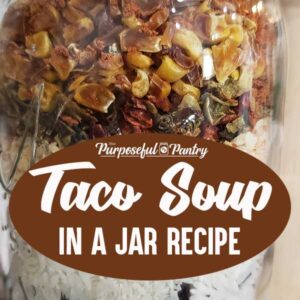 Taco Soup in a Jar
Create a tasty, shelf-stable meal in a jar with this fab Taco Soup in a Jar recipe that can be customized for any taste preference.
Print
PIN THIS!
Rate
Instructions
Layer ingredients into 1 Qt mason jar

Store in an airtight container for up to three years

Place the contents of the jar into a 4-quart pot

8 C of water or broth, stirring into mixed ingredients

Bring to a boil, then reduce heat to simmer for 20-30 minutes

Serve with toppings of your choice
Darcy's Tips
Try serving this after straining as a burrito filling in a flour tortilla!
Notes: All ingredients are to taste. If you like it spicier, add cayenne pepper or other spicy ingredients or top with a little hot sauce. If you don't like beans, don't add them, just add more meat. If you don't want the rice, don't add it. If you want vegetarian, replace the meat with beans.
If you use tomato paste, a 6 oz can is typical.
If you don't want to purchase freeze-dried ground beef, you can dehydrate hamburger meat to use instead!
Nutrition
Calories:
425
kcal
|
Carbohydrates:
53
g
|
Protein:
24
g
|
Fat:
12
g
|
Saturated Fat:
5
g
|
Polyunsaturated Fat:
1
g
|
Monounsaturated Fat:
5
g
|
Trans Fat:
1
g
|
Cholesterol:
40
mg
|
Sodium:
402
mg
|
Potassium:
923
mg
|
Fiber:
9
g
|
Sugar:
8
g
|
Vitamin A:
1127
IU
|
Vitamin C:
25
mg
|
Calcium:
72
mg
|
Iron:
7
mg
Nutritional information is an estimation only. Nutrient information for dehydrated foods is based on fresh. Use 1/4 of the servicing size for the same nutrient information. Thus 1 Cup of fresh fruit has the same sugars as 1/4 dried.
©ThePurposefulPantry. Photographs and content are copyright protected. Sharing of this recipe's link is both encouraged and appreciated. Copying and/or pasting full recipes to any social media is strictly prohibited.