Dehydrate scallions to add a punch of fresh flavor to your spice cabinet and up your onion powder game. Use this simple technique to dehydrate green onions and create a twist on traditional onion powder.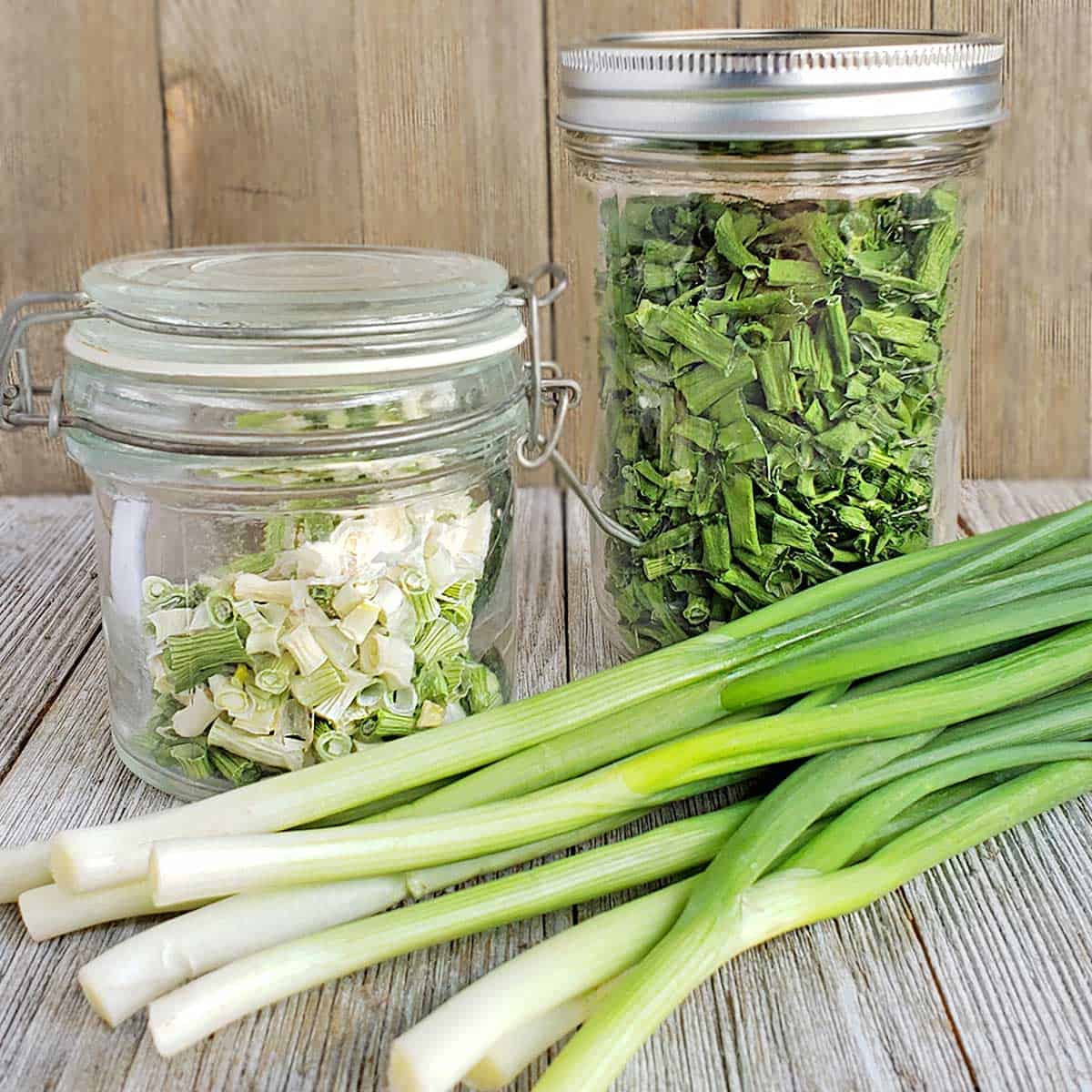 So, are they Scallions or Green Onions
Actually, they're both. They are a member of the allium family, with a similar pungent flavor as onions, though a little milder. They're used mostly as a garnish (white bulbous portion) to punch some fresh flavor into soups, or as a garnish (the green tops) on rice, salads, potatoes, etc., similar to how chives are used.
Because they are so inexpensive and are so easy to grow (and regrow), you might think that scallions aren't worth dehydrating. But having home dehydrated green onion stalks is infinitely better than the store-bought version you get at the store that is lifeless and tasteless.
While most grocers only sell dried chives on the spice aisle, dried scallions can extend the flavor range of your home spice selection. Chives are cute, but they don't hold the same flavor punch.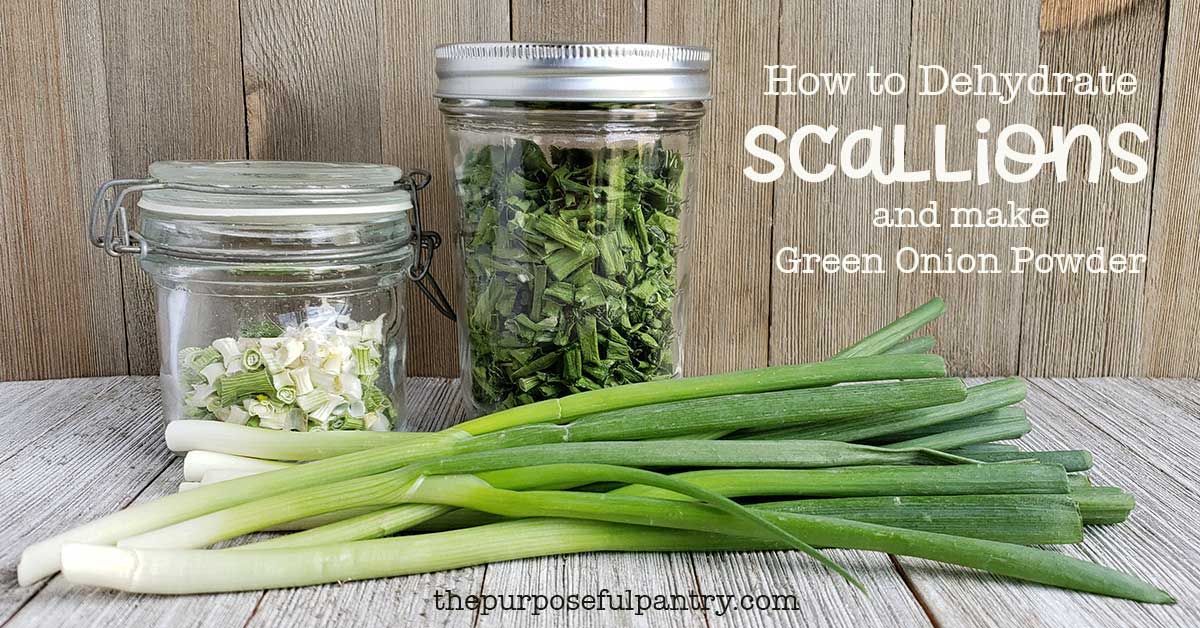 How to Dehydrate Green Onions
Quick Dehydrating Instructions
Dehydrate Green Onions at 125°F / 52°C for 3-5 hours. But read further on why I do it differently!
1. Cut off root ends.
Cutting off the root end before washing helps save you time and water to not clean something you are going to replant or compost later.
If you leave a bit more of the white bulb with a bit of the green leaves showing, you can actually re-grow these in your kitchen garden.
2. Wash and strip
You want to remove any debris that may be hanging out within the leaves, plus strip off the outer layer if it is already coming off.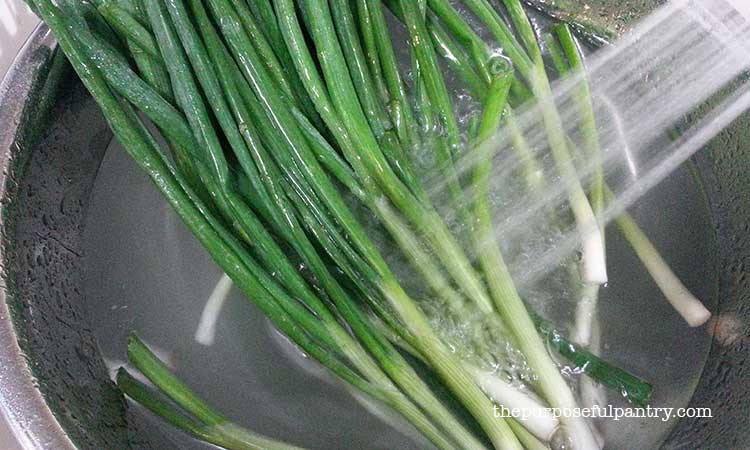 3. Chop into small, uniform pieces.
You want uniformity to ensure equal dehydrating. I also choose to separate the onion at its natural separation point between the stem and the leaves.
The white bulbous portion of the scallion has a more pungent flavor than the milder leaves, so we use it differently in storage.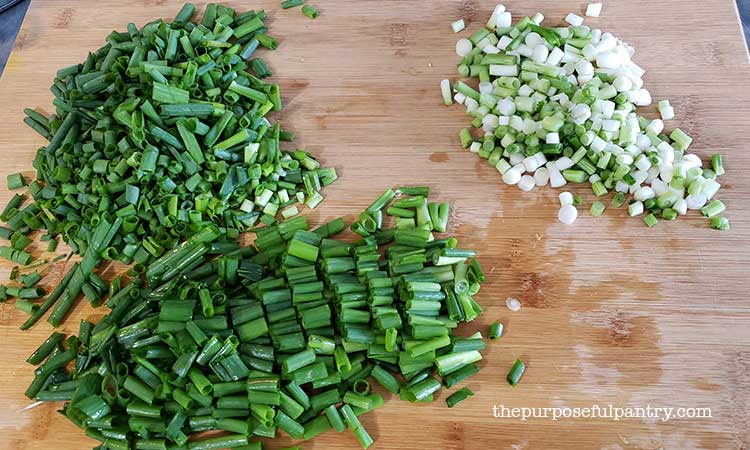 4. Separate white rings (optional).
Because the white portions of the scallion are denser but can be separated, separating them will allow all of your green onions to dehydrate at a similar pace. Leaving the white portions whole, will cause them to take longer to dry.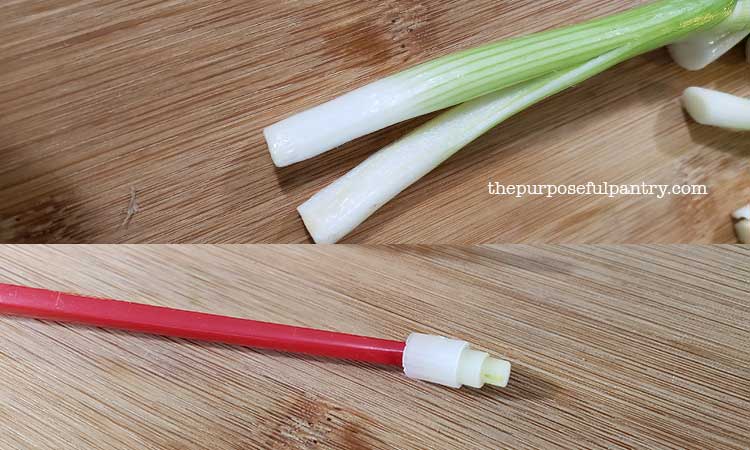 One option is to split the bulbous portion of your scallion. Another option is to use something to poke through and separate the layers (this is a reusable chopstick in the photo).
Again, this isn't necessary but can be helpful in dehydrating time.
5. Dry on dehydrator trays for 6-8 hrs at 95F.*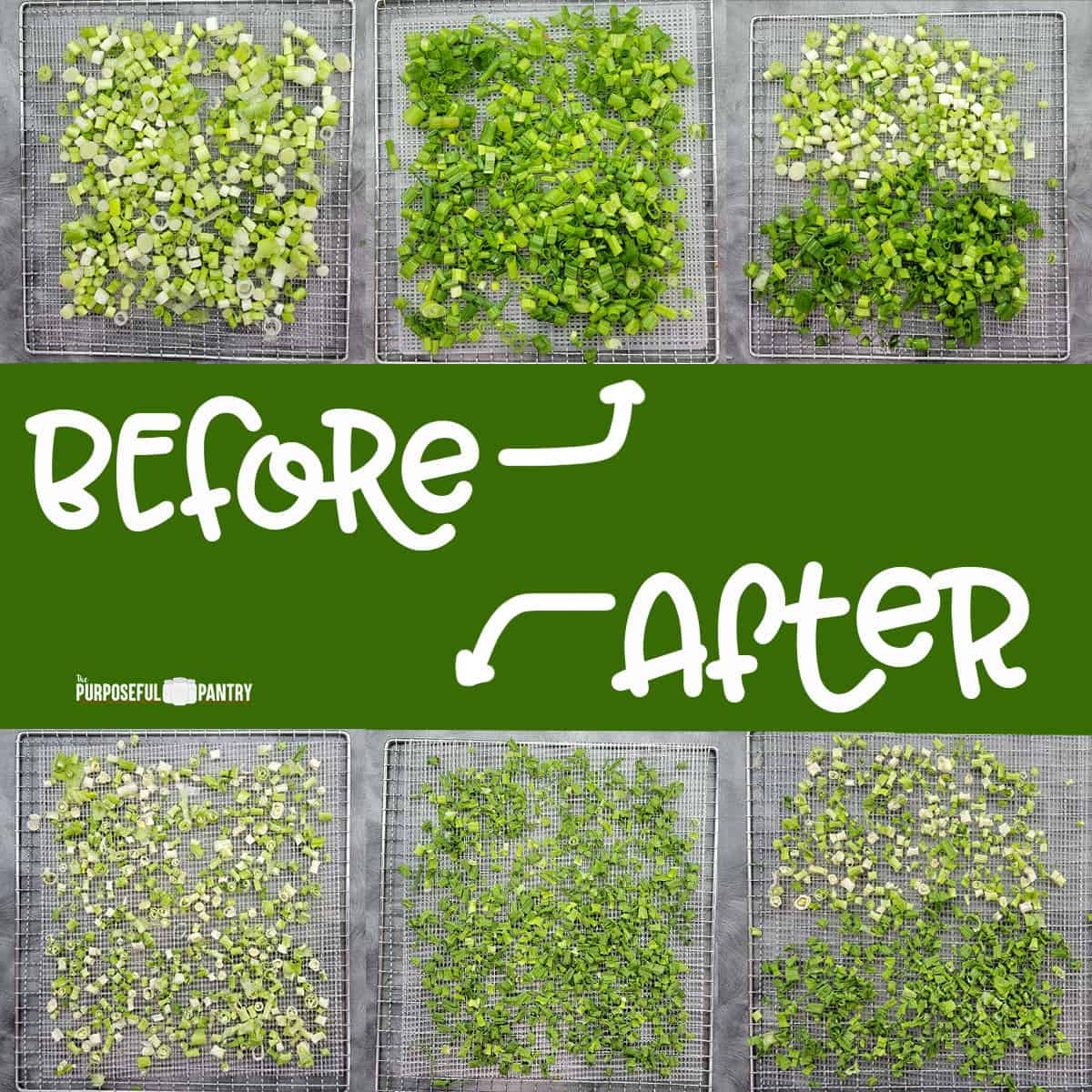 *Books and charts list scallions at 125°F/52°C as a vegetable. I prefer to dry them a little slower and keep more of the nutritional value of them by drying at 95F, treating them more like an herb/green than a vegetable.
6. Cool and Test
It is important to allow samples of your produce to cool before testing. Green onions should be dry, brittle, and easily break a part in your hand. The white ends should have no moisture on the inner most portion.
7. Condition
Place in a larger container, and shake once or twice for 5-7 days. If you see items sticking to the jar that don't easily shake off or clump together, put produce back in the dehydrator to dry.
LEARN MORE: The reason why conditioning is so important for dehydrating!
8. Store
Store in an airtight container for up to a year
Oven Directions:
Prepare per the above directions
Spread your green onions onto a parchment paper-lined cooling rack if possible (I use this one from Amazon). This helps keep the greens from being in direct contact with a solid hot surface
Place cooling rack directly into the oven, or place on to a cookie sheet. I prefer the cookie sheet method as it give me more stability in the oven to move the tray around.
Turn oven to the lowest temperature possible. Many ovens now have dehydrating features, so set it at 125F/52C. But if your oven doesn't go that low, set it at 170F/76C.
Prop the door open with a heat-proof utensil - a wooden spoon, silicone spatula, silicone hot pad, etc. Please be mindful of any person who is mobility-impaired or small children while you are drying
Dry for 3 or 4 hours, checking often so as not to burn the green onions. It may take longer, depending on the oven.
Remove to cool and test
Condition
Store
How to Rehydrate Dried Green Onions
Place dried scallion pieces into a bowl with boiling water to allow them to steep and rehydrate.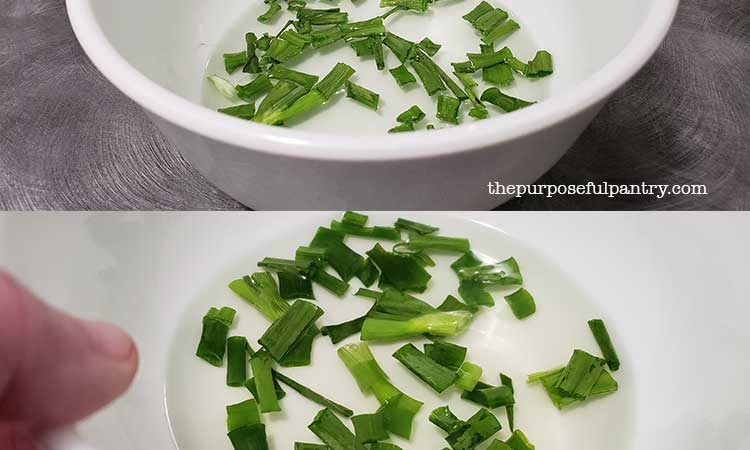 Don't forget - use that broth! You can see it's turning green from the nutrients and chlorophyll of the scallions - so use that broth to put into whatever dish you're creating! If it's not a wet dish, you can freeze the broth in ice cube trays to use when you are making broth, other soups, into rice, etc.
Take it one step further...
You know that you can't read a dehydrating post from me and not get a portion about taking it to the next level - by using vegetable powders - right?
You can make onion powder from scallions! It may be a little different in color with the addition of the chlorophyll, but it makes an interesting twist to traditional onion powder. I can't tell you how much I love using dehydrated powders. Now...
How to Make Green Onion Powder
Toss in the white portion of your scallions and pulse into a powder. This method works best for small portions in a coffee grinder, but any blender will do. Blenders work best when at least half full, so if you're doing small amounts, a coffee grinder is preferable.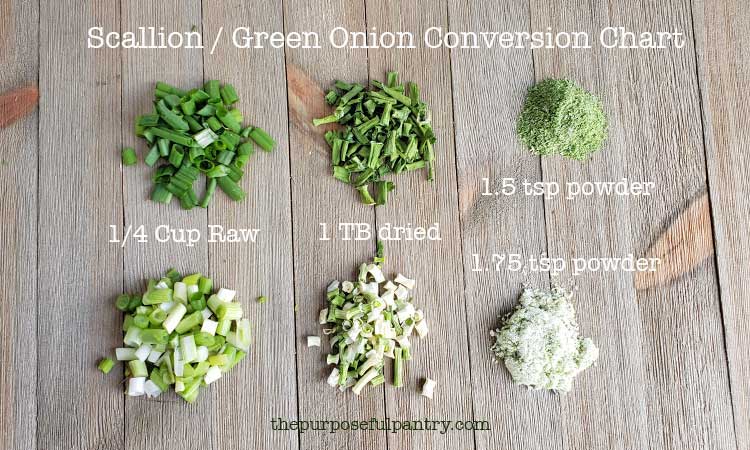 The difference between the bulbous end of the scallion and the green stems is the fiber content of the bulbous end. With more fiber and bulk, it produced more powder. You can easily combine all of these for a different flavor, too. I just separated them so that you could see the differences.
How to Use Dried Scallions
Our favorite way to use dehydrated scallions is in ramen bowls and soups. It adds a kick of onion flavor without a chunk of onion. My son loves making ramen (both store-bought and homemade), so he goes through it.
You can easily add this powder into your green powder or vegetable powder to add a little kick, or use it as a replacement for onion powder. I hope you'll try it soon! This is definitely an easy beginner dehydrating project to try!
How to Store Green Onion Powder
You should always store your scallion powder in an airtight container. The last thing you want is your powder getting damp, losing its nutritional value or usability, so learn how to keep your powders dry!
Dehydrate Green Onions
Dehydrate Green Onions aka Scallions aka Spring Onions for shelf-stable pantry storage all year long!
Equipment
Knife

Cutting Board

Airtight storage container
Instructions
Wash and strip off the outter layer if necessary

Chop into small, uniform pieces

Separate white rings if desired

Dry for 6-8 hrs (your hours may vary)

Store in airtight containers
Video
Notes
To rehydrate, toss into a soup/stew/casserole and allow to simmer/cook.
To rehydrate for instant use (not cooking): place in a bowl to soak for an hour or so.

Oven Directions:
Prepare per the above directions
Spread your green onions onto a parchment paper-lined cooling rack if possible (I use this one from Amazon). This helps keep the greens from being in direct contact with a solid hot surface
Place cooling rack directly into the oven, or place on to a cookie sheet. I prefer the cookie sheet method as it give me more stability in the oven to move the tray around.
Turn oven to the lowest temperature possible. Many ovens now have dehydrating features, so set it at 125F/52C. But if your oven doesn't go that low, set it at 170F/76C.
Prop the door open with a heat-proof utensil - a wooden spoon, silicone spatula, silicone hot pad, etc. Please be mindful of any person who is mobility-impaired or small children while you are drying
Dry for 3 or 4 hours, checking often so as not to burn the green onions. It may take longer, depending on the oven.
Remove to cool and test
Condition
Store