Dehydrate lettuce and never waste another bag of greens again. Don't throw away the lettuce in your crisper just because you overbought for the week.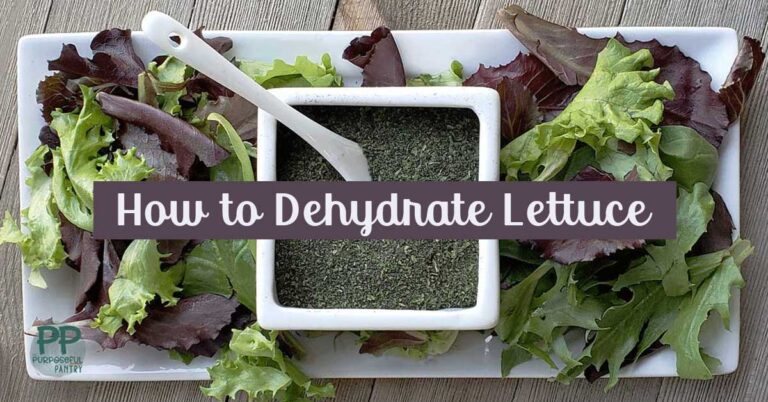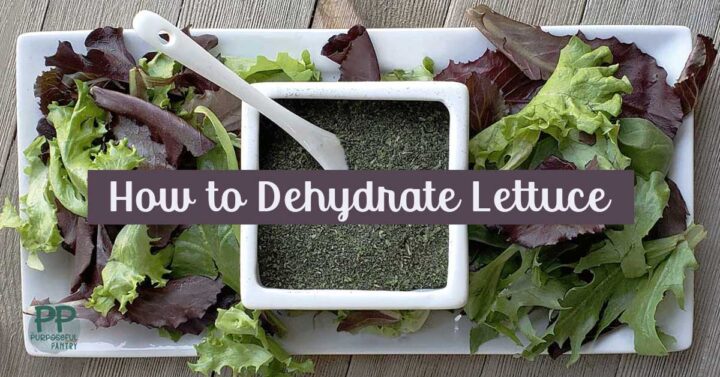 Now, a word of warning … if the lettuce is the same lettuce that now has a brown puddle underneath it in the plastic bin you've been storing it in for two weeks…throw that stuff out 😀
You want good, crisp lettuce. Once it's gotten to the wilted stage, it really is better for composting.
Can You Store Lettuce in the Pantry?
When you buy those big containers of spring mix or spinach or romaine, or are harvesting lettuce by the gallon full, but can't get it all eaten before it becomes the wilted stuff you keep pushing to the back of the fridge, you can toss it on your dehydrator! Dehydrating lettuce can be one of the easiest things you can do (unless, of course, you're like me … and it all goes wrong – more on that later).
HOW TO DEHYDRATE LETTUCE
QUICK REFERENCE: Dehydrate at 95-115°F / 35-46°C for 8-10 hours, for best nutrition retention, until leaves crumble in your hand.
1. Wash your lettuce.
I suggest a good soak in water. If you're going to use vinegar, it needs to be a hefty 2:1 mix of vinegar to water, or you really aren't doing much good. Be sure to pick out any wilted leaves.
I love using a salad spinner to dry off the lettuce before I load it onto my dehydrator trays. It makes the whole process less messy!
2. Place lettuce leaves on your trays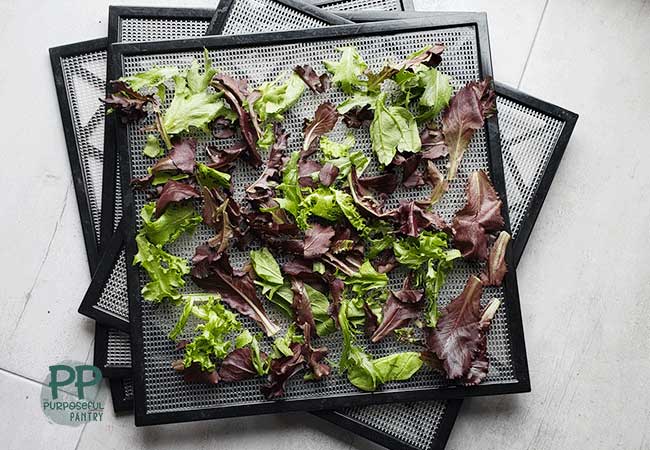 Lettuce will shrink up a ton, so don't play puzzle palace and place each leaf individually. They can touch a little, but you want natural airflow.
3. Dry for 8-10 hours on 95-115°F / 35-46°C
Drying at this lower temperature allows you to keep the full nutrients of your greens and not cook them. If you live in a high-humidity area or want to move the project along more quickly in 4-8 hrs, you can bump up the temperature to 125°F / 52°C to make sure you're drying thoroughly.
The purple leaves of any lettuce variety will take longer to dry than the green ones. Your time will be depending on machine, temperature setting, moisture in the greens, your home's humidity, etc.
4. Condition
Unless you are very experienced in what a fully dried load of greens is, conditioning is a helpful way to make sure you've gotten everything dried, and nothing will mold.
5. Store
You can store your lettuce and green flakes in an airtight container and add them to any meal as you might add spinach. Simply toss a handful into your next casserole, egg dish or soup for some added flavor, color and nutrients.
Before we go any farther, let's talk about those purple leaves in your spring mix.
How to Dehydrate Spring Mix
You have two choices. Toss them – dehydrate them.
Many spring mix packages come with a variety of lettuces, that change with the season and what is being harvested at the particular hothouse.
In our family, we know the deeper the color, the more nutritious a lettuce is, but none of us too fond of the purple varieties because they seem to lose any crunch factor. Thus, they can be problematic in dehydrating – or more specifically, in the powdering at the end of the process.
Case in point – I'll share the video I created when filming this process and how I ran into a big issue on my very last batch of lettuce powder. It just didn't dehydrate fully for a variety of reasons:
To see how this works, click the arrow in the image below to watch my Youtube video on dehydrating lettuce.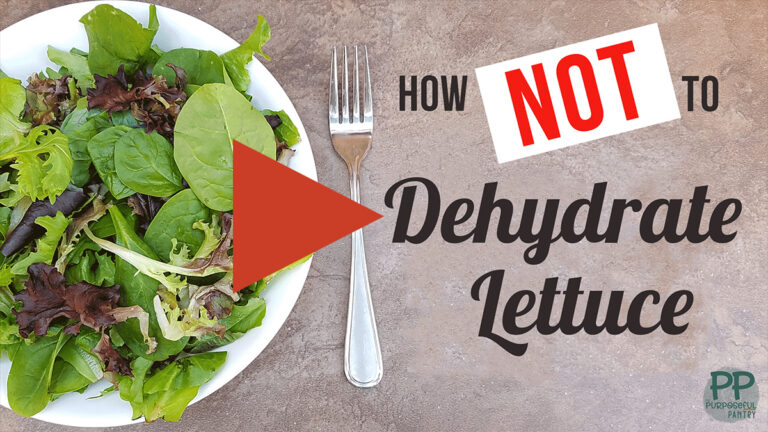 I piled the lettuce too high trying to show that you don't have to lay it out in single leaves
The lettuce was a little past it's 'best by' date (lettuce turns quickly)
The lettuce just wasn't fully dehydrated throughout all the trays
The purples seemed to be the ones causing the most trouble.
Thus, if you want a carefree process, do like I did on my last batch and just get rid of 'em 🙂 I throw them out for the bunnies or into the compost.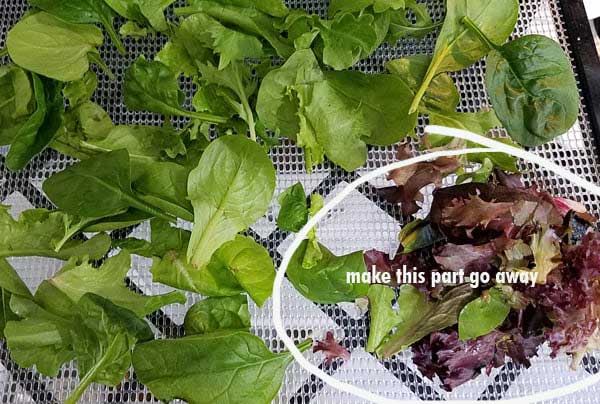 However, if you want to use them, and you're confident in your desire to have them in your greens, go for it! Just make sure they're truly dehydrated before adding them into the rest of your green powder batch.
I do recommend if it's your first time, to separate those purple leaves to help you test easier.
And if you find they need a little more drying time, stick them back in! Even the powder can be dried more if you sandwich it between parchment paper to keep it from flying.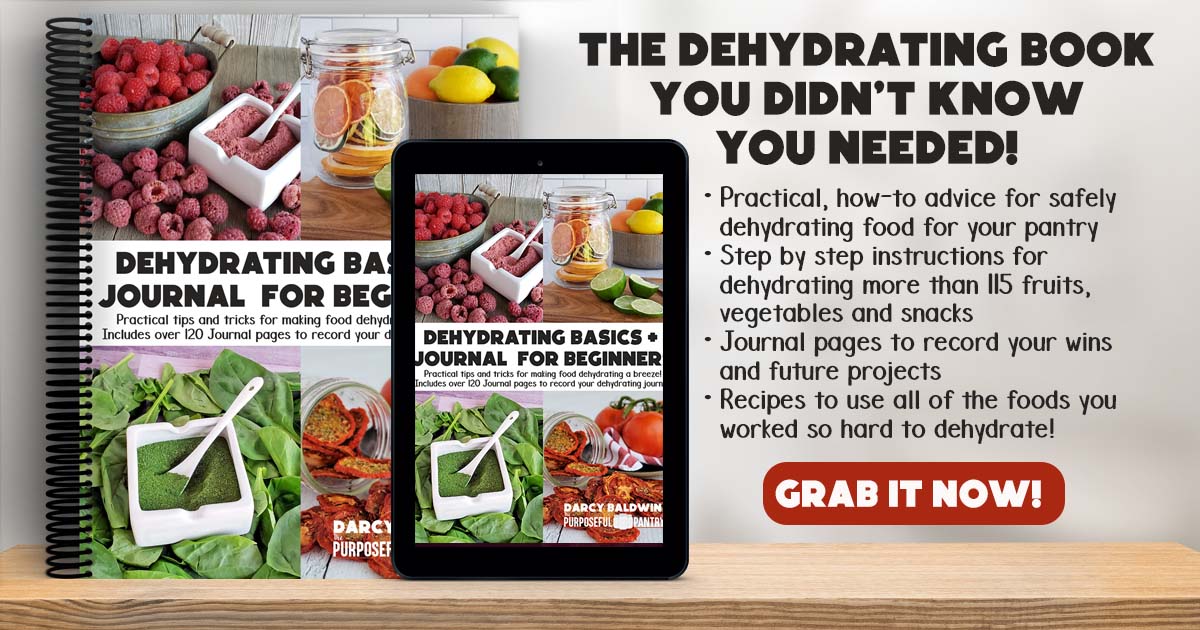 How to Use Dehydrated Lettuce
Much like green powder, dehydrated lettuce can be added to anything you cook to help boost nutrition. I mix it into my ongoing green powder canister to mix with all the greens I dry. But add a tablespoon or three to your favorite casserole, meatloaf, eggs, etc., to add a boost of green nutrition.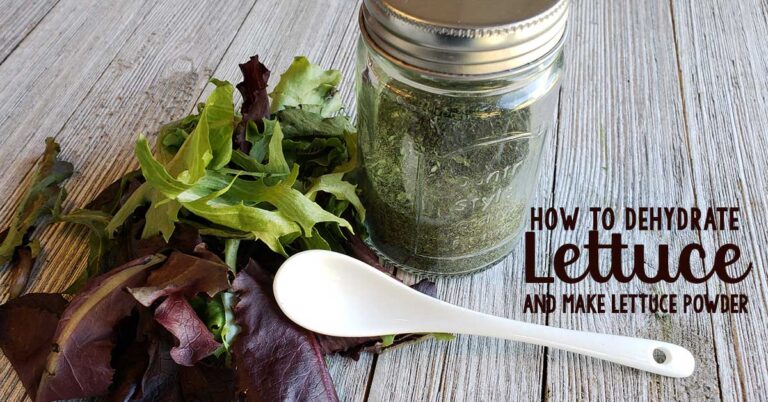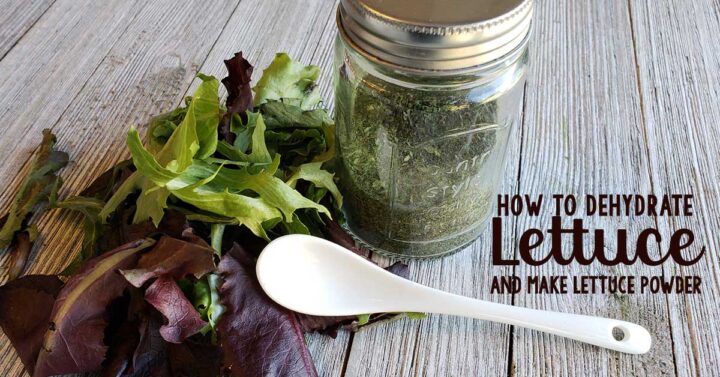 How to Make Lettuce Powder
Lettuce Powder, or green powder, is another way to extend the life of your lettuce just as if you were doing spinach, kale, or any other greens.
1 Tablespoon powder is approximately equal to 1 Cup of fresh greens.
1. Crush leaves
Either grind in your coffee grinder, bullet blender, large-capacity blender, or even with your hands in a zipper-top bag. Machines will allow you to get a finer grind.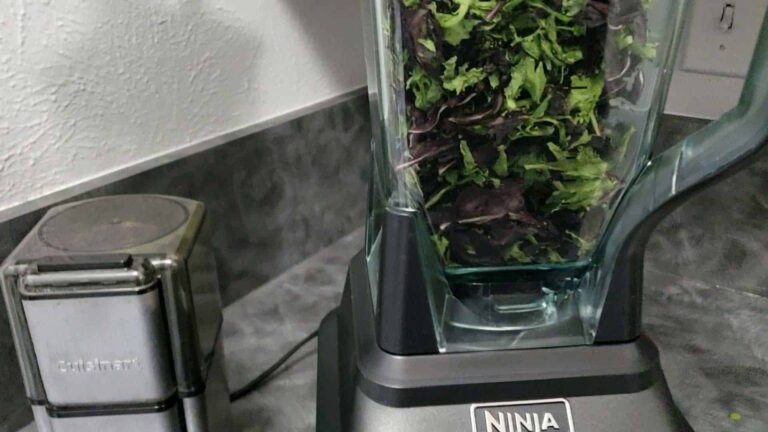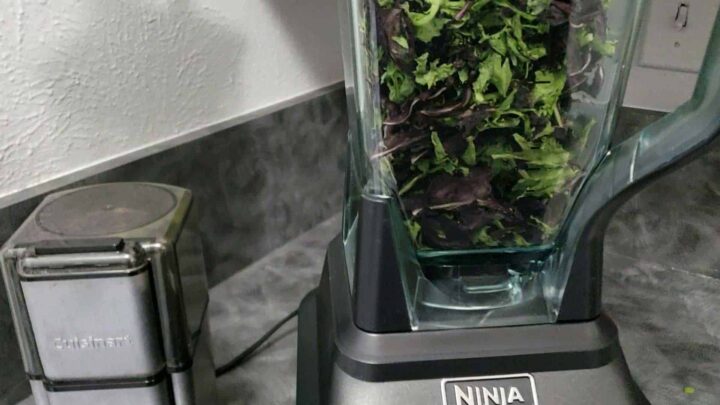 Because lettuce really isn't good on its own as chips for snacks the way kale and spinach might be, the best use for it is ground into a powder to add to your green powder collection, or to keep on its own to add to meals.
2. Condition the powder
This is a little different than condition the whole leaves. You might call this step re-drying your green powder.
Turn on your oven to it's lowest setting, then turn if off when it is fully warm.
Place your powder onto a cookie sheet (having a parchment paper liner or fruit leather sheet is helpful for removal later). Set it in the warmed oven for about 20 minutes, then allow to come to room temperature and store.
3. Store in an air-tight container.
I prefer to vacuum seal the dried leaves with my vacuum sealer in a larger quantity and keep a smaller working amount of green powder in a smaller jar to use daily.
How long does dehydrated lettuce powder last?
Usually, powders are good for about six to nine months. They begin to degrade in nutrition over time, so you want to rotate through them fairly quickly. You can store your dehydrated leaves in the pantry, in an airtight container, until you need to grind your next batch!
Common Questions:
What Kind of Dehydrator Do I Need?
I use an Excalibur Dehydrator. It's a 9 tray machine that allows me to do a lot of drying at once. I also love my Cosori Dehydrator.
However, you can also use any machine that has a temperature gauge that shows actual temperatures – not just low and high or on and off. If you'd like more information on the best dehydrator for you and your budget, you can read my informational post here.
Can I dehydrate lettuce in the oven?
Yes, you can. Especially if your oven has a dehydrating feature.
The thing to watch out for in a regular oven is getting the temperature low enough as to not cook or burn the lettuce, but to dry it out. So be sure to use the lowest possible temperature, crack the door open, and check frequently – your lettuce will be dry in under four hours.
Get more tips for dehydrating in your oven here.
Can I dehydrate Iceberg, Romaine and other green leaf varieties?
Yes, any green leaf plant (including edible weeds like dandelions) can be dehydrated in this same manner.
Note: I do not generally recommend doing Iceberg lettuce since it has so little real nutrition in it, that the energy used to dehydrate it isn't worth the payoff. But you can also do it as well, simply for the fiber.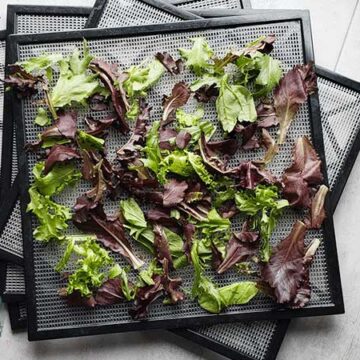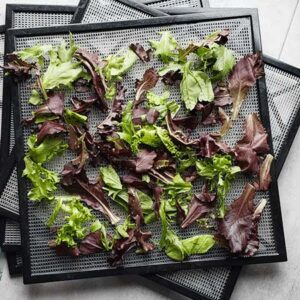 How to Dehydrate Lettuce and Make Lettuce Powder
Dehydrate leftover salad greens and other lettuce to create a taste supplement to soups and casseroles, or green powder for adding to anything you cook, including smoothies!
Print
PIN THIS!
Rate
Ingredients
Lettuce variety of your choice
Instructions
Place on dehydrator trays – loose is best, but they do shrink quickly, so it's okay to pack a little

Dry at 95F / 35 C for 6-10 hours or Dry at 125F/52C for 4-6 hours

Store in airtight container
How to Make Green Powder
Place lettuce leaves in the coffee grinder, bullet blender or large capacity blender of your chioce

Grind until a find powder is formed

Dry your powder in an oven

Store in an airtight container for up to nine months.
Nutritional information is an estimation only. Nutrient information for dehydrated foods is based on fresh. Use 1/4 of the servicing size for the same nutrient information. Thus 1 Cup of fresh fruit has the same sugars as 1/4 dried.
©ThePurposefulPantry. Photographs and content are copyright protected. Sharing of this recipe's link is both encouraged and appreciated. Copying and/or pasting full recipes to any social media is strictly prohibited.