Learn how to make your own super green powder by dehydrating greens and adding a powerful nutrition ingredient to your long-term food storage!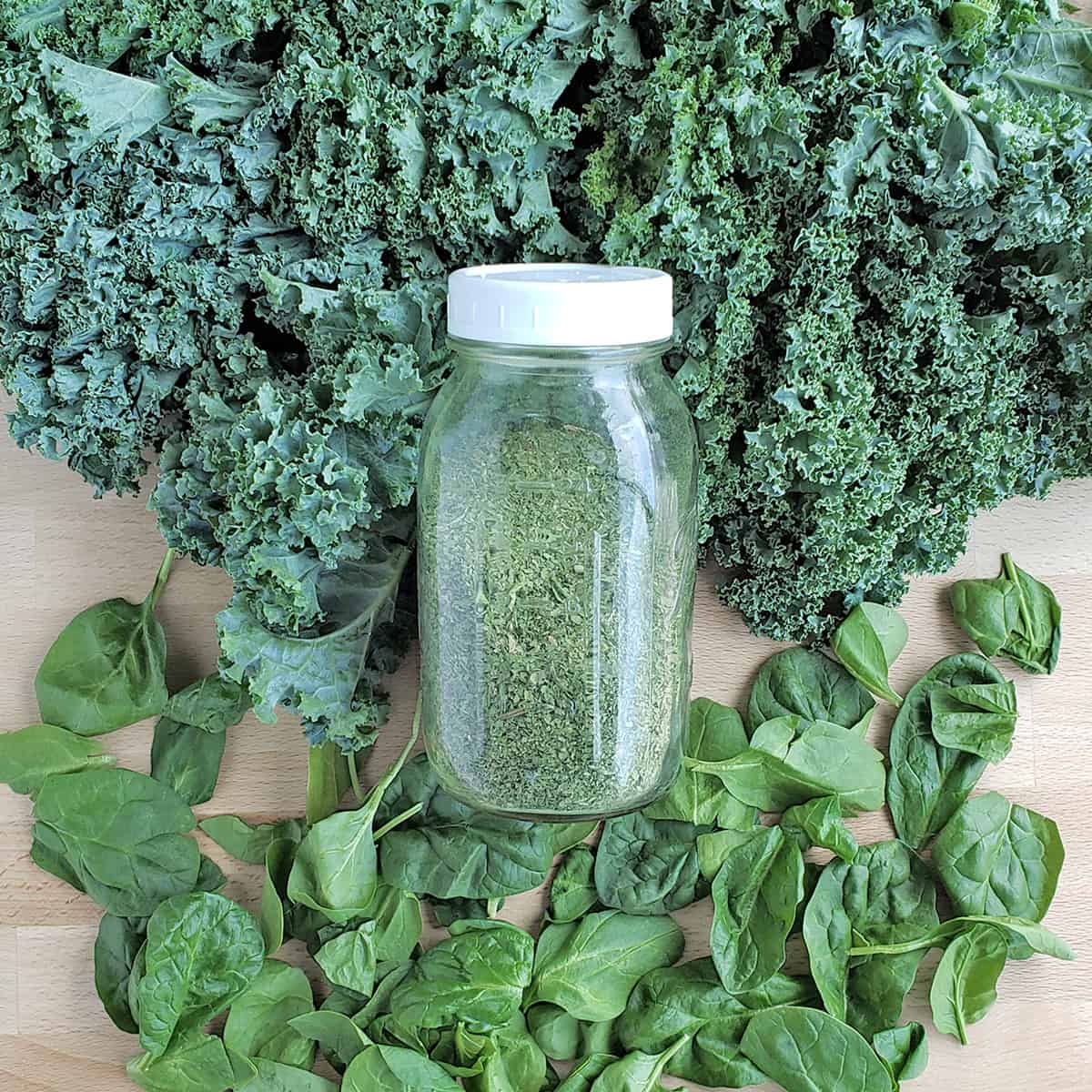 All it takes is one look at slimy, gross, and icky spinach oozing out of a can. Then you might be like me and hate greens forever.
I finally learned to stomach spinach by adding some to ricotta for manicotti, or 3 leaves onto a sandwich to replace lettuce.
But I never, ever, ever put greens on my plate, cooked or otherwise. I'm a southern girl and still have never eaten collard or mustard greens cooked. Ever. Just the smell is enough to make me say no without the thank you. And don't get me started on the slimy, canned, green stuff that is what kitchen table nightmares are made of.
It wasn't until I'd really begun my journey to a fully purposeful pantry that I learned there is a new way for me to make use of the dark leafy greens. I turn them into nutritious green powder which I can then add to countless dishes.
What Greens Can I Use to Make Dehydrated Green Powder?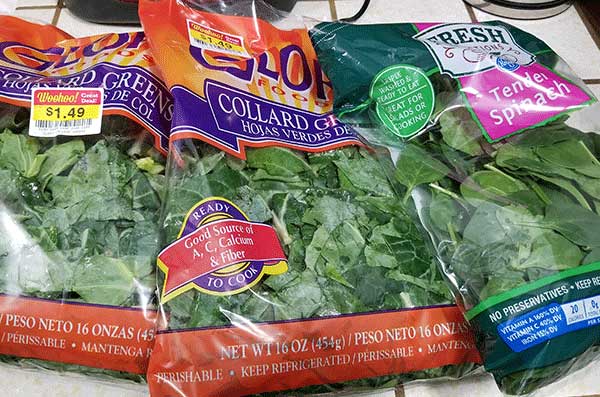 Is it green? Then you can use it! I love catching bags of greens on clearance at our local grocery store and stocking up to spend the next couple of days dehydrating and building my green powder supply
It really is that simple.
Herbs - whenever I have leftover herbs, I toss them in the pile along with my greens, or I'll hang those herbs to dry, and just add to my powder and shake well!
Beet Greens
Brassica leaves - broccoli, cauliflower, etc.
Carrot tops -- parsnip, too!
Greens - mustard, turnip, collard, swiss chard, etc.
Kale
Lettuce - yes, you read that correctly! Lettuce! Don't bother with Iceburg, but the more color lettuce has, the better!
Moringa
Pumpkin leaves - you betcha!
Spiralina
Turnip
Weeds. Yes, you read that right - weeds.
You might be interested in: How to Dehydrate Parsley
Do I Need to Blanch Greens Before Dehydrating?
My rule of thumb for dehydrating foods is this:
"If you eat it cooked, blanch/steam it first before dehydrating."
Steaming dark leafy greens, like mustard greens or kale, before eating is thought to help reduce oxalic acid, which makes their nutrients more available to be absorbed into your body. It also helps soften the stems of the plant, which are so full of concentrated nutrition, making them less of a waste product at the end.
However, it's not necessary for dehydrating since you'll be cooking it in most applications anyway!
If you choose to steam your greens (or even wilt them - but be sure to do it without oil), be sure to cut into smaller pieces to help facilitate even steaming and dehydrating later.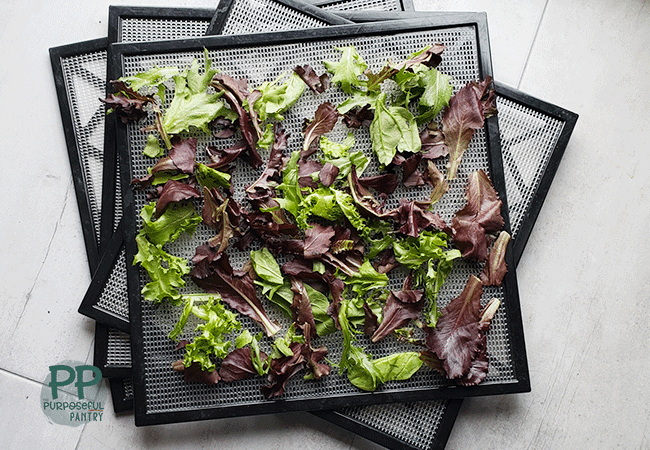 HOW TO DEHYDRATE GREENS
Before you get started: Always preheat your dehydrator when you begin to prep your produce, and dehydrate at the appropriate temperatures. Running at 160F doesn't make things dehydrate faster, it just promotes case hardening, which you don't want! Have you ever tested the temperature on your dehydrator?
Drying Greens
1. Wash greens thoroughly
Soak greens in a vegetable wash of 1 part vinegar to 2 parts water and 2 TB lemon juice. I generally soak for about 5-10 minutes.
2. Remove any unwanted stems and veins
De-stem your greens. I prefer to compost the thick, fibrous stems (or you can give them to your chicken or worms), because I find that they don't grind down well without a lot of work, unless they have been steamed well, first.
But you can do them separately as they will take longer to dehydrate.
Note: If you have steamed your greens first, you may not need to remove the stems, but check them all to be sure and remove any that are still tough.
3. Dry greens as thoroughly as possible.
I generally set my leaves on layers of tea towels and press gently to remove as much moisture as I can. You can certainly use a salad spinner to get rid of as much moisture as possible. Then I let them sit on the countertop awhile to finish air-drying.
You may choose to set your leaves in your dehydrator tray at this point and set it at the lowest temperature to force-air dry to get the process going a little faster. This will help save countertop space if you're limited to work on other projects or start your next batch.
4. Lay your leaves on your dehydrator trays.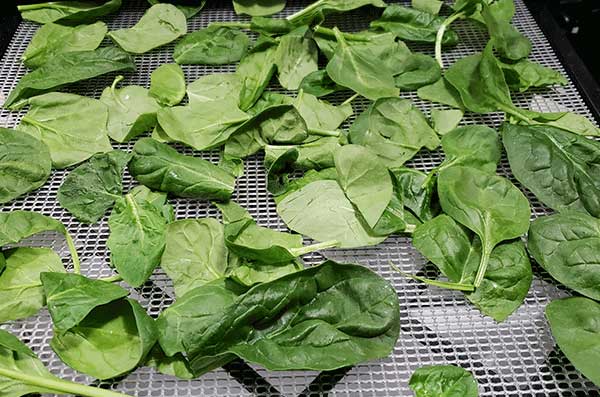 It's okay if they touch. Leaves shrink up to ¼ to ⅓ of their size when dehydrated, so there is lots of room for movement. Just don't stack them on top of each other.
5. Set your dehydrator to herbs or 95-115F / 35-45C.
Greens are heartier than herbs, so I set my dehydrating temp to the lower end but a bit higher than herbs. Greens usually dry within 4 to 8 hours, depending on the moisture of your home, the moisture content of your greens and your dehydrator.
If you would prefer to go a little more quickly, you can set your temperature to Vegetable or 125 degrees Fahrenheit. Just remember that you don't want to 'cook' those greens - you want to save as much of the nutritional value as possible.
You can get a quick look at some not-so-done greens vs. completely done from this video on my Facebook page, The Purposeful Pantry.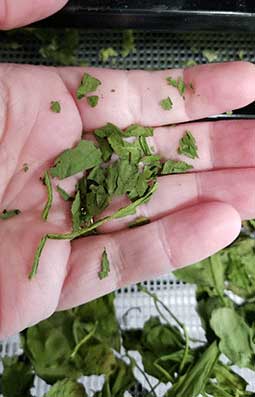 Using the oven as an alternative to drying your greens:
If you do not have a dehydrator:
Set your oven to its lowest temperature.
Lay your leaves out on cooling racks,
Prop your door open.
Dry approximately 2-3 hrs., but check often.
Not only do you want to keep the temperature of your oven down, you want the circulating effect of having the door open. This allows it to release as much of the moisture into the outside air and not trapping it in the oven.
Test for dryness
When leaves AND stems crumble when crushing, your greens are done.
Conditioning
Because the stems on greens are often very thick and fibrous, they will hold more moisture than the leaves do, which means they may be holding on to moisture.
Conditioning allows you to test your dehydrated produce to make sure that no moisture is creating an environment where mold may form.
Simply put your greens into a jar with a lid. Shake once a day for a week and watch for any moisture formation in stems or on leaves. Put back into the dehydrator if you see any.
If you see even a little mold forming, throw it all out. It's not safe to just pick out where you see the mold since it can be throughout the greens and not visible.
How to Make Green Powder
1. Powder the dry leaves
Fill your blender with the dried leaves and pulse a few times, then set on a low speed to powder.
Note: If you have a Blendtec or Vitamix, be sure not to blend so much that you're cooking those leaves. But blend at lower speeds to allow them to fully powder. I use a Ninja blender and will need to do a 2nd pass on the thicker leaves like collard or mustard.
There is no ratio - use what you have.
2. Strain powdered leaves into a storage container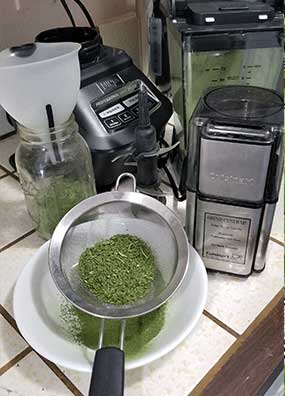 This helps keep out the larger flakes of greens. You can then return those to the blender/processor and whirl them around for another ride if they are not fine enough for you.
Dried Powder Yield
Just how much powder will you get from dehydrated greens? The yield will vary on how big your leaves are and which greens you are dehydrating.
In general 1 C of packed greens = ½ C dehydrated greens = 1 TB+ powdered greens
This ratio is very generic - and it will be dependent on how thick your greens are, etc. So a better thought is 1.5 Cups of loosely packed for most greens will yield approximately 1 tablespoon of powder.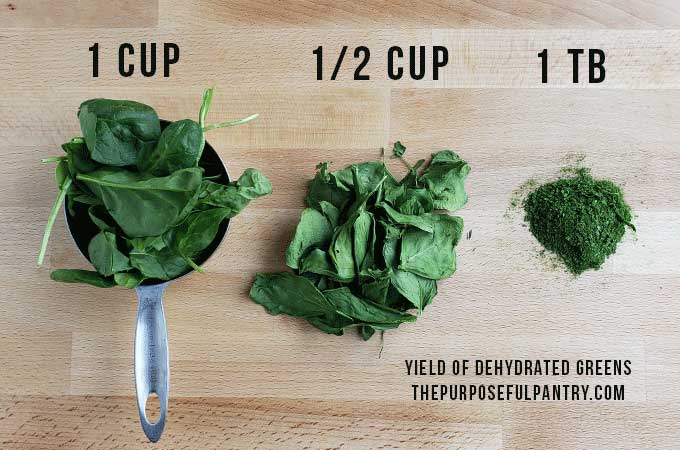 But don't think that it's such a small amount for such a big job. You've now got concentrated iron, magnesium, potassium, vitamins K, C and E, phytonutrients and small amounts of omega-3 fatty acids. It's a powerhouse of nutrients in a jar.
If that seems a daunting task to you, start with the pint-sized jars and work your way up. You'll be amazed at how quickly your jar fills once you start!
How to Store Green Powder
Ideally, you want your green powder stored in an airtight container that will be kept at an optimal temperature and dark setting. I keep the working container of powder in a glass jar on our countertop. If I have extra green powder to store in the pantry, I do keep zip-top bags stored in smaller amounts in a larger glass container. I am accident-prone and drop things. Then it's a whole bunch of work down the drain.
True story.
You may also want to consider vacuum-sealing your greens into mylar bags or food storage bags for long-term shelf storage.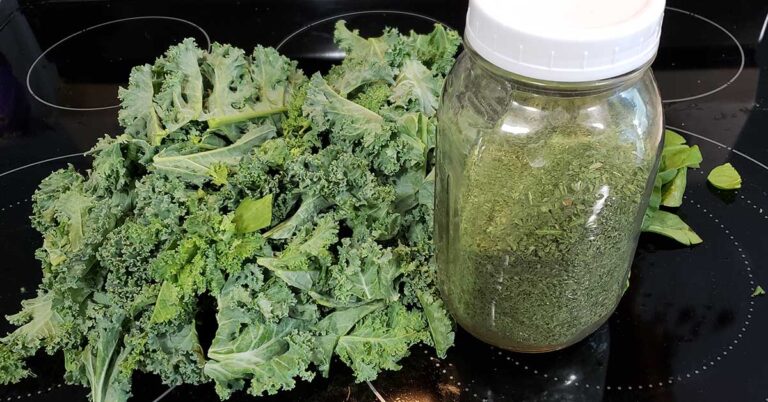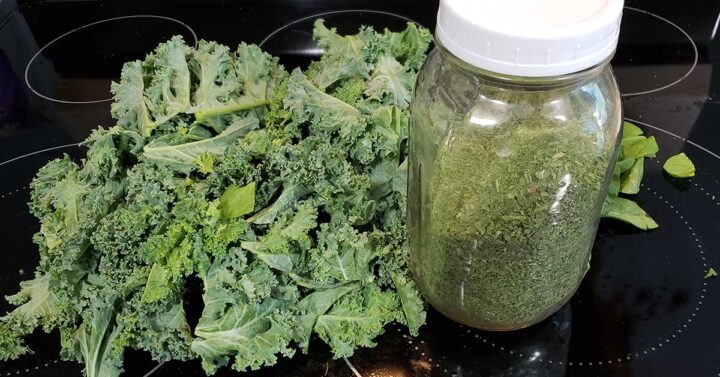 How Long Does Green Powder Last?
About two weeks in our family!
Properly dried, conditioned, and stored in airtight, dark, and cool conditions, green powder safely lasts six to nine months. Longer and you will see a decline in nutrients and maybe even color.
Some may get longer results, but the more you process dehydrated foods (e.g. powder them), the more surface area is being exposed to elements and the faster it degrades.
Is There a Green Powder Recipe?
I don't follow a blend recipe ever. I opt to take a melting pot approach to our green powder. It is a mixup of whatever powder I have an abundance of at the time. However, you can experiment with ratios that make your family happy.
How to Use Green Powder in Your Kitchen
You can add this nutritionally boosted powder to just about anything you cook. Kids not getting enough greens? Green Powder is a great way to sneak extra into their everyday foods. We find that it doesn't really affect the flavor of your food unless you go wild adding it 🙂
Here are just a few suggestions of how we use green powder in our kitchen:
Sprinkle onto salads
Bulk up your favorite herb mixture
Mix into meat mixtures (meatloaf and tacos just to name a couple)
Sprinkle into casseroles
Make real green eggs! Mix into any egg dish that you are doing like scrambled eggs, frittatas, omelets, etc.
Add to smoothies - if you've run out of fresh greens, there's no one saying that you can't use dried ones! I use approximately 1 TB of greens to a blender full)
Add to sauces - adding green powder to any hearty sauce is another great way to boost nutrition without really affecting the flavor.
Color pasta - use your favorite homemade pasta recipe and replace some of the flour with green powder to get vibrant green pasta.
Egg muffins - we do egg muffins (a layer of greens, a layer of meat, a layer of cheese, a cracked egg (or egg scramble) and cook for 20 min. Sometimes, instead of actual greens which can be a texture issue for my youngest son, I use a nice heaping teaspoon of green powder instead)
Green Powder Capsules - a way to supplement our intake of greens and give ourselves a little boost.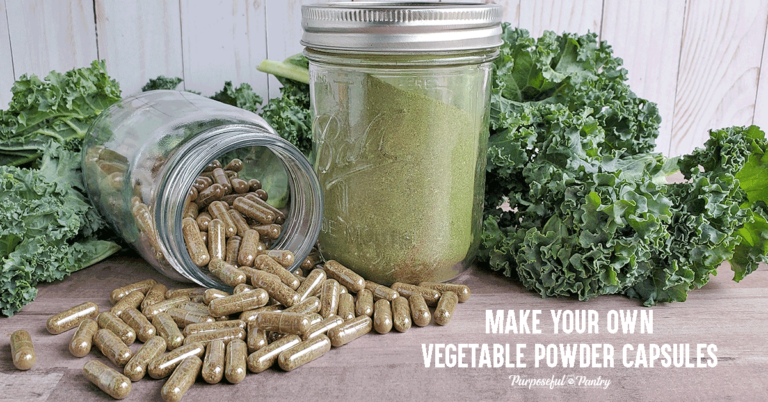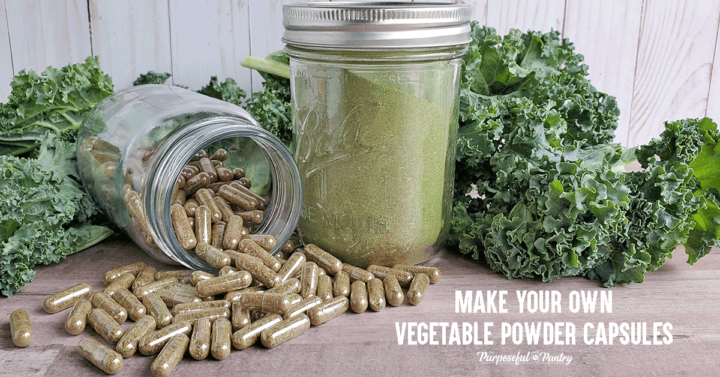 Want to learn to do a little more? Try this with Vegetable Powders!
What Dehydrator Should I Use?
I use the Excalibur 9-tray Dehydrator (like this one from Amazon. However, you can use almost any dehydrator on the market. I also recommend the Cosori for a more affordable option that is really quiet!
I hope you'll give this a try! How can you think to use Green Powder as a way to boost your family's nutritional intake?
DIY Super Green Powder
Dehydrate greens and make your own super green powder to add nutrients to anything you cook and to your smoothies!
Ingredients
Greens

Use any green edible plant - spinach, kale, dandelion, carrot and radish tops, beet tops, sweet potato leaves, squash and pumpkin leaves, collard, mustard and turnip greens, etc.
Instructions
Dehydrate Greens
Place on to dehydrator trays, they can overlap

Dry at 95F / 35C for best nutrient retention, but 125F/52C is the 'standard' temp

Test for dryness - should completely crumble in your hand

Store in an airtight container
Make Super Green Powder
Place greens in the grinder / blender of your choice

Process until a smooth green powder is made

Store in an airtight container for up to a year.