Dehydrate cherries and preserve the fresh taste of cherries to use all year long in trail mix, yogurt, snacks, and so many other great treats!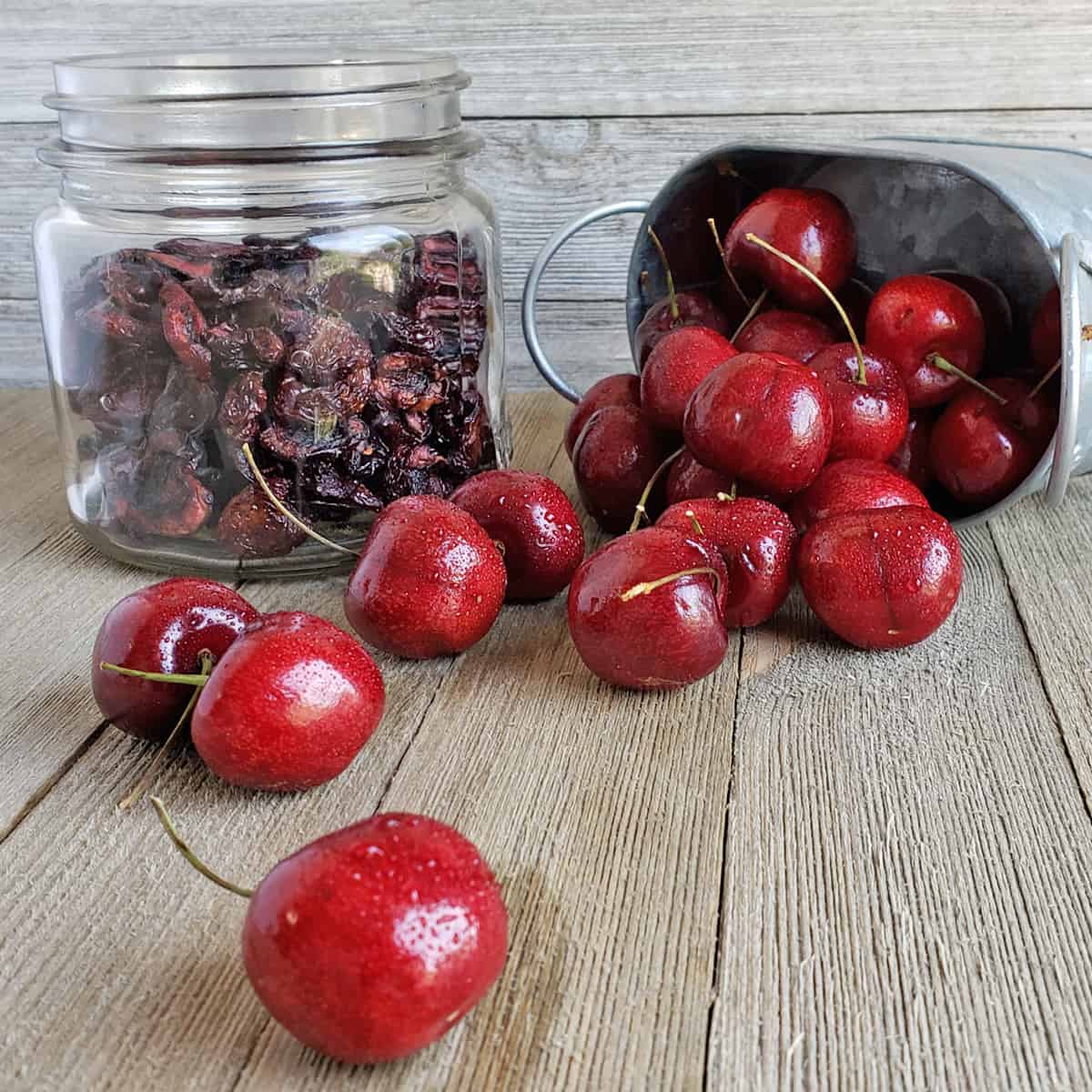 The only thing I knew of cherries growing up was the ones that came out of a can that my grandmother would smother a cheesecake with. I loathed them. And there was no way you were going to get me to eat fresh ones, because I wasn't a big fan of most fruits. Yep, I was a weird kid.
Then comes the day when we discovered fresh cherries. My oldest son and I were in love. But the season is short, they are expensive, and we needed a way to buy all the cherries when they were at their lowest price, and preserve them for us all year long.
(We just have to remember... don't eat a ton at one sitting -- or you'll be sitting a lot if you catch my meaning)
I wanted to say a big thanks to the Northwest Cherry Growers for providing me with these cherries to dehydrate this year! They are so yummy!
How to Dehydrate Cherries
1. Wash your cherries.
First, as with any fruit or vegetable you purchase, you'll want to wash them.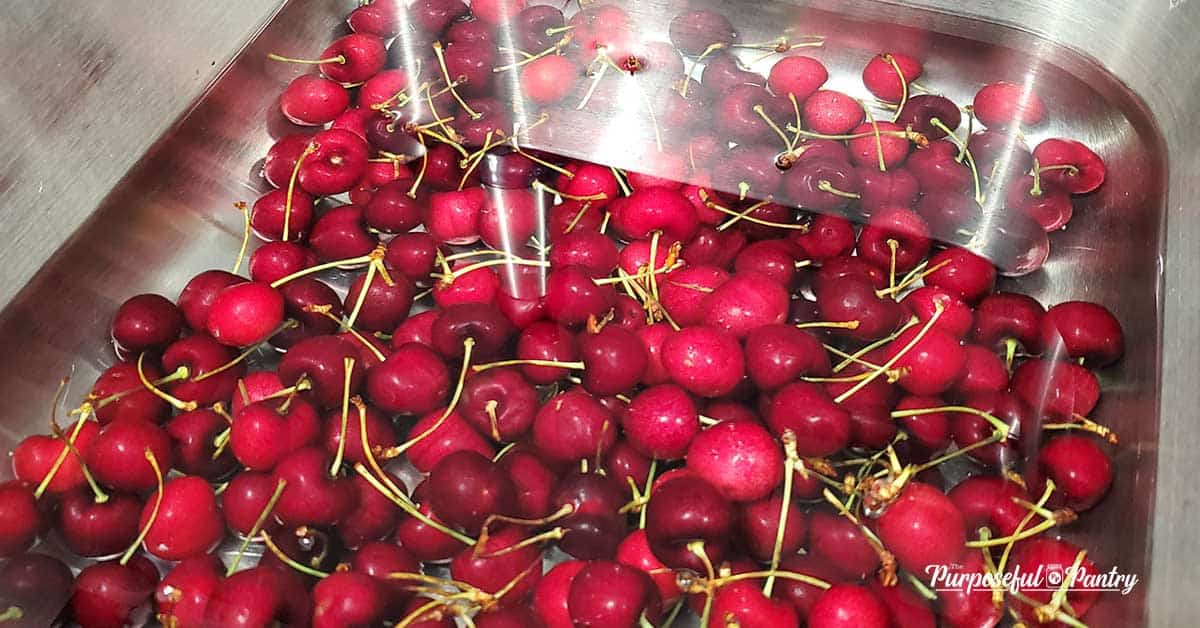 • Place your cherries to dry on a tea towel for a while before adding it to your dehydrator or oven. You may gently pat them dry if you wish.
• Once you've washed and dried your cherries, it's time for the picking and the pitting. This is the most tedious of jobs to prepare fruit for dehydrating. So there are tons of tools to make it easier to get through it. But I'm going to show the cherry-pitting tool that changed my life.
You'll find more budget-friendly dehydrator tools here.
2. Pick & Pit
This is a great time to get your kids involved.
Pull off any stems, and remove any bad cherries. I tend to do this while they are soaking in their bath so that I can kill 2 birds with one stone 😉 Don't toss those stems, though! Dry them and make tea!

Pit the cherries. We have tried a lot of different ways to pit cherries, but when we are doing them in bulk, this is the cherry pitter we chose. I'm confident you'll be happy with it, too!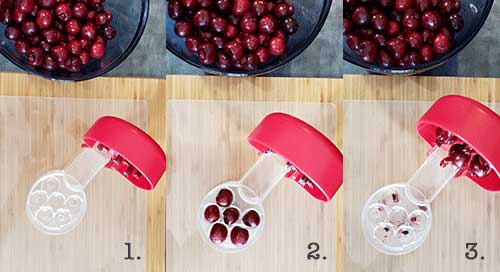 It seriously is the easiest one I've ever used. Those single, hand-held pitters are great for a small task, but take 5 times as long when you are working in bulk. This one keeps everything relatively juice-free. I'm not gonna say completely juice-free...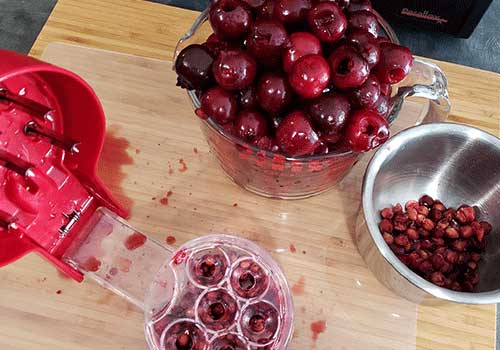 ...thus I have a protective cutting surface that I put over my brand new Ikea cutting board. It's just a thin plastic one from The Dollar Tree. I just didn't want to stain that new cutting board on its first day on the job!
3. Cut cherries in half or quarters
While whole cherries may be fun, we choose to do halves. They dry faster, they are more versatile for our needs, and while it adds a bit of time to the front end to cut them in half, it saves hours on the back end of drying time.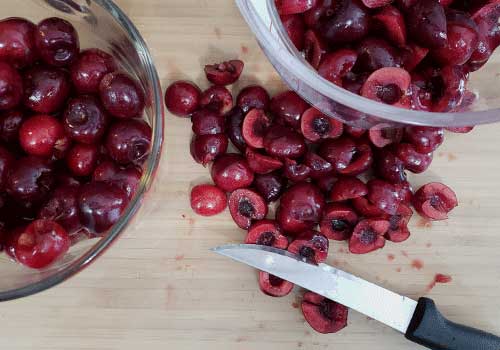 4. Add cherries to dehydrator trays.
Here's a photo that represents how NOT to load your cherries onto your tray. Can you see what I did incorrectly?
The fact that they are touching okay, but not optimum. They do shrink a tad, and honestly, they roll around when you move them - you can't stop the snuggling completely.
I didn't pack it full enough? True, I could add some more, but having good airflow is important.
I didn't painstakingly make sure that they were all sitting on their roundness, and not flat - you WIN!!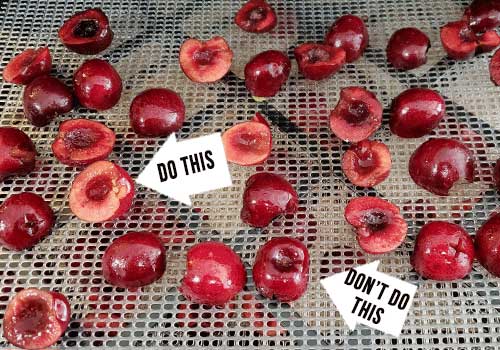 This isn't going to make your cherries dry poorly. However, they will stick a little less having the skin side down. And cherries stick. Boy, can they stick. However, having them on their round sides helps make sticking a little less of an issue.
5. Dehydrate on 135°F/57°C for approximately 12-36+ hrs
Drying time will vary depending on the muscle of your dehydrator (I use an Excalibur Dehydrator, but have also used a Nesco FD-80 with similar results, at half the price!). If you have a low-wattage machine or one without a temperature regulator, you may need some extra drying time.
►Pro tip: Rotate those trays if you're finding it's taking a little too long.
What dried cherries should look like: You want small plump raisin-like pieces. You don't want to dry them to the point of being hard little rocks if you want them for snacking or adding to granola, etc.
Just to give you a view - this batch was a little over-dried. I used them in oatmeal because they rehydrated well, but they weren't the best for snacking.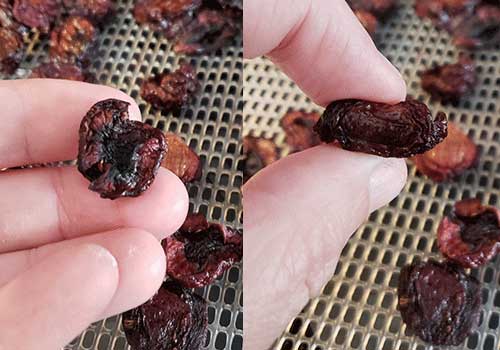 6. Condition the cherries
Allow the cherries to cool, but before you put it away for long-term storage, you need to condition them.
Place cherries in a jar that's about ⅔ full. Shake every day for 7-10 days. If you can see any condensation, you need to toss it back into your dehydrator to dry more. If you leave it, it will mold. Don't let it mold. Dry it some more.
If you do see mold, toss the cherries.
7. Store in an airtight container.
Keeping your dried fruit stored properly is key to their taste AND to your health.
Your options for storage are:
Short-term storage: Seal into a canning jar or other airtight container. I would suggest using a desiccant packet to help with moisture control since you'll be in and out of this package. You can vacuum seal a canning jar with an attachment like this one, and still keep it for short-term use.
Long-term storage: Store in mylar bags or vacuum seal bags with a moisture absorber (also known as a silica gel packet or desiccant packet) and/or O2 absorber. I tend to use both if it's for long-term.
► Dried cherry storage tip: I would suggest, no matter what you do, store these in smaller container sizes. Even if you do small bags, you can store them in a larger container to help you with space. But don't store them all together in one container.
You might break the container and you lose everything (ask me how I know this with mushroom powder?)
One piece of fruit might not be perfect, and you could ruin the whole batch
You have less risk of moisture and oxygen getting into everything when you're only opening small bags at a time instead of a full large bag or jar.
Uses for dried cherries
Add to trail mix, energy bars or granola (after baking, not during for granola)
Add to oatmeal
Rehydrate to make hand pies
In baked goods
To infuse alcohol
Salads
Make jams and butters
Compotes
Use as you would raisins in pies, cakes or muffins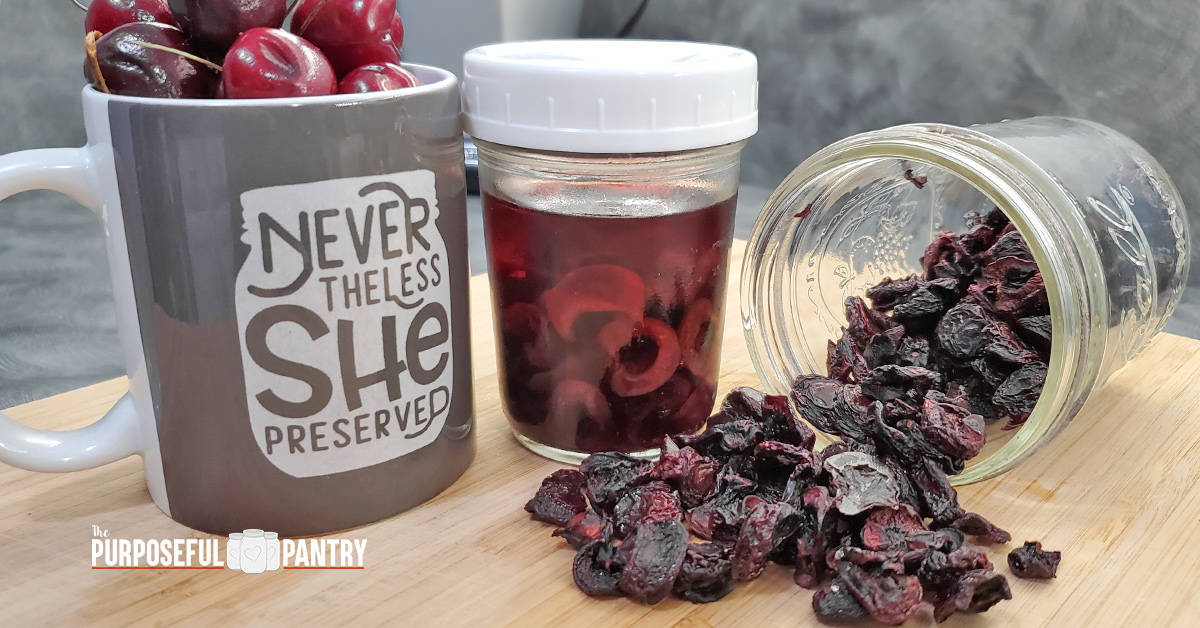 How to Rehydrate Dried Cherries
Dehydrated cherries can be rehydrated in
Water Bath Version:
Place cherries in a bowl of near-boiling water, cover, and allow them to sit for about 15 minutes.
Overnight Soak Method:
Place cherries in an airtight container of your choice, cover with water, and allow to sit in the refrigerator for approximately 6-8 hours.
Stovetop Simmer method:
Simmer cherries in the liquid of your choice in a bowl on the stovetop for approximately 10 minutes. Keep a close eye out so that the juice doesn't burn and the cherries don't cook.
How long can you store dried cherries?
Properly dried, conditioned, and stored, cherries should last about a year in your pantry. You may get longer, but fruits tend to begin to change texture after about that long.
More ways to preserve cherries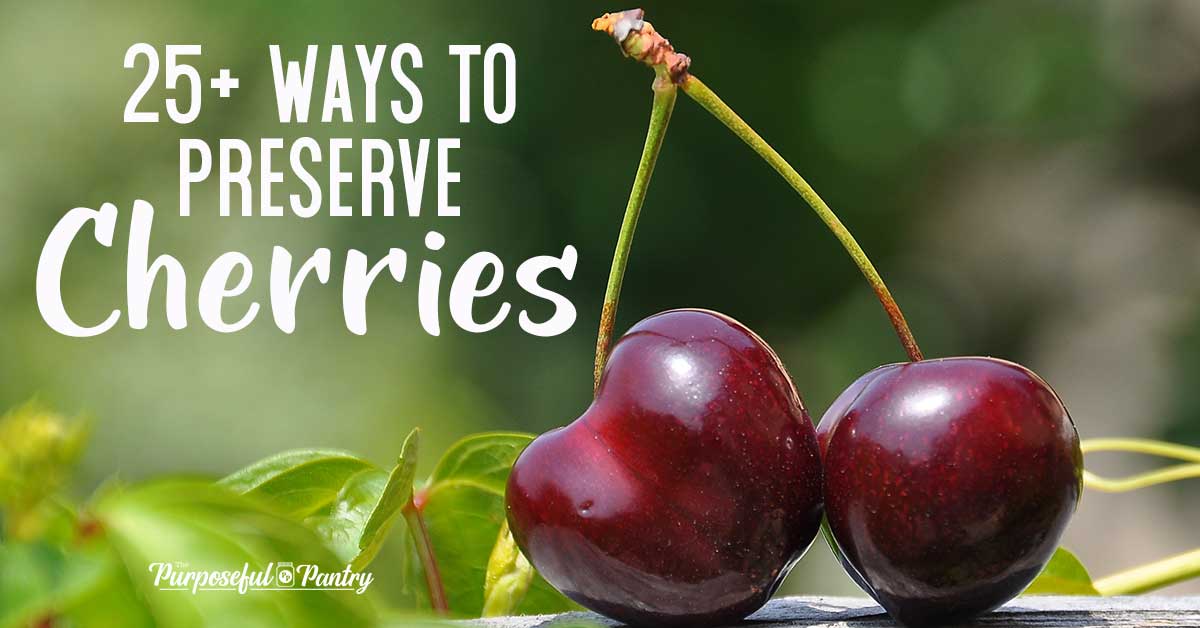 Want to learn more awesome ways to preserve cherries? Here is a specific how to freeze cherries post if you want to do something quickly/
DEHYDRATOR MAINTENANCE TIP
I line the bottom tray of my dehydrator to keep it protected from drips and crumbs. This makes tidying up a little easier. You can use any of the Excalibur lining sheets if you have them, or get the budget-friendly sheets if you don't. I've used any of them at varying times. Heck, even if you use some parchment paper or newspaper - anything to help protect and make cleanup a little easier.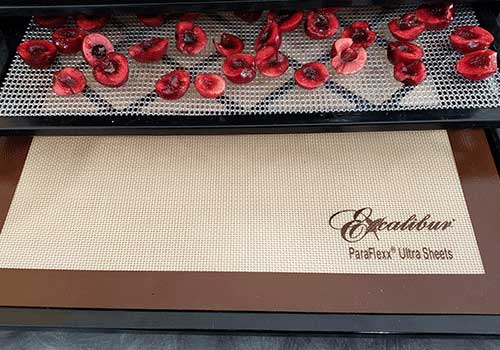 Oven Directions
Prep: The preparation for drying cherries in an oven is the same as for drying in a dehydrator.
Drying time: 150F for 10-12 hours. If your oven does not go this low (many don't), prop the door open a bit with a wooden spatula or spoon. Keep a sharp eye out on your cherries so that you don't burn them - which will be easy to do in an oven. We're wanting to dry them, NOT cook them. So don't even think of turning the temp up a little to help them go faster 😉
Storage: Same as above storage methods.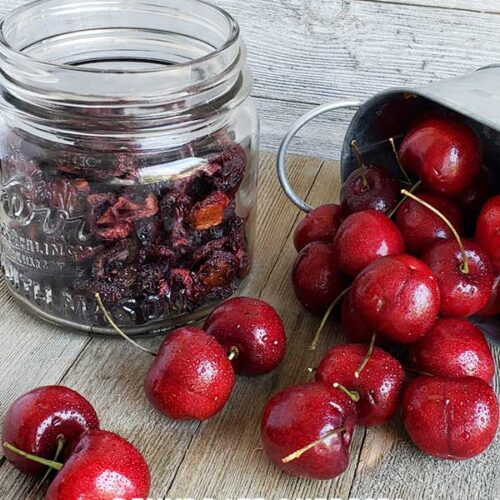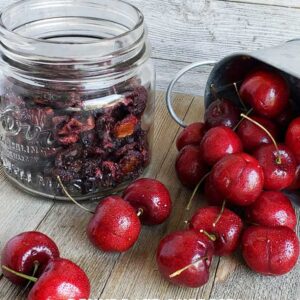 How to Dehydrate Cherries
Learn to dehydrate cherries for a tart but sweet snackable treat that is prefect for including in recipes, too!
Print
PIN THIS!
Rate
Instructions
Dehydrator Instructions
Wash and destem, and pit cherries

Slice or quarter (or smaller if you prefer smaller chunks in oatmeals or breads) and place on dehydrating trays lined with mesh, fruit leather sheets, or parchment

Dry at 135°F / 57°C until leathery dry

Store in an airtight container
Oven Directions
Place on oven-safe cooling rack stacked on a tray or your dehydrator trays if your oven goes down to 170°F / 76°C

Dry for 10-12 hours at 170°F / 76°C until dry and leathery.
Darcy's Tips
Notes:
On oven drying: Prop your oven door open with a wooden spoon or other oven-safe utensils to allow the air to flow better and air escape. This is also helpful to reduce the temperature. Remember to be mindful of mobility-impaired individuals and small children.
Don't use your dehydrator trays in your oven if it does not reach this low temperature.
Nutritional information is an estimation only. Nutrient information for dehydrated foods is based on fresh. Use ¼ of the servicing size for the same nutrient information. Thus 1 Cup of fresh fruit has the same sugars as ¼ dried.
©ThePurposefulPantry. Photographs and content are copyright protected. Sharing of this recipe's link is both encouraged and appreciated. Copying and/or pasting full recipes to any social media is strictly prohibited.