How to Dehydrate Dill Weed
It is so easy to dehydrate dill weed – take the easy growing backyard herb from the garden to the spice cabinet with these easy steps. Dried dill tastes so much better than the storebought version!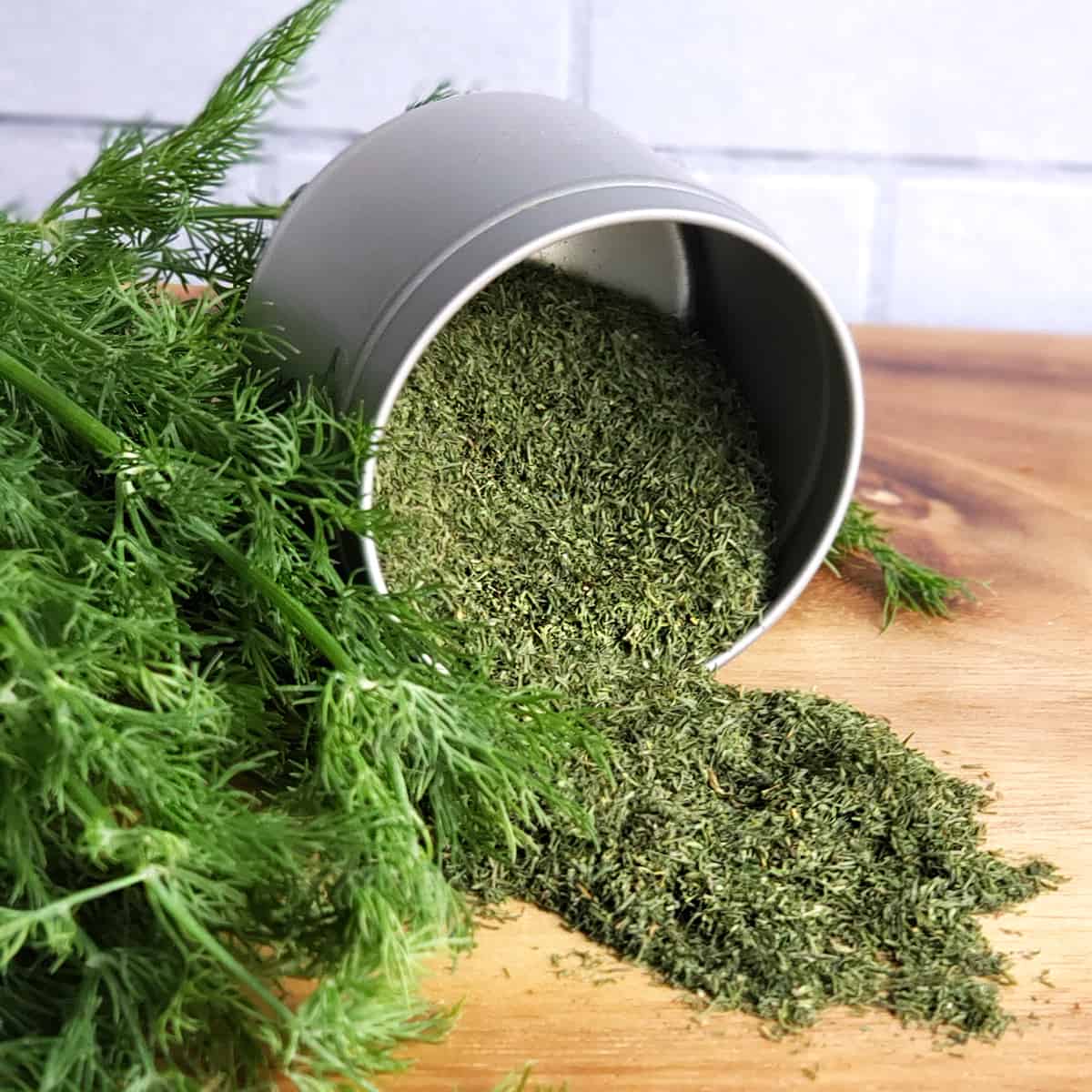 Before we get started dehydrating our dill, do you ever giggle at the thought of calling this herb dill weed? I do. My inner ten-year-old just giggles. So we'll just stick to dill, shall we?
Dill is a prolific and easy herb to grow in your backyard herb garden. Not only is the leaf a great punch of flavor to things like eggs, fish, and chicken salad, but dill seeds are also an important component of the pickling process of cucumbers.
Dill is very easy to dry, even if you don't have a dehydrator. Like other herbs, dill can be dried by hanging as easily as by dehydrator. Today we'll talk about using your dehydrator to dry dill.
Fun fact: Dill seeds are actually the fruit of the plant, not a real seed!
How To Dry Dill Weed with a Dehydrator
Quick Instructions: Dehydrate at 95°F/35°C for 4-6 hours or until done. Store in an airtight container.
Have you ever tested the temperature on your dehydrator?
1. Wash and dry stems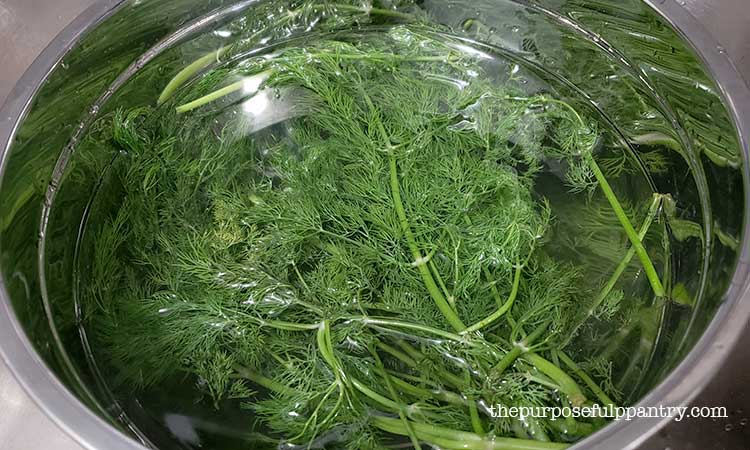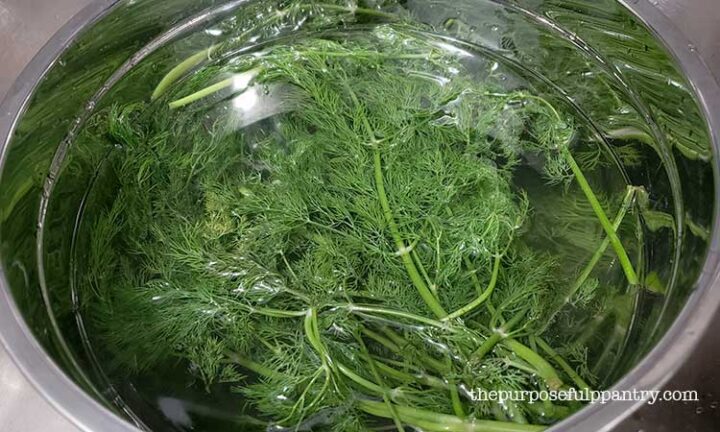 It's important to wash off herbs that are purchased from the store. Not only are they grown in a way you might not grow them, but the herb has also been handled and processed, and you want to make sure you clean it the best you can.
Even if you grow your own dill, there's junk that can accumulate on your dill (think of bugs that crawl, birds that poop, nasty things blowing in the wind.
Why I use a Salad Spinner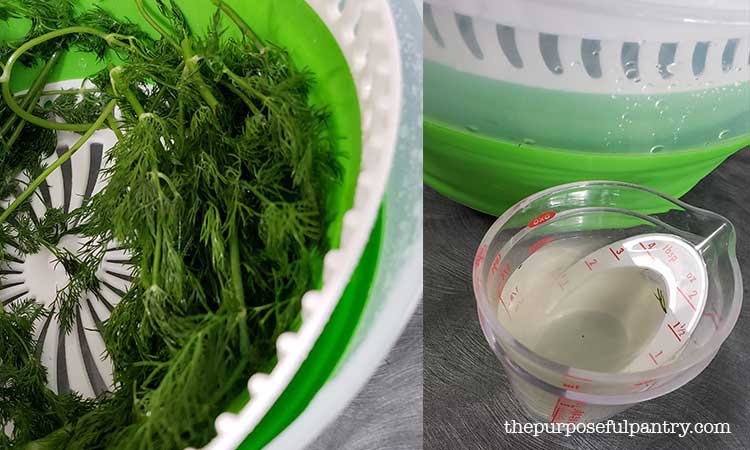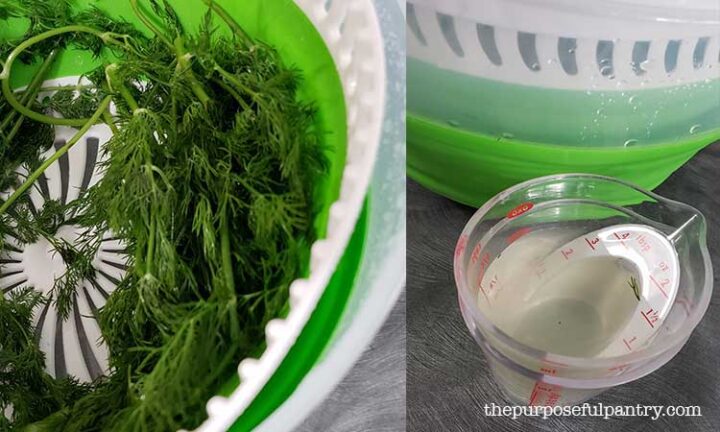 My salad spinner has become my best tool friend this year. After washing greens of any kind, I throw them in for a spin. It removes so much excess water that I can't remove by simply shaking. It also helps decrease the time things need to layout and drain before throwing them onto my dehydrator trays.
Bonus friend points: The above-pictured salad spinner is collapsible, making it easier to store! (editing to add – over time, the silicone did finally break down and crack, making the spinner harder to compact and store, which is why I invested in an OXO salad spinner and have never been happier!)
2. Place dill on Dehydrator Trays
Herbs are forgiving and don't need a ton of space, but don't pack your dillweed so tightly that it inhibits free airflow. If it touches a little, that's fine. It shrinks quickly to make more space.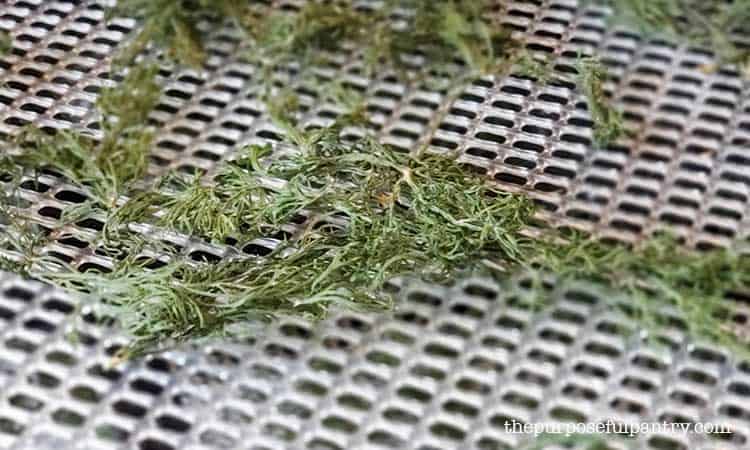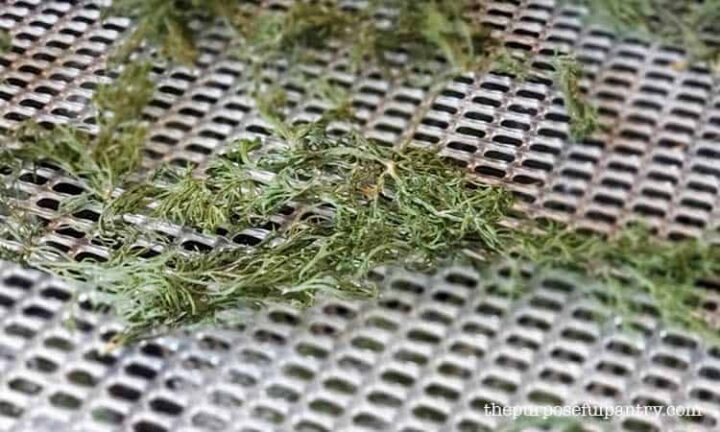 *Alternatively, you can strip the leaves from the fresh stems and place them on silicone dehydrator sheets (fruit leather sheets) if you prefer. You can then cover them with another sheet to keep them from flying around during drying time. You can also use parchment paper (aka baking paper) if you do not have the dehydrator sheets.
3. Dry at 95°F / 35°C for 4-6 hours.
How do I know when dill is fully dry?
Dill, like most other herbs, falls apart when you rub it in your hands.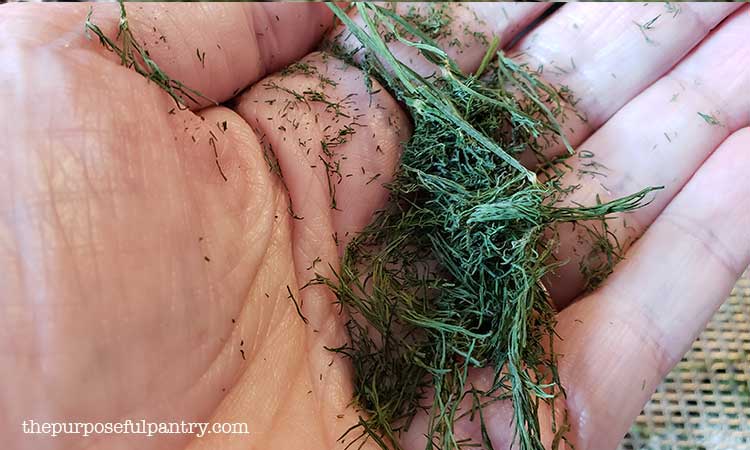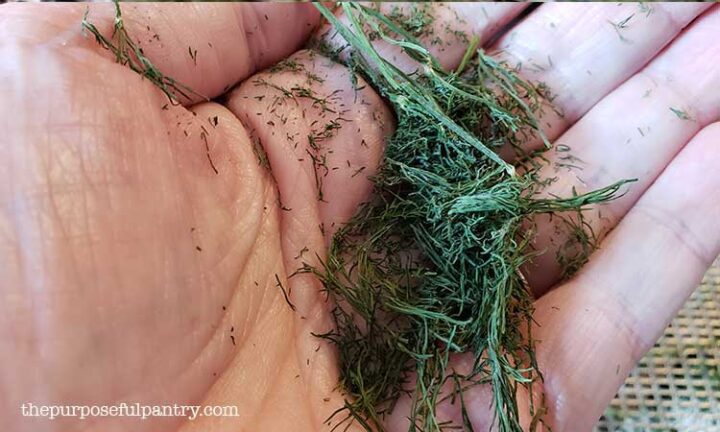 Alternative Ways to Dry Dill
There are some alternative ways to dry herbs . Hanging herbs to dry is the best way to do it, but not everyone has an environment that makes that the best choice, or you want to move through them more quickly, etc.
Hang bunches in draft-free, cool areas of your home. If you are concerned about dust, you can place the bunches in paper bags, tie the top closed, cut some slits for better air circulation, and dry.
Use an air-drying hanging rack.
Microwave.
Use an oven with the oven light on, the pilot light lit, or a pre-heated oven that has been turned off.
How to Store Dried Dill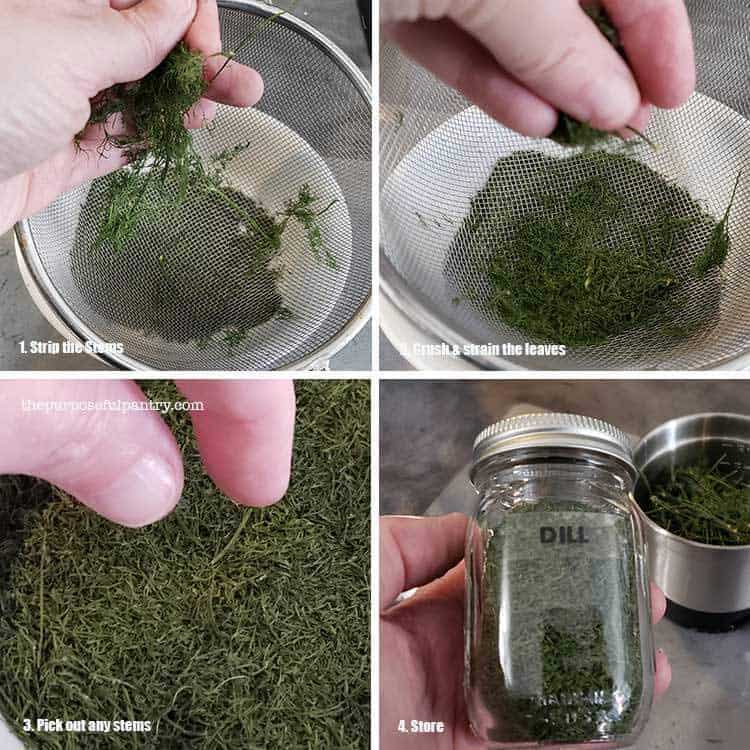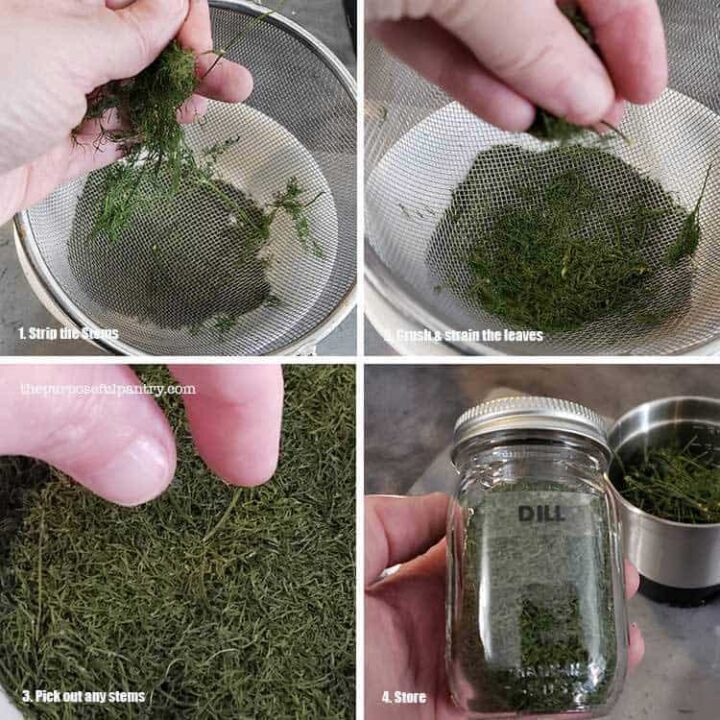 The above is my process for processing and storing dehydrated dill
Rub dill stems between my palms over a strainer on top of a bowl
Rub the stems between finger and thumb to remove any last leaves clinging on.
Pick out any errant stem that makes it through the strainer.
Store in an airtight container.
With the remaining stems, you can run them through your coffee grinder to grind them down into a powder to add to your green powder. Or you can toss them back into your compost or lawn.
What container should I store dill in?
You should store dill in an airtight container for long-term storage.
Store in a mason jar and use a vacuum sealer with the canning jar attachment to seal the jar.
Vacuum seal into vacuum sealing bags or mylar bags
Store in a mason jar with an O2 absorber inside to help vacuum seal the jar from within.
Learn more about storing herbs here.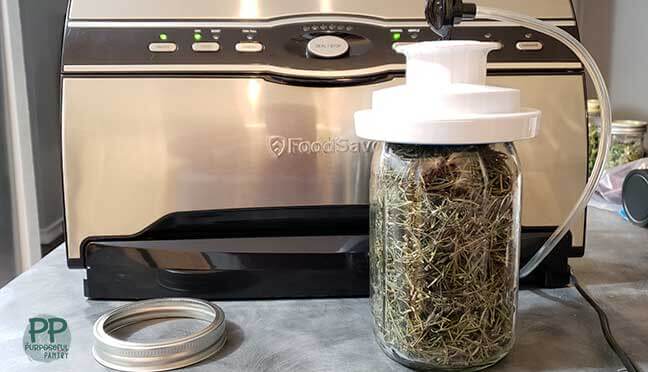 So there you have it!
Simply wash, drain, dry at 95F/35C to protect the nutrients and store in an airtight container! It's that easy to have better than storebought dried dill for your spice cabinet!
Tell me, what's your favorite herb to grow?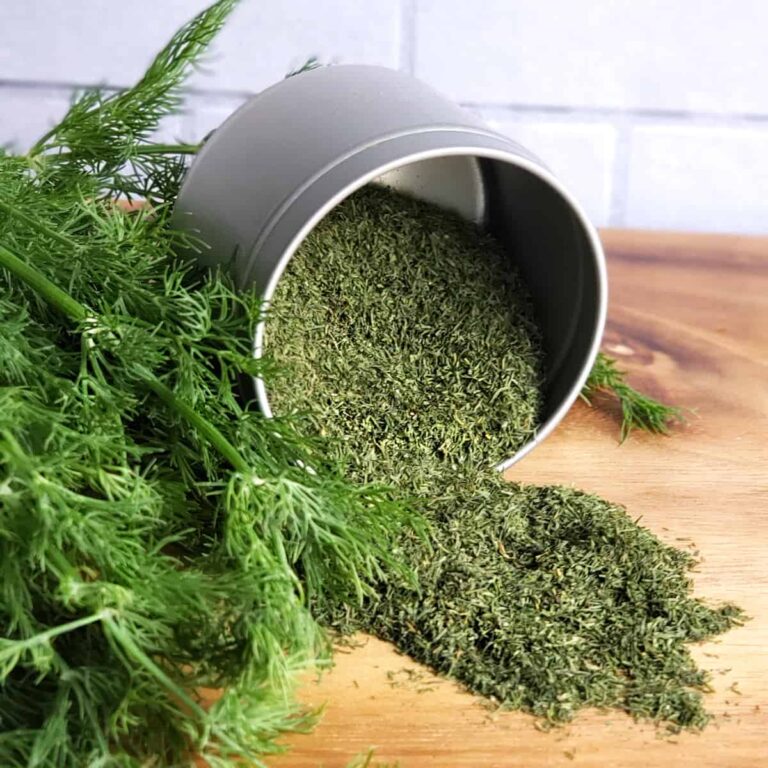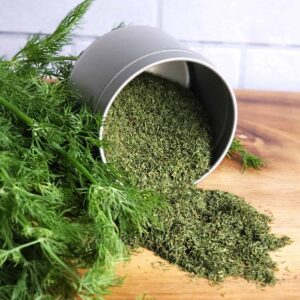 How to Dry Dill
Drying dill brings the freshness of your garden to your pantry all year long! Learn all the ways you can dry dill to store on your pantry shelves throughout the year.
Print
PIN THIS!
Rate
Instructions
Lay stems on dehydrator trays loosely

Dry at 95F / 35 C for 4-6 hours until leaves easily fall away from stems

Store in an airtight container

Crush as needed for a recipe, or powder enough for 2-3 months.
Nutritional information is an estimation only. Nutrient information for dehydrated foods is based on fresh. Use 1/4 of the servicing size for the same nutrient information. Thus 1 Cup of fresh fruit has the same sugars as 1/4 dried.
©ThePurposefulPantry. Photographs and content are copyright protected. Sharing of this recipe's link is both encouraged and appreciated. Copying and/or pasting full recipes to any social media is strictly prohibited.