Test the Temperature on Your Dehydrator for Safe Dehydrating
How do you know your dehydrator is running at the temperature the dial suggests? Test the temperature on your dehydrator! Here's the easy how-to that anyone can follow.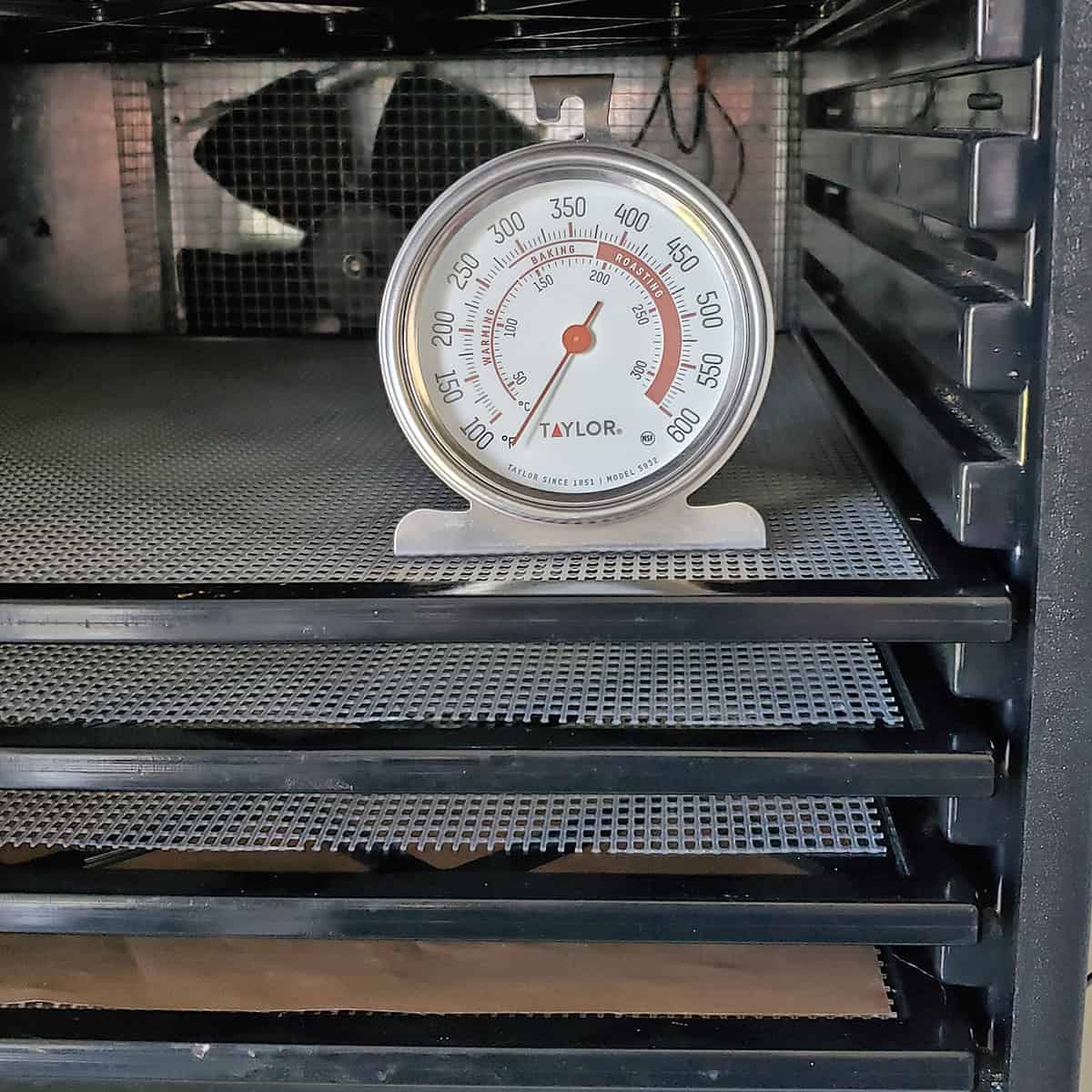 Just like with an oven, temperatures can fluctuate on dehydrator models. Before you start dehydrating your first jerky or batch of raw crackers, you want to know the true temperature your dehydrator is running for safety reasons as well as keeping living foods alive. An oven thermometer is a great dehydrating tool to help you on your dehydrating journey!
Running too hot can kill enzymes for things you want to keep 'alive' such as with herbs and raw foods. Running too cool can be a food safety issue with jerkies.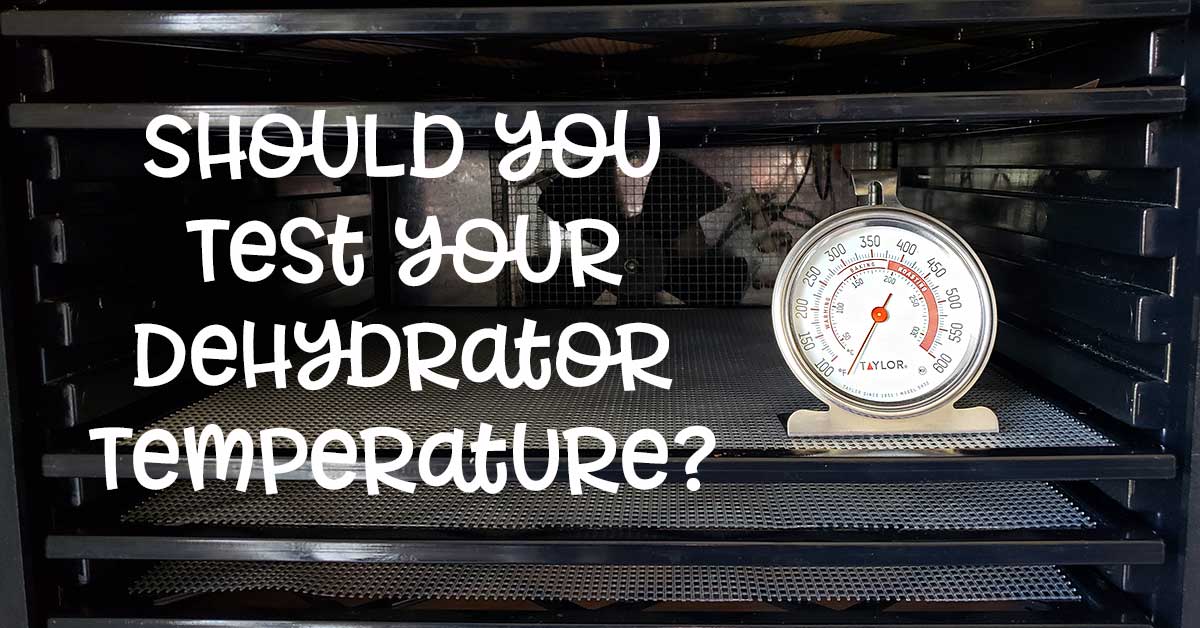 Why Should I Test My Dehydrator Temperature?
You've taken your dehydrator out of storage.
You've purchased a used dehydrator and want to be sure it works correctly.
You have a dehydrator that has no temperature dial
Your food consistently taking longer than anticipated to dry – or – taking much less time to dry and seems to be over dry.
How to Test Dehydrator Temperature
Test your dehydrator when it is empty
Place your thermometer or probe inside your machine
Run for at least 15 minutes to allow the machine to fully warm up and come to temperature.
Here is a video showing my dehydrator. My dehydrator was set for 150F, and you'll notice that the temp climbs up to 10 degrees over that before it drops back down and settles around 150 (it bobs up and down).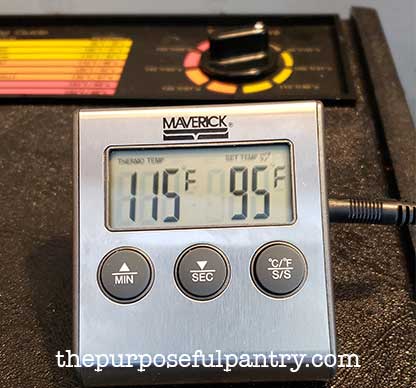 What Thermometer Do I Use for My Dehydrator?
Vertical Flow Dehydrator
For those dehydrators that have a bottom-up or a top-down fan, use a probe thermometer. This thermometer is perfect for those of you with stackable dehydrators where a stand-up oven thermometer might not fit. You can place the probe inside, and the unit to measure is outside.
TIP: Do not use a stand-up/hanging thermometer with these machines if it means laying down the thermometer. It will not be able to record a proper temperature reading this way.
Horizontal Flow Dehydrator
Use a regular hanging or stand-up oven thermometer with this kind of dehydrator (the Excalibur series is a prime example where the trays slide into a box)
Remove one or two trays to make room for the thermometer. A probe thermometer will also work if that's what you have.
Keep probe or thermometer closer to the door than the back fan.
Here is a video showing my dehydrator. My dehydrator was set for 125F, and you'll notice that the temp climbs up to 10 degrees over that before it drops back down and settles around 1250 (it bobs up and down to maintain the temp – and as the probe move. The oven thermometer ends up being the most accurate.
How Often Should I Check My Dehydrator's Temperature?
Check your dehydrator 2-3 times per year if you use it often.
Check it when you pull out of storage to begin a new season
Check it if you're having problems getting foods to dry in a reasonable amount of time
What if the Temperatures are Wrong
Unfortunately, because there are so many dehydrators on the market, and so many ways to go about doing things, you'll need to check with your dehydrator's manufacturer.
If you no longer have the manual, do Google search for the manufacturer and model number, and you'll likely find the .pdf to download and read through. Or you can try to contact the manufacturer directly.
Use a secondary thermometer if you have one to cross-check the temperature. I use a meat probe to double-check.
Some things to check for:
Make sure your fan has no obstruction to allowing airflow to be free.
Dehydrating Temperature Chart:
These are general temperature guidelines for foods. You may choose to dry some foods a little cooler to prevent case hardening. You may want to run something a little hotter for the first hour to help with initial condensation as fruits and veg let off initial moisture. These are general guidelines.
Food & Temps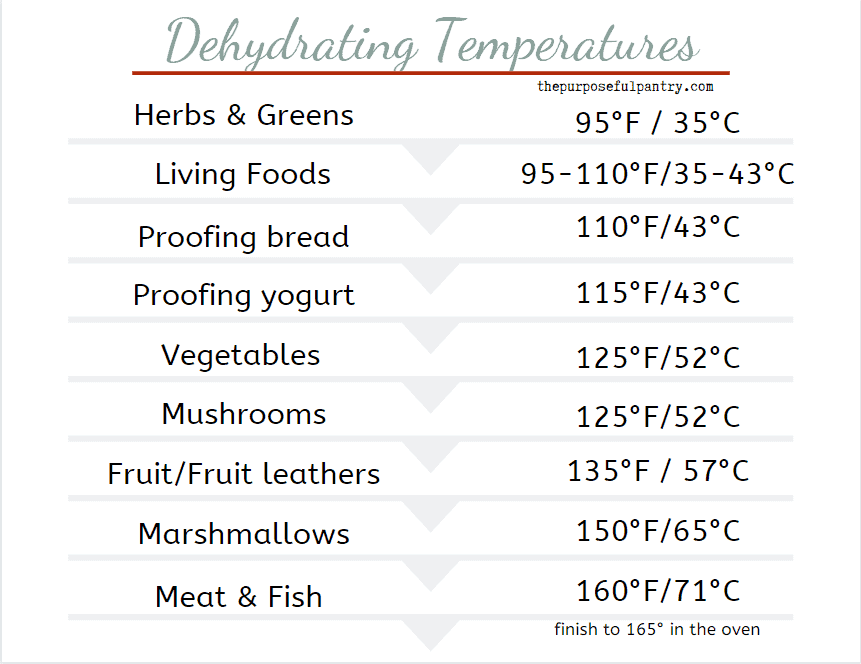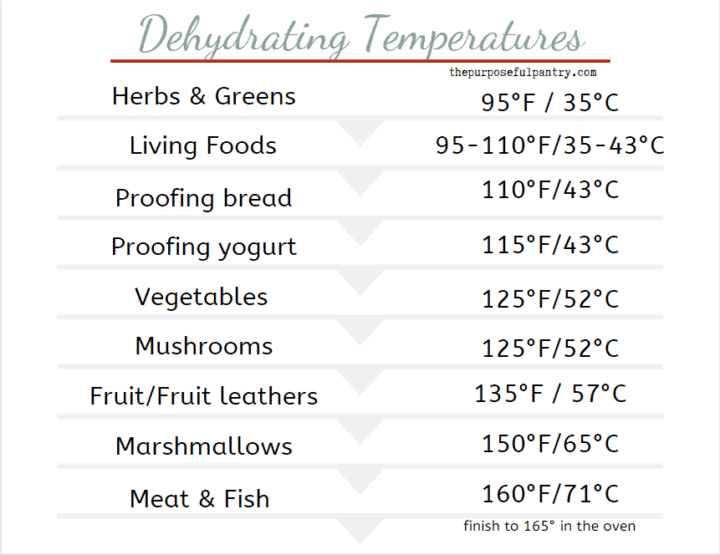 NEXT STOP FOR DEHYDRATOR MAINTENANCE — How to Clean Your Dehydrator