Make use of dehydrated marshmallows by creating this Crunchy S'mores Mix for last-minute gift-giving or treats for the kids on the go! Using dried (or freeze-dried) marshmallows instead of fresh marshmallows gives a fun crunchy bite!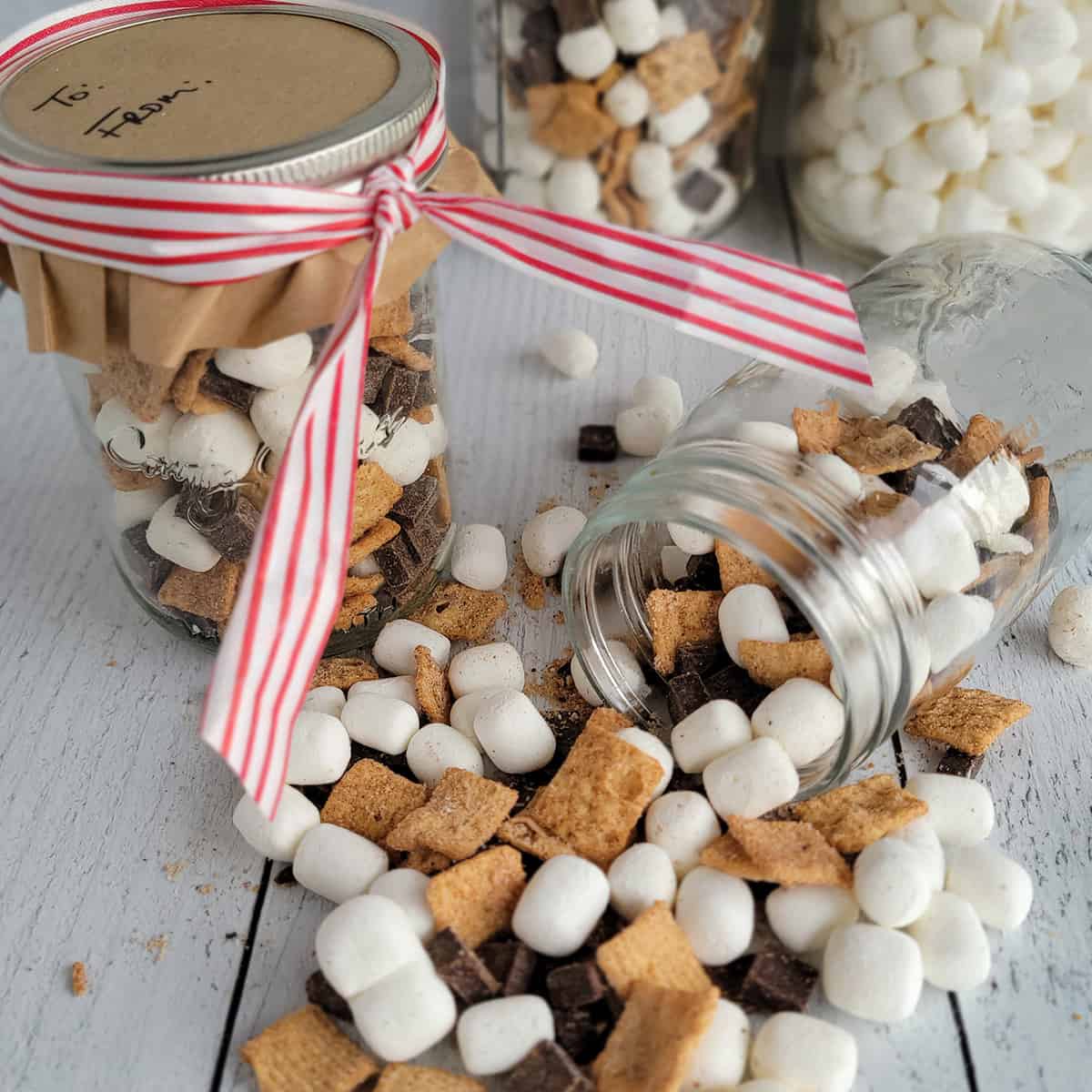 S'mores are a wonderful treat all year round in front of a campfire.
But campfire s'mores are hard to package as Christmas or holiday gifts or as a classroom snack. And what about trying to make s'mores while snuggling up for movie night? A few individual bowls of this is a perfect movie-night treat!
How to Make Crunchy S'more Trail Mix
We've tweaked the traditional s'more cereal snack mix to include dehydrated marshmallows instead of fresh ones for a fun crunch!
This easy recipe is perfect for your kids to put together for school snacks, camping or road trips, or for gifting to their classroom friends.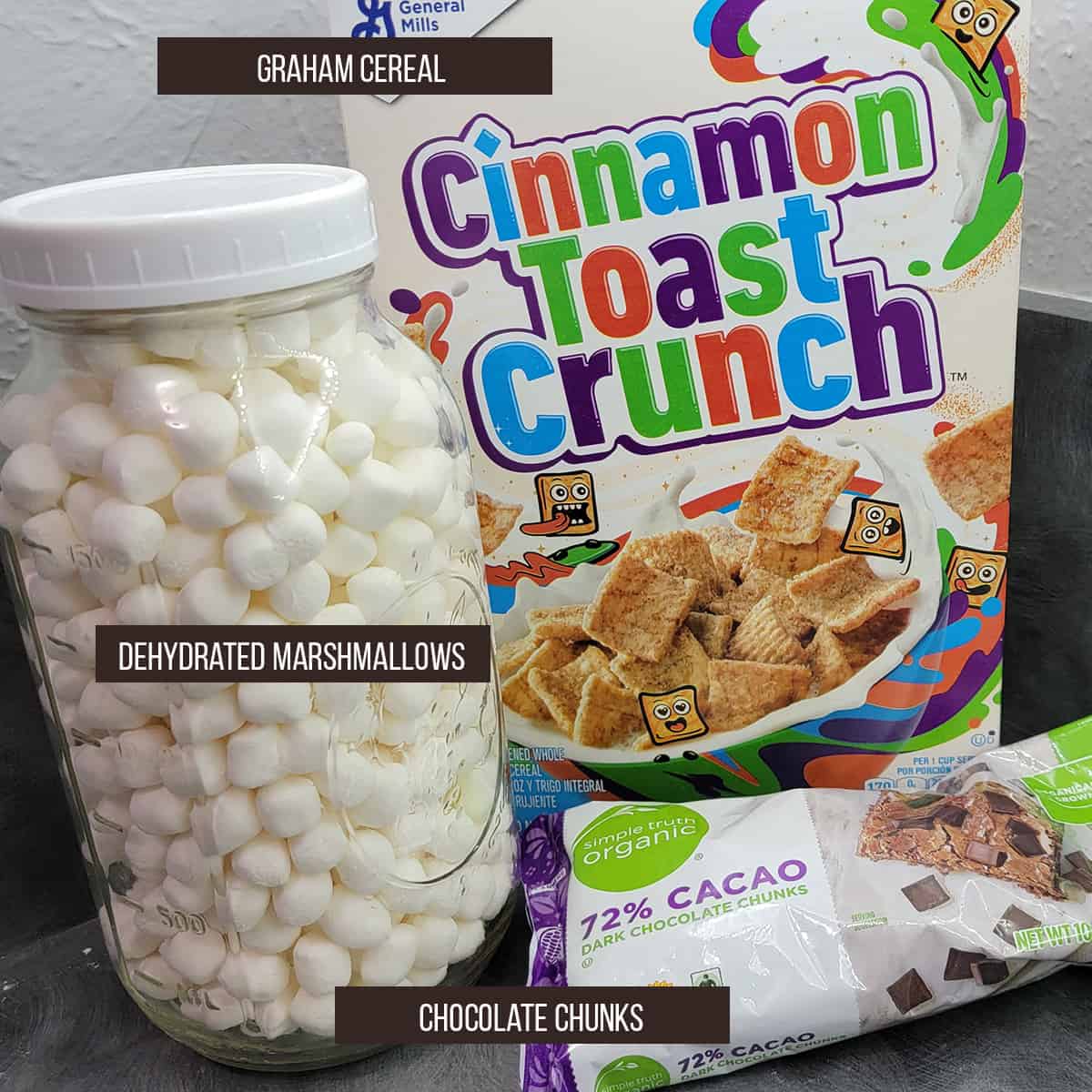 Ingredients:
Dehydrated mini marshmallows: You can dehydrate marshmallows yourself or use freeze-dried marshmallows that you can purchase online or make if you have a freeze-dryer.
Graham Cereal: I used Cinnamon Toast Crunch because I love the cinnamon flavor, but you can use Teddy Grahams (graham crackers shaped like teddy bears), broken graham crackers, or other graham cereal like Golden Grahams Cereal, or Chocolate Toast Crunch.
Chocolate: We use dark chocolate chunks, but any chocolate chips, including milk chocolate, will work. Larger chunks give a more chocolatey flavor.
Alternative Ingredients:
This recipe is so easy and so versatile. Use traditional ingredients or add some of your favorite treats to the mix!
Coconut shavings
Pretzels - these will add a salty component to an otherwise sweet snack mix.
Chocolate candies
Peanuts or nuts (check for allergy issues if used in school settings).
White chocolate chips
Use a lower-sugar, organic cereal like Cascadian Farm Cinnamon Crunch cereal.
Gluten-Free Alternatives:
If you are on a gluten-free diet, here are a couple of options for you:
Try Annies Gluten-Free Cinnamon Roll
Instructions:
Pour equal parts dried marshmallows (dehydrated or freeze-dried is fine) marshmallows, chocolate chunks, and cereal bits into a large bowl.
Mix with a spoon or large spatula until fully incorporated.
Place into your chosen storage or gifting container (options are listed below).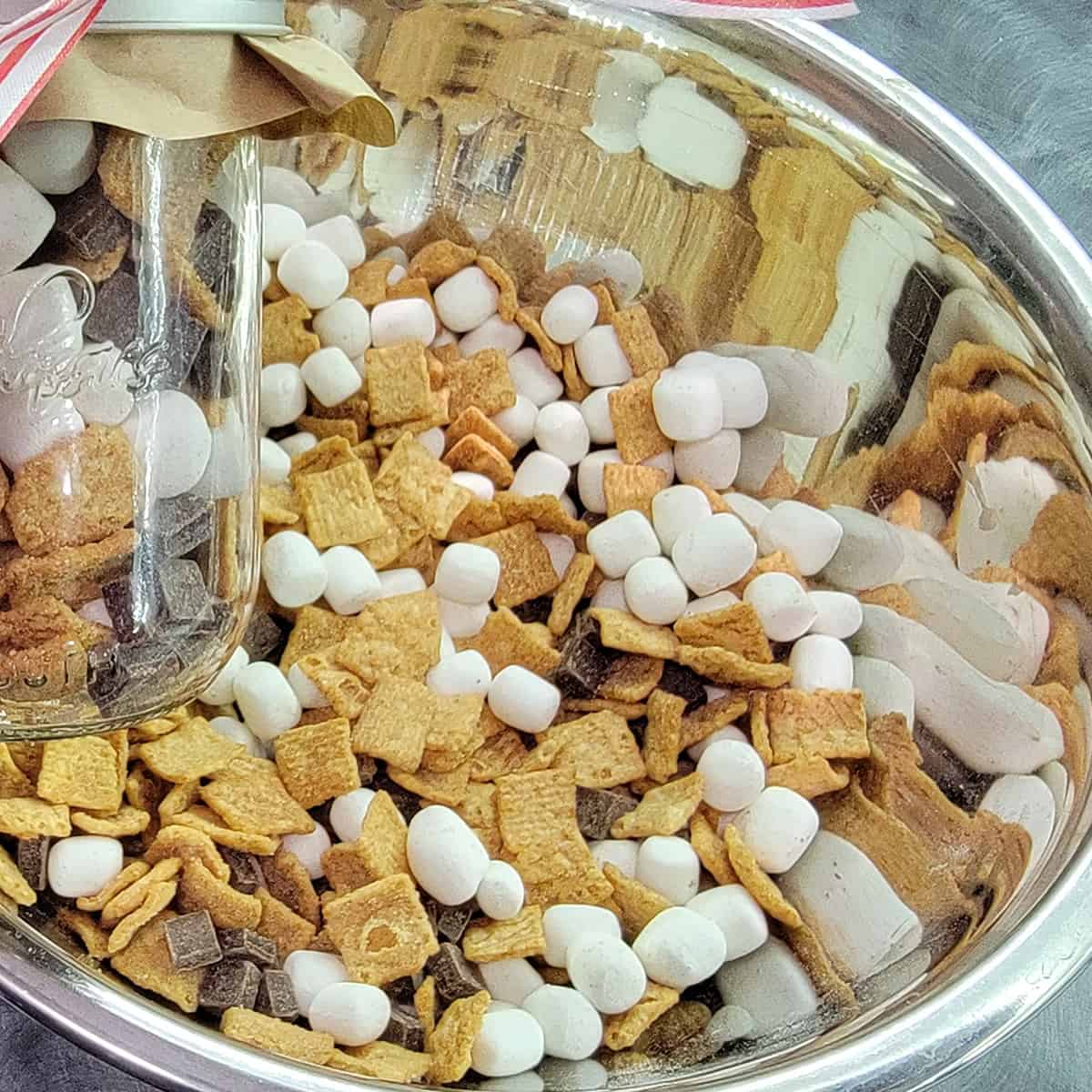 Storage:
Store in an airtight container for about three months.
Last-Minute Gift Idea
Crunchy S'more Mix makes a great gift for any fun occasion or party. But it is especially great for a last-minute Christmas gift for children or as guest favors.
Place your finished crunchy s'more trail mix into individual-sized or party-sized containers. You can use the following:
Canning jars
Treat bags with ties - use a holiday theme or clear cello bags depending on the time of year.
Zipper top bags that are decorated for the holiday
Airtight plastic containers
Learn more: Holiday Gift-Giving Ideas from Your Dehydrator
When to Serve:
This tasty sweet trail mix is perfect for:
Camping Trips
Road Trips
Airplane Snacks (be sure to check for any allergy issues if using peanuts in the mix)
Christmas party treats
School snack day
Movie nights
Tips:
If you want to make this for longer storage, store the individual ingredients separately. The marshmallows may begin to absorb the moisture in the cereal and chocolate, so if you want it for longer-term storage, keep the items separated and mix as you need them. Dried marshmallows (whether dehydrated or freeze-dried) will keep for a year, easily, if in an airtight container.
Often Asked Questions
Can you use freeze-dried marshmallows to make S'mores mix
Yes, they will work the same whether you purchase or make your own in your freeze-dryer.
What does S'more mean?
S'more means 'some more' credited to the 1927 edition of the Girl Scout manual. Because it's so good, you'll want s'more!
Can you use fresh or homemade marshmallows?
Yes! They will not have the crunchy texture of this recipe, but you can certainly use them!
What are graham crackers called in the UK?
Graham crackers aren't well known in the UK. You can substitute a digestive biscuit instead.
Can you dehydrate roasted marshmallows?
Yes! Place marshmallows on a baking sheet under a broiler until roast, then flipping them over to toast the other side. Try these dehydrated roasted marshmallow s'mores for the perfect way to bring the outdoors in, any time of year!
What do dehydrated marshmallows taste like?
If you've ever had Lucky Charms cereal with marshmallows or Swiss Miss hot chocolate mix with marshmallows - that is what a dehydrated marshmallow tastes like.
More Marshmallow Ideas
📖 Recipe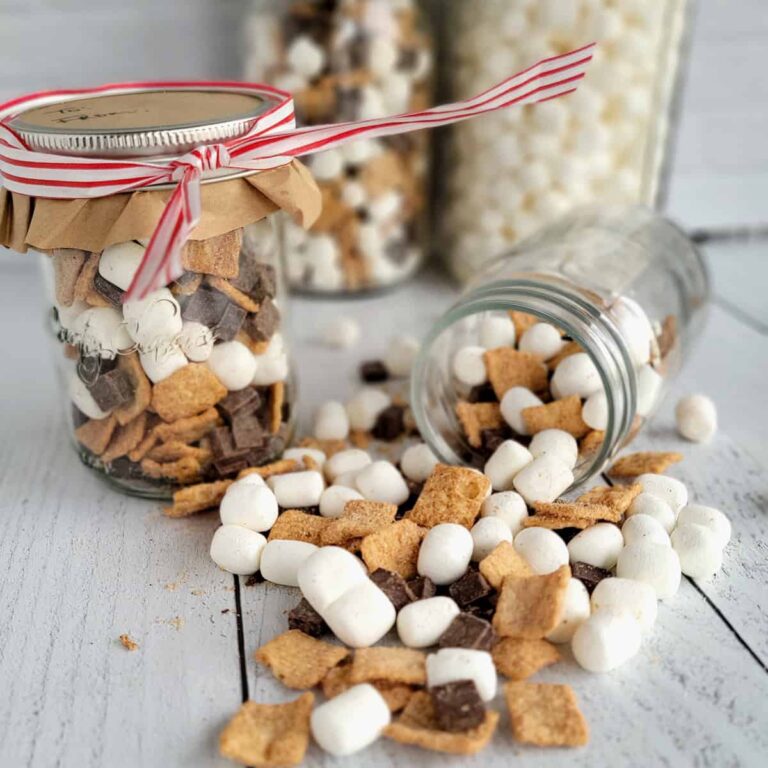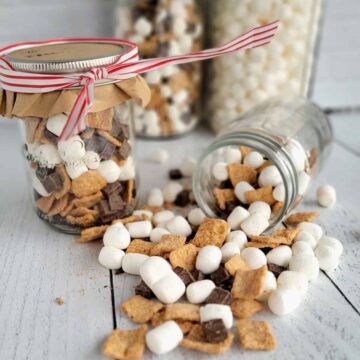 Crunchy S'more Mix with Dehydrated Marshmallows
Create a wonderful snack for last-minute gift giving or movie-night treats with this twist on a traditional sweet trail mix. Dehydrated marshmallows are the secret ingredient for this tasty recipe from your pantry!
Print
PIN THIS!
Rate
Equipment
1 Large mixing bowl

storage containers or gift bags
Ingredients
4

Cups

Dehydrated marshmallows

4

Cups

Cinnamon graham cereal

4

Cups

Chocolate Chunks
Instructions
Mix all ingredients into a large bow.

Store in an airtight container or separate into gift containers of your choice.
Video
Darcy's Tips
Notes:
Use suggested recipe ingredients or substitute any of your favorites. Here are a few suggestions:
Pretzels
Chocolate candies
Coconut shreds
White Chocolate
Milk chocolate chips
To store: 
Use an airtight container for storage for up to three months.
To serve and give:
Use candy treat bags or small canning jars with ribbons to gift for the holidays or make for classroom treats.
Nutrition
Serving:
0.5
Cup
|
Calories:
348
kcal
|
Carbohydrates:
38
g
|
Protein:
3
g
|
Fat:
16
g
|
Saturated Fat:
9
g
|
Polyunsaturated Fat:
1
g
|
Monounsaturated Fat:
5
g
|
Trans Fat:
0.03
g
|
Cholesterol:
3
mg
|
Sodium:
19
mg
|
Potassium:
242
mg
|
Fiber:
3
g
|
Sugar:
26
g
|
Vitamin A:
21
IU
|
Calcium:
27
mg
|
Iron:
3
mg
Nutritional information is an estimation only. Nutrient information for dehydrated foods is based on fresh. Use ¼ of the servicing size for the same nutrient information. Thus 1 Cup of fresh fruit has the same sugars as ¼ dried.
©ThePurposefulPantry. Photographs and content are copyright protected. Sharing of this recipe's link is both encouraged and appreciated. Copying and/or pasting full recipes to any social media is strictly prohibited.