How to Preserve Sweet Potatoes
Overloaded with sweet potatoes? Learn all about how you can preserve sweet potatoes to store them in your freezer and pantry – without using your vegetable bin.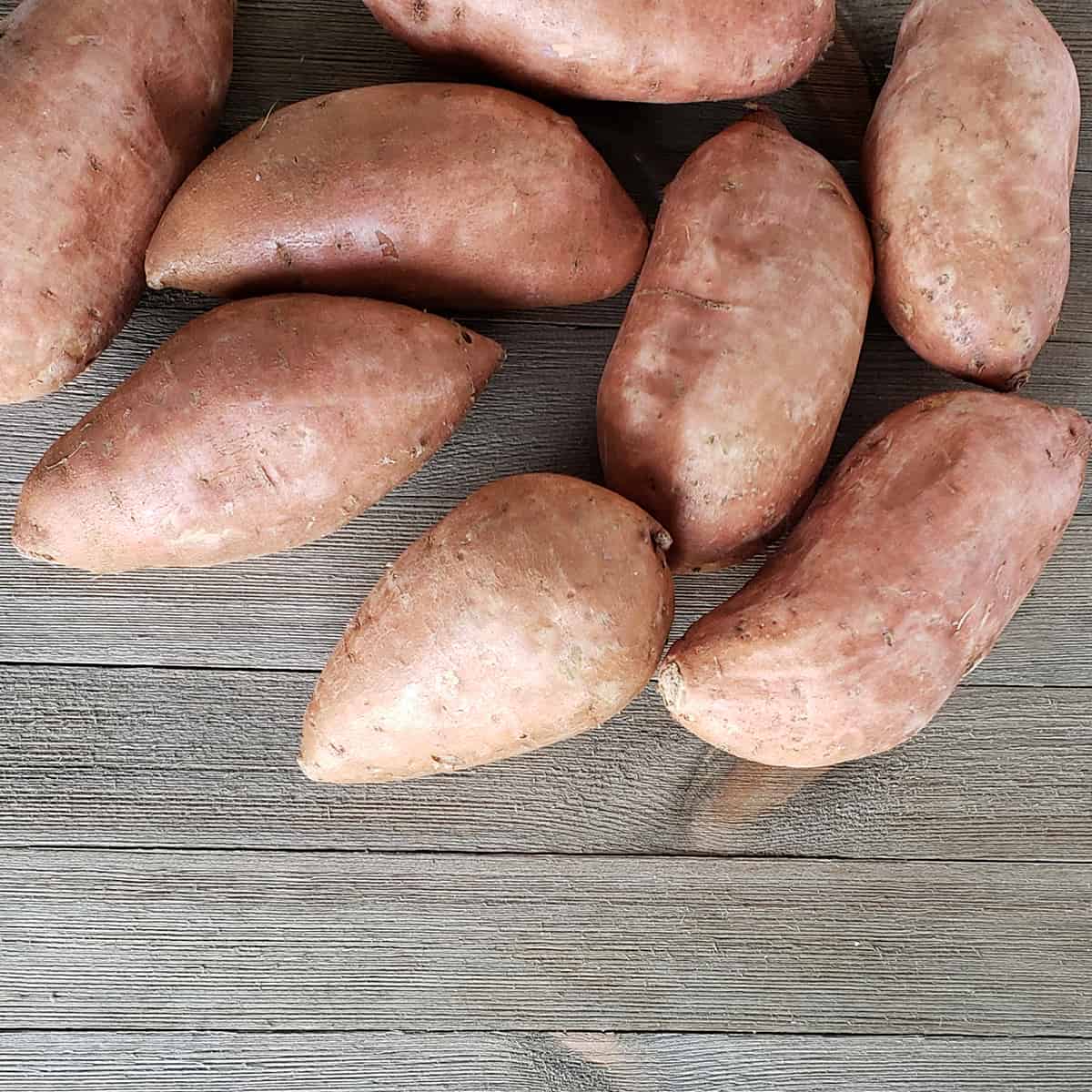 This post may contain affiliate links. As an Amazon Associate, I earn from qualifying purchases. Please read our disclosure policy.
Thanksgiving brings inexpensive sweet potato prices around the country (gotta love those sales cycles!). But even if you come up with a great sale in the spring or summer, or you're harvesting more than you can readily use in a short time, preserving sweet potatoes is easy!
Buying Sweet Potatoes
Look for plump, bright potatoes with no sign of rot. You might find a white with light-colored flesh or brown/red skin with copper-colored flesh. Both are sweet potatoes, which are a tubular plant associated with the bindweed family (while potatoes are part of the nightshade family).
Alternatively, "Yams are native to Africa and Asia, with the majority of the crop coming from Africa. They are related to lilies, and can be as small as a regular potato or jumbo in size (some grow five feet long!). Yams have a cylindrical shape with blackish or brown, bark-like skin and white, purple, or reddish flesh." (source)
Want to know how to grow your own sweet potatoes? Here's a great blog post to walk you through it.
Storing Sweet Potatoes
Here are a few tips to grow your own sweet potatoes if you've never given it a try!
If harvesting,
Use space to loosen the soil until you can pull up the potato whole
Shake off loose dirt
Store for up to two weeks in a dark warm place with high humidity if possible.
If purchasing or after conditioning
Store sweet potatoes in a cool, dry place.
Do not store in the refrigerator.
Do not allow them to touch each other if possible, and don't store them with other vegetables in the same bin, like apples or onions, as they can affect each other in how they ripen. Use newspaper as a separator, but be sure to keep an eye out for any moisture build-up.
HOW TO PRESERVE SWEET POTATOES
Freeze Sweet Potatoes
Chunk Sweet Potatoes
Peel sweet potatoes;
Slice into 1/2-inch slices or cut into small chunks;
Steam (can be done with a steamer basket and stockpot or with an Instant Pot) or roast (375F for 45 min or so)
Allow pieces to come to room temperature;
Flash freeze on baking sheets;
Store in your favorite freezer-safe container, removing as much air as possible
Store for up to twelve months.
► READ MORE: What to do when the freezer goes out
Baked Sweet Potatoes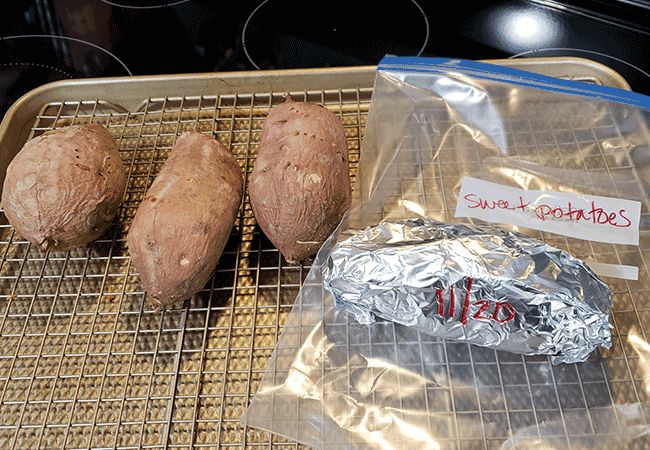 Preheat oven to 375F
Wash sweet potatoes, rub in oil, and poke with a fork for vent holes.
Place the sweet potatoes on a baking sheet (this one is helpful to keep it off the flat surface), or place a tray on a lower rack and place sweet potatoes directly on the upper racks
Bake for 1.5-2 hours
Allow to cool, then wrap in foil, then place in freezer (you can put foil packs into plastic freezer bags to organize).
Store for up to 12 months in the freezer.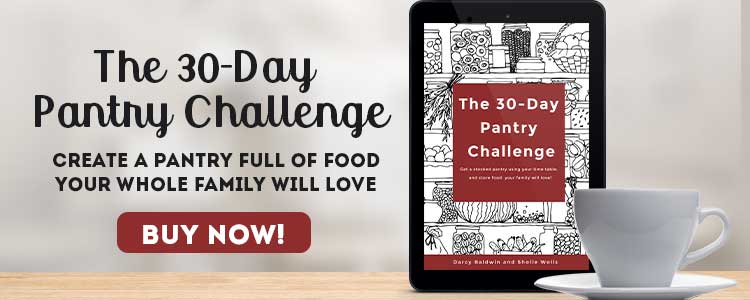 Sweet Potato Dishes That Can Be Frozen
Mashed Sweet Potatoes
Wash sweet potatoes if you're going to roast them;
Roast (375F for 1.5-2 hrs), or steam until done;
Allow to cool to the point of being able to handle;
Scoop flesh from the skin;
Create a puree;
Allow to fully cool
Put into airtight containers, and remove as much air as possible. Preference would be freezer-safe zip-top bags that you can stack flat or reusable silicone pockets;
Thaw for use, and add whatever you would add to make mashed sweet potatoes or add to muffins, breads, smoothies, and more as is.
► READ MORE: Why I Boil Ground Beef and Freeze It
Pressure Can Sweet Potatoes
Pressure canning sweet potatoes is a great first project for beginners. Canning in chunks gives them the safety feature you need, and mashing after gives you another way to use them.
Need to print the recipe for your preservation binder?
Dehydrate Sweet Potatoes
Dehydrated Sweet Potato Chips
Sweet potato chips are a great way to use your sweet potatoes differently than the usual baked or sugar-laden casserole. While it is fine to use oil to make your sweet potato chips, drying without oil gives them a longer shelf life.
In a dehydrator –– while this tutorial is specific to dog snacks, slice them a little thinner for storage! The process is all the same.
Dehydrated Sweet Potato Powder
Prepare:
Prepare your sweet potato as above for making baked sweet potatoes
Allow to cool enough to handle
Scoop out the flesh and whisk well to incorporate
Spread out on non-stick dehydrator sheets or silicone mats.
Dry at 135F for 8-10 hours (or until crisp) in your dehydrator. You may find that you need to flip the bark to finish drying. Simply peel it, gently, and turn over and continue the process.
Allow to cool and double-check for crispness over the whole sheet;
Store:
Choose if you want to store your Dehydrated Sweet Potato Puree in broken sheets or powder form:
► Sheets – Break apart sheets into chunks and store them in an airtight container. It is helpful to vacuum seal if you will be storing it for long term. Grind when ready to use.
► Powder – Powdering helps store in small spaces and allows you to whip up mashed sweet potatoes in a heartbeat or use them as a flour replacement when needed.
See example: Using my powdering dried blackberries example, you can see the grinding process for making sweet potato flour that is suitable for mashed sweet potatoes or flour replacement.
Reconstitute:
To reconstitute, use a 4:1 ratio of water: sweet potato powder and allow it to sit for 20-30 minutes to fully rehydrate.
2 C water to 1/2 C sweet potato powder = 2 C sweet potato puree
How do you use sweet potatoes?
With all of these preservation methods, having sweet potato purees, ready-made baked sweet potatoes, or even sweet potato dishes is just minutes away. What are some of your favorite sweet potato dishes that you could preserve sweet potatoes in the fall to make year-round?
More Sweet Potato Ideas