Make these easy DIY dog chews from dehydrated sweet potato treats to give them healthy snacks with no chemicals added! Want to make easy, homemade, natural & healthy DIY dog chews for your favorite four-legged pal? This easy dehydrating recipe makes a great treat for your best friend!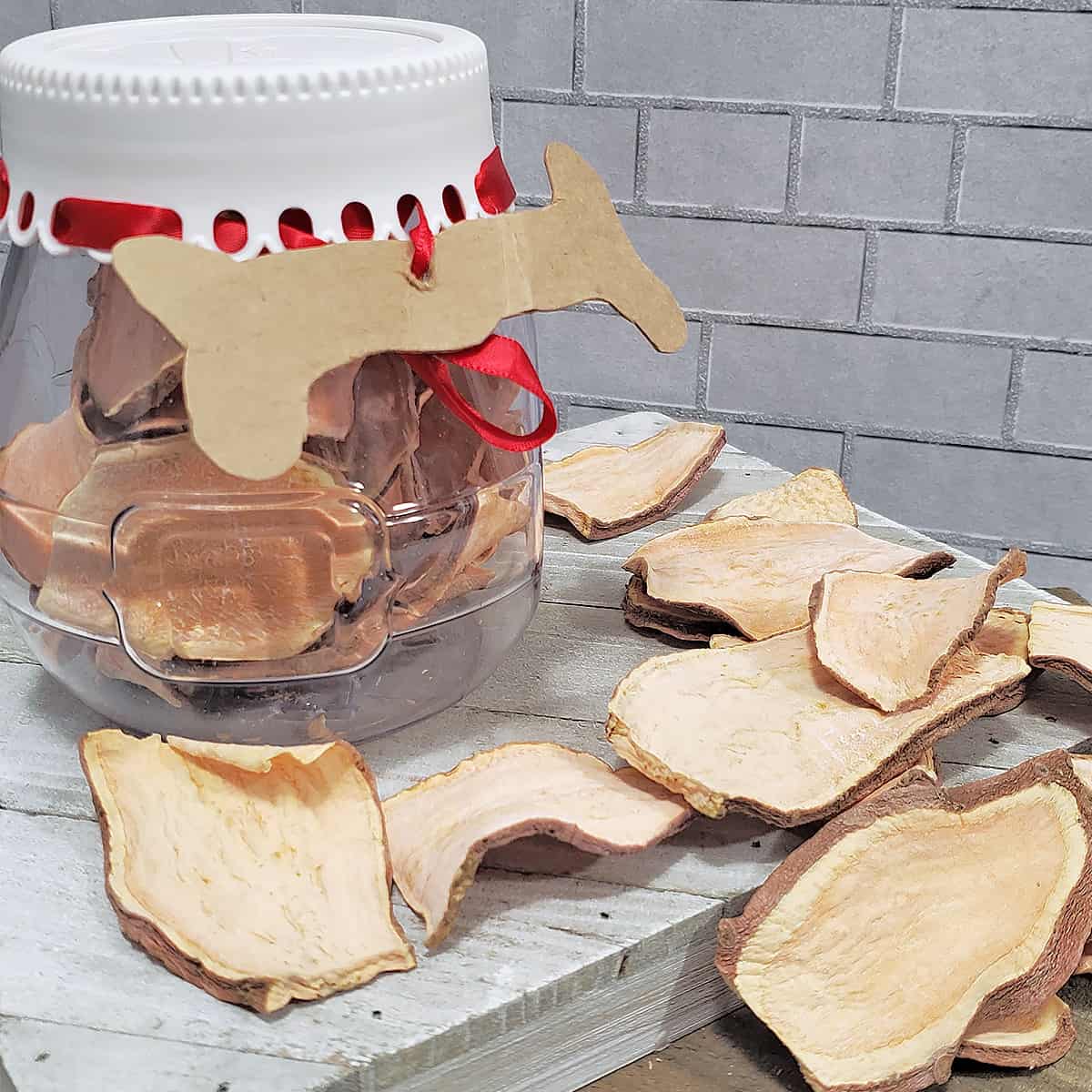 Dehydrated sweet potatoes make the BEST DIY dog chews for your four-legged best buddy! It's an easy overnight project that also makes a perfect house warming gift for friends and new neighbors, a Christmas gift for dog owners and pet parents, and is a healthy treat for your own dogs.
My Dad has the sweetest dog who is an introvert. She is free and wild and loves to run and play as long as it's on her terms. Then she runs and hides under his table, giving us all the stink-eye until she's fully recharged her social batteries.
So I thought I'd make her some sweet doggie treats for the next time I head out to see her.
Let's jump into making them - they are so easy!
How to Make DIY Dog Treats from Sweet Potatoes
Always preheat your dehydrator when you begin to prep your produce, and dehydrate at the appropriate temperatures. Running at 160F doesn't make things dehydrate faster, it just promotes case hardening, which you don't want!

1. Wash Sweet Potatoes
Yes, even for dog treats, you should wash your sweet potatoes. In the act of peeling, you could be introducing bacteria, dirt, and other yucky things into the flesh of your tuber. Even man's best friend deserves clean and healthy DIY dog chews!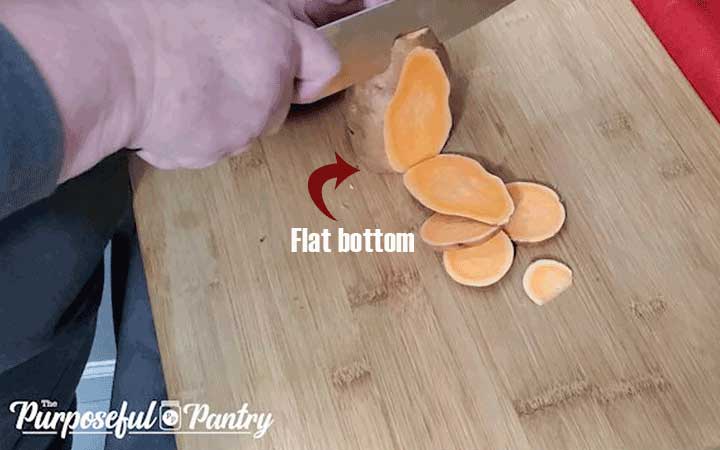 2. Slice into ¼" pieces
Tips for cutting:
If your mandoline can't cut the sweet potato, switch to a knife. Better safe than sorry. Some sweet potatoes are really thick and fibrous. Some are easier to cut through
Cut into rounds, slices, or even strips
You can blanch first to preserve the color, nutrients and texture before dehydrating - 7 minutes
If doing long strips, cut the bottom off a sweet potato first, then stand on end to safely slice into strips.
3. Place on Dehydrator Trays
These shrink a little, so don't stack them super close. You want plenty of airflow to dry them out properly.
4. Dehydrate at 125F / 52 C
Generally, this project takes anywhere from 10-15 hours.
As with all dehydrating projects, time is relative. It will depend on your machine (I recommend this Excalibur Dehydrator from Amazon), the humidity of your home, how thick you cut the slices, and if Mercury is in retrograde 🙂
I recommend throwing these in the dehydrator after dinner so that they're ready the next morning!
When are Dehydrated Sweet Potato Dog Chews done?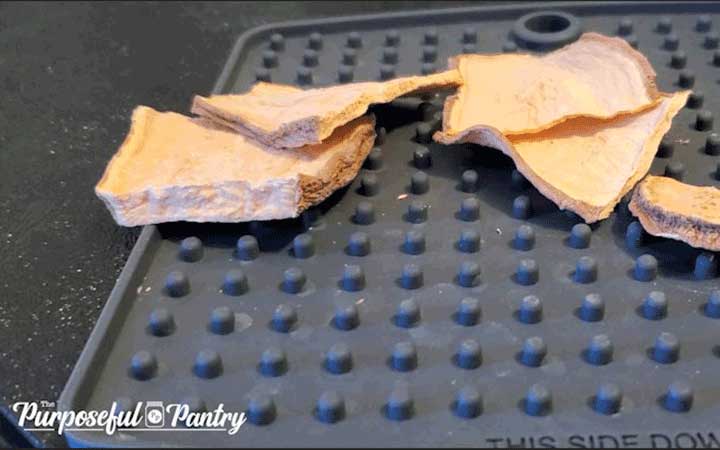 Lay a few pieces out to come to room temperature. You'll know when your dog treats are done when they snap easily, without any give.
Oven directions:
Follow the above directions for preparing
Preheat to 200F.
Place on cookie sheets. You can line with baking paper if you are afraid of them sticking (but they shouldn't).
Bake for three hours then turn over.
Turn off the oven after six hours and allow the residual heat to dry out the sweet potato chips to your desired doneness.
Store as per the instructions below.
Tips for Flavoring Sweet Potato Dog Chews
Sprinkle with turmeric for inflammation
Sprinkle with beef or chicken bouillon
Blanch in a small amount of chicken or beef stock
How to Store DIY Dog Chews
Store fully dried dehydrated sweet potato chews in an airtight container. While a soft leather chew might be preferred (see instructions below) by your dog, storing them this way may cause condensation and mold build-up.
Properly drying and conditioning your treats will ensure a healthy, happy dog!
Next Step: Conditioning
Should I condition my DIY Dog Treats?
As with every dehydrating project, conditioning is an important step many neglect to do. You should condition your sweet potatoes before putting them in storage. You can still give a treat or two to your dog while you're in the process, but don't put them back for storage until you've completed this important task.
Learn more about conditioning!
Tips for Using Dehydrated Dog Treats
If your dog treats are too crumbly, you can set it out on the kitchen counter for an hour or two to make it a little chewier. This gives more of the leathery consistency your pup may be used to.
But don't throw them back into your container after doing this. Tuck it away in a zip-top bag to give in the next day or two. You don't want to reintroduce moisture into your jar.
Watch my DIY video on how to do this and consider subscribing for even more dehydrating projects!
I hope you'll give these DIY dog chews a try and let me know what you think about them. Do you make other dog treats? Share some of your ideas below!
One that you'll actually use is the answer!
I love my Excalibur Dehydrator. It does a ton of food and is a hard worker. However, it does take up a ton of counter space, which is at a premium for many. It runs night and day for weeks during some seasons of our lives. It's easy to clean and maintain, and is a wonderful machine. Keep your eye out and you can often get them under $200.
But any machine that has temperature controls and allows you to dehydrate is great to use.
►READ MORE: Tips for Buying Your First Dehydrator
Sweet Potato Chips for Humans
You can definitely do these for humans, but be sure to slice super thin, blanch first, then add any of your favorite seasonings to it to dry. They won't be crunchy like a potato chip, but will be a good kettle chip / bake chip replacement.
Alternatively, cook and mash your sweet potato, dry at 125F until you have leather, store as leather or powder to recreate mashed sweet potatoes later (mix with enough water to get to the consistency you love).
Dice, blanch and dry for cubes to put into soups and stews. I do recommend soaking if possible before to give them plenty of time to rehydrate, THEN they will still need time to cook in the soup.
Cook until just done (not soft), put in the fridge overnight, slice or dice the next morning to dry and use as needed.
More Dehydrated Dog Treat Ideas