Dehydrate blackberries and extend the harvest season. Save them for snacking, adding to tea or drinks, or to make blackberry powder! Here's how: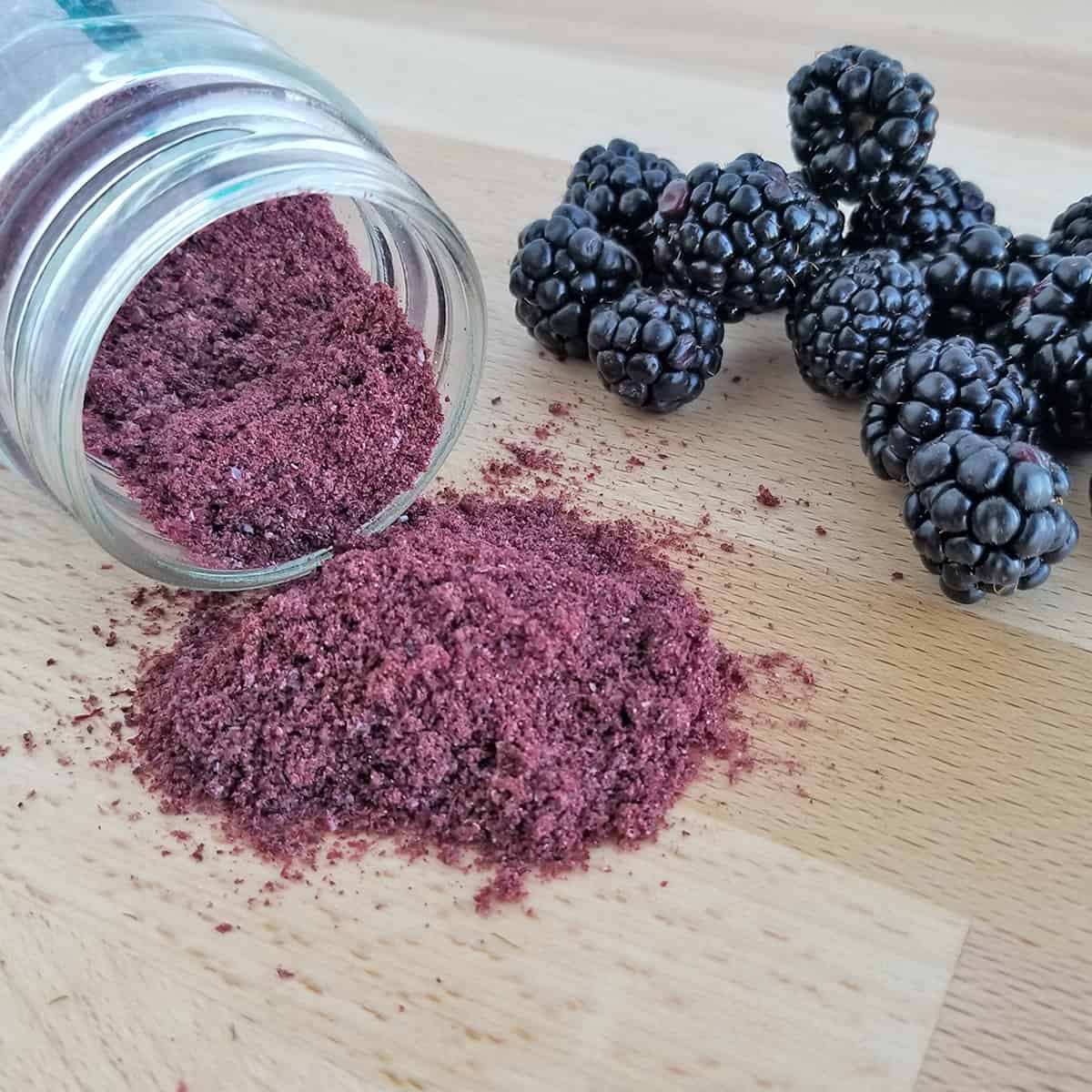 Berries are in peak season during the spring and summer, and one berry that we love the flavor of is blackberries! So when berry season arrives, we stock up!
Four days later, we would toss out. We could never eat what our heart said we wanted quickly enough. The berries would grow beards faster than we could eat them, and out they'd go.
Then, I learned to dehydrate blackberries. We just weren't always happy with the sweet/tart flavor, because once you got through the fleshy fruit, you were left with munching the seeds which could be very bitter. We then switched to snacking on freeze-dried blackberries that are available year-round. I would buy pouches on clearance at the grocery store, or stock up on the large cans from freeze-dried food companies.
The a-ha moment came when I was asked by a freeze-dried food company to taste test a few of their foods and review them. I tried one of their berry powders and thought, "Why can't I do this with my dehydrated fruit?". So the experimentation began, and I found my favorite way to use dehydrated blackberries.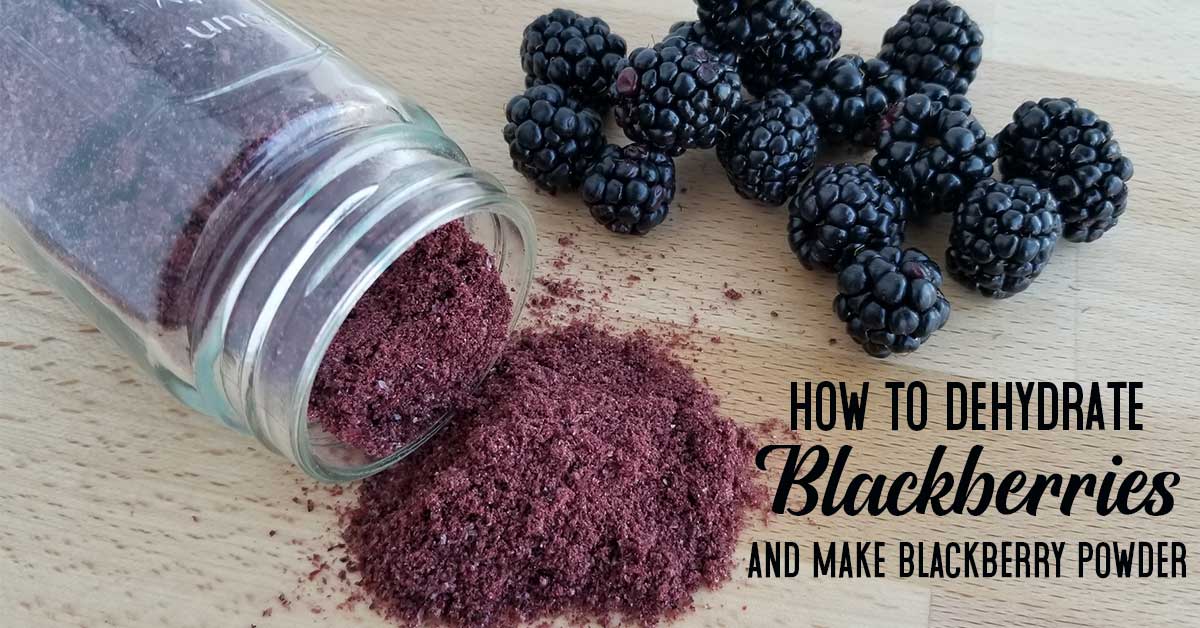 Benefits of Blackberries
According to the USDA blackberries are:
Rich in Vitamins C & K
Are a great source of manganese, and boosts other minerals like copper, magnesium, and zinc
Provide up to 21% of your dietary fiber
Are a good source of folates and niacin
So don't let these little juice bursts of flavor go to waste -- let's walk through the process to learn
HOW TO DEHYDRATE BLACKBERRIES
PREPARING BLACKBERRIES
Soak blackberries - in a 1:3 water to the vinegar solution. I let them soak for five minutes or so to be sure the vinegar gets a chance to really work.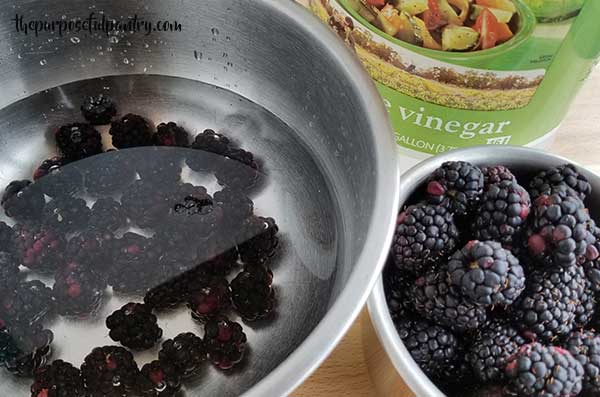 Rinse blackberries - I think rinse the berries in cool water, thoroughly. Be sure to pick out any blackberries that may already have been compromised, or any bits you don't want in your container or dehydrator trays.
Dehydrate Blackberries
1. Lay blackberries out on dehydrator trays
I use an Excalibur dehydrator, but any dehydrator that has temperature controls will work for you. Be sure they don't touch to give them plenty of space to allow good airflow.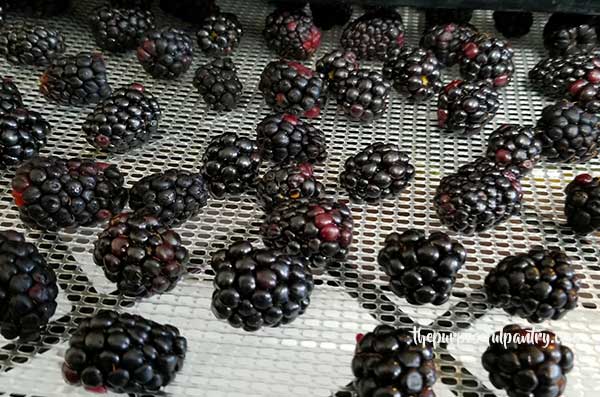 2. Dry Blackberries at 135F / 57C
Set your dehydrator to 135F and prepare to dry for approximately 18-30 hours. It will depend on the plumpness of your blackberries (I tend to cut really big ones down in half), and the humidity levels of your home. This batch took about 28-29 hours for me at 135F.
After 10 hours, my blackberries had begun to look more like raspberries!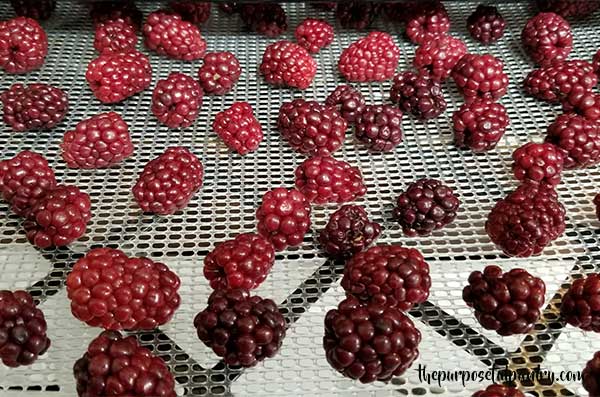 Hitting the 22-hour mark, this is what they begin looking like: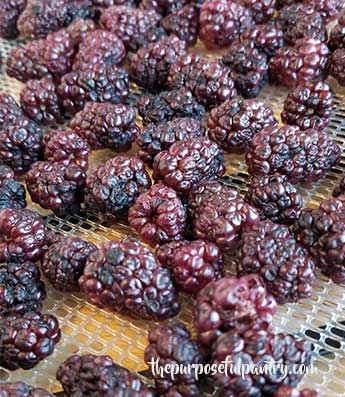 3. Dryness Test
I always make sure that the piece of fruit or herb or any product that I dehydrate is fully cooled before checking for doneness. Many items will firm up even more as they cool down, so I don't want to check and assume they aren't ready simply because they react differently when warm.
Your dehydrated blackberries will shatter and sound like crinkling paper when you rub them between your fingertips.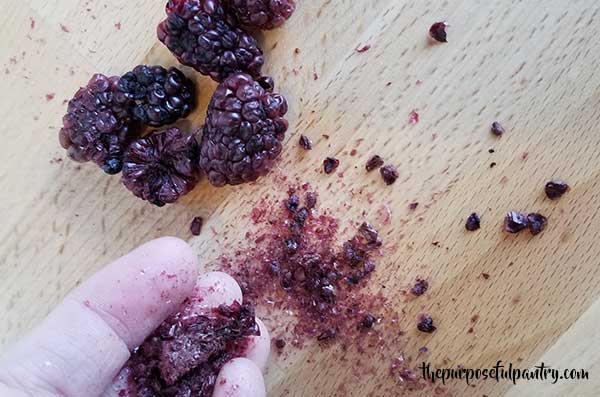 4. Condition. Please don't miss this step. It's the best way to ensure that your foods don't mold while in storage.
5. Store in an airtight container for twelve to eighteen months.
Can I Over Dehydrate Blackberries?
You can never over-dry blackberries, but you can burn them, so be sure not to set them too high as I did recently, and lose a whole batch of blackberries. I just wasn't paying attention, and the smaller blackberries just dried into little rocks that were not useful.
Once dry, and if you are stopping at this point, be sure to condition your blackberries before storing for long-term.
Alternative Way - Puree
Alternatively, you can blend your blackberries up (fresh or frozen), strain that liquid to remove the seeds), then pour your blackberry slurry onto fruit leather trays and dry the fruit leather. It will take much less time, and still give you a great base to start from for the powdering process below.
You might also like: How to Make Homemade Green Powder
How to Store
Because the fruit is fragile, I recommend storing in airtight containers with moisture absorbers included. If you want to store long term, you could add an oxygen absorber equal to the size container you're using. Or you can vacuum seal (see my video here on how to do this). We stored them in smaller mason jars that we could rotate through.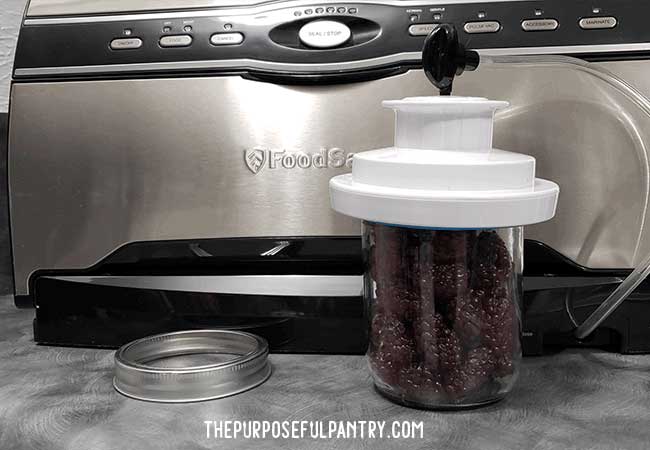 However, we have found, over time, that we just don't like them anymore. So this is what we do with them instead:
HOW TO MAKE BLACKBERRY POWDER
Now that you've learned how to dehydrate blackberries, it's time to take the next step!
Once your blackberries are completely dry, allow them to rest for a little while. They can cool off to room temperature and you can double-check that they are fully dehydrated.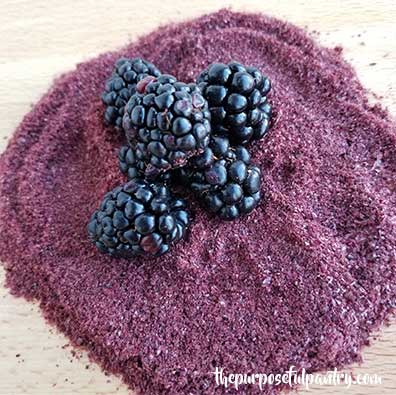 Crush your blackberries
I crush by hand, then run the bits through a fine-mesh strainer. This process is a bit more tedious than using a machine, but sometimes I just like the process.
Place blackberries in a zip-top bag, use a protected surface, and pound the blackberries with a meat tenderizer (but a hammer or mallet will work, too.), or use a rolling pin. Just remember, you want to protect your wood surface or wood rolling pin because blackberry seeds can cause damage with that much force. That's why I prefer something metal and hard.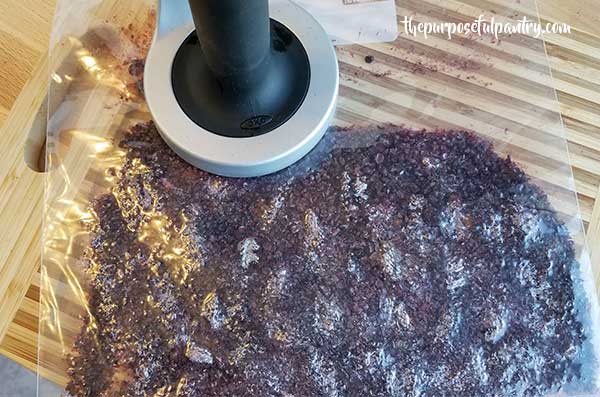 Run your crushed blackberries through a fine-mesh strainer (perhaps like this one). It took a while to work the blackberries through. You'll be left with a few bits of seeds and some rough bits of the inner berry if it had a firm core.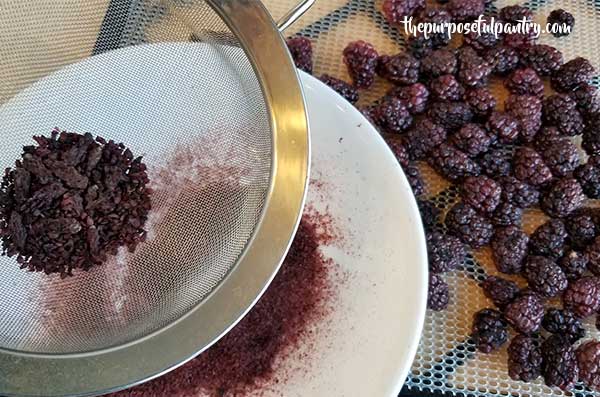 Using a coffee grinder:
On the other hand, you can crush the blackberries using a coffee grinder like the one I use. NOTE - I have changed coffee grinders. This one broke, and when I ordered a new one, the newer model was messy and didn't hold in the powder as well. I've since switched to the Kitchen Aid Coffee Grinder for a much better grind for smaller jobs, and Nutri Ninja Bullet blender for larger jobs. Both are superior in grinding capabilities.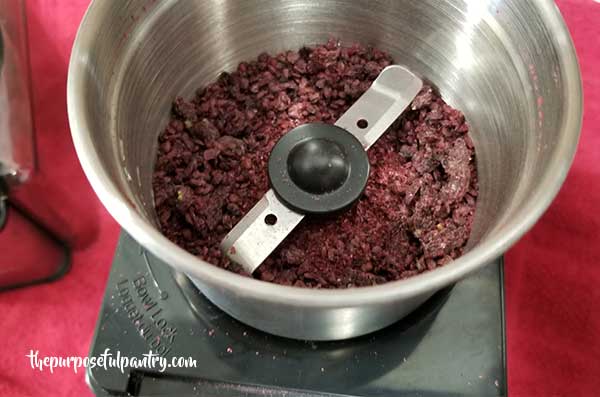 Just a note: I do not use a larger blender to do this work. Blackberry seeds are very hard, and I don't want to damage my blender by nicking the blades or scratching the jar. I also don't want to continue blending so much to get those big pieces that I ruin the powder by blending too much. So I choose to use the smaller coffee grinder that does an excellent job, even though I have to do it in smaller batches.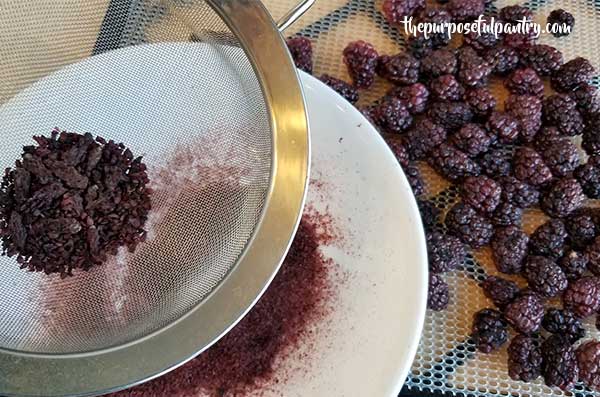 Then run your ground pieces through the sifter / strainer. You want to be sure to get out all of the seed particles! Not only do they make your powder taste bitter, you just don't want to mess with cracking a tooth!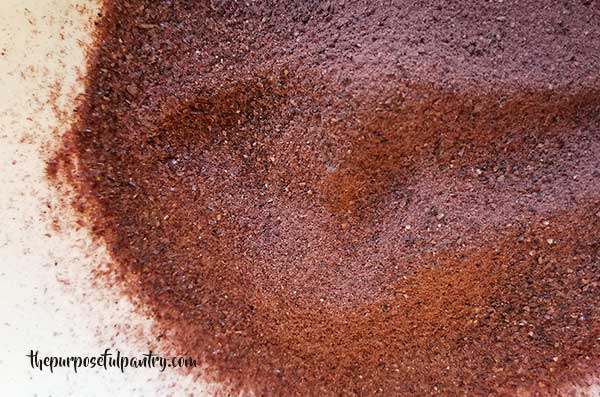 What you are then left with is black gold!

VIEW A QUICK VIDEO ON THE PROCESS
CLICK HERE TO SUBSCRIBE to my YouTube Channel and never miss another awesome how-to; new videos are posted weekly.
TIP: You can place your powder back onto dehydrator trays lined with parchment paper or a silicone mat (see this post about how to create your own liquid dehydrator trays to help powder from blowing out), or simply into a bowl and run in your dehydrator at 115F to dry the powder. It helps ensure that whatever humidity your powder may have absorbed in the grinding process is fully removed before storage.
How to Store Blackberry Powder
Store fruit powders in air-tight containers.
I use these smaller containers that I rotate through to do things like yogurt additives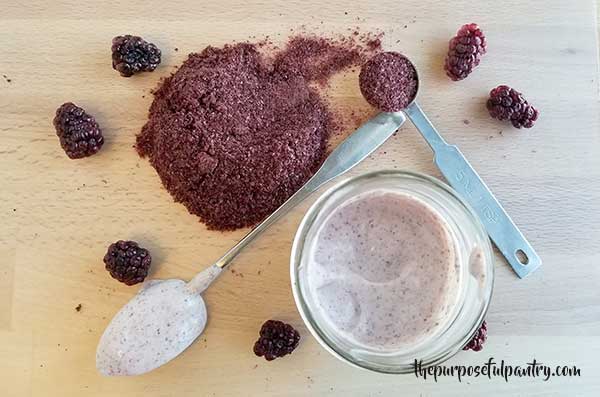 Large Quantities of Blackberry Powder
If I make a larger quantity, I can store that in small mylar bags that have been vacuum-sealed, along with a moisture protector called a desiccant pack - which is silica gel - that helps absorb any moisture that might be in the bag. It is simply a precaution, because your blackberries were fully dehydrated, right?
However, at the time of posting, I didn't have a sufficient quantity to show you how to do it. I simply will put the powder into a zip-top bag along with a desiccant pack, then insert it into a mylar bag, then run through the vacuum sealer to store. The reason I use the zip-top bag is to keep the powder from getting sucked into the vacuum sealer.
Oh, who am I kidding ... it's to keep me from spilling it all over the place 🙂
You can also use resealable mylar bags that you roll to release the air from, much like you might do with a zip-top bag if you don't have a vacuum sealer. It won't be completely vacuum-sealed, but pretty close to it!
CONVERSION OF BLACKBERRIES TO POWDER
I have this graphic for converting Raspberries to Dehydrated Raspberries to Raspberry Powder - you can use it as a guide for Blackberries, too.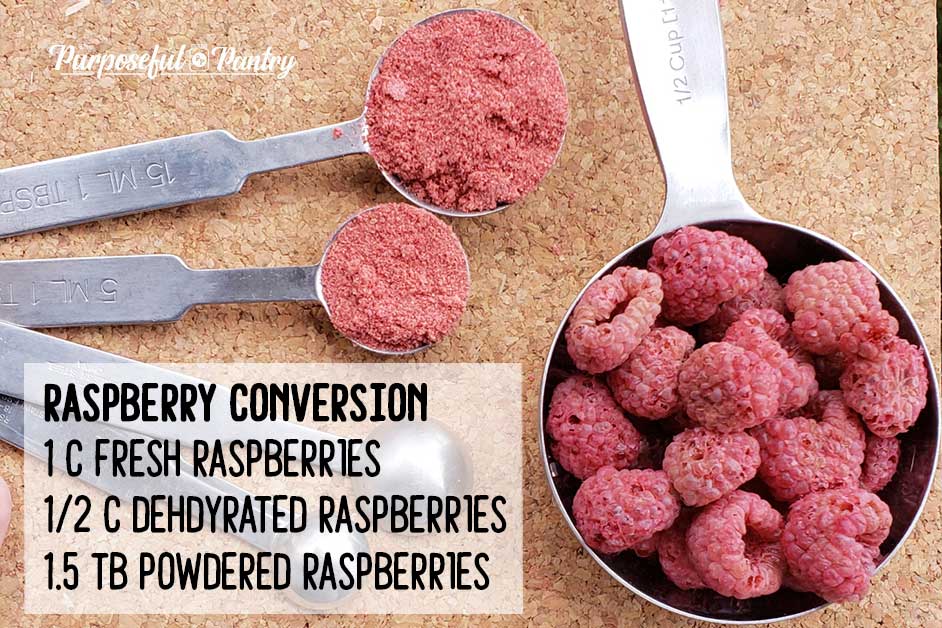 How to Use Blackberry Powder
This powder is really versatile with lots of blackberry flavor without the harsh sugar taste you might get in other baking fruit powders. I can only imagine the powder sugar candy from my childhood!
Add to:
Yogurt
Oatmeal
Frosting/Icing
Homemade Pasta to color
Salad Dressing
Quickbreads, muffins, and PANCAKES!
Sprinkle on cupcakes as dusting
Ice cream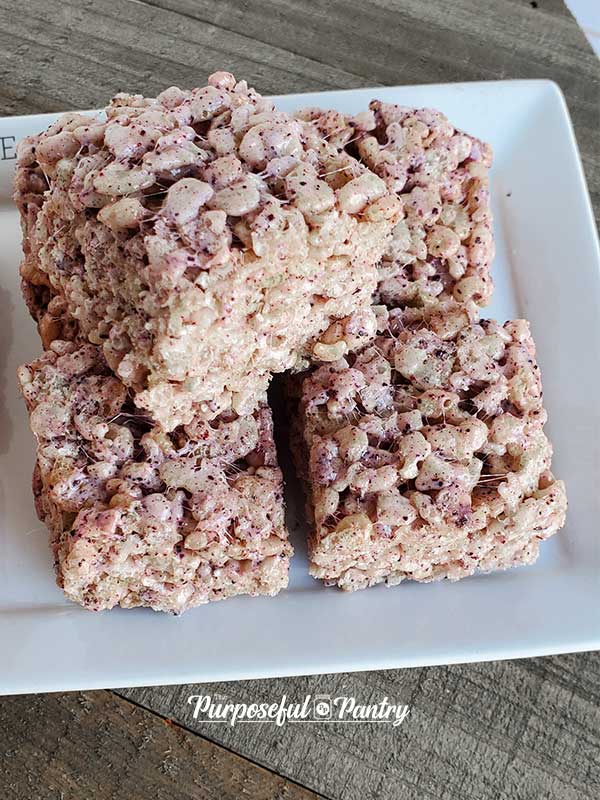 MORE IDEAS ON HOW TO USE FRUIT POWDERS
LEARN ABOUT DRYING FRUITS:
What Dehydrator Should I Use?
One that you'll actually use is the answer!
I love my Excalibur Dehydrator. It does a ton of food and is a hard worker. However, it does take up a ton of counter space, which is at a premium for many. I also use a Cosori Dehydrator that I love because it's so quiet and less expensive!
But any machine that has temperature controls and allows you to dehydrate is great to use.
►READ MORE: Tips for Buying Your First Dehydrator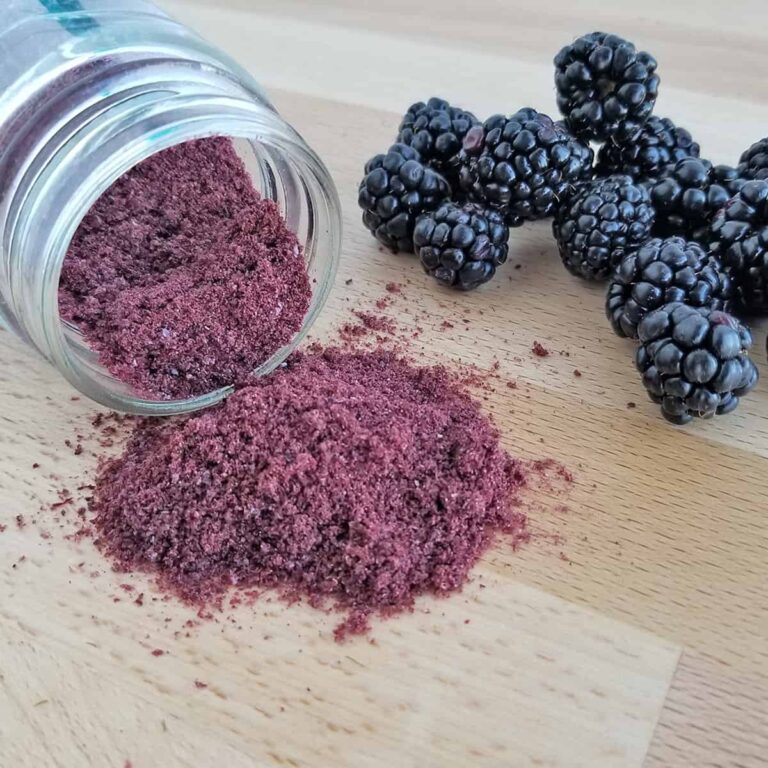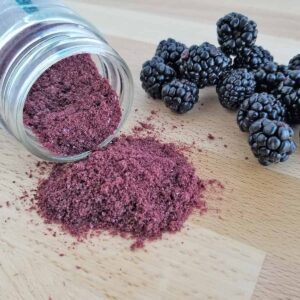 Dehydrate Blackberries & Make Blackberry Powder
How to dehydrate blackberries and make blackberry powder for use in baked goods, yogurt, and so much more!
Print
PIN THIS!
Rate
Instructions
Whole Blackberries
Place on dehydrator trays

Dry at 135°F / 57°C for 24-48 hours

Dry when they paper thin and crush easily
Pureed Blackberries
Blend in a blender or food processor into a puree

Put puree through a sieve or fine mesh strainer to remove seeds

Pour onto fruit leather sheets

Flip the leather over about halfway through the process.

Dry at 140°F for 6-8 hours until brittle
Powder
For Whole: Grind in a bullet blender, run through a fine mesh strainer to remove seeds, store.

For Puree: Grind in a bullet blender and store.
Video
Darcy's Tips
Dried blackberries can be used in oatmeal or baked goods, but are not a great snack on their own.
Puree works best for doing blackberry powder since it cuts the drying time down significantly.
Condition: Place food into a large glass jar, shake once a day for a week to check for any signs of moisture buildup or sticking that isn't released by an easy shake of the jar. If you find signs, put it back into the dehydrator to dry more. 
Storage: Store in an airtight container for up to two years in a dark, cool, dry place.
Condition the powder:
While not mandatory, it can be helpful to put your blackberry powder onto a lined cookie sheet (line it with parchment paper or a fruit leather sheet), put it into a warmed, but turned off oven. (preheat to it's lowest temp, then turn it off). Leave it for about fifteen minutes, then pull it out, let it cool for five, and store. This helps with clumping. Store with a moisture absorber.
Nutrition
Serving:
0.25
cups
|
Calories:
4
kcal
|
Carbohydrates:
1
g
|
Protein:
0.1
g
|
Fat:
0.04
g
|
Saturated Fat:
0.003
g
|
Polyunsaturated Fat:
0.03
g
|
Monounsaturated Fat:
0.01
g
|
Sodium:
0.1
mg
|
Potassium:
15
mg
|
Fiber:
0.5
g
|
Sugar:
0.4
g
|
Vitamin A:
19
IU
|
Vitamin C:
2
mg
|
Calcium:
3
mg
|
Iron:
0.1
mg
Nutritional information is an estimation only. Nutrient information for dehydrated foods is based on fresh. Use ¼ of the servicing size for the same nutrient information. Thus 1 Cup of fresh fruit has the same sugars as ¼ dried.
©ThePurposefulPantry. Photographs and content are copyright protected. Sharing of this recipe's link is both encouraged and appreciated. Copying and/or pasting full recipes to any social media is strictly prohibited.