Here are 10 money-saving tips to help you buy cheap food at the grocery store without all the work!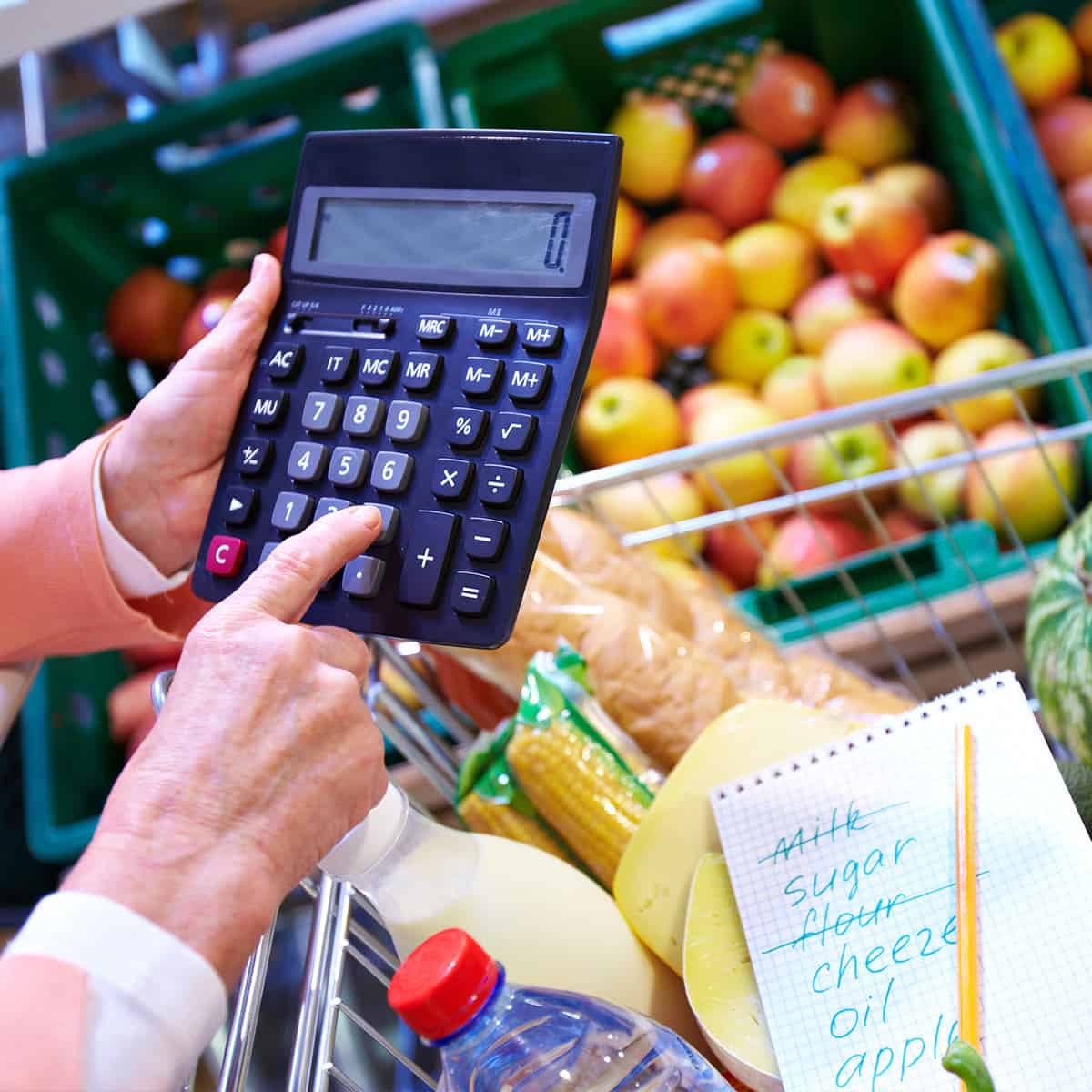 Filling our pantry is hard when your budget is small. You really want to stock up, but prices just never seem at a level when you stock up. That's when you really have to have your eye out for bargain shopping, even in your local grocery store that seems high priced.
These tips will be geared specifically to my experience at Kroger, but you can apply the tips to your store and begin looking for ways to cut your budget, too! I know that Walmart often has marked down meats and bakery items, and other stores offer similar savings. If you don't have time to read through all of the tips, you can jump straight to the video below.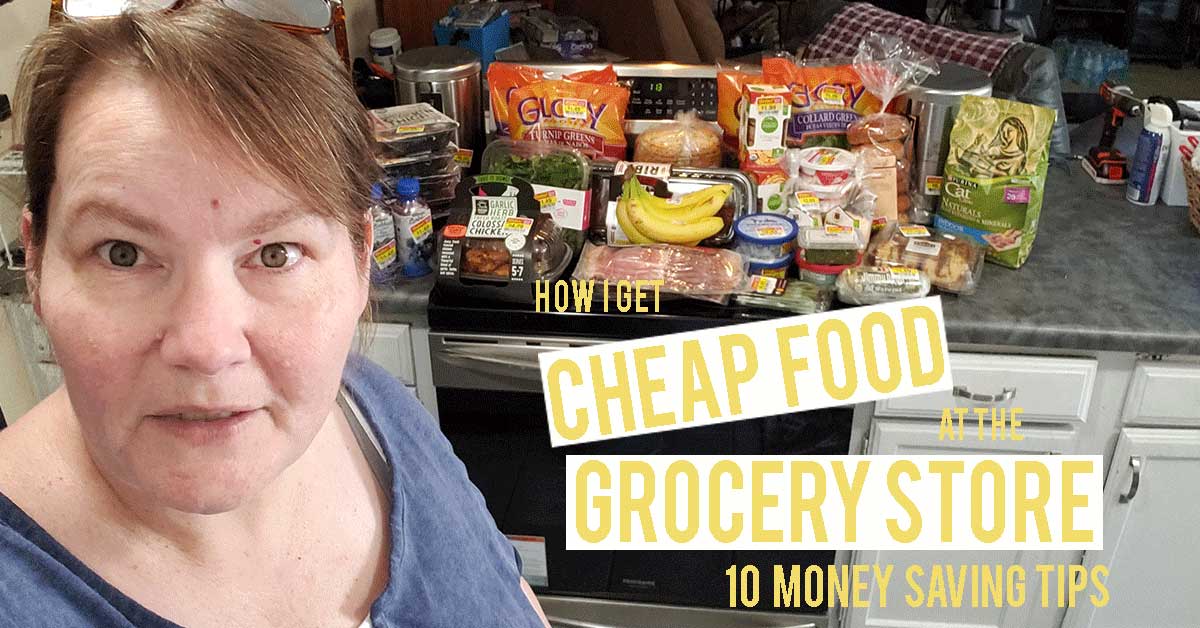 While my title is 'shocking, it's really NOT to be read at face value. I certainly don't advocate filling your pantry with the cheapest food on the planet if by cheap you mean food with little to no nutritional value. What I really mean is stock your pantry with food that doesn't cost a lot - but that title doesn't sound as fun, does it?
Keep in mind that these are savings on top of your typical sales cycles at your store. This is just one more tool in your arsenal to keep prices down while building your quality and your pantry, which is the whole point of a Purposeful Pantry!
After the tips, I'll show you the video of my latest Kroger haul to show you where you can catch these bargains, and apply them to your own situation.
How to Save Money on Groceries
Have a grocery slush fund
Whether your slush fund is a few extra dollars a week or a hundred that you keep tucked in your wallet, work towards having a little extra tucked aside all the time to take advantage of a great stock-up deal at your grocery store.
How I generate a grocery slush fund:
Have a budget, and save any leftover into the slush fund
Any extra money from money-savings apps goes into a slush fund:
Ibotta - I use this app, primarily when shopping Walmart or Target for pickup, to help me save a little each week, and that check goes right into my slush fund. This is like a coupon app that gives you cashback for making certain purchases - and no all of them have to be name-brand foods. I love that I can use Ibotta on my desktop since that's where I shop primarily - so it works on desktop and in an app.
Fetch Rewards - also an app where I shop anywhere (even with emailed receipts), scan the receipts and receive points that I can accumulate to purchase gift cards.

While I can get Walmart gift cards for groceries, I found the best deal is for Amazon. I can purchase some long-term food storage or other foodstuffs I can find on sale there. I do this a lot with the Augason Farms freeze-dried food sales and my Amazon gift card stash from Fetch Rewards.

Use my code 5ME4V when you sign up and get from 2,000 to 4,000 points when you scan your first receipt (depending on what offer they are doing at the moment).
Rakuten (formerly Ebates) Once a quarter I receive a rebate check for shopping online at stores like Walmart, Amazon, etc. That check goes straight into my slush fund every quarter.
Then, when the big sales at your grocery store are at rock-bottom prices (this is when a price book is handy!) or a sales cycle that you want to take advantage of hits, you can use that slush fund to stock up with the lowest prices available.
Hit up all the sections
In my store, there are dedicated clearance areas for dairy, produce, meat, bakery goods, sundry, and the deli, but I find clearance products within each of the departments on the shelves, too.
I generally hit up the clearance sections first, then do a quick modification on my grocery list and meal plan for the week.
Check for close-out prices
Don't look just for the 'woohoo' stickers as our Kroger has, but look for the closeout tags on the shelf. These are products Kroger may no longer be carrying because the manufacturer is changing packaging, not carrying that flavor any longer, discontinuing the product, etc. These can be really great buys, but be sure to check that price label.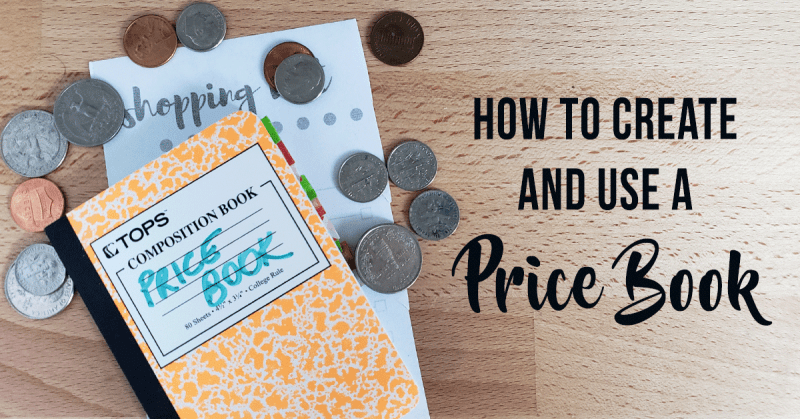 Know your prices
Just because a product is marked at 40% off with a clearance sticker doesn't mean that it is a great stock-up price. Even more so for those close-out stickers. You can get a general idea by going back to the main section of the particular product and price compare, or decide if it's really a price you'd pay for a similar product.
I keep a price book handy to give me an idea of what I pay, in general, for most of the major food purchases I make. I'm not brand specific unless we have a brand we are loyal to. This helps me keep a range in mind of where I'll jump on a clearance item, or if I just buy a few to tide me over.
This practice is for going to be warehouse stores as well. While you may think you're getting better prices, check the price per ounce or the price per serving compared to what you normally get. And don't forget to factor in the cost of the membership, too!
Know your times
Get to know the produce department and the meat department. You can find out when they generally stock, and when they are doing product clean-outs. My store offers bakery items first thing in the morning, and meat fairly early, but produce may not be marked down until mid-morning. You might actually find that your store does them at night when it's slow. It's good to get to know your grocery neighbor's habits!
Some stores also have schedules that they do markdowns only on certain days of the week. It doesn't hurt to ask your department manager or staff when they do schedule them so that you can be ready.
Be Prepared to Deal with the Food Now
The best buy date on many of the clearanced items is probably the day you purchase it, maybe even yesterday. Some foods don't require anything more than being tossed into the freezer or fridge. Some foods may need to be processed for storage now, because they will go bad quickly. So be sure to know what your day holds before you purchase all that meat that needs to be dealt with today.
Shop the Front Pages
Those deals on the front pages of the sales ads for your grocery store are doorbuster prices. Shop those and stock up. They're often bargain pricing, but it's good to consult your price book to know for sure. It may not be the best price they can do, so you can determine if you can wait or not.
If you don't get a circular in the mail or in your paper, you can check the Flipp app for your phone that shows the circulars for all of the stores in your area.
Stack with Coupons for Bigger Savings
Check to see if you have current coupons for those products. You may or may not be able to stack a coupon on a clearance product, but it never hurts to check and save even more!
Your store may use digital coupons, and if you shop at Kroger, be prepared for a store to deny you being able to use coupons on clearance products. They have the right to deny use, but it doesn't hurt to try if it can save a little more!
Use Your Loyalty Cards
With Kroger, the clearance price usually doesn't require you to have your loyalty card, but getting those fuel points on your clearance prices certainly do. Take advantage of every little discount you can get!
Use Money Saving Apps
Make sure to have Ibotta or other money-saving apps ready in case they are offering a discount on the brand you are purchasing. That's more money you can add to your slush fund later!
If you've never used Ibotta, you can sign up through my referral link and earn $5!
App like Flip help you see all the options of the ads for all stores in your area to help you see the best deals in one fell swoop.
Using the apps from your favorite stores for pickup may be less expensive than in store prices, so compare while you shop!
Be Flexible
You may not find much today, but check back tomorrow and there may be a ton. I never try to make clearance part of my regular meal planning or stocking. I look at it as a bonus that I take advantage of when I can.
Don't Overbuy
If your freezer is full, don't walk into your store and purchase a ton of meat that you can't process quickly. That means you're just going to lose money in the end with wasted food. Cheap food is only cheap if you actually use it.
I've found myself in this position several times. I have to admit clearance greens are a real weakness. I've wasted more than a few bags of them when I couldn't get them dehydrated quickly enough. This is how I preserve greens to make green powder.
Change Your Location
You may have always shopped at the same grocery store that's right outside of your neighborhood.
But have you ever thought to drive to another part of town to find other stores to check out?
Stores located in other parts of town may be less expensive based on zip code.
Stores that cater to certain ethnic groups may have less expensive prices on meats or produce than your store
Scratch and dent or salvage-based stores will have very discounted prices
Restaurant supply stores may often have bulk items that beat even the big warehouse stores.
Stores that cater to certain ethnic groups may have less expensive prices on meats or produce than your store
See a Few of My Hauls
You can check out a few of my most recent grocery hauls here.

Share Your Tips
I'd love to hear your money-saving tips to buy cheap food. Please post in the comments those things that help you save money at the grocery store!