Make your own biscotti from stale quickbreads! Learn to give your quick bread and dessert loaves a second life and make your own biscotti with a dehydrator!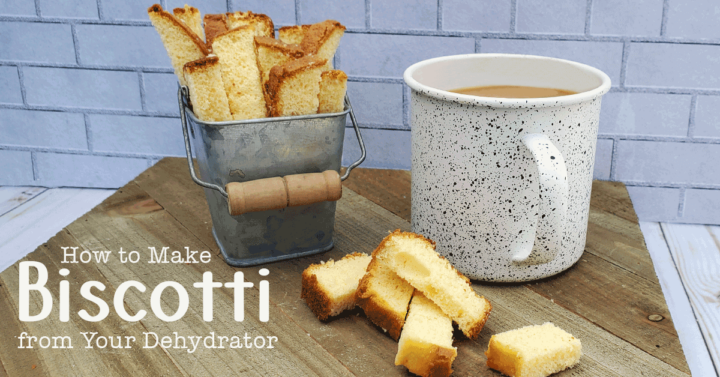 We all know that when making quickbreads, making two loaves is always better than one. But you can't always eat it before it goes bad.
Instead of sticking your quick bread in the freezer, think about creating a delicious treat by making this easy DIY 'Biscotti' that can elevate your afternoon snack or quick treat before bed game!
I'm using a commercially purchased pound cake, (less than $2 as a Kroger clearance find) but you can use ANY quick bread or dessert loaf.
And let me tell you - the end product of this particular loaf tastes like vanilla wafers - SO good!
You can use any quick breads that you make at home. However, because of the amount of fats (oils and eggs) that are in most quick breads, this is not going to be suitable for long-term storage.
Besides...they won't last that long anyway 🙂
To make your own biscotti, you'll need:
Dehydrator (I happen to use the Excalibur dehydrator, but any dehydrator will do)
Knife
Storage jar - assuming you don't eat it all up beforehand.
Quick bread of your choice
Related -- Tips for Buying Your First Dehydrator
How to Make Your Own Biscotti with a Dehydrator
Step 1. Preheat dehydrator to 135°F
Step 2. Slice into 1" segments
Slice quick bread into 1" thick slices, and then into 1" sections.
Step 3: Place on dehydrator trays.
I use this one from Excalibur, but any dehydrator will work!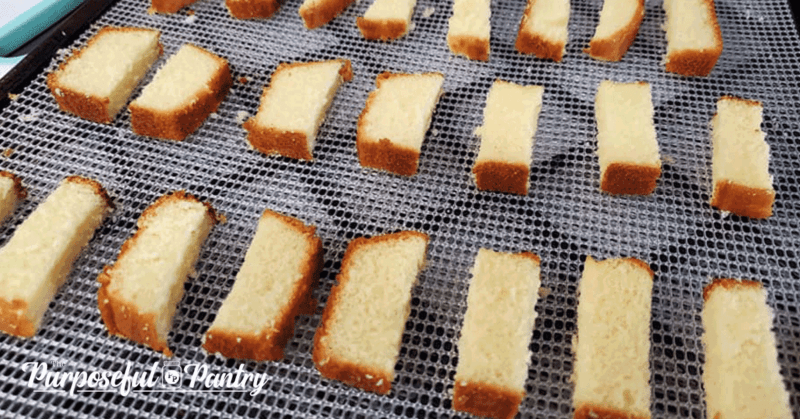 Step 4: Dry at 135°/57°C
Dry for 6-10 hours or until crisp.
How to Store Dehydrated Biscotti
Allow dehydrated biscotti to come to room temperature, and then store in an airtight container appropriate to the volume of food that you have. This means, don't store a few in a large container.
Your biscotti should last 1-2 weeks, but you can put it back on your trays if you find it losing its crunch.
These will be fairly susceptible to ambient moisture, so you can keep a moisture absorber/desiccant pack in the container, or just eat them all really fast!
DIY Biscotti FAQS
Can this be done in the oven?
Sure! Just set your oven to 300°F and bake for 15 min. just until toasted and dried out. You don't want to burn it. You may need a few more minutes depending on how moist your bread is.
Can I use any quick bread?
You can. Of course, depending on fat content and how much moisture is in your quick bread (or how stale you let it get before deciding to try to save it), your time and results may vary. Banana breads, muffins, pound cake, etc. are all good candidates.
Quick bread recipes to try
Can I use store-bought quick breads?
You can. However, the taste and texture may not be quite what the homemade version is depending on the additives and preservatives added to the bread. This particular pound case I used turned quite crumbly and made a mess - but it still tasted like vanilla wafers, so we enjoyed it tremendously!
How long will DIY Biscotti Keep?
Stored in a mason jar or other airtight container, 1-2 weeks. But you'll eat it all before then. If you find that it is getting a little 'stale' again, throw it back into your oven or dehydrator.
I know few of you will ever actually have leftover anything as far as quickbreads go, but hold back a few pieces next time and make your own biscotti with it as a treat!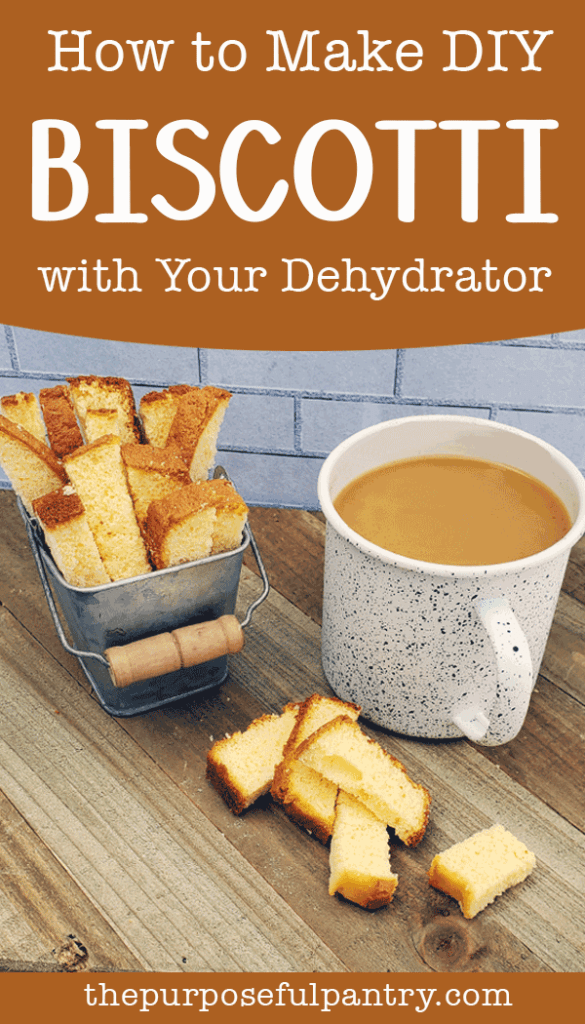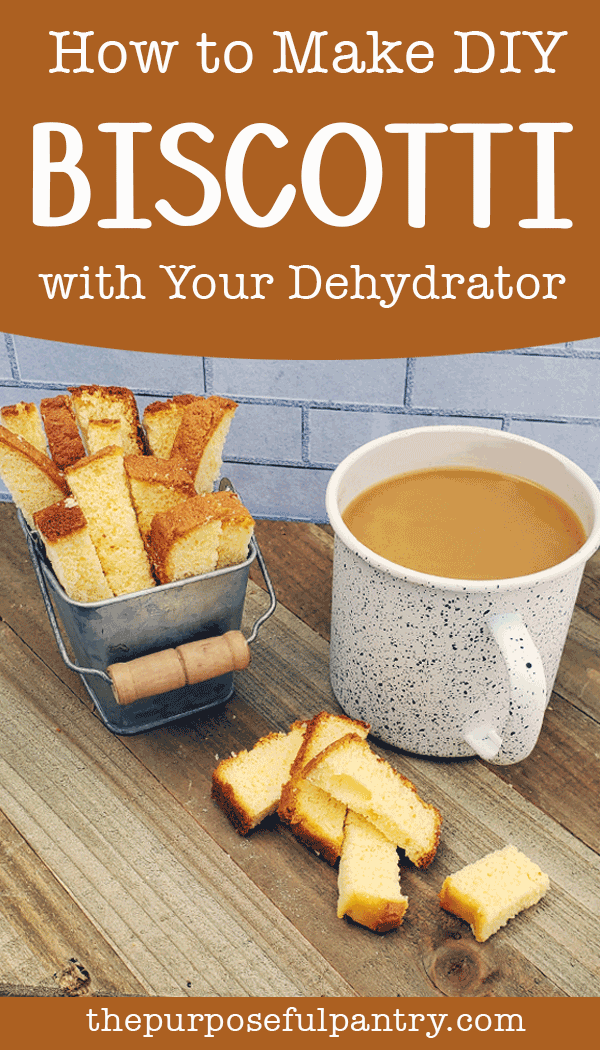 Get Free Printable Worksheet
[mailerlite_form form_id=1]