Best Dehydrators for Food Storage
Do you wonder what the best dehydrator is? Here are some tips to help you with making the decision easier for buying a dehydrator the first time.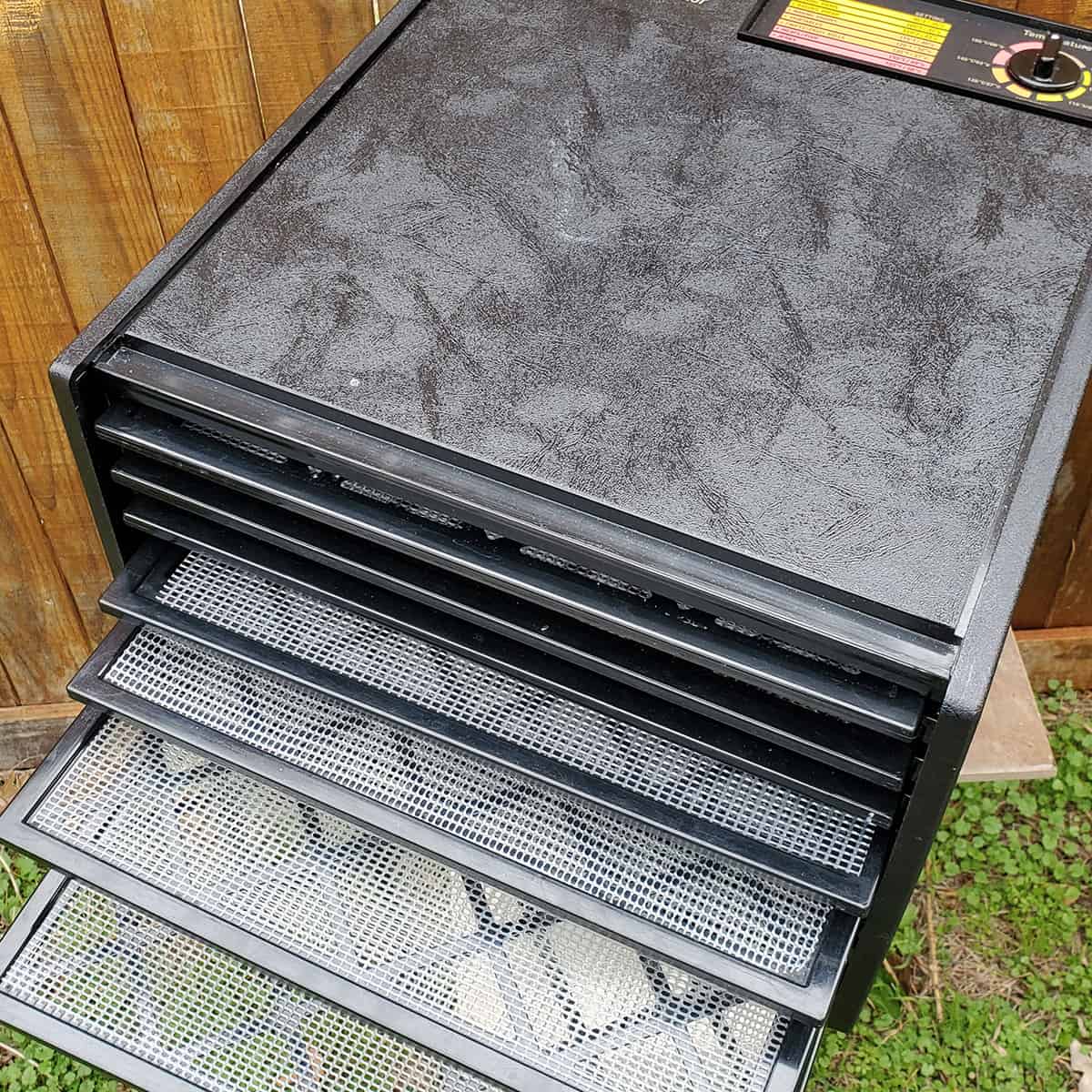 This post may contain affiliate links. As an Amazon Associate, I earn from qualifying purchases. Please read our disclosure policy.
Before jumping into the first dehydrator, do a little research – you'll save yourself a lot of time, frustration, and hopefully a lot of money!
Tips for Buying Your First Dehydrator
Here are some good rules of thumb for purchasing a dehydrator:
Budget
Your budget will be the biggest factor in determining what kind of dehydrator you get.
The price ranges I'll be talking about are under $50 (small budget), $50-100 (mid-range budget), and $100+ (large budget).
Of course, there are some good machines in the lower price ranges. But saving a few more dollars can get you a great machine that will do so much more for you.
But remember…the worst dehydrator is the one you don't get or don't use. You do not have to have a big fancy machine to put up amazing produce for your family for long-term food storage!
Don't be caught up in the need for the biggest and most expensive machine. Be wise with your money – that's more important!
Temperature Adjustment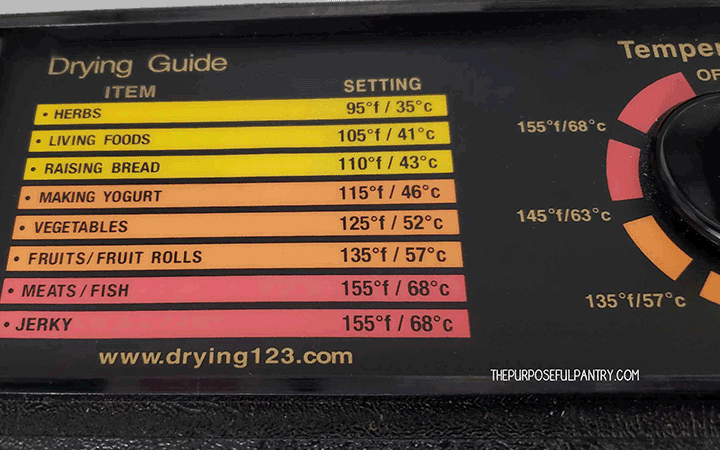 Temperature adjustment is a vital feature of a dehydrator. It allows you to change the temperature for delicate greens, raw foods, all the way to a high enough temperature to make beef jerky safe.
Machines that have a simple on and off switch are usually a single-temperature machine. They are a fixed temperature that may or may not be safe enough to do jerky, so read the manual to find what the fixed temperature is. If you already have a single temp machine you can test your dehydrator to find what its true temperature is.
Machines that have an off, low, medium, and high button tend to stay within the range of the recommended temperatures. You can easily look at their manual online by downloading a .pdf from a quick internet search of the model name and .pdf manual.
Wattage
Get the most you can afford. A 250-watt machine will take too long to dry those things that need longer drying times. It wastes energy and costs you more in electrical costs in the long run. Wattage varies per machine, so make sure to compare wattage as well as price and settle in the space you can afford.
Electrical use: Of course, more wattage means more initial electricity usage, but you'll have to balance that with a lower wattage machine having to run longer for the same results.
You can always get an idea of how to figure electrical use of your dehydrator with this handy guide.
Space
Know the space you have to store your dehydrator when in use and out of use.
Look not only on where you'll use it, but also where you'll store it when not in use. Do you have a spot in the garage you can tuck it? Or a closet where it can stay during those seasons that you're not using it?
It's well known in my dehydrating community that I store and use my Excalibur on my dryer in my laundry closet. It's the only place that I can keep it where it is handy. I use it so often that I want to keep it handy, but I can't afford the counter space because my kitchen is on the small side.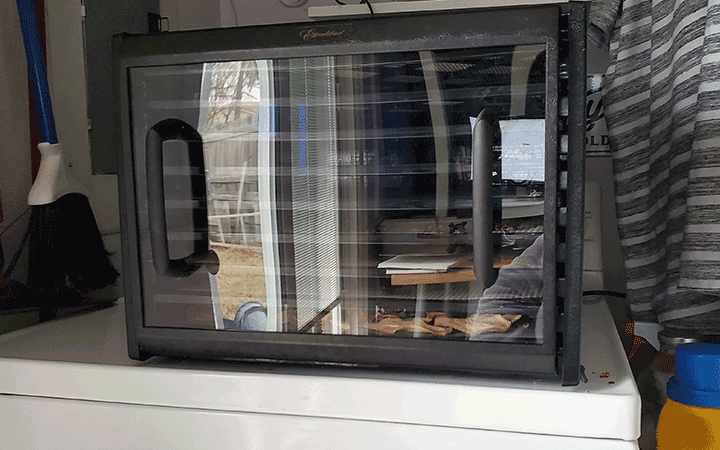 Trays
Skip the 4 or 5 tray machines that you can't add to. You'll lose half those while doing anything like greens as you have to make room. Go for expandable vertical trays or 7+ tray horizontal machines.
Also, think in terms of the trays for the above fan configurations. Trays from vertical fans all have holes in the middle to allow for airflow, which then decreases the amount of space to put produce on.
Construction
One way that the inexpensive machines keep the cost down is to cut back on materials used. The trays are done from a flimsy plastic that can be broken easily when handling the trays. It's usually a clear polycarbonate that will be quite fragile.
Another downside to an inexpensive machine (the under $40 range) is that many of them will have trays that warp from heat.
You want a machine with trays that are made from sturdy plastic or stainless steel, that don't feel they'll crack at the slightest touch.
Stainless vs Plastic – this is a personal preference. The plastics used in most modern dehydrators are BPA-free, but you'll want to do due diligence to read the manufacturer specifics on any machine you want to use. Be sure to look at not only the cabinet construction but the tray construction when making your decision.
A word about California's Proposition 65. In California, a warning label must be placed on any device that MAY contains one of over 900 chemicals in the manufacturing process that may contribute to cancer. While a machine (such as Excalibur) may meet all federal and state safety standards, it is a label that California requires, regardless if the said machine actually does contain those substances. You can read more about it on Excalibur's website.
Machine Fan
There are two fan type:
Horizontal Fan – works from front to back across all trays. Think of the slide-in tray machines like the Excalibur.
Pros: the airflow affects all trays at the same time across the food. Full use of the tray. This is the most efficient form of dehydrating.
Cons: rotation may still be needed for long-drying times with fruits as airflow still concentrates mostly in the middle trays at the back of the machine. Tend to be more expensive and larger.
Vertical Fan – stackable trays with a fan on the top unit or the bottom base unit. There is usually an open channel for upflow created with center holes in each tray.
Pros – many of these can be stacked with additional trays to expand your drying.
Cons – not as efficient as the horizontal trays and need to be rotated during use. Each tray has a hole in the middle to help with airflow, reducing how much you can get on a tray
Ultimately, a good machine that has a strong motor will work for you, regardless. I personally prefer the horizontal fan now that I've used both kinds, as I feel it is a more efficient machine, but your budget might play a larger factor for you and a vertical fan will work just fine!
With the motor comes issues of sound. Learn just how loud a dehydrator can be with this handy guide on dehydrator noise.
Reviews
Don't skip the 5-star and 1-star reviews, especially if they are the majority, but focus on those middle reviews. They tell a better story about the pros and cons of a dehydrator than raving reviews or bad reviews.
Also, ask your friends, or people in your favorite food preserving Facebook groups about what they use and how they like it. Those can be a great way to get real-life reviews from people who are using their dehydrators all of the time.
I also tend to stay away from dehydrator review sites. They're usually marketing sites that are set up specifically to get your affiliate marketing money and nothing more. Most of the time, the owners don't even dehydrate! They're convenient for specs, but I prefer real-world reviews by people who actually use the machines.
Shop for Sales
Look around for a good deal on the dehydrator you want.
Shop thrift stores and charity shops
Scour garage sales
Ask friends if they have one they never use any longer
Facebook Marketplace
Check the manufacturer's websites, or get on their newsletters to be reminded of sales and coupons.
Look for Lightning Deals on Amazon or Woot! These tend to be refurbished or returned models, but are usually certified and hold the same warranty.
Check out box store sales especially around seasonal buying time
Amazon's Warehouse might be a great place to check, too!
Other tips for Buying Used
Borrow from a friend – this can be one of the best ways to try out a dehydrator that you've been looking at to see if it will work for you!
Test a machine – if you are looking at a used machine, ask to plug it in first to see if it actually heats up. Pull out an oven thermometer if you have one handy (because you always carry one in your pocket, don't you?!) and test the temperature in the machine while it runs.
Look for the manual online – you can read and make yourself familiar with how the machine works, and discount it immediately if it won't suit your needs.
Ask for an honest review – ask why the person is selling it, if they ever used it, how it's been stored, how much it's been used.
The Best Dehydrators
These are some of the best dehydrators on the market. I've used many of them, but not all.
My recommendations here are based on my own experience or the collected reviews of machines from my dehydrating community.
Under $50
Presto 06300 (600 watts) While this machine doesn't tick all the boxes of what I consider a great machine, if you're tight on budget, and don't mind that it only has one temperature, this is a good, solid starter machine. But my recommendation is to save a little longer and upgrade your purchase. One temperature isn't great for doing herbs or other delicate foods. Another issue it has is that the fan is on the bottom and things can drip, burning on to the heating element and stinking.
Between $50-$100
Nesco FD-75 (The "Round" one — 600 watts). I use this one now as an overflow machine. The trays can be finicky, and the top-down fan doesn't work as efficiently as a horizontal fan, but it's a good solid machine.
Nesco FD-80A (The 'Square' one — 700 watts)- I used this machine for years and love how sturdy it is and what a workhorse it is. It doesn't get anywhere near as much love as the rest of the dehydrators in this section, but it's my favorite of them.
COSORI CO165-FD (450 watts) I would choose a Nesco over this Cosori, but it is prettier if that matters to you!
Between $100-$170
COSORI Premium Food Dehydrator (600 watts) This is my recommendation for most folks to buy a dehydrator.
SPECIAL DEAL: Use code TPP23 with my affiliate link to Cosori's home company to get this for $to This is an affiliate link and it is to Cosori's home company, Vesync. Optionally, you can purchase the 10-tray Cosori from Amazon if you wish.
Nesco Gardenmaster 075 (1000 watts). This machine is expandable up to 30 trays, is a taskmaster, and is well worth the investment!
Nesco FD-7SSD (600 watts) – a 7-tray stainless steel dehydrator cabinet style. I love this machine works really well as I show in my review of the new Nesco.
LEM Bite series (800 watts) Stainless steel trays, a brand that has been around for a very long time but isn't as well known. They are also available through Home Depot.
Gourmia GFD1950 — can no longer recommend this machine.
Colzer 8 tray — it is on sale often on Amazon, so look for it.
Between $170-250
Watch my Cosori Premium Stainless Steel Dehydrator review here. If you don't see the video, click on the red arrow and it will begin to play here on the page.
Over $250
Best Dehydrators over $400
• Cabela's 160L (24 tray) Dehydrator– the machine for serious dehydrating! If you have a large garden or homestead or want to begin your own farmstand business – this is the way to go!
• Weston Pro – available from Home Depot, 24 trays with a lighted cabinet.
Best Dehydrator for Rv's and Small Spaces
If you live in a tiny space, such as a small apartment, RV, trailer, or tiny house, give the Nesco FD 41B a look. It is a super compact 4 tray, cabinet-style, 400-watt machine that can be tucked away. It's the size of an air fryer, so easy to tuck into a cabinet or on a shelf when not in use.
It has some drawbacks in the lower wattage and trays that don't quite sit solidly in the slides, but its compact size may make all the difference for those of you who don't have space for a bigger machine.
DIY Dehydrator
Of course, if you are a fan of DIY and want to go off-grid, you can always build a solar dehydrator!
And if you can't afford one – use your oven to dehydrate!
Frequently Asked Questions
What is the best dehydrator?
I recommend three machines the most:
• Cosori Premium – quiet, price, and size (not too large)
• Nesco Gardenmaster – price, expandability, power
• Excalibur 3900 – reputation, size (being able to do a lot) -though there are other good options, too.

What Do You Use and Love?
What's your recommendation for a dehydrator someone might like to have? Do you have questions about any of the above dehydrators? Post in the comments below to let me know what you think about your favorite dehydrator!