4 Ways to Preserve Radishes
Preserve radishes in these four ways and never waste a radish again!
Do you have an overabundance of radishes coming from your garden this year? Or do you want to stretch your dinner choices for the vegetables you serve your family? Here are easy ways to preserve radishes and go beyond the boring veggie plate.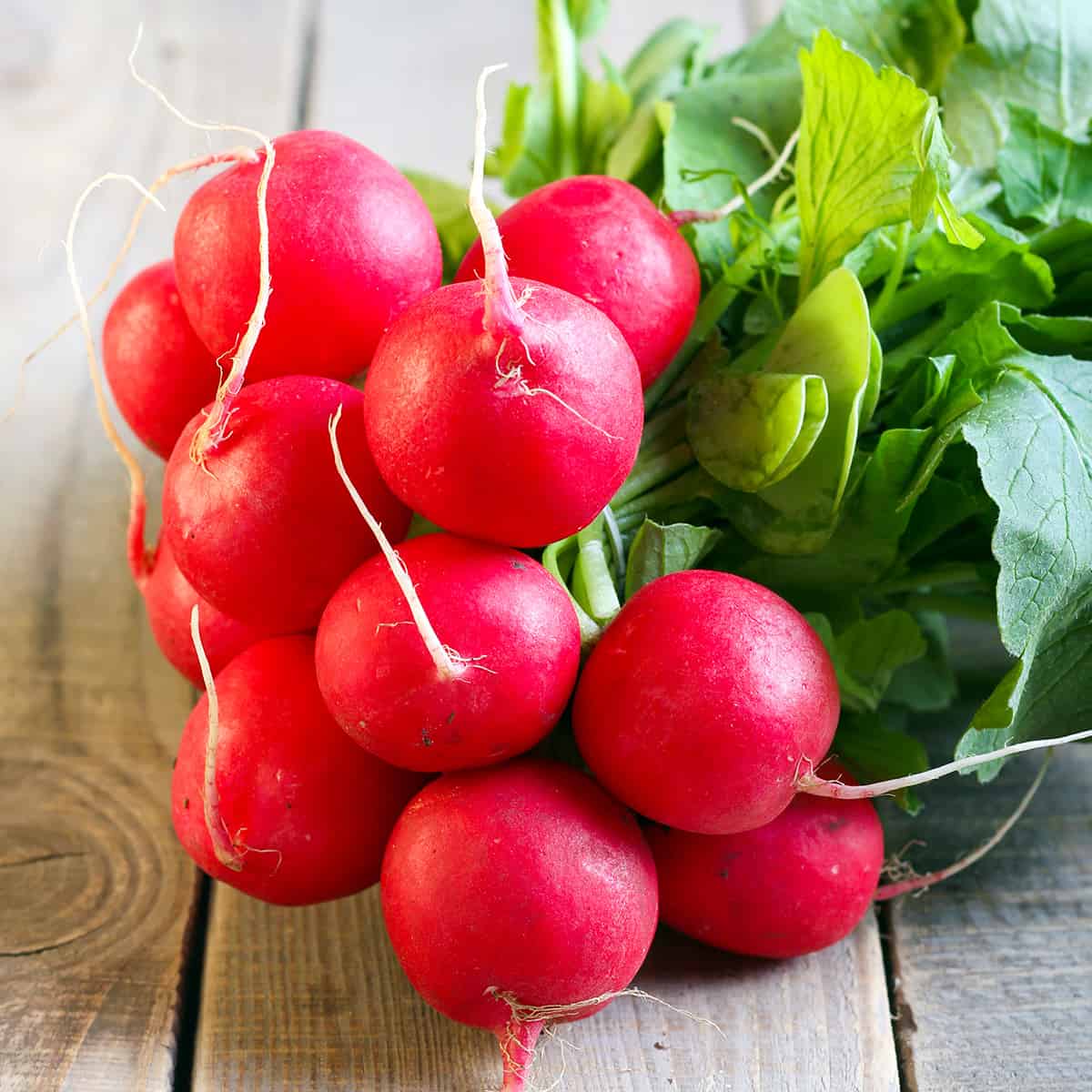 Admit it. You are guilty of using radishes only to put some slivers on a salad or to add to a crudités platter to bulk it up? And you're left with so many extra radishes because you buy a whole bunch and don't use it all?
I was like you. Then I learned that there were new and fascinating ways to enjoy radishes. And because I wanted more radishes in my life, I learned how to preserve radishes to enjoy for more than just salads and boring veggie plates.
I love slicing them fresh to dip in homemade hummus, in stews to replace potatoes, or even roasted on their own as a side dish. I'm learning to love pickled radishes, especially if I make them sweet like my grandmother used to make, and frozen in the freezer lets me have radishes ready for any meal. And best of all, dehydrating radishes lets me use the whole plant, not just the root!
4 Easy Ways to Preserve Radishes
While radishes are fun to eat on their own, sometimes you want a way to use the bounty of the new spring harvest or take advantage of a grocery store sale! Here are some easy ways to preserve radishes.
How to Freeze Radishes
Yes, you can freeze radishes! If you typically purchase bags of radishes in hopes of incorporating into your family's diet, but find yourself throwing it out every few weeks, freezing is a great way to do it!
Cooked or roasted radishes are a great way to replace the need for potatoes if you're trying to cut down on carbs. And freezing them ahead of time makes a quick meal prep idea that will help you out during the week.

Cut tops and roots from radishes – Be sure to save them — radish leaves, tops, and roots can be dehydrated to use other ways.
Wash well I make sure to wash in a large bowl of water to make sure to give them room. Use a vegetable brush to remove all grit and old leaves.
Cut radishes into halves, slices or quarters.
Blanch for 2-3 minutes – Blanching helps slow down the enzymatic process to save the plant tissue and keep the color vibrant.
Place into an ice bath
Flash Freeze
Package for long-term freezing. Either in containers or zipper top bags or vacuum seal bags. Whatever works best for your freezer space.
Place your radish pieces on cookie sheets and store in the freezer for at least six hours.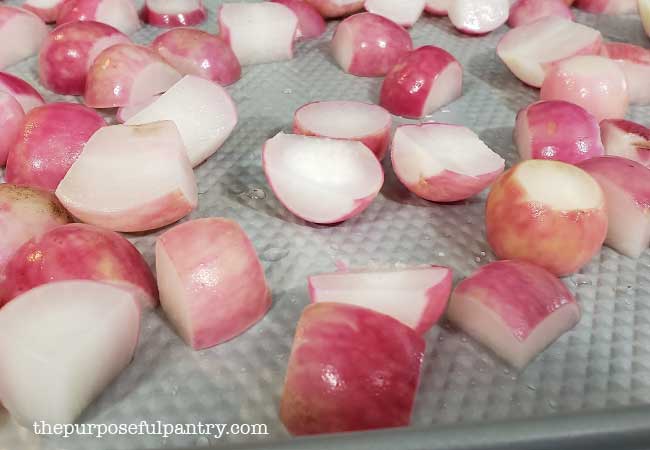 If you can tell, the radish pieces have a translucent look to them. They aren't fully cooked, but just enough. They'll cook through fully once put into your dish.
TIP Alternatively, you can roast them and freeze them, as well!
How to Pickle Radishes
Quick Pickled Refrigerator Radishes are a great way to extend the life of your radishes, even if you aren't a canner. When I would go to visit in the summers, we'd make a batch at the first of the week and eat them all week long.
Ingredients:
1 pound of freshly washed and sliced radishes (an average bunch from the grocery store)
1 small onion, slivered (optional)
1/2 Cup Vinegar
1/2 Cup Filtered Water
1 1/2 teaspoons sea salt (I prefer the Real Salt brand)
1 Tablespoon granulated sugar
Directions:
Make a brine with the water, vinegar, sugar, and salt.
Pack a clean and dry mason jar with sliced radishes and onion slices.
Pour brine into jar.
Refrigerate and store for up to two weeks.
* Canning radishes isn't recommended as the radishes will become mushy.
You can use these on burgers in place of pickles or as a refreshing side dish.
How to Ferment Garlicky Radishes
Fermenting allows the process of the bacterial build-up to ferment the radishes (lactic acid), making them good for your gut and quite tasty! This is also known as lacto-fermenting. While this doesn't make your radishes shelf-stable for long-term, it does extend the storage capability of your radishes for up to two months.
Ingredients
4 Cups of filtered water
2 Tablespoons of sea salt. I prefer the Real Salt brand.
2 pounds of fresh radishes, washed and sliced
1 Quart Wide Mouth Mason Jar
6 cloves of garlic (more or less to your taste)
Directions:
Create a brine by mixing water and salt, stirring until salt is fully dissolved.
Add radishes and garlic to a sterile, quart, wide-mouth mason jar, along with the garlic cloves.
Fill a jar with brine, leaving 1 inch of headspace (usually to the neck of the jar).
Add a glass weight to keep radishes submerged below the brine if necessary.
Cover with an airlock lid. This lid allows the jars to release carbon dioxide automatically (meaning you don't have to babysit and burp them!)
Set on the counter for 3-7 days – the longer you allow it to steep, the more intense the flavor is. The brine will turn cloudy after a few days.
Once radishes come to the flavor you like, store in the refrigerator for up to two months. Be sure to replace the airlock lid with a regular mason jar lid.
If you are more comfortable buying a fermenting kit to get started, this one contains jars, lids, and pump to burp your jars a few times a day.
Would you like to see a more detailed tutorial on how to ferment radishes? Living Traditions on Youtube has a great recipe for Fermented Dill Radishes.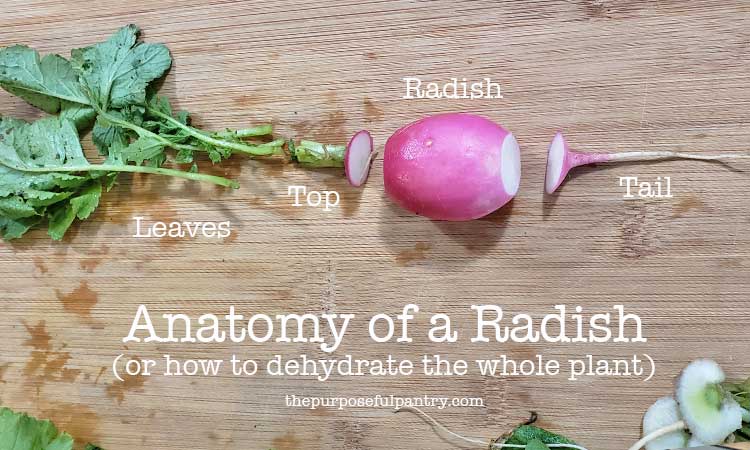 To see a detailed example of using ALL the parts of a radish for creating vegetable powders, green powders and chips for snacking, read How to Dehydrate Radishes.
Cut leaves from radish root. Don't toss them! You can do more with them.
Wash radish thoroughly. You can use a vegetable brush for the radish to remove any debris and clean the skin.
Slice the stem and root from the radish and set aside to use later by composting or dehydrating.
Use a mandoline (please make sure to use a protective glove, even if your mandoline has a guard that can accommodate a small radish), and slice radishes into 1/4″ or 1/6″ slices.
Place evenly on dehydrator trays.
Dehydrate at 125F for 2-4 hours.
Cool and test for doneness. Crisp radish coins are what you want.
Store in airtight containers.
What do you think?
So, which version is your favorite way to preserve radishes? Do you have other ways you like to preserve radishes? Let us know in the comments below!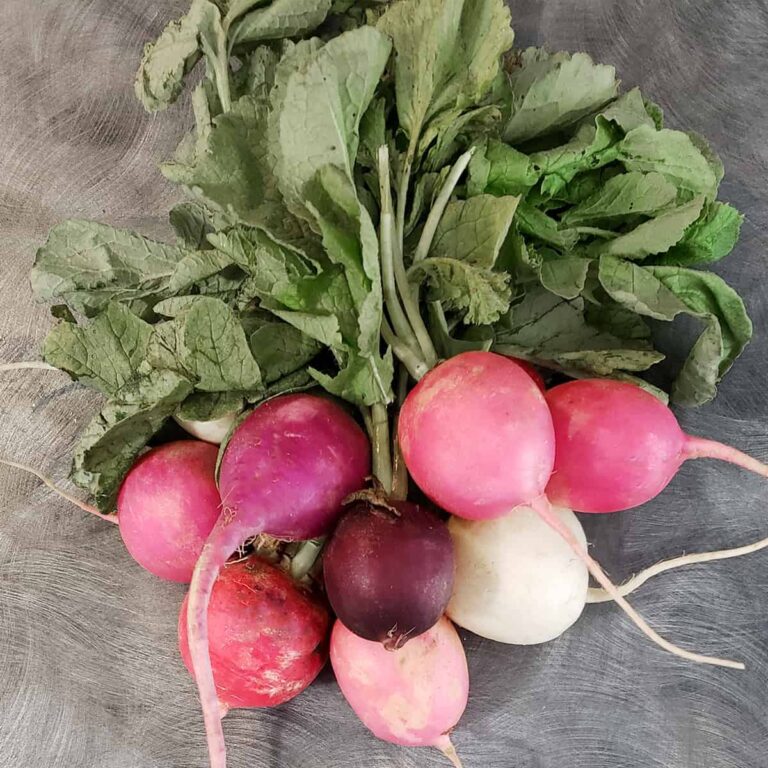 Pickled Radishes
How to preserve radishes by pickling them for later!
Print
PIN THIS!
Rate
Instructions
Make a brine with the water, vinegar, sugar, and salt.

Pack a clean and dry mason jar with sliced radishes and onion slices.

Pour brine into jar.

Refrigerate and store for up to two weeks.
Nutrition
Serving:
0.25
cups
|
Calories:
93
kcal
|
Carbohydrates:
19
g
|
Protein:
2
g
|
Fat:
0.3
g
|
Saturated Fat:
0.1
g
|
Polyunsaturated Fat:
0.1
g
|
Monounsaturated Fat:
0.04
g
|
Sodium:
1839
mg
|
Potassium:
610
mg
|
Fiber:
5
g
|
Sugar:
13
g
|
Vitamin A:
17
IU
|
Vitamin C:
38
mg
|
Calcium:
76
mg
|
Iron:
1
mg
Nutritional information is an estimation only. Nutrient information for dehydrated foods is based on fresh. Use 1/4 of the servicing size for the same nutrient information. Thus 1 Cup of fresh fruit has the same sugars as 1/4 dried.
©ThePurposefulPantry. Photographs and content are copyright protected. Sharing of this recipe's link is both encouraged and appreciated. Copying and/or pasting full recipes to any social media is strictly prohibited.