Do you hate the waste of cutting up radishes for a summer salad or veggie plate? Did you know that you can preserve the whole plant, and not throw away the leaves, stems, and roots? Learn about all the ways to dehydrate radishes and not waste a bit of the plant!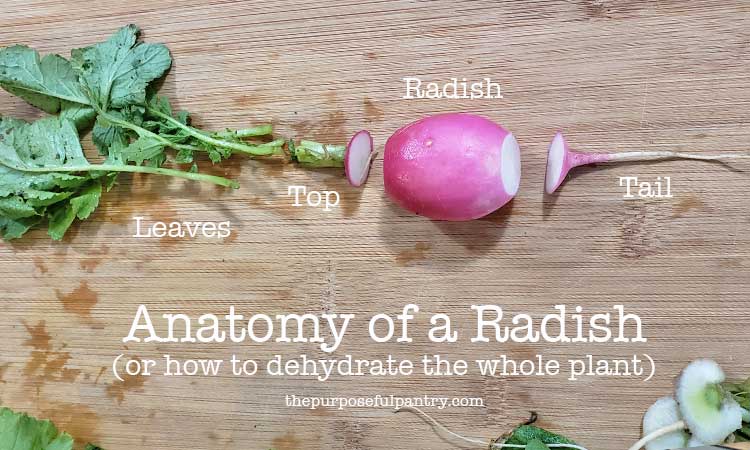 Radish bunches are so cute, aren't they? The perfect little photo of the goodness of the garden. But when we throw out ⅔ of their goodness - we're wasting so much!
Many Ways to Dehydrate Radishes
Radish chips as snacks
Radish dice as a quick throw into a casserole or soup
Radish leaves for flavored green snacks
Radish leaves for green powder
Tops and tails (the cut stem and root tail) for veggie powder
Of course, there are other ways to preserve radishes that you may not have thought of, but dehydrating allows you to make use of the whole plant, and not waste a thing!
So, let's get into the process of dehydrating the whole plant, not just eating a radish as a side thought on top of a salad.
How to Dehydrate Radishes
Quick Instructions: Dehydrate at 125F for 4-6 hours or until done. Store in an airtight container
Before you get started, preparing a radish for dehydrating is a necessity, especially with store-bought varieties. They are grown in a sandy medium that gets everywhere.
Always preheat your dehydrator when you begin to prep your produce, and dehydrate at the appropriate temperatures. Running at 160F doesn't make things dehydrate faster, it just promotes case hardening, which you don't want!
In the case of herbs, it actually depletes the herb of its vital nutrients.
1. Cut leaves from radish root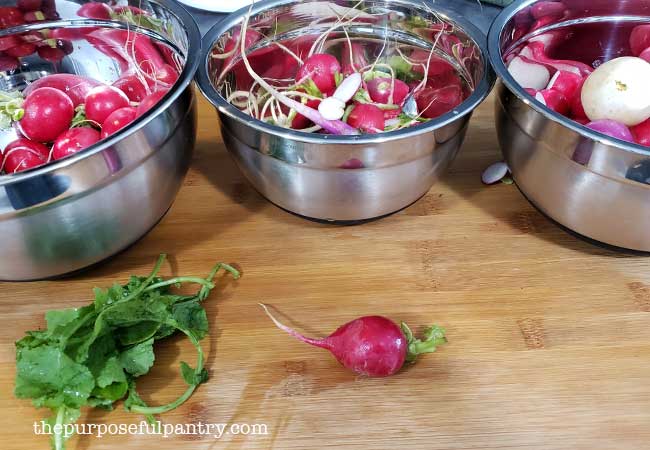 2. Wash radish thoroughly.
You can use a vegetable brush for the radish to remove any debris and clean the skin.
3. Slice the stem and root from the radish
Make sure to set these aside to dehydrate later. Directions below.
4. Slice Radish Into Coins
You can cut with a knife or use a mandoline like this OXO Good Grips Mandoline like I use (LOVE IT!). But please make sure to use a protective cut-resistant glove with a mandoline - even if you can use the guard. It's too easy to cut a tip of your finger off.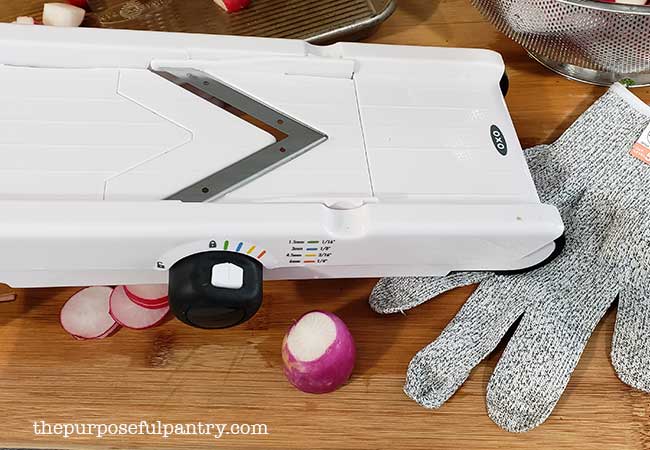 Slice radishes into ¼" or ⅙" slices. I prefer the thinner to make crispier snacks.
5. Place on dehydrator trays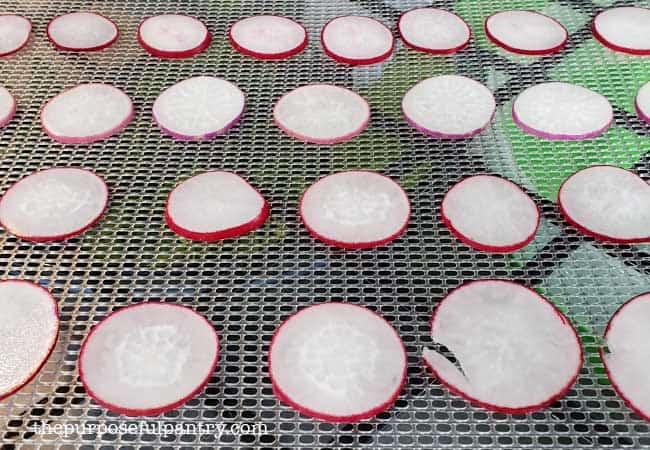 You don't have to be so precise as this, but make sure you give a little space between each coin. They will shrink up a lot, but you don't want them touching in the beginning. You need good airflow.

6. Dehydrate at 125F for 2-4 hours
7. Cool and test
8. Store in airtight containers
Airtight containers are important because zip-top plastic storage bags are not airtight. They do allow air to permeate not only through the plastic, eventually, but through the zipper top. For short term storage of most foods, they are fine. But for dehydrated products, it's important to keep all moisture out, so don't rely on them. Within a day or two, you'll find your dehydrated radish coins getting chewy or soft. You can rehydrate, but that's a real waste.
Sweet and Spicy Radish Coins
Ingredients
1.5 Tablespoon Cinnamon
1.5 Tablespoon Sugar
1 tsp Chili Powder (use more if you like spicier)
1 pound of radish coins (approximately 1 bunch from the store)
Directions:
Mix cinnamon, sugar, and chili together
Toss radish coins in a bowl with seasoning powder
Dehydrate as per instructions above, flipping once midway through
Cool and test for doneness
Consume immediately or store in an airtight container. We have found, that because of the sugar content, these don't store well for long. So they're consumed within a day or so.
*Note, I usually make these when I'm dehydrating other vegetables since we don't make an entire dehydrator full. But I do keep them on the bottom tray, just in case any of the mixture drops off as the radishes dry.
How to Dehydrate Radish Leaves
1. Wash leaves thoroughly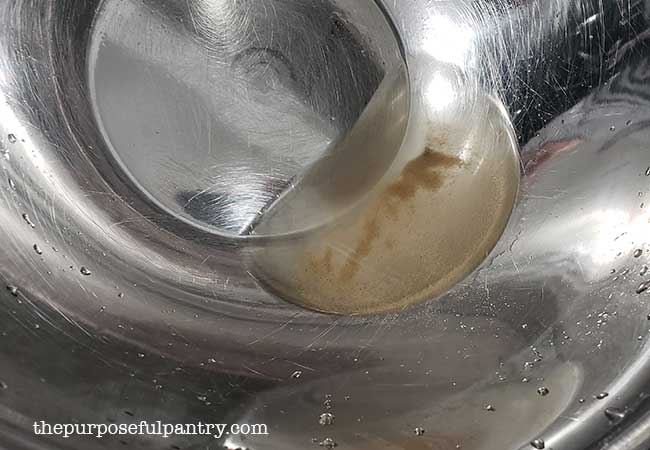 Here's why. Store-bought radishes are grown in a sandy medium that gets into EVERYTHING. Be sure to soak them for a little while, then do a double rinse to make sure. It's kind of like going to the beach. Just when you think you've rinsed everywhere...grit sets in and is uncomfortable. Double rinse.
2. Allow to dry
Since the leaves can hold a lot of residual moisture after washing, be sure to allow them to dry. The following methods work well:
Pat with a towel
Lay leaves on a tea towel to air dry while you prepare rest of the radishes
Use a salad spinner for a quick and thorough drying. I use this collapsible salad spinner by Prepworks, but be sure to collapse and expand each piece. Don't try to do them together.
3. Layout on trays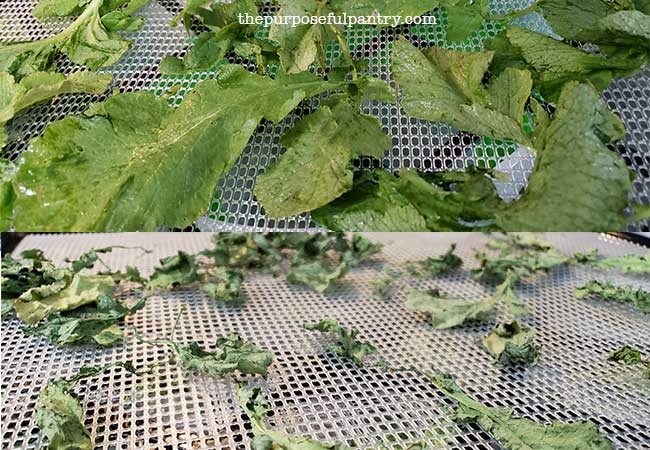 4. Dehydrate at 95F for 2-6 hours.
You can dehydrate at 125F as with any vegetable, I tend to do my greens lower to preserve as much of the nutrients as possible.
5. Cool and Test
Crisp leaves that crumble at the touch is what you're looking for
6. Grind into a powder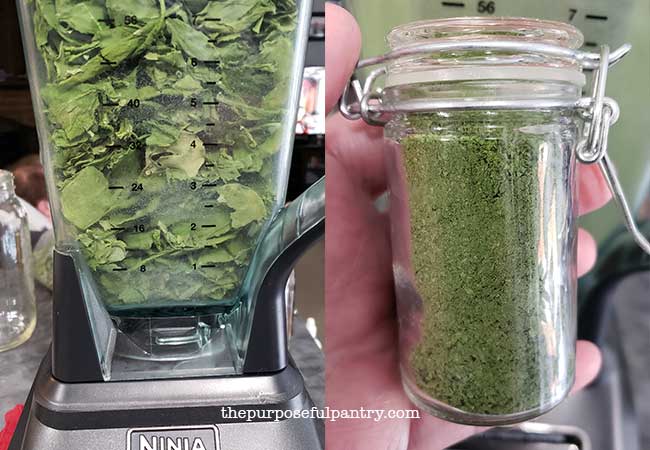 A note This is approximately 5 bunches of radish leaves (grocery store bunches). It filled my Ninja Blender jar stuffed, and gave me approximately 1.5 Cups of powder. Some I kept in a smaller airtight container on its own, and the rest I mixed with my latest batch of dehydrated green powder. I must make sure to label this jar so I'll be able to distinguish it from green powder and carrot top powder and kale powder, etc.
7. Store in an airtight container
Powder will keep for up to a year in an airtight container if stored in a dark cool place.
8. Cheesy Radish Leaf Snacks
If you have nice perky leaves from your garden (I have a hard time being able to get those from grocery store bunches that have been mauled)
Wash leaves well
Spray with a little oil. I recommend this spray avocado oil because it doesn't contain bad propellants and is a good neutral spray)
Sprinkle on some nutritional yeast
Dehydrate for 3-5 hours until crisp.
Enjoy immediately.
How to Dehydrate Radish Tops and Tails
The tops and tails of radishes (the stem and root portion) make a great addition to vegetable powder. I dedicate a tray just to them in my dehydrator as they can take a little longer to dry. Once done, pop them into a blender or grinder and grind away to make vegetable powder. You can keep it separate or add it to a vegetable powder mixture you already have.
Wash carefully
Dry Excess moisture
Cut any larger tops in half
Lay on dehydrator trays
Dehydrate at 125F for 6-8 hours
Cool and check for doneness
Powder in a blender or grinder
Store in an airtight container
Notes:
I find that they take longer to dehydrate because of the mass at the point the greens meet the bulb. There's more density there to get through, which is why I suggest cutting larger or thicker pieces in half for more surface area.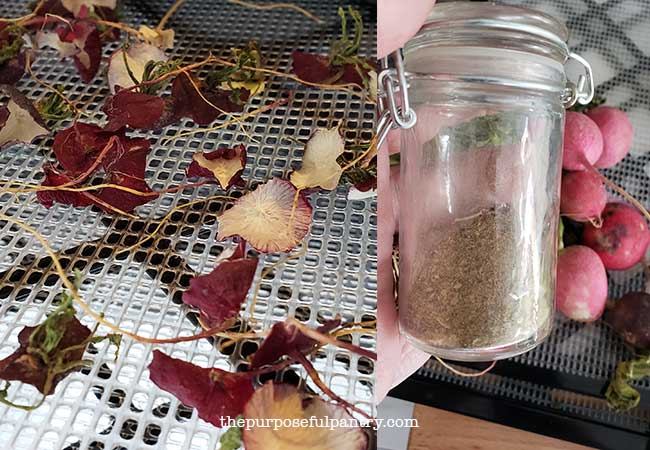 If I am using my large Ninja blender to powder a smaller amount of dehydrated produce that I will mix into a generic powder anyway, I'll add a little of that powder to the blender while grinding. It helps increase the volume, which makes the blender work better. Then if I feel it needs a little more, I'll switch to my Cuisinart coffee grinder to grind is in smaller amounts to finish it off. The above powder is ¾ radishes + ¼ dehydrated vegetable powder to help with volume. More is coming, the trays just aren't done, yet.
If you are unsure about vacuum sealing a jar full of powder, use a desiccant pack to help absorb any moisture in the airspace of your jar.
Which will You Try?
So there you have it! There are many ways to dehydrate radishes to not waste a thing! Which one have you tried? How else do you use radishes to stock your pantry?
Dehydrate Radish Printable Worksheet
If you are already a member of The Purposeful Pantry Library, grab your worksheets here.