Easy Tips to Clean Your Dehydrator
Cleaning your dehydrator can feel daunting, but using tips on how to clean your Excalibur Dehydrator will make it a breeze!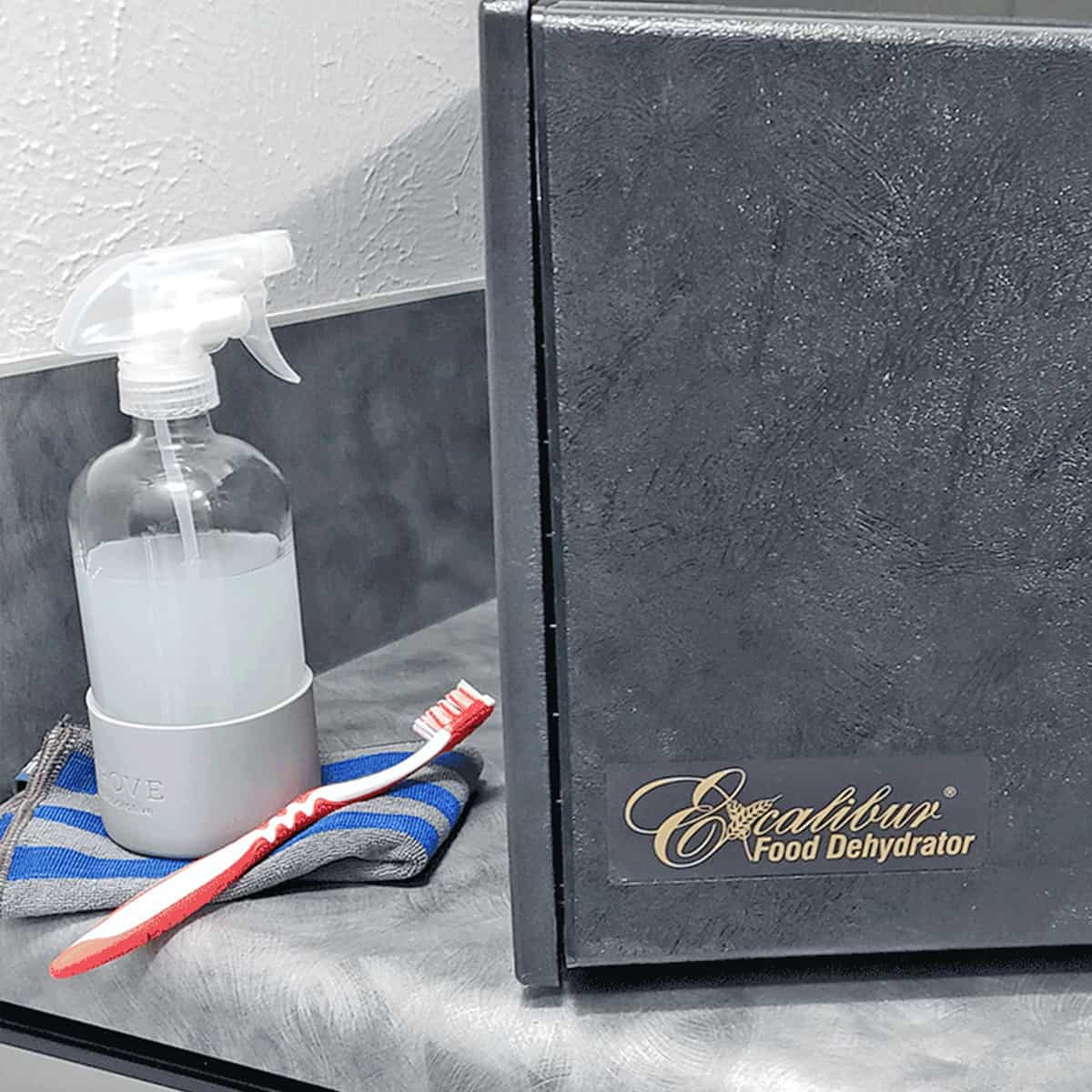 Whether your dehydrator sits in storage most of the year until gardening season, or you use it on a daily or weekly basis through the year, it's important to make sure it's clean! Cleaning up after each project is necessary, but every once in a while, you need to do a deep clean, and I've got some great tips for you.
While this tutorial features my Excalibur Dehydrator, these tips can be applied to just about every dehydrator on the market. Be sure to check your manufacturer's instructions before getting started.
Don't have the instructions? You can search online to get a downloadable/printable .pdf for your particular machine. A good search term would be searching for your model and dehydrator manual pdf in the search engine of your choice.
How to Clean Your Excalibur Dehydrator
1. Unplug Your Machine
It is important to keep these things in mind before cleaning:
Unplug your machine from the electrical outlet.
Keep your cord away from water.
Never submerge your machine into water.
2. Remove Trays to Soak
Be sure to brush off any debris that may be attached to trays or mesh liners before placing in the water. It just makes things easier in the long run. Those mesh liners like to hold on to everything!
I soak my trays and liners in my sink, but here are some other options:
Bathtub – seriously! I used to use my bathtub before I got a sink big enough to fit my trays
Utility Sink
Plastic Tote – An Excalibur Dehydrator Tray is 14″x14″, so get one deep enough or wide enough to hold them
Dishwasher *
If soaking isn't enough to remove stains or debris, any soft cleaning cloth (I really love these e-cloths for cleaning) or scrubbing pad will work for a little extra scrubbing power.
*A Note on Using a Dishwasher
While Excalibur does approve of putting your trays into the dishwasher, remember to remove them before the drying cycle starts. The intense heat of the drying cycle can warp your dehydrator trays. Check with your manufacturer about dishwasher safety for your trays.
3. Clean Liners
If you are using Excalibur fruit leather liners, the Excalibur Paraflexx sheets liners or any other silicone liners for your dehydrator, you can simply wipe them down with a cleaning cloth with warm, soapy water.
There's no real need to soak them as they wipe easily.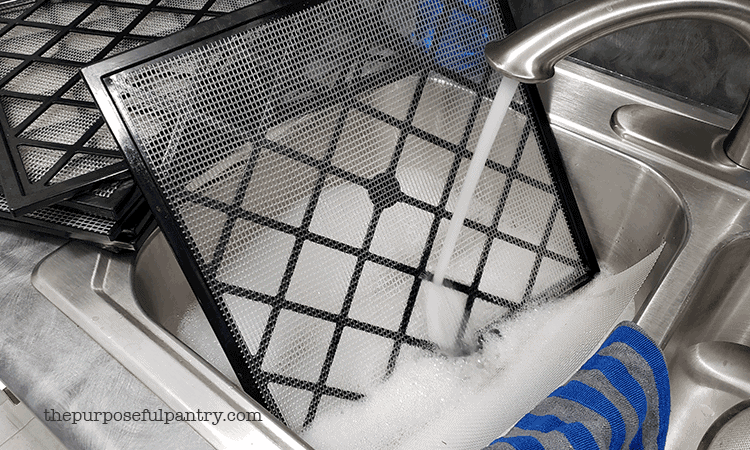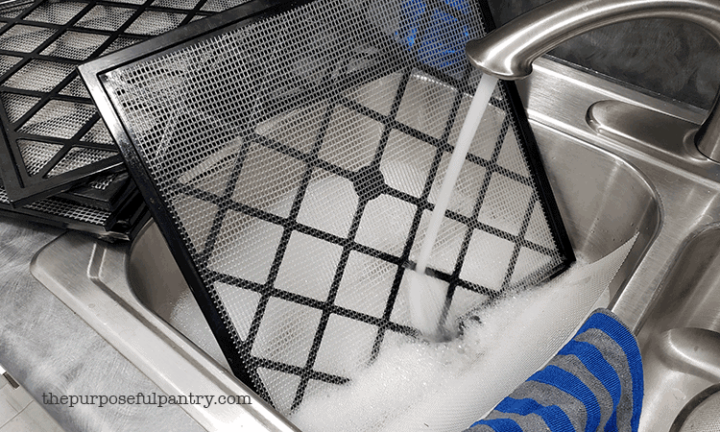 ►Tip: Store your liners at the bottom of your Excalibur Dehydrator when not in use. Brilliant, right?!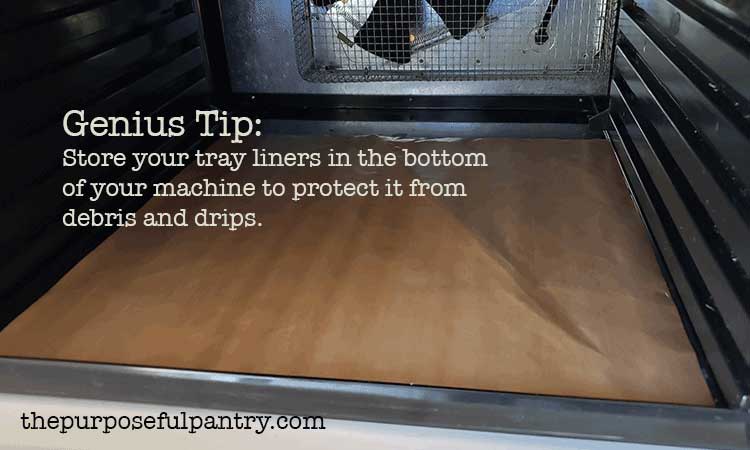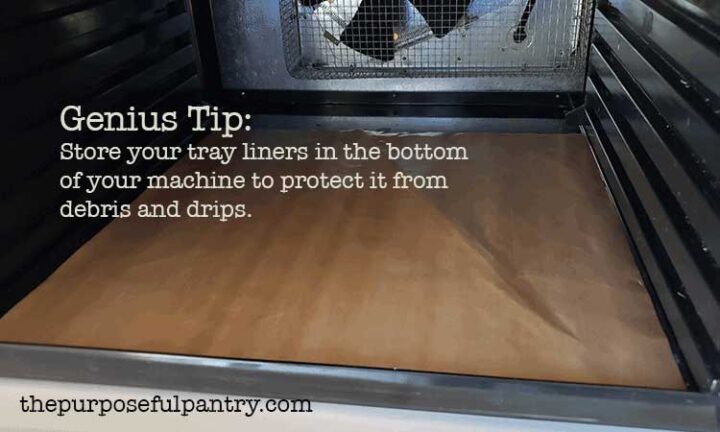 4. Wipeout Machine
Using a non-toxic cleaning spray (my recipe is below) onto a cleaning cloth, wipe down the walls, channels, switches, base, and outside of your machine.
You can use a toothbrush or art brush designated for cleaning to help with any nooks and crannies your machine has.
►TIP: Use your handheld vacuum to clean the bottom of your machine.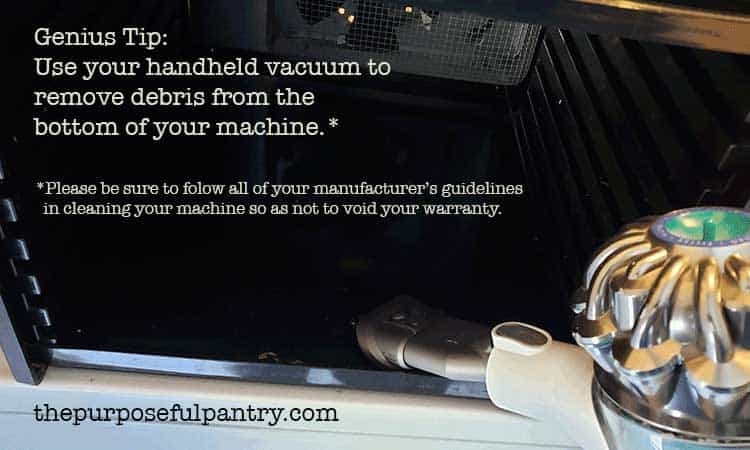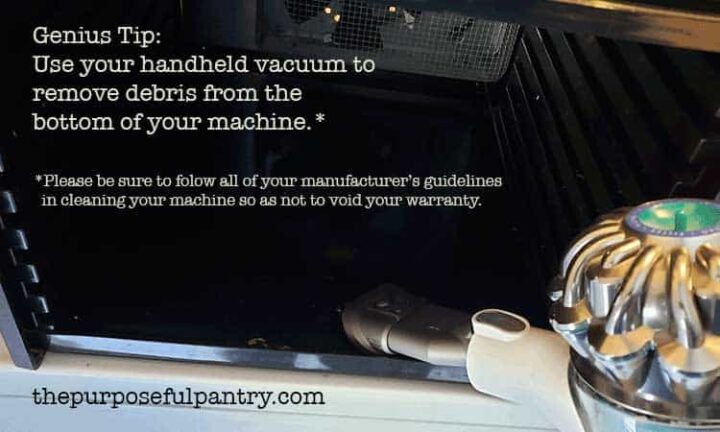 I know! It's ingenious. But as you can see in the video below, it's so easy to clean out the debris that gathers in the bottom of your machine, especially when doing greens. It's not an approved method by any manufacturer, but it's so quick and easy – especially if you've been dehydrating any kind of greens or doing an herb marathon for a couple of days!
*Warranty Note: Check with your manufacturer's instructions and warranty information before using a handheld vacuum cleaner in your machine. I wouldn't want to be the cause of you voiding the warranty if something went wrong. But it totally works! And Excalibur thought it was a brilliant idea when they saw this on my Instagram stories!
Clean Motor / Fan Unit
While Excalibur doesn't recommend this particular step, I've found it to be necessary to help the machine run efficiently.
Use a can of compressed air to blow out any dust and debris from the fan component at the back of your machine. I do it from the back as to not spray air directly into the motor box.
If you have a machine where the heating coil is at the bottom (fan-up models), you can remove any debris from the coils with a soft cloth and warm water. Be sure your machine is unplugged and cool before doing so. Allow it to fully dry before starting your machine again.
Drying Trays and Liners
**First, make sure your switch and cord are dry before turning your machine back on. I usually wipe the switch down well to ensure there's no moisture hanging around.
Now…I'm not going to assume that you've never thought to do this, seeing as we're using a machine that helps remove the moisture from food. But…
You can put your trays and mesh liners back into the machine, turn it on, and your dehydrator will dry your trays for you! It only takes a few minutes on a low temperature (I usually do it for about 15 minutes at a low temp).
I make sure to let them drip dry a bit before transferring over. You can allow them to drip dry naturally if you have the time. Or you can put them out in the sun to dry in just a few minutes.
How I Clean My Excalibur Dehydrator
The Purposeful Pantry Cleaning Spray Recipe
In a standard spray bottle (I'm using the Grove Collaborative glass bottle, but you can purchase a glass spray bottle and silicone sleeve to make your own).
1 Part Vinegar
1 Part Water
5 drops Tea Tree Oil
1 small squirt Dawn Dish Soap
Now You Try It
It really is easy to keep your dehydrator running efficiently with a post-project wipe down. But for those times you need to do a deeper clean, I hope these tips have helped you have the confidence to jump to it!
So tell me, how long as it been since you gave your dehydrator a deep clean? Do you have any tips on keeping your machine cleaner between cleanings? Please share them with us in the comments below!
NEXT STOP FOR DEHYDRATOR MAINTENANCE — How to Test Your Dehydrator's Temperature