Leftover pickle juice?! Here are 25+ ways to use pickle juice in more ways than you have ever thought of! Don't throw it out!! Don't throw out that jar of pickle juice once you've finished the pickles!
Growing up, we'd finish off a jar of pickles, pour the juice down the sink, and throw away the jar.
Now I know better. The jar can be used to store pantry goods in (use a little dish soap, a little vinegar, and the sun to help get rid of the pickle smell from the lid liner.
And while I don't always save the brine, because I don't always have an immediate use for it after I dehydrate pickles, I know it can be frozen until such need!
25+ Ways to Use Pickle Juice
Pickle Juice for Cooking
A note: When using pickle brine to make any pickled vegetable, do not water ban can it or store it on your shelf. It must be stored in the refrigerator for safety - it is not shelf-stable.
Replacement for Vinegar
You can replace vinegar with pickle brine in many cooking recipes, especially those that are marinades for meats.
Make new pickles!
Just drop some cucumber spears or sliced cucumbers into your pickle juice (make sure they are completely covered by juice), seal with an airtight lid, and stick into your fridge for a week or so.
Pickle Salt
Dehydrate it! You can reduce it on the stove to help save drying time, just like you would dehydrate broth, then dehydrate the syrup-like reduction. Powder it, and you have pickle salt!
Pickle Eggs
Hardboiled eggs in pickle juice jars in the fridge for three days. It's as easy as that. Make sure your eggs are completely covered in juice.
Pickle Vegetables
Clean, peel, and cut your veggies and put them into a jar full of pickle juice for three days in the fridge. Suggestions: cauliflower, carrots, green beans, cooked broccoli, jalapenos.
Also, try pickling in a sweet pickle brine for a sweet & salty version. Jalapenos would make a great sweet & spicy pickled veg!
Boil Potatoes
Want a dill, salty taste to your potatoes? Try boiling them in some pickle juice! It may get a bit smelly, but it will give a new life to plain boiled potatoes!
Brine for Chicken
It's said that one of the secret ingredients to Chick-Fil-A chicken is a brine of pickle juice before breading. Many swear by it in our oft-talked about threads in my Dehydrating Tips & Tricks group when people ask what to do with leftover pickle juice after dehydrating pickles. So give it a try!
Mix into Cold Salads
Use about ½ cup of pickle juice in your salad for a twist of flavor. You can also do this with a sweet pickle brine if you like your salads on the sweeter side. Omit the sugar. Perfect for potato, coleslaw, macaroni, chicken or tuna salads.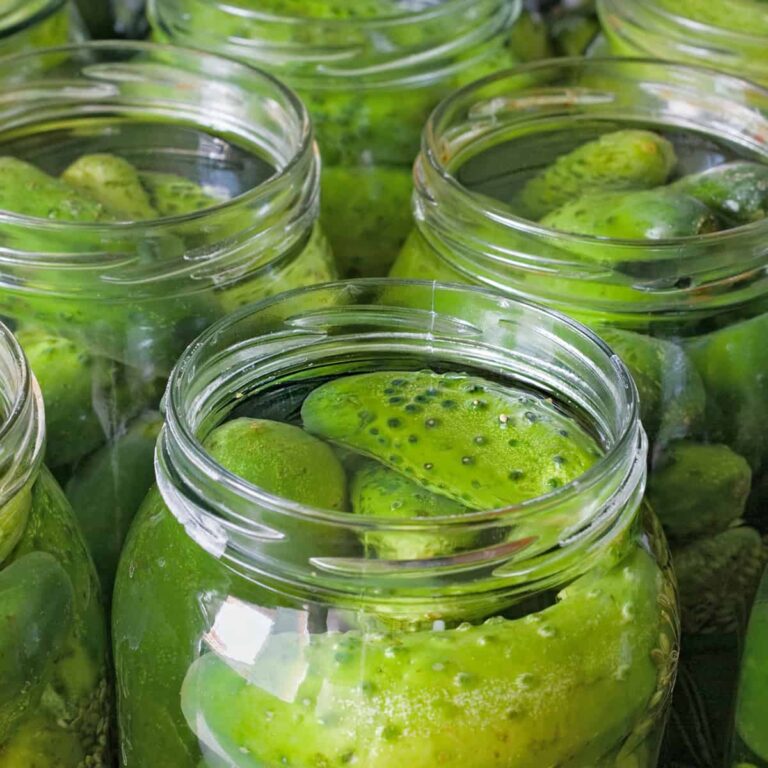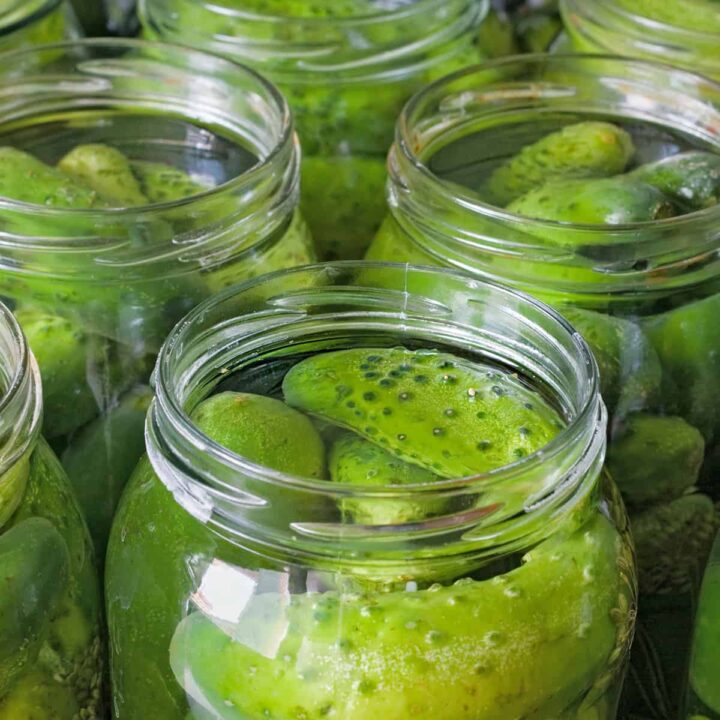 Pucker up your Bloody Mary's
Try Alton Brown's Bloody Mary mix.
Pickle Juice Jelly
3 ¾ cup pickle juice
5 cups sugar
1 box pectin!
Mac & Cheese
I know...messing with a perfectly good food group is not allowed, but this mac and cheese might just blow your mind! Just use your pickle brine and skip the peppers if you'd like.
Make a Soup!
Make a Vinaigrette
Make Pastrami
Pickle brine (aka pickle juice) is perfect to use in the brine base for making pastrami.
Add some zing to your meatloaf
For meatloaf or meatballs, a splash or two can add that extra saltiness and briny flavor .
Dirty Ranch Dressing
Mix pickle brine with some mayonnaise, sour cream or full-fat Greek yogurt. Store in the fridge. Add brine and then taste to get to the mixture that suits you.
Elevate Hummus
Hummus is just about one of the world's perfect foods, but just like with adding a little lemon juice and zest for a great twist, adding a splash of pickle juice can completely change the flavor of plain hummus.
Pickle Juice Snowcones
If you were a 70's kid, you probably had a Snoopy Snowcone maker, and could make snowcones out of any fruit juice or drink mix. Even if you didn't then, But a modern-day snowcone machine and some pickle juice (sweet or dill), make a great refreshing treat for your kids in the summer.
Pickled Lentil Crumble
Use leftover lentils that have been cooked in water, pour a little pickle brine in them and store in the fridge for a few days. Then sprinkle those lentils over a garden salad for a wonderful change of flavor.
Dill Pickle Jello
Replace the ACV and some of the water with pickle brine for a wicked Jell-o flavor for your kids! But don't put the other stuff in - just pickles 🙂
Marinade Cheese
You know those fancy cheese balls in olive brine? Well, you can do the same thing with pickle brine, too!
Pickle Juice for Health
Helps relieve heartburn
Unless you are lacto-fermenting pickles at home, and not pressure canning them, the benefits of the good bacteria in pickle juice is negligible (source). However, if it works for you - use it! Don't be dependent on it, but a once in a while relief may just work for you!
Get started lacto-fermenting at home -- it's a great way to add probiotics to your family's diet!
Helps relieve leg cramps
The electrolytes from pickle juice have been shown to reduce the duration of cramping from exercise.
Relief from Hiccups
Although our family swears by a teaspoon or two of sugar to help the diaphragm settle down, others say that pickle juice helps relieve them, too!
Can I Freeze Pickle Juice?
Short answer - yes!
Save the brine for later, simply freeze in freezer-safe containers to save for a time when you might need it for one of the suggestions above.
DIY Pickle Pop
Pickle Pops are all the rage in the grocery store and as a DIY project on your own!
1 peeled, cubed and de-seeded cumber
1 cup pickle juice
¼ cup honey
Directions
1. Process in a bullet blender or blender
2. Pour into popsicle molds and freeze.
Pickle Juice for the Garden
Clean your grill
Use some of the pickle brine (not sweet) to coast your crusty grill racks then use a safe grill brush to clean them.
Add acidity for flowers
For those flowers like rhododendrons who need a little more acidity, pickle brine is a great additive. But don't pour it directly on the plant, and even dilute it by 50% and pour it around the root field.
Kill Weeds
A favorite weed killer for sidewalk cracks is to pour vinegar in on them on a sunny day.
While it is a stretch, and you have a lot of brine leftover from a bucket of pickles, try using the pickle brine, instead. Don't do it in your grass or on plants you don't want to die. The vinegar _ salt will kill them. It's great for sidewalk weeds, though.
How Do You Use Leftover Pickle Brine?
I'd love to hear the ways you use leftover pickle juice in your home!