Dehydrate vegetable stock (or broth) to create a shelf-stable soup base for meals in a jar recipe, hiking and camping meals, and having long-term food storage from homemade stock. It's a great way to use leftovers and avoid food waste, too!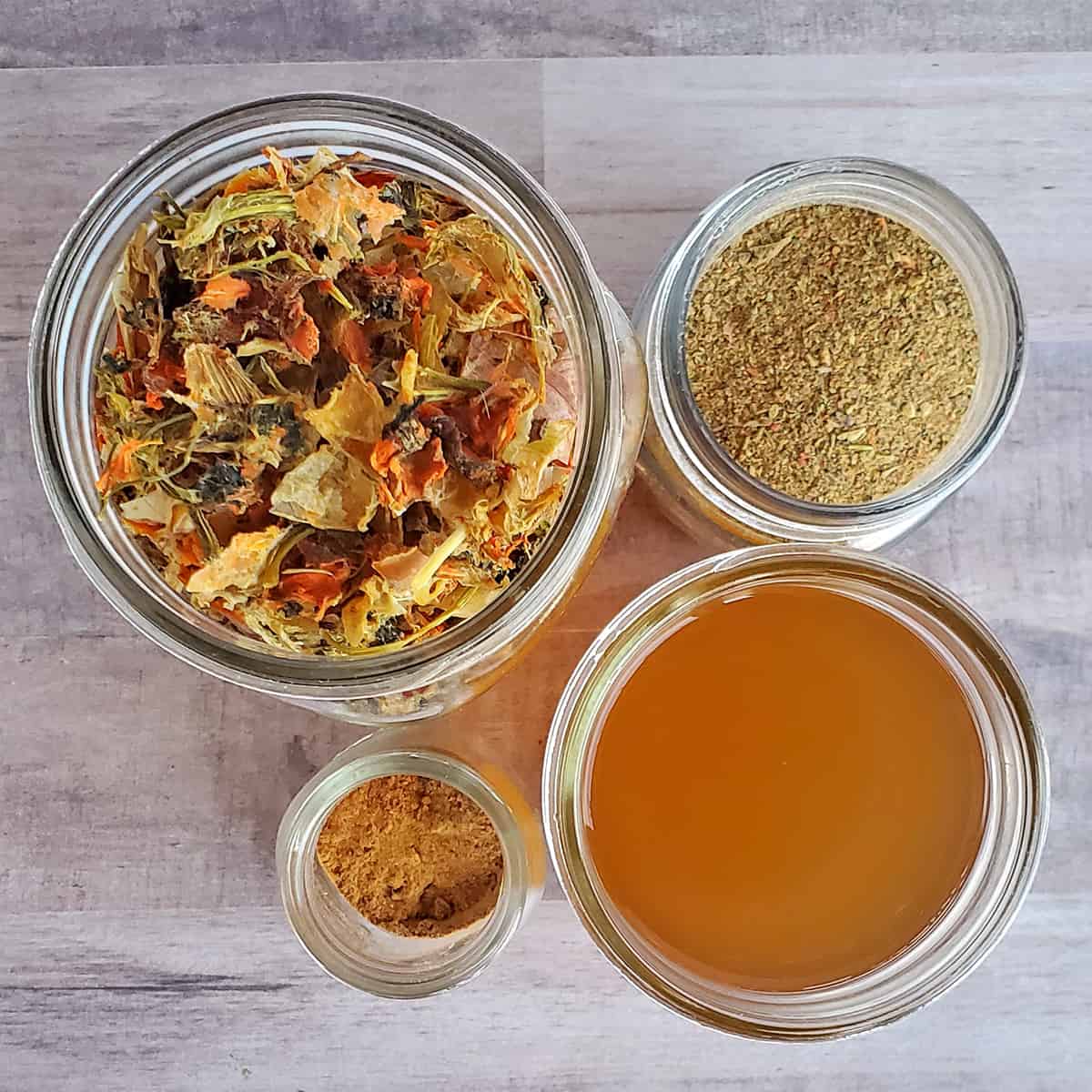 How to Dehydrate Vegetable Stock
Start with the veggie broth of your choice. If you need a basic recipe, you can get one here to print off.
Starting with your homemade broth, follow these steps:
Step One: Condense Broth
Place broth into a saucepan or stockpot
Simmer on medium to medium-low until the broth becomes a thick liquid. You don't want a thick molasses type syrup but think pancake syrup instead. This could take two hours to eight hours depending on your temperature and the amount of stock you are trying to simmer down.
Check hourly until you are down to the last inch of liquid and begin checking more often as the last few minutes change quickly.
Step Two: Dehydrate Broth
Pour the thickened liquid onto fruit leather sheets of your dehydrator. A lipped tray like this one works great, or you can make your own like this, or just using a shallow pan or dish will work.
Dry at 140°F / 60°C until you get what looks like hard candy. No tackiness, breaks easily, glassy surface.
Break broth into shards and store in an airtight container until you want to powder it.
Step Three: Powder Broth
Place shards of broth into a small grinder. A coffee grinder or a bullet blender work best for this work. Large blenders and food processors will likely be too big to work effectively
Plus until the shards have broken into small pieces, then whirl until powder. It may take a time or three to get it completely broken down, depending on your machine. You can sift it if you need to, but I find that having it completely powdered is not important as it will still measure and melt fine.
Condition the powder.

Place powder on a cookie sheet in an oven that has been preheated to its lowest temperature, and then turned off.
Sit for 20 min.
Allow to powder to cool, break up any clumps with a fork.
Store Dehydrated Vegetable Broth
Because of the sugars that can develop with this powder from the simmering process, vegetable stock powder can become clumped pretty quickly. Here are some helps:
Store in an airtight container that is similar in volume to your powder (no large containers for small amounts of powder)
Store in a zipper-top freezer bag inside an airtight container.
Use arrowroot powder to help work as a desiccant. Know that it may cloud your stock when reconstituting, and work as thickener in what you put it in, so don't use this stock to can with later.
Use a moisture absorber in the jar.
Get even more information about preventing clumping in dehydrated powders here.
Reconstitute Vegetable Broth Powder
To reconstitute the powdered vegetable broth,
Ingredients:
1 cup boiling water
1 teaspoon vegetable broth powder
Directions:
Place 1 teaspoon of vegetable broth powder into a heat-safe container.
Pour 1 cup of boiling water over broth
Stir until powder is dissolved.
Add any additional seasonings you would like. This is a good time to add salt to taste for your final product.
Notes:
You can use more powder to create a more intense broth depending on your taste. Since powder will always be a little different from batch to batch, and concentration, you'll just adjust to taste.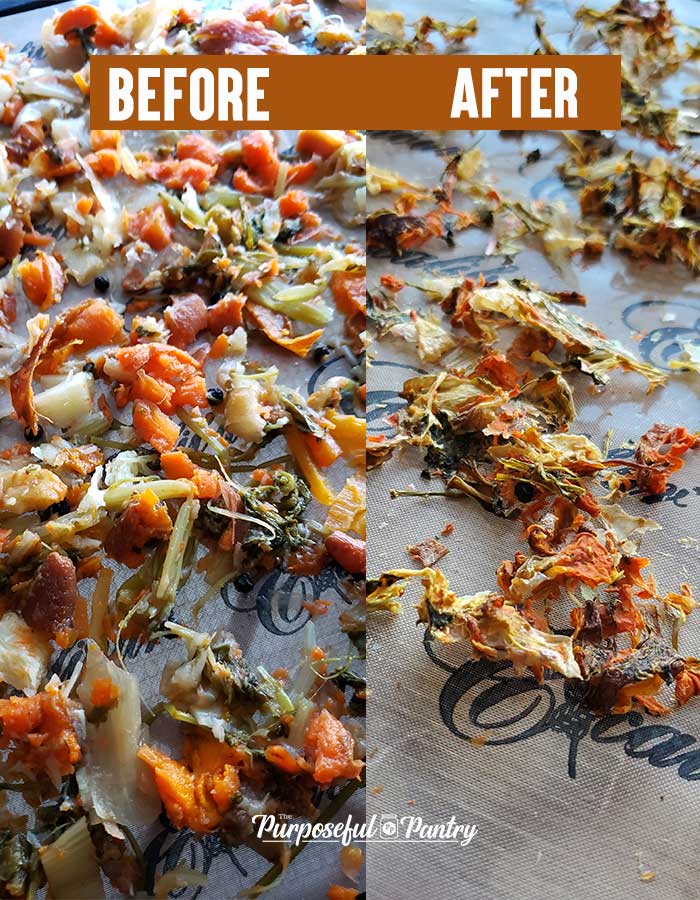 Dehydrate Vegetable Broth Leftover Vegetables
Yes! You can dehydrate the vegetables left from making vegetable broth! If you are wanting to not waste a thing, and don't compost or have stock animals that you can feed this to, you can certainly dehydrate the vegetables to add to your vegetable powder!
Unlike making a meat broth, the vegetables still contain flavor, while many vitamins and minerals will have been transferred to the broth.
While the overall flavor of the individual pieces is best described as 'soup', you can still taste the individual notes of each piece. So the carrot pieces still taste of carrot in the background.
Directions:
Place vegetables on fruit leather sheets or parchment paper on your dehydrator trays.
Dry at 140°F / 60°C along with your broth.
If you are doing this separately from the broth, you can drop the temperature down to 125°F / 57°C as you would other vegetables.
Dry until crisp.
Condition
Store in an airtight container until you are ready to powder
Powder as you would vegetable powder and store accordingly.
Frequently Asked Questions:
What should be in vegetable broth?
You can get a full recipe here for a basic vegetable stock mix, but you can use just about any 'soup' vegetable, but stay away from starchy ones that can cause cloudiness or strong-flavored ones like broccoli.
What kind of dehydrator do I need?
I happen to use an Excalibur dehydrator, but you can use any dehydrator. A Nesco or Cosori are other great options for most folks.
If you need help choosing which to get, I have the best dehydrator resource for you here with breakdowns of types and best ones in every budget.
How long will Vegetable Stock Powder last?
By best standards, powders are good from six to nine months. However, I would encourage you to store the shards as they are less susceptible to clumping. However, with enough arrowroot and moisture absorbers, you will get a good six to nine months out of your powder easily.
Can I do this with chicken, beef or brone broths?
You can dehydrate chicken, beef, and other protein-based broths, as well! The only thing that will be different is how you store it. By the safest dehydrating standards, these broth powders should be stored in your freezer for storage.
Create your broths, allow to cool and defat, follow the rest of the procedures and store in the freezer when done.
📖 Recipe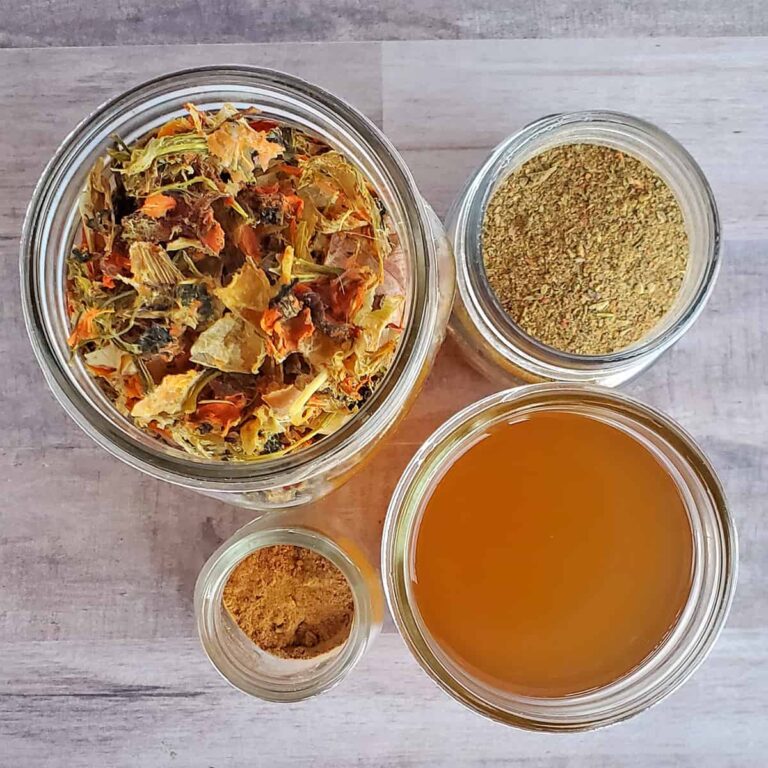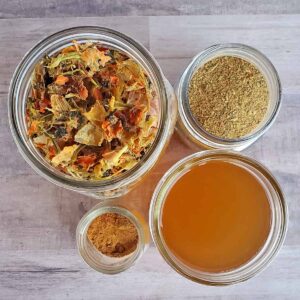 How to Dehydrate Vegetable Broth or Stock
Creating a shelf-stable vegetable broth or stock without pressure canning is easy with these directions that also help you not waste the vegetable the broth was made from! This is great for hikers and campers as well as building your own long-term food storage for your pantry.
Print
PIN THIS!
Rate
Equipment
Sauce pan or stock pot

Fruit leather sheets
Ingredients
For Dehydrated Vegetable Stock
For Dehydrated Vegetable Broth vegetables
Remaining vegetables after making stock
Reconstituted Vegteable Broth Powder Ratio
1.25

teaspoons

Vegetable Broth Powder

1

cup

Boiling water
Instructions
How to Make Dehydrated Vegetable Stock / Broth
Fill stockpot or sauce pan with prepared vegetable stock

Simmer stock on medium to medium low until a thick liquid (think pancake syrup) is formed

Pour and spread liquid onto fruit leather sheets of your dehydrator and spread into a thin layer.

Dry at 140°F or 60°C untl completely dry -

Store shards for up to a year in an airtight container

Grind shards in a small grinder/bullet blender until powder forms
Reconstitute Vegetable Broth Powder
Water and powder together until powder dissolves

Adjust strength of broth to your taste by adding more water to thin or more powder to strengthen
Dehydrate Vegetable Broth Vegetable Leftovers
Place vegetables onto dehydrator trays, try to separate where possible.

Dry at 125°F or 57°C until crisp

Store in airtight container for up to a year

Powder in a bullet blender or large size blender
Darcy's Tips
Notes for Vegetable Broth Powder
Condition the powder
Preheat oven to lowest temperature and turn off
Place powder onto a cookie sheet and then into the warmed oven for 20 min.
To help stop clumping: Use arrowroot powder or moisture absorbers to help stop clumping
Store in an airtight container.
Nutrition
Serving:
1
Cup
|
Calories:
3
kcal
|
Carbohydrates:
1
g
|
Sodium:
235
mg
|
Sugar:
1
g
|
Vitamin A:
125
IU
Nutritional information is an estimation only. Nutrient information for dehydrated foods is based on fresh. Use ¼ of the servicing size for the same nutrient information. Thus 1 Cup of fresh fruit has the same sugars as ¼ dried.
©ThePurposefulPantry. Photographs and content are copyright protected. Sharing of this recipe's link is both encouraged and appreciated. Copying and/or pasting full recipes to any social media is strictly prohibited.