10 Creatives Ways to Use Beans in Food Storage – even if you hate them
Ways to creatively use beans from your food storage – even if you hate beans. They are perfect for your food storage because they are so versatile in so many ways.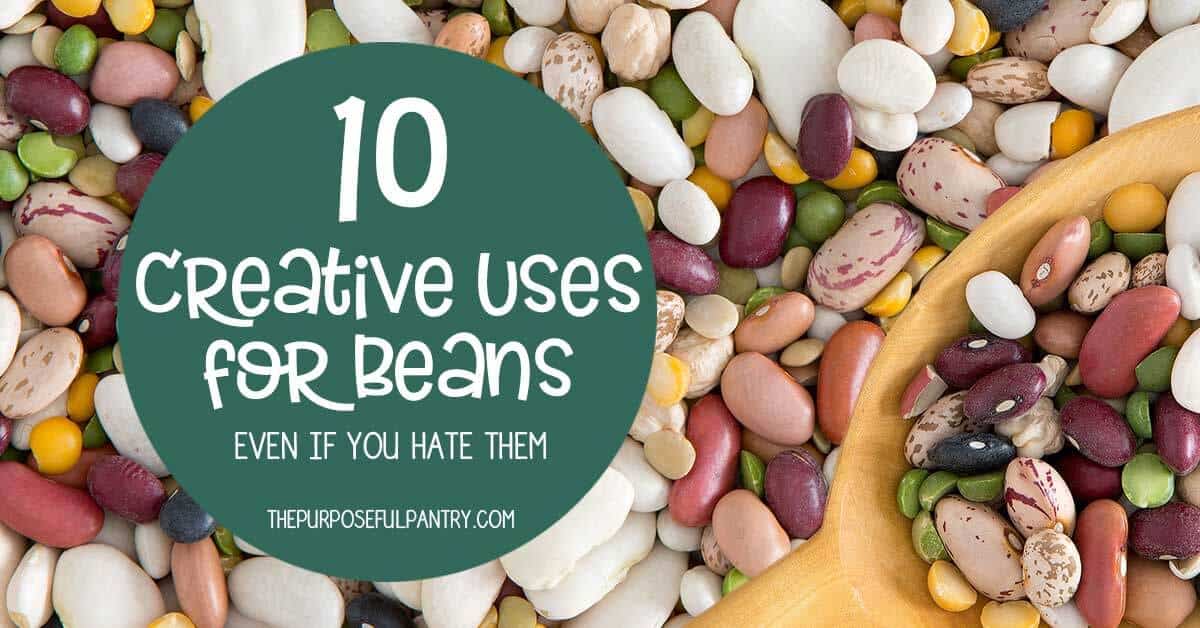 There's a food storage mantra: Store what you eat, and eat what you store.
While I hold to that mantra 99% of the time, there's a tiny 1% that I fudge on.
Beans.
I hate beans (sort of like how I hate celery). I dislike the texture tremendously. But I will tell you a secret.
I do store beans because I've found a few ways to include their nutritional benefit, even if I don't like them.
Why? Because they are really good for us.
Nutritional Benefit of Beans
So let's all agree that beans are really good for you, but we need to come up with some creative ways to use these legumes, rather than just in a soup or a pile next to meat on our plates or as art projects for our kids, or as pie weights (hey – that's a couple of creative uses right there!).
The secret is learning how to incorporate beans into your diet in alternative ways!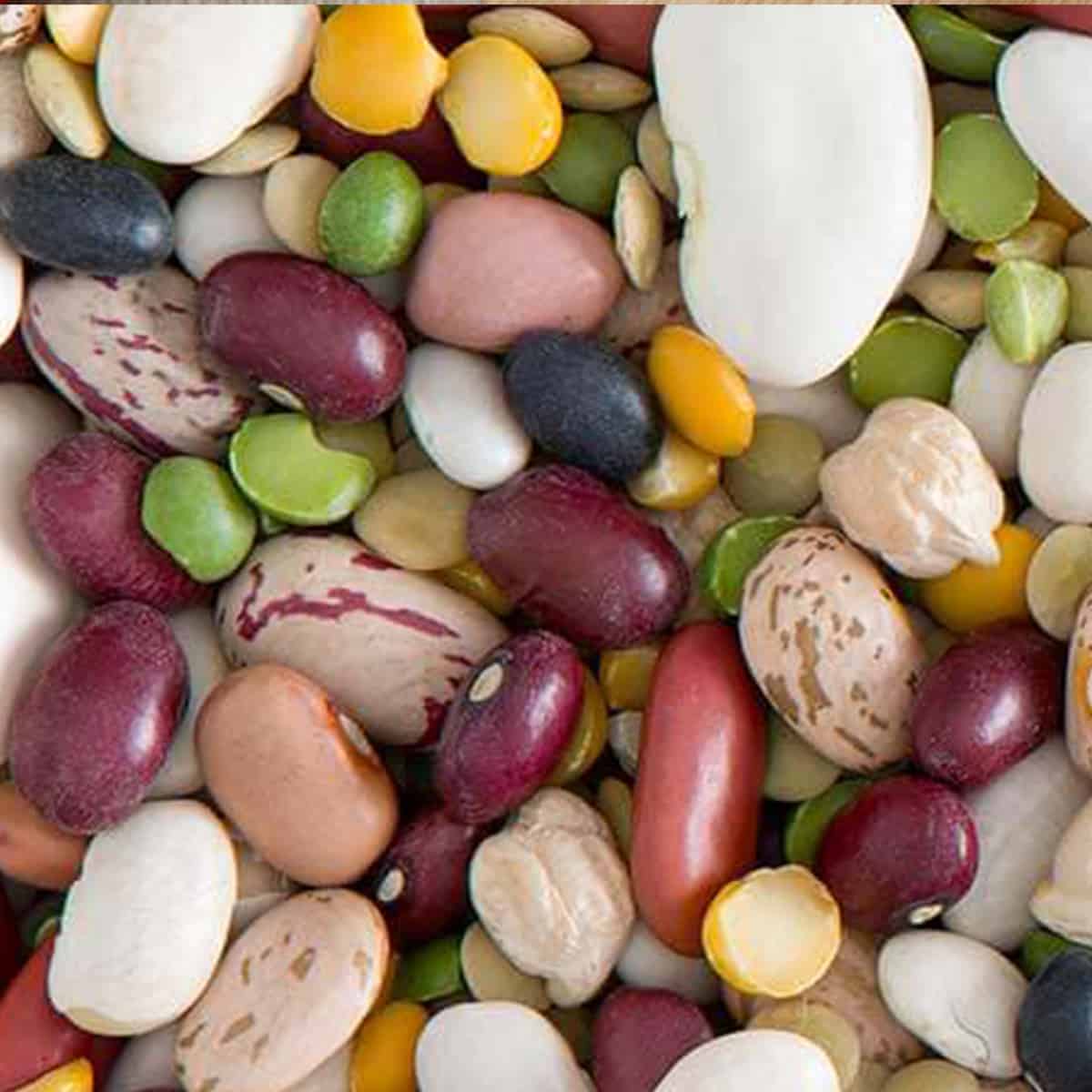 Creative Ways to Use Beans in Food Storage
This is where I feel like I can sound like Bubba and his shrimp fascination from Forrest Gump. There's garlic hummus and lemon hummus and beet hummus and chocolate hummus (YES, it's a thing – glory be!) and buffalo hummus. So many different ways to use a simple bean to create a versatile paste that can be used as a dip or as a sandwich spread.
The great thing is that this traditional Mediterranean dish made from chickpeas, tahini (sesame seed paste), oil, and spices can be switched up to use other beans as well.
Get more ideas here: Hummus Recipes from your Food Storage!
Bean Dips
I'm going to tell a story about my brother. I hope he never reads this.
When he was little, the kid would eat the canned bean dip you get in the chip section like chocolate. He loved the stuff. For years. Then one day, he made the mistake of asking what was in it. Like me, he great up hating beans. He never touched the stuff again.
Like hummus, bean dips can be used to bring boldness to snacking or meals and allow you to rotate through your food storage beans.
Bean Flours
Bean flours are being used all over to replace wheat, where wheat is not readily available, or just to have different flavor profiles for baked goods. Different beans produce different color flours and consistencies.
They've become more and more popular, and are now readily available in health food stores, Amazon, Azure Standard and even local grocery stores. Bean flours are also quite easy to make yourself.
Here is a great run-down of the different bean flours and how they can be used.
Beans as Thickeners
Bean flours
Bean Flour is a great way to create the "cream of something soup" texture in many dishes. You can use it as a way to replace many 'creamer' ingredients in Meals in a Jar recipes that are shelf-stable (and great ways to create emergency meals for your pantry or as gifts).
Here is the recipe:
What makes this a great money-saving alternative is that you can grind beans to make your own bean flour!
TIP – you can also use dehydrated okra flour, chick pea flour or tomato powder as thickeners, too.
Bean Purees
If you don't want to store bean flour or grind it yourself, you can thicken a soup with beans pureed with water and add to your soup base.
It adds loads of protein and fiber without a ton of added calories. Just be sure to use a more neutral flavor bean for the soup you're trying to thicken.
Bean Sprouts
Beans are, in effect, seeds for the next generation. There is a huge variety and most can be used to sprout and eat on salads or used within recipes. In some cases, sprouting actually makes the bean more digestible and allows some enzymes to be more readily available for your body.
There's a wealth of knowledge in how to use sprouts and various sprout recipes here. It's more than just a pile on top of a healthy sandwich.
Oil & Butter Replacement
You can use more than applesauce and chia seeds to replace butter and oils in baking!
► To replace oil: Use a 1:1 ratio with bean puree. A bean puree is beans with some water enough to make them like applesauce or hummus. If using canned beans, be sure to drain and rinse before using.
► To replace butter: Mash the beans instead of pureeing them for the thicker consistency of butter.
You can get even more ideas on how to use beans as a fat replacement here.
Burgers *
Black bean burgers have been a staple of the vegetarian/vegan movement for years (I can't tell you how many I ate back in my vegetarian days).
But did you know you can also make burgers from other beans as well?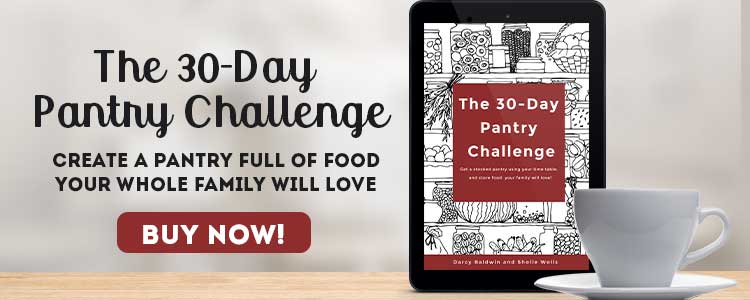 Smoothies
WAIT! Don't go..really – you'll want to learn how to use beans as a protein power punch instead of using those expensive protein powders (though we are partial to using peanut butter powder in a variety of ways!).
Consider black beans in a chocolate-based smoothie or cannellini beans for a vanilla based smoothie. Here are a few other ideas to help make creamier smoothies, without adding expensive protein powders or added dairy.
A tip: Be adventurous by using adzuki beans, garbanzo beans, mung beans, soybeans or even Chinese long beans.
LEARN MORE: How to Dehydrate Canned Beans
Desserts
No food storage plan is good unless it has some options for dessert, right? How about a few of these awesome dessert recipes that use beans as the component.
Dog Food *
Yes! You can make your own dog food! There are so many recipes on the market. Please check with your vet about your dog's diet, but here's a great way to use kidney beans into your homemade dog food.
Resources:
Dehydrate Beans
Maybe someone else in your home enjoys beans, but it's a pain to cook up a batch for them – and you don't have room to store them in your freezer.
Dehydrating beans is easily, especially if you're using commercially canned varieties.
If you use dried beans, just soak, cook, then following the drying process.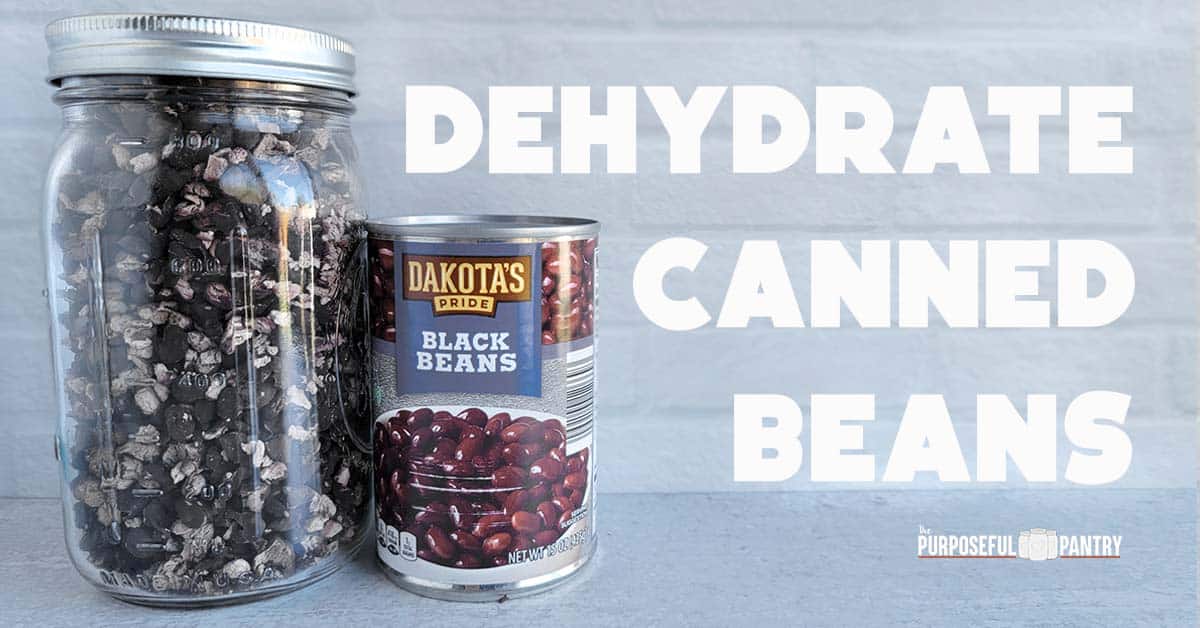 They make a great way to create quick, instant meals for one that requires no cooking, and no opening of a can only to waste some.
Do you have ways you use beans that aren't a typical way? Please share them with us so that we can all benefit from using our food storage better!