Dehydrate English Cucumbers + Cucumber Powder
Who thought that dehydrating cucumber could elevate it into a snack, a food storage staple, and a powder for creating culinary delights? Learn how to dehydrate English cucumbers for snacking, seasoning, and food preservation!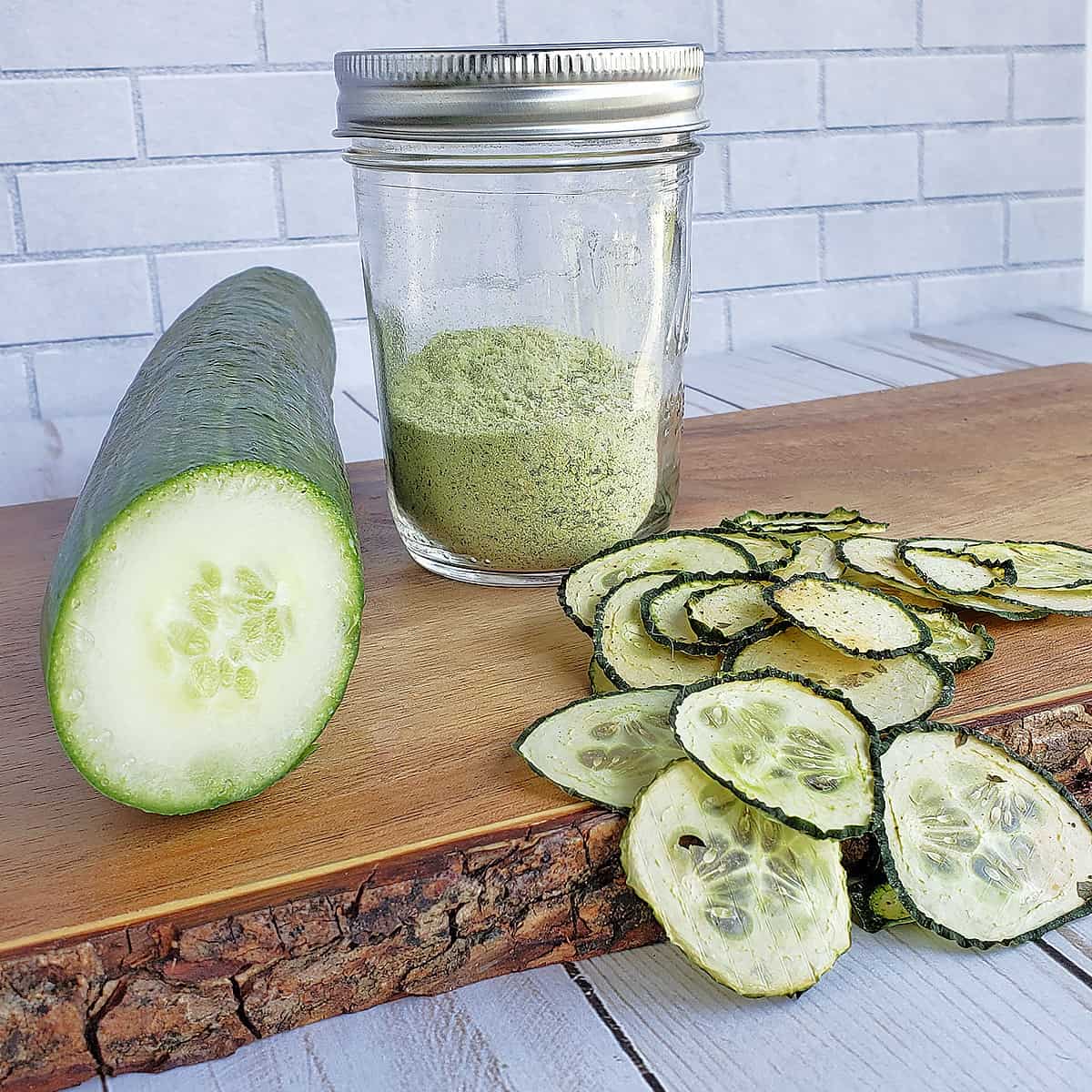 Raise your hand if you've never done anything more with cucumbers than slice them to put on a salad or to dip in ranch dressing! Or, perhaps you've used cucumber slices to help alleviate those under-eye bags from too little sleep.
Perhaps you've branched out and created awesome refrigerator pickles, or even canned your own to stock your pantry?
Well, it's time to expand your horizons with what a cucumber can accomplish! Ready to start?
But wait, why would you dehydrate English Cucumbers? Aren't they too fancy for that?
What's the Difference Between a Regular Cucumber and an English Cucumber?
An English Cucumber versus a regular cucumber,
Has thinner skin (thus you'll almost always find it wrapped in plastic instead of waxed to protect it from knicks and cuts)
Has smaller, fewer seeds (thus is less bitter)
Is longer and thinner with ridges instead of bumps
Has a sweeter flavor
Do not need to be peeled
Tends to be more expensive
Its perfect for making cucumber chips!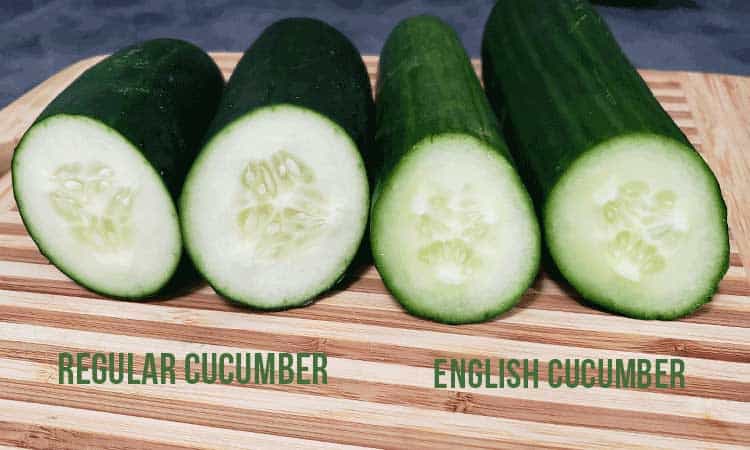 Otherwise, they are the same – and you can dehydrate English cucumbers just like you dehydrate cucumbers.
Is a Cucumber a Fruit or Vegetable
I'm not sure this is on a controversial scale of the Tomato: Fruit or Vegetable, however, the cucumber falls under the same heading.
Botanically, cucumbers are a fruit, but we eat them as if they were a vegetable.
And as far as dehydrating goes, we treat them accordingly.
► TIP: These instructions can be used for all varieties of cucumbers. You might want to test if you like them peeled or not.
How to Dehydrate Cucumbers
While the instructions here are for English cucumbers (regular cucumbers, too), this method works on dehydrating zucchini as well!
Step 1: Wash cucumbers in warm water.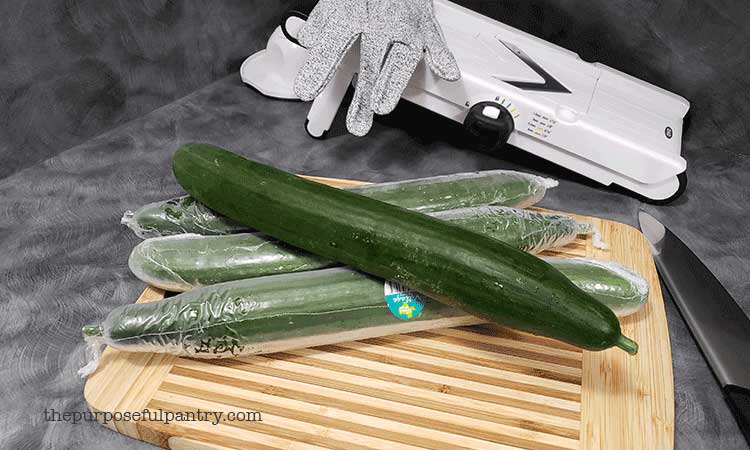 If you have a vegetable brush, you can use it to gently clean the skin. You can peel if you'd like.
Step 2: Cut into even slices
If you have awesome knife skills, using a knife is just fine. But you can see by these examples, that the thickness can vary, even when you're trying to be careful in cutting.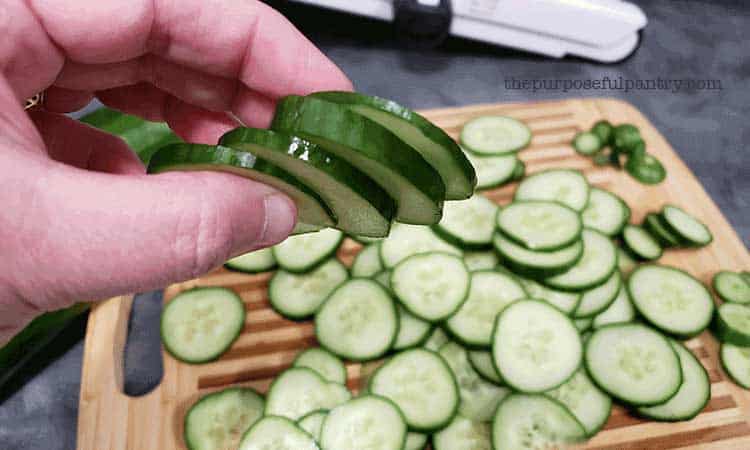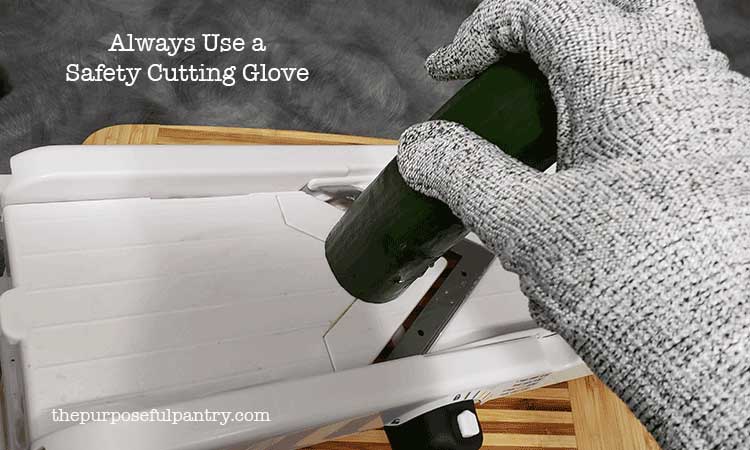 Instead, I prefer to use a mandoline (but be sure to use the cutting glove!!! The one that is pictured failed, so I found a better glove that is more protective!). I can dial up and down to the thickness that I want with is OXO Mandoline.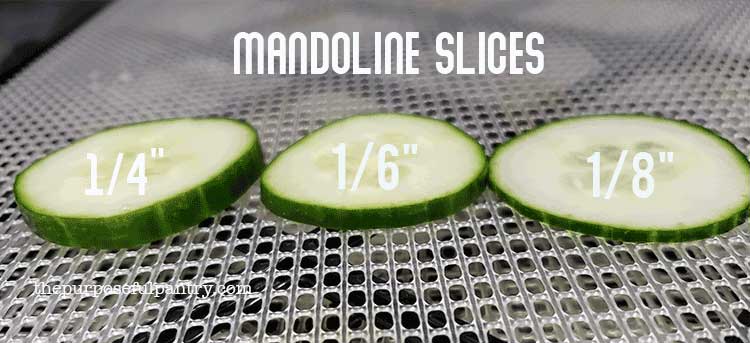 As a final product, I do prefer the 1/4″ cucumber slice best. The 1/8″ can taste a bit like paper for some folks.
At this point, you can use any variety of seasoning options you'd like. There are ideas further down the post.
Step 3: Dehydrate at 125°F/52°C
You can place the slices fairly close together as these will shrink quickly
Dry between 6-10 hours, depending on the thickness of your slices (thinner slices require less time)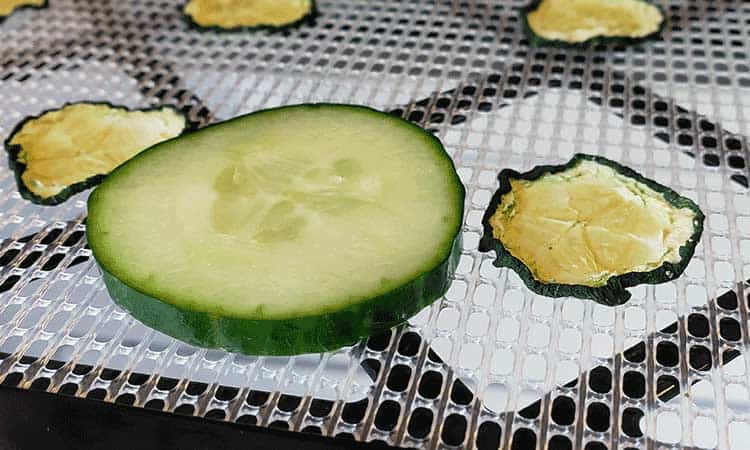 Step 4: Test Dehydrated Cucumbers
Remove a piece from 2 or 3 places in your dehydrator.
Allow pieces to cool.
Check for crispness. There should be no bend, and you should be able to easily break pieces.
Step 5: Condition Cucumbers
Conditioning is the act of dehydrating something, allowing it to cool, storing it in a jar, and allowing the humidity level to 'level' out per se.
Put your dehydrated product in a glass jar with a lid and some extra space.
Shake it every day for a week.
If you see any condensation, you'll need to put it back into your dehydrator to dry more or store it in your fridge.
Your goal is about 20% for fruits, and 10% for veg. You can use a humidity strip to test that before you start, but with conditioning, it allows all fruit or veg in the jar to come to the same humidity level in the group as a whole.
If you are simply doing snack cucumbers with seasonings that will not be stored, the conditioning step is not necessary as you will be eating them within a few days.
If you plan on storing your slices, even seasoned, don't skip this step.
How to Store Dehydrated Cucumbers
There are 3 ways you can store cucumbers
Store in an airtight container of your choice. This is the best method as it is all that is needed. Cucumbers don't store well for long-term storage, and storing dehydrated foods properly doesn't require any extra absorbers!
Store in a mason jar and use a vacuum sealer with the canning jar attachment to seal the jar.
Store in a mason jar with an O2 absorber inside to help vacuum seal the jar from within. (not recommended).
This is how to store dried cucumber using a vacuum sealer and canning jar attachment. This happens to be part of my rosemary storage, but it works with cucumbers the same way. Need more recommendations for long-term storage?
How to Make Flavored Cucumber Chips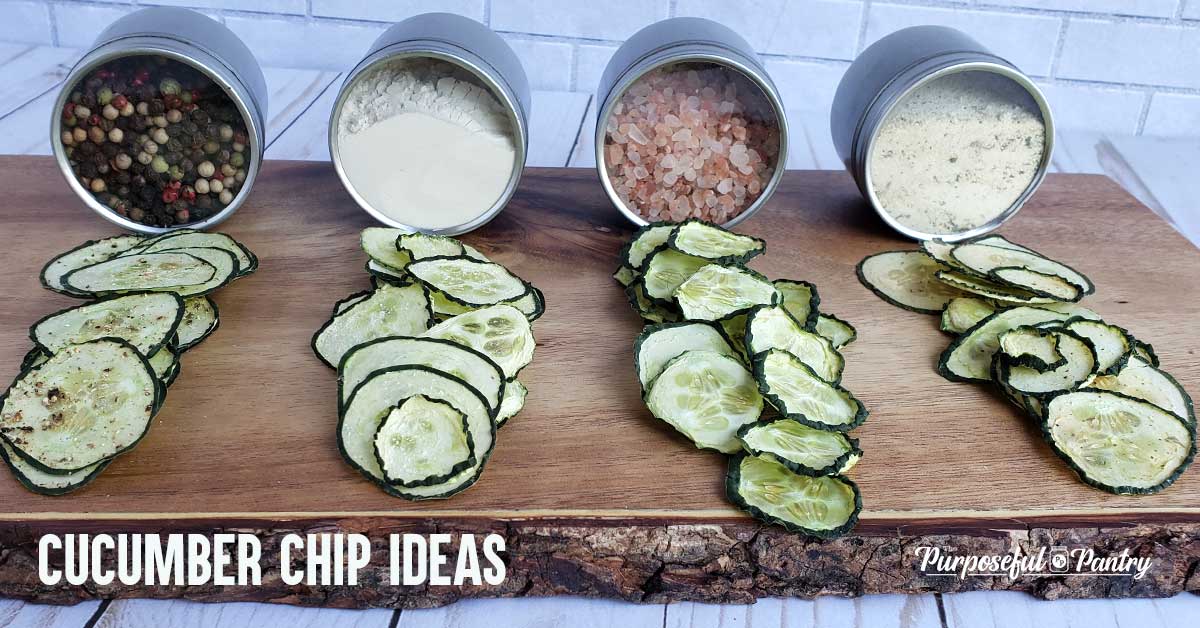 Flavored cucumber chips are awesome for lunchtime snacks, or to help the "salty-crunchy" cravings we get at night. We can indulge without the added saturated bad fats, overloaded carbs, and weird ingredients.
I find that cucumber that has been sliced between 1/4″ to 1/2″ for a great mouthfeel and crunch. The thinner slices work as well, but we're looking for that satisfying crunch along with the flavor.
Lay your cucumber slices on the tray, then sprinkle with the seasoning of your choice, then dehydrate at 125F for 6-12 hours. Depending on the thickness of your seasoning, or the thickness of your slice, the times will vary. Use the timeline as a guide, and check on them often after six hours.
Here are some cucumber chip flavoring ideas you can use.
Salt
Pepper – a favorite of my guys
Ranch dressing (See the recipe below for a DIY version)
Barbecue powder
Cajun seasonings
Garlic powder
Onion powder
Paprika
Balsamic vinegar powder — use sparingly! This can be an overwhelming flavor!
Cucumber salad — This reminds me of the fresh cucumber salads my grandmother used to make when I was growing up. – soak your cucumbers in a little vinegar& water solution (I'm not a fan of the straight vinegar) for five minutes, then sprinkle with a little sugar and a little onion powder. This is a sweet and sour treat.
Salt & vinegar – mix in a 1:1 vinegar and water solution (you can omit the water if you like it super vinegary), and sprinkle with a little finely ground salt. Not much, because it goes a long way!
GET EVEN MORE IDEAS: Best Seasoning Ideas for Veggie Chips
How to Make Cucumber Powder
Place cucumber chips into a blender or a coffee grinder and pulse until smooth. You could even use the seasoned cucumber chips you've already made!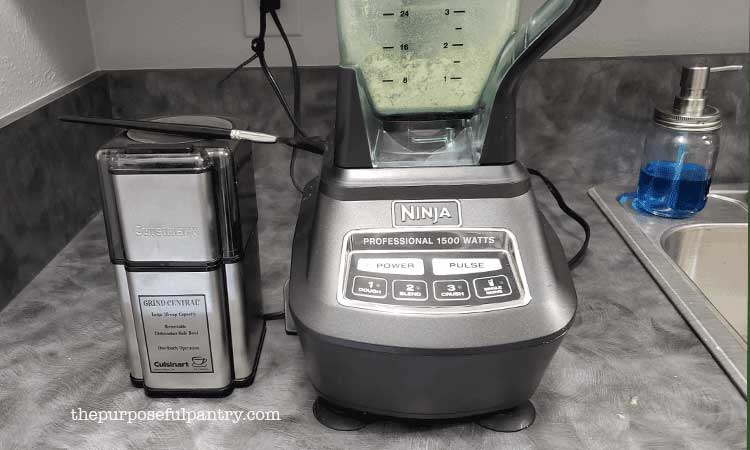 How to Store Cucumber Powder
Be sure to keep this powder in an airtight container not much larger than the amount of cucumber powder you have.
If you have a vacuum sealer, you can use any of the storage methods listed, above, for dehydrated cucumber.
If you would like to ensure that moisture isn't an issue in your jar, you can place a desiccant packet into your jar, as well


How to Use Cucumber Powder
Cucumber powder is very easy to make, but the bigger issue is how would you ever use it?
For some, the texture of cucumber may be an issue. It's watery and can water down a sauce easily. Thankfully, cucumber powder can replace grated cucumbers for flavor, without adding extra water or texture issues.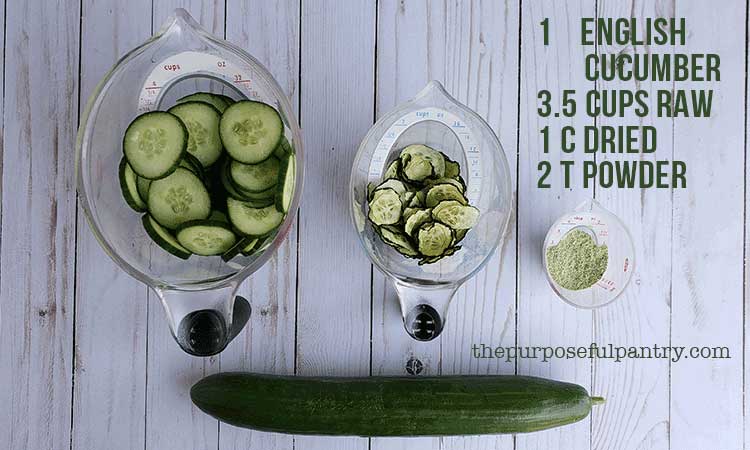 Use cucumber powder to add flavor to your favorite salad ranch-style dressing, or create a DIY version from scratch.
►Creamy English Cucumber Ranch Dressing Mix
You can multiply this mixture to make more for your pantry. Store in an airtight container.
(to use this as a seasoning on your cucumbers, omit the buttermilk powder)
To use mix wet:
Mix equal part of the mix with water to create a creamy cucumber ranch dressing for dipping veggies or topping your salads
To use mix dry:
Use dry to add a ranch dressing flavor to your favorite chicken or pork chop dredges, to popcorn, to oven-baked fries, to
dehydrated vegetable chips
, etc.
And to add a twist – how about omitting the salt and adding 1/2 half tsp. pickle powder instead!?
Or, to kick up the spice flavor a little, add 1 tsp of chili powder or jalepeno powder.
TIP: If you find that you just don't use cucumber powder as much as you thought, you can easily add it to your ongoing jar of vegetable powder.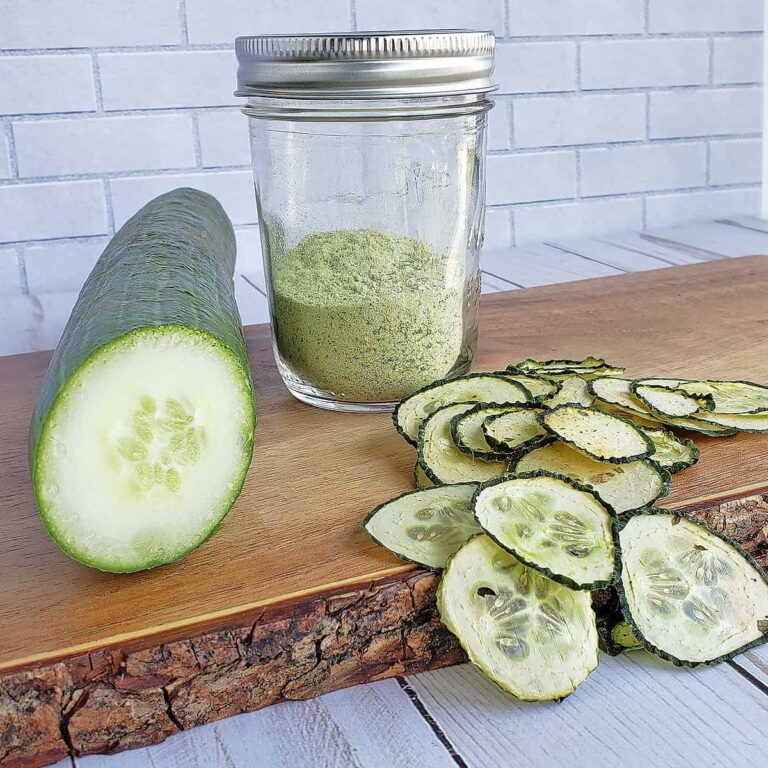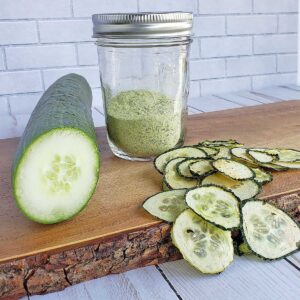 Dehydrate Cucumbers and Make Cucumber Powder
Learn to dehydrate cucumbers for snacks and for powder, plus get a great recipe for a shelf-stable DIY ranch dressing mix.
Print
PIN THIS!
Rate
Instructions
How to Dehydrate Cucumbers
Wash cucumbers – you can soak them in a vinegar/water solution to help remove wax

Slice into 1/4" coins – they will shrink a lot

Add favorite seasoning if making cucumber chips

Dry at 125F / 52C for approximately 6-10+ hrs

Allow samples to cool – should snap/crush easily when dry

Condition if putting up for storage

Store in airtight containers
To Powder Cucumber
Place cucumber slices into your grinder of choice

Process into a fine powder

Dry powder in a warmed (but off) oven for 15-20 min

Store in an airtight container with desiccant if preferred
Darcy's Tips
CREAMY ENGLISH CUCUMBER RANCH DRESSING MIX
To use mix wet:
Mix equal part of the mix with water to create a creamy cucumber ranch dressing for dipping veggies or topping your salads
To use mix dry:
Use dry to add a ranch dressing flavor to your favorite chicken or pork chop dredges, to popcorn, to oven-baked fries, to
dehydrated vegetable chips
, etc.
And to add a twist – how about omitting the salt and adding ½ half tsp. pickle powder instead!?
Or, to kick up the spice flavor a little, add 1 tsp of chili powder or jalapeno powder.
Nutrition
Calories:
9
kcal
|
Carbohydrates:
2
g
|
Protein:
0.4
g
|
Fat:
0.1
g
|
Saturated Fat:
0.01
g
|
Polyunsaturated Fat:
0.003
g
|
Monounsaturated Fat:
0.003
g
|
Sodium:
2
mg
|
Potassium:
102
mg
|
Fiber:
1
g
|
Sugar:
1
g
|
Vitamin A:
54
IU
|
Vitamin C:
2
mg
|
Calcium:
11
mg
|
Iron:
0.2
mg
Nutritional information is an estimation only. Nutrient information for dehydrated foods is based on fresh. Use 1/4 of the servicing size for the same nutrient information. Thus 1 Cup of fresh fruit has the same sugars as 1/4 dried.
©ThePurposefulPantry. Photographs and content are copyright protected. Sharing of this recipe's link is both encouraged and appreciated. Copying and/or pasting full recipes to any social media is strictly prohibited.