50 Incredible Uses for Peanut Butter Powder
Have a jar of peanut butter powder in your pantry but don't know how to use it? Here are 25+ incredible ideas to use peanut butter powder!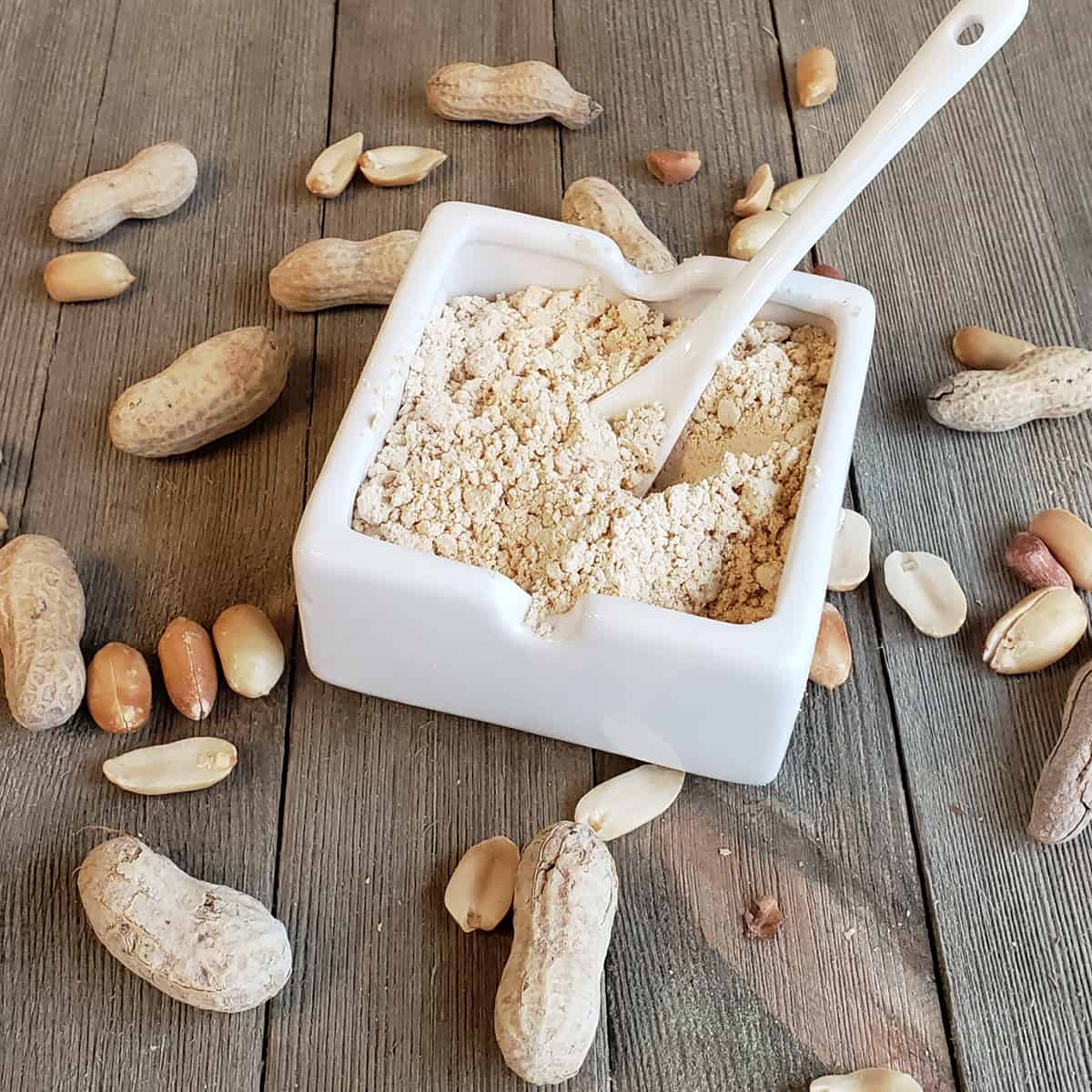 This post may contain affiliate links. As an Amazon Associate, I earn from qualifying purchases. Please read our disclosure policy.
Peanut butter is great on the pantry shelf, but may not have a long shelf-life because of the fats typically in peanut butter.
Peanut butter lovers can sigh a huge sigh of relief when it comes to long-term food storage.
Many food storage plans suggest having powdered peanut butter on the shelf, but don't really give you an idea of what it is or how to use it.
So let's dive into it! (you can read even more food storage tips here).
What is Peanut Powder?
Peanut butter powder, technically peanut powder, is roasted peanuts that have been pressed to remove most (but not quite all) of the oils, then ground into a fine powder. It is not simply dehydrated or freeze-dried peanut butter.
Nutritional Benefit of Powdered Peanut Butter
Contains 85% less fat than peanut butter – the missing fat is good mono-unsaturated, heart-healthy fat and Vitamin E.
Fewer calories: regular peanut butter – 200 calories vs. 25 calories from powder (per serving);
All the same protein and fiber of peanut butter;
Some manufacturers may add more salt and sugars – so be sure to check the label. (source: Consumer Reports)
How Long Does Peanut Butter Powder Last?
Peanut butter tends to go rancid because of the oils in long-term storage, but peanut butter powder can last for years with optimum storage conditions. So it makes a great pantry staple for long-term storage!
Once reconstituted, keep in the fridge for up to a week.
► Learn more: Freezer Tips When the Power Goes Out
Can I Dehydrate Peanut Butter?
As much as we love to dehydrate all the things around here – unfortunately, peanut butter is too high in fat to be effectively dehydrated. The extrusion process of removing all the oils before creating the powder in a commercial plant cannot be replicated in the home kitchen.
What does Peanut Butter Powder Taste Like
Different manufacturers create this nutty peanut butter alternative differently. Some taste like peanut butter, some have a bitter after taste.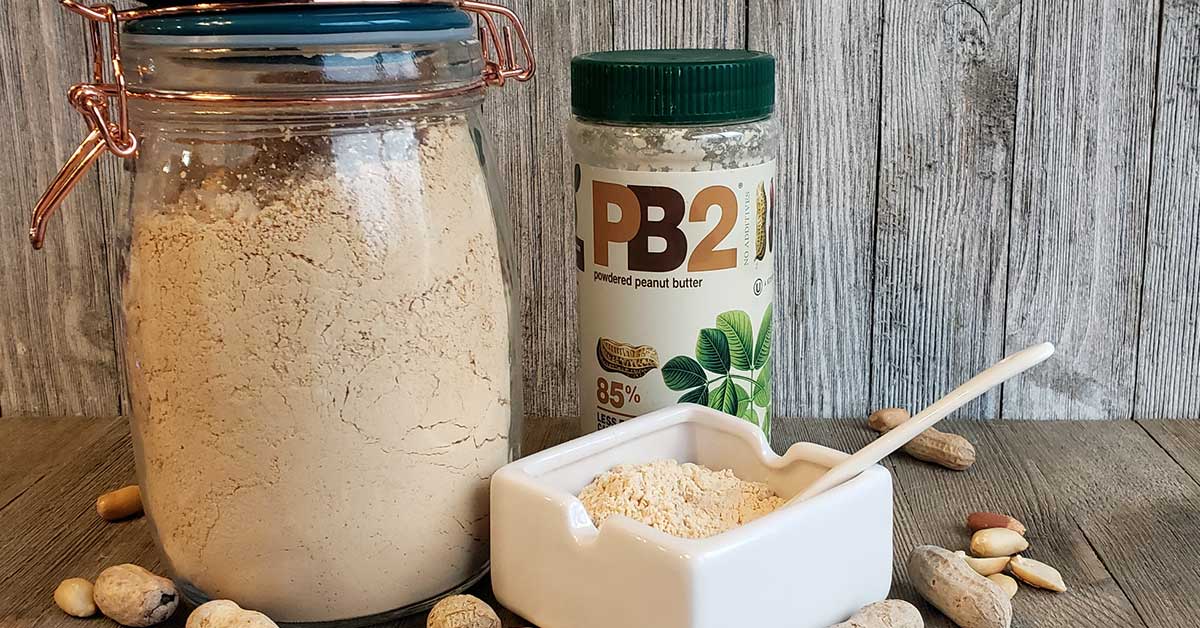 How to Use Peanut Butter Powder
Use these tips to add extra protein and flavor to all sorts of things you eat daily – all from your food storage without the added calories.
1. Peanut Butter Replacement
Peanut butter powder can be 'reconstituted' to make a peanut butter paste that is not too far off from creamy peanut butter.
I'm using the PB2 brand peanut powder, and your results may vary depending on which brand you get. JIF peanut butter powder has no added salt or sugar, so you may need to adjust accordingly.
► For Peanut Butter Paste – mix equal parts peanut butter powder to water. To make it even more spreadable, add a little more water.
While the package directions on PB2 call for 2 tablespoons of powder to 1 Tbsp water, I find the 1:1 ratio to be more pleasing.
► For Creamy Peanut Butter – mix 2 parts peanut butter powder to 1 part flavor-neutral oil (or some peanut oil if you have it!)
To make enough to replace peanut butter on a PB&J sandwich, you'll be using a fair amount of powder. However, if used as an accent or dip, you can really make it stretch.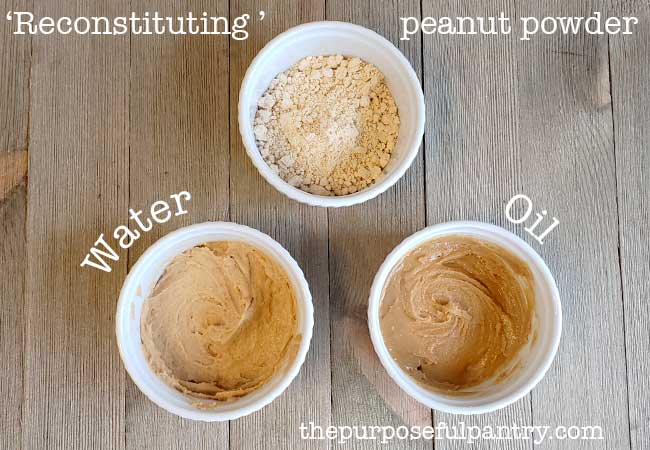 2. Smoothies
Take your favorite smoothie base recipe and blend in:
PB&J Smoothie – mix with some frozen berries
PB&B Smoothie – mix with frozen bananas
Peanut Butter Cup- mix with cocoa powder
3. Muffins and Pancakes
Mix in a little powder to your favorite muffin or pancake mix to add a hint of flavor and protein boost.
4. Oatmeal
Adding peanut powder lifts the taste of oatmeal. You can smash a banana to add some sweetness or add some berries. You can try these overnight oats for a quick breakfast treat.
5. Granola
Yes, you can add peanut butter flavor to granola or granola bars to give the peanutty taste without the added fats or calories.
Try this Chunky Monkey Granola for a super snack for the kids. Adding some chia or flax seeds to the mix also bumps the fiber and protein!
6. Hot Chocolate
Yes…add a heaping teaspoon to your hot chocolate for a delightfully tasty peanut butter cup hot chocolate!
7. Coffee
You can add some awesomeness to your chocolate lattes by adding 2 TB of cocoa powder & 2 TB of peanut butter powder to your favorite latte base.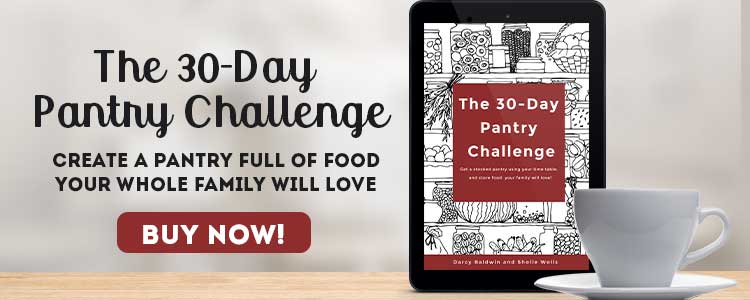 8. Asian Dishes / African
In many Asian- and African-inspired dishes, peanut butter is used to form tasty sauces. If you'd like to cut back on your calories, but still like the taste, add this nutty powder. Here's just a few to try
9. Snacks
Dehydrated Banana & Peanut Butter Chips – Sprinkle peanut butter powder on your banana slices, dehydrate at 135°F / 57°C until well done, and have some really yummy snacks! Don't forget to make the Peanut Butter Chocolate spread (see Dipping Sauces) to use as a fun dip for your banana chips.
Ants on a log – mix powder to create a creamy spread, fill in celery troughs, and place raisins on top.
Popcorn – instead of using salt or typical popcorn toppings – add a little protein to your snack and sprinkle with peanut butter powder.
10. Dipping Sauces
Dipping sauces make eating foods a little more fun, don't they? Here are a few you can use to spice up your dishes, both savory and sweet!
Spicy Peanut Aoli – use this for dipping chicken nuggets or tenders in, vegetable sticks, or use as a sandwich spread.
Peanut Butter Fruit Dip – Add a little cocoa powder (and extra liquid) to this recipe to make an awesome mock peanut butter cup dipping sauce, too!
Peanut Butter Chocolate Spread – 2 parts peanut butter to 1 part cocoa powder; add raw honey to taste.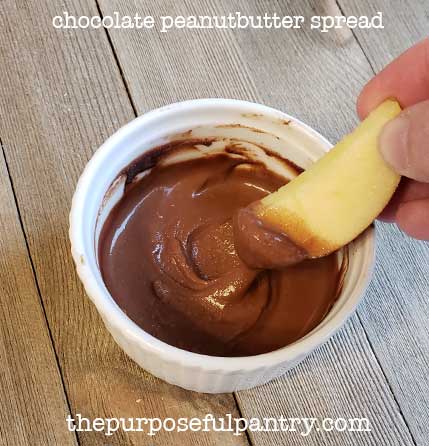 11. Rubs
Peanut Butter Chicken – Use 1 part peanut butter powder to 1 part whole wheat flour, season with garlic powder, cumin, and a little cayenne if you're feeling spicy. Then coat chicken tenders or cutlets and bake until done.
Peanut Butter Turkey — here's an interesting take on using a spicy peanut butter rub that you can replace the peanut butter with peanut butter powder + water.
12. Ice Cream
One of my favorite ice creams is peanut butter cup ice cream. Chocolate ice cream with rivers of peanut butter gooeyness inside. You can make peanut butter ice cream by adding peanut butter powder to your favorite ice cream base OR by mixing it into softened store-bought ice cream. Or make one of the peanut butter sauces at the top of the post and drizzle it over your ice cream!
13. Frosting
Add some peanut butter powder to your favorite buttercream frosting recipe.
14. Cookie Dough
Adding a little extra peanut butter powder to cookie dough can change the flavor of simple chocolate chips to a favorite peanut butter chocolate chip!
15. Baked Goods
Adding an awesome nutty flavor to chocolate desserts is a way to kick up the flavor. You can replace 1/3 of the flour with peanut butter powder or sprinkle some in for a hint of flavor.
Or imagine it in your favorite banana bread recipe!
16. Icing / Drizzle
Create a peanut butter 'sauce' by mixing peanut butter powder, water, and confectioner's sugar, and drizzling it over your favorite brownies or chocolate cake! This is also a great dip for apples.
17. Dog Treats
Don't forget your pup!! You can make some incredible dog treats with peanut butter powder! Give one of these a try this weekend!
Peanut Butter Chews
18. Candy
You can use it to add peanut butter flavoring to many sweet treats like fudge or these 2 Minute Chocolate Chip Truffles
19. Yogurt
Mixed with honey or syrup to create a drizzle in yogurt or a layer in a yogurt parfait.
Or make these fun Yogurt Peanut Butter Bites
Finally, give that overnight chia pudding trend to the test with this Peanut Butter Chia Pudding!
20. Frozen Treats
Hello, yes, please?! Try these frozen dessert treats with peanut butter powder!
Frozen Peanut Butter Cups – if you like frozen Reese's, you'll love this version, too! (tip, the peanut flour in the recipe is peanut butter powder!)
21. Side Dishes
Yes! You can use peanut butter in side dishes to add a new flavor interest.
22. Protein Balls
There are SO many great recipes for protein balls in the world. Here are a few that work well with peanut butter powder!
Even More Recipes
You can find more recipes at PB2Foods.com and at Jiff. But remember, for most recipes that you love already using peanut butter, you can use peanut butter powder, instead!
How is Peanut Butter Powder Made
While it would be great to be able to dehydrate peanut butter, unfortunately, it is not a great candidate.
So how do they do it?
Peanuts are put through an extruder to remove as much of the natural oil as possible. The pulp that is left is then dried and powdered.
However, there are reports that you can add maltodextrin to peanut butter to dehydrate and powder. The starch is said to bind with the fat to make it easier to powder. However, never having tried it myself, I'm not sure how shelf-stable that will actually be or if it is just good for very short-term use.
What Are Good Brands?
There are so many premium peanut butter powder brands coming to the market as it becomes more popular in high protein diets, etc., it is hard to list all the brands. But here are the top choices:
JIF Peanut Butter Powder has no added sugar, salt, or artificial sweeteners. It is roasted peanuts and the only peanuts-only brand I know at the time of this article. Consumer Reports rated Jiff the best-tasting peanut butter powder, with very little bitter aftertaste.
PB2 – This is the powder I stock. It does have added sugar and salt (not much). Some reported a slight bitter aftertaste, but I don't find it tastes that way.
Auguason Farms – Usually known for their freeze-dried and dehydrated foods for emergency storage, Augason Farms also stocks long-term storage items. It is the most cost-effective variety.
Naked PB
PBFit
While peanut butter powder may not be on my list of 20 Essential Pantry Items You Need to Store, it does make my list of "The next 20 awesome pantry items you need to stock for your pantry" list. If for nothing more than its shelf-stable, long-term storage benefit and the 'skinny' protein boost it adds to so many dishes, this peanut butter alternative is an awesome addition to anyone's pantry.
FAQ
Can I dehydrate peanut butter?
Unfortunately, no. The fat content in peanut butter makes it problematic to actually dehydrate well.
Can I make peanut butter from peanut butter powder?
Use 2 tablespoons of powder to 1 tablespoon of water and blend. I find the 1:1 ratio to be more pleasing.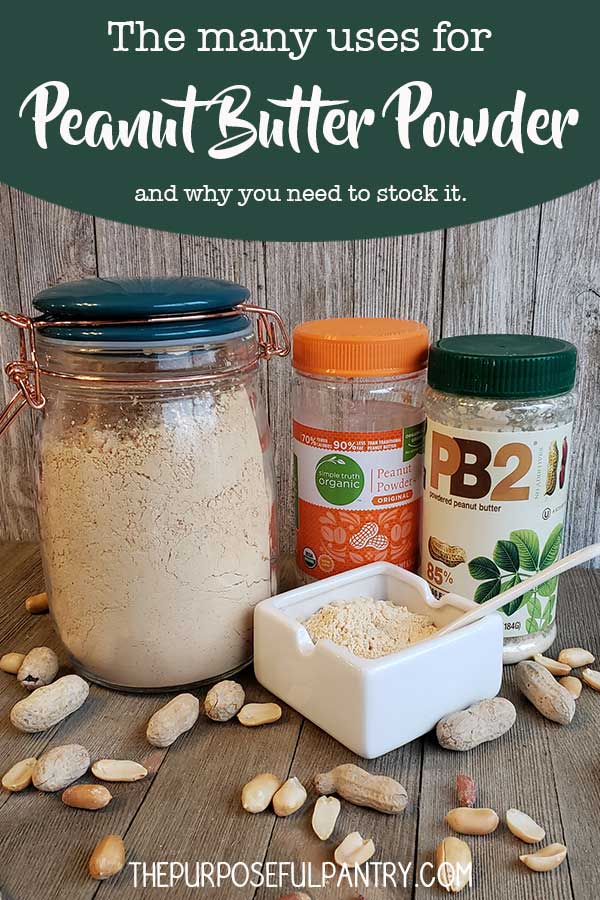 This post was updated 9-5-2023.