Use this Basic Pantry Staples Checklist to help you learn what the basics are for a well-stocked, pantry that fits your family's needs and helps you create meals your family will love. You can easily adapt this for long-term storage.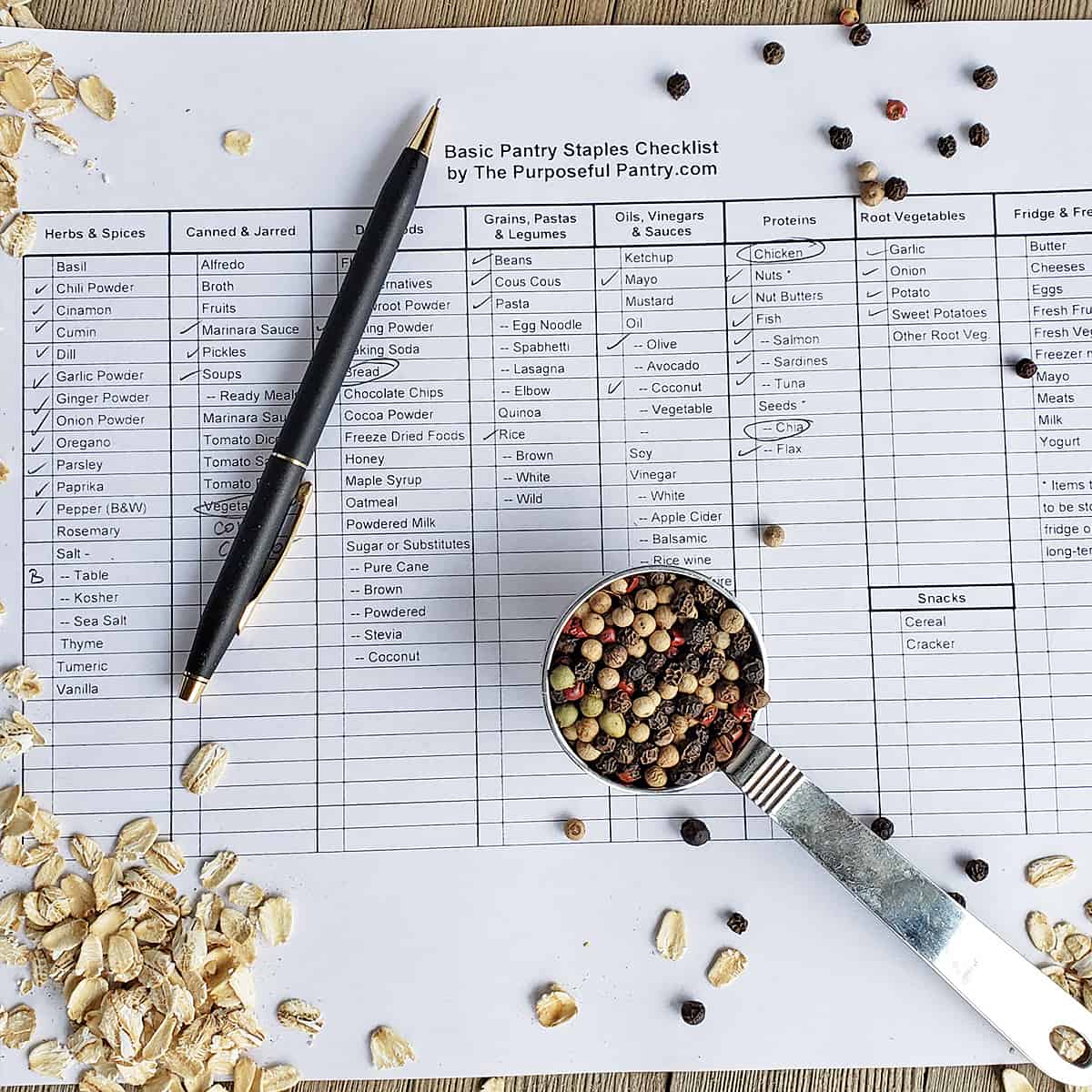 Do you ever open your pantry and wonder what the heck you're supposed to have stored?
My mantra is always - store what you eat, eat what you store. But unless you've gone through and done a huge list on your own, it is daunting to know where to get started.
It would be awesome if there was a list somewhere, that you could download and have to check off and have a good idea of the 50 basic pantry items you should have? I can help!
This list will help you stock basic pantry items whether you're starting from scratch or rebuilding your pantry to do more from-scratch cooking. You're certainly encouraged to stock past this list! But huge, massive lists can be very daunting to some to get started, so this one will help you get on the right track.
A note about special diets: There are lots of special dietary needs that vary from family to family. Use this list to help you get started, adjust for your family's special needs, and wants.
Storing Basic Pantry Staples
The enemies of food storage are air, moisture, light, and bugs. Thus, pantry staples should be stored in airtight containers, in a cool, dry, and dark place in airtight containers.
Your containers can range from the super organized and spendy containers to Grandma's mason jars. But don't get obsessed about the Pinterest-pretty pantry. Be sure your containers are airtight, and workable for your space. Work first at creating a pantry that fits your family's needs with good food to last.
Those Pinterest-pretty pantries are often aesthetically pleasing with cool colors and airy spaces, but have you noticed how little food they actually hold? And not many of us have the huge pantries you see in some of those images. It's important to know how to work within your own space and make it workable.
In most cases, I do recommend you remove things like pasta and rice and dry beans from their original packaging, and place them into airtight containers, no matter which ones you choose. This packaging wasn't meant for long-term storage, and can allow bugs, air, and moisture to get in over time.
Basic Pantry Staples That Should Be in Your Kitchen
Herbs, Spices & Seasonings
Typically herbs and spices are good for no more than a year in their ground state. You can test them by using your nose. If, after you've ground a bit in the palm of your hand, you don't have a strong scent coming through, you should replace it.
It is best to store spices in their whole state (pods, seeds, dehydrated roots, etc.), you can further the storage to a few years in airtight containers.
There are so many more herbs and spices that you can store in your pantry, grow in your herb garden and stock in your freezer. This list is a good starting place as you begin cooking more.
I've chosen my favorite 15 herbs and spices for my new DIY spice rack!

Canned & Jarred Goods
Many of these items are ones that we can eat fresh and frozen. Canned almost seem a distant third cousin. However, for a well-stocked pantry, having canned varieties of the foods we usually eat can help with quick meals when someone is sick or quick meals.
Broth - try to stock organic if possible - great for soups and for sipping after sicknesses
Fruit - pick a few of your favorite varieties, and make sure some of it is applesauce (another great one for sick times)
Pickles - they are great for snacks and dehydrate well for pickle chips, too.
Soups - Such an easy convenience food, especially for sick times
Spaghetti - this makes such a quick and easy meal, it's become a basic staple in most American kitchens
Tomato - pureed, diced and sauce - helps make for quick meals if it's not the height of summer and you haven't frozen or canned your own.
Vegetables
Heating Note: Did you know that you can heat most canned foods in a fondue pot?! It's a great item to keep stored in your kitchen gear for an alternative cooking source during power outages from the weather. Keep an eye out for them at garage sales and thrift stores! And make sure to stock up on fuel, too!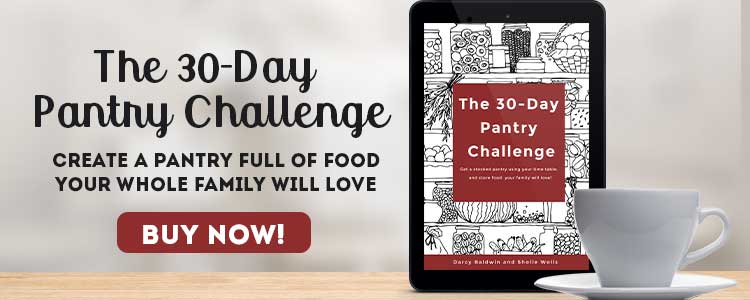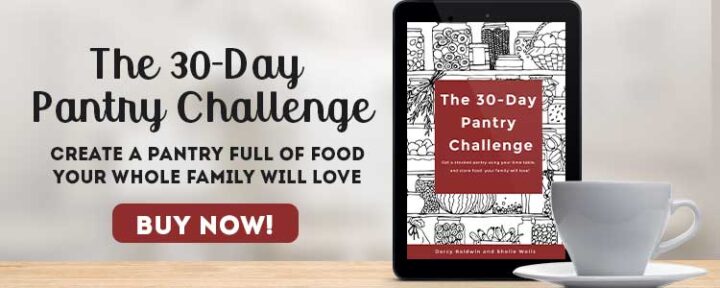 Dry Goods
Flour - all-purpose, whole wheat, almond,
Arrowroot powder - use as a thickener and for helping keep dehydrated powders dry
Baking Powder
Baking Soda -- and there are more uses for baking soda than just making soda bread and kids' volcano projects!
Bread
Chocolate chips - Necessary? Maybe not, but it does help make everything a little better - from chocolate chip oatmeal cookies to chocolate chip pancakes to a little extra richness in hot chocolate, especially if you store it properly.
Cocoa Powder - like chocolate chips, this is not necessary, but certainly helpful in creating comfort food for the family.
Freeze-Dried Foods - convenience yes, but with the variety of foods that are available in freeze-dried forms that last for years and years, it's worth it to stock up on freeze-dried ingredients to help meal prep go so much more quickly. Plus all the freeze-dried fruit is a great snack!
Honey
Maple Syrup
Molasses - good for cookies and for making your own brown sugar
Oatmeal (Steel cut oats or rolled oats)
Powdered Milk - can take the place of fresh milk when baking or if fresh milk is not available during emergencies
Sugar - white, brown (or just make your own as needed), powdered, stevia, coconut sugar, monk fruit, etc. Pick your poison 🙂
Grains & Pastas
Beans - store both canned and dried varieties of your favorite beans. Don't like beans? There are still many creative ways to use beans in your kitchen!
Couscous - a "grain" that is really little pasta pearls
Quinoa - a full protein seed that is classified as a grain.
Rice
Barley
Pasta - spaghetti, elbow, linguini, lasagna and/or shells.
Oils, Sauces & Vinegars
Avocado Oil - I use this to cook with as it can handle the high heat, has little flavor and is a healthy fat to cook with
Coconut Oil - refined and unrefined - and good for so many more things than just cooking
Ketchup
Mayo - of course, you can make your own as needed
Mustard - yellow, dijon, spicy, honey, grain, powder (you can just stock powder and make your own mustard as you need it).
Olive Oil - regular and extra virgin
Vegetable Oil / Canola oil
Soy Sauce
Vinegar -- white, organic apple cider, balsamic, red, and white wine. Start with regular and build up your choices
Worcestershire Sauce
Proteins
Even if you store lots of meats in your freezer, you want a backup in case of a power outage or other long-term emergency. Never leave yourself with only one means of feeding your family.
Chicken - either canned or freeze-dried
Nuts & Seeds - flax and chia seeds (both can replace eggs in baking), pecans, walnuts, almonds, pistachio, etc. Store in the freezer for an even longer shelf-life.
Peanut Butter - or stock your own nuts and grind your own nut butters. Peanut Butter powder is a good alternative, too.
Freeze-Dried Eggs - great to either add extra protein to dishes, and they are great for the backup if your chickens are slow to produce.
Salmon, Sardines, and other fish
Tuna
Canning note: Canning can really help bulk up your protein supply in your pantry. Once canned, many types of meat are ready to eat and just need a little warming up.
Vegetables
Garlic
Onions
Potatoes
Root Vegetables
My Pantry Includes Things in the Fridge & Freezer
Yes, my "Pantry" includes refrigerator items. These are the staples I keep on hand and should be in every kitchen
Butter
Cheese - both fresh in the fridge and frozen for long term (you can sprinkle a little arrowroot powder in your shredded cheese before freezing to help it not stick)
Eggs - I freeze excess eggs, too!
Fresh/Frozen fruits & vegetables. You can dehydrate the most common frozen vegetables to save room in your freezer space.
Freezer meals -- ready to eat meals that can be used for times when you just can't cook much are such a basic pantry staple!
Mayo
Meats - chicken, beef, pork, fish and turkey, and any other you fancy. Realize that if the power goes out, you'll need to deal with them, but they are a great way to stock protein
Milk
Yogurt - quick and easy for making dips and sauces as well as breakfast. I suggest Greek, full-fat yogurt because the nonfat yogurt contains so much sugar. You can make your own yogurt using your cabinet-style dehydrator!
How to Stock Up on Basic Pantry Staples
Once you get a basic supply of in your pantry, you can keep an eye out on the sales cycles to know when they go on sale. Then you can stock up for however long you've set your goals for.
Most sales cycles last about six weeks, so that is a good starting point. You can use a price book to help you track what is the rock bottom price to stock up on. Also, keep an eye out for ways that you can get even better deals on those items you buy every day!
If you'd like to download a printable version of this checklist, you can sign up for the newsletter:
►Note: This worksheet needs to be printed in landscape mode.
Instructions:
If you would like to copy this and edit it for your own needs, click on the link, then follow these steps:
Click File
Click Download As
Click which editable version you would like to save it as (OpenDocument .ods will work in Google Docs)
Remember...this is a free resource from The Purposeful Pantry.com. By downloading it, you agree not to share with others, but to send them to this page in order for them to download themselves, thank you!
Last Thoughts ...
Remember, this is a very basic list for those just starting out, or those wanting to double-check their own pantries. You'll want to adjust the list to match any dietary needs you have.
Don't feel you have to have this done in one fell swoop, either. Get the ones marked that you need to purchase, and begin to add them to your grocery list week by week.
I hope this has helped you see a clear vision of what you can do with your pantry. Let me know, in the comments below, what you feel is a basic need in a pantry that might be missing from the list!