Need ideas on ways to use tomato powder? Check out all of the incredible ways to use tomato powder in day to meals, snacks, and even desserts!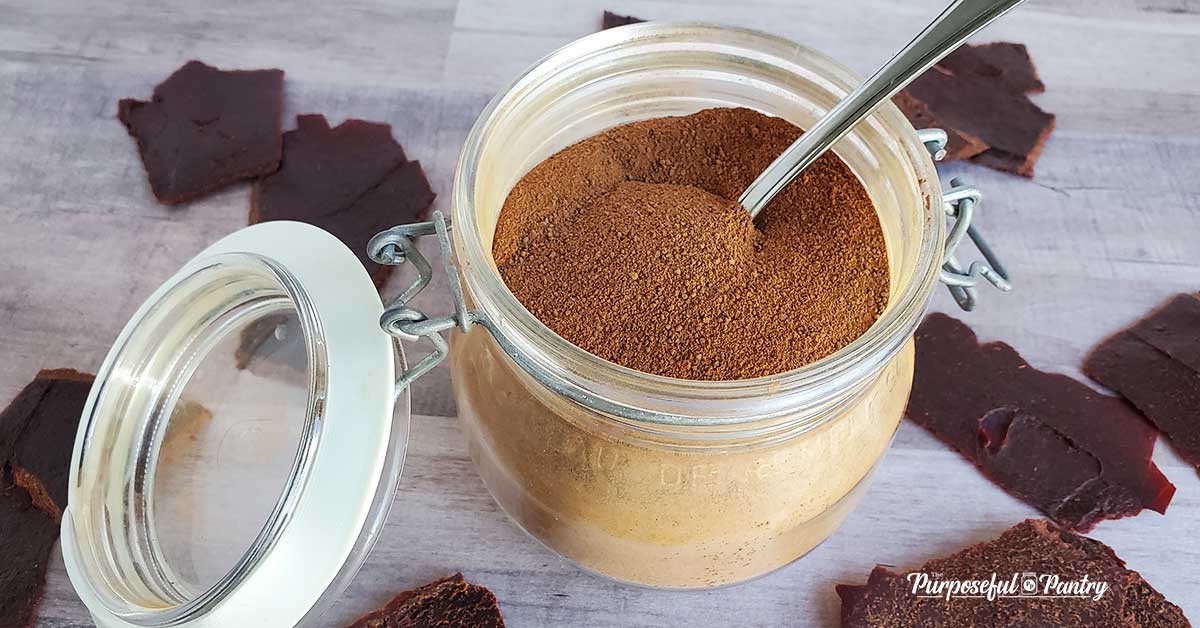 Two Ways to Make Tomato Powder
From Tomato Paste: Start simply with tomato paste any time of the year if you can't grow your own.
From Fresh Tomatoes: Dry tomatoes, including the flesh AND skins or just skins if you've got pulp left from canning tomatoes. At 125°F/52°C until fully dry.
If making tomato powder isn't an option for you, you can purchase commercially dried tomato powder from a variety of companies including Augason Farms or Thrive.
Ideas to Use Tomato Powder
Breakfast Dishes
Sprinkle in an egg dish - yummy as a garnish on fried eggs, and makes scrambled eggs elevated!
Sprinkle into your gravy for biscuits and gravy (I remember my grandmother doing tomato slice and loving the change of taste)
Try that tomato gravy with these savory tomato biscuits and your DIY version of tomato juice cocktail from below.
Savory Dishes
Add to meatballs or meatloaf to increase the tomato intensity
Make pizza sauce with 4 TB tomato paste powder, 4 TB water, pepper, ½ TB dried oregano, basil and rosemary, 1 teaspoon garlic powder, and salt to taste. Mix with a little olive oil and 1.5 C water.
Add to curry sauces
Use as a base in a creamy rice dish
Use to flavor or color pasta
Sprinkle on a grilled cheese sandwich
Mix into chicken or tuna salad for a change of flavor
Tomato soup - 1 cup powder + 3 cups water + 1 tablespoon bouillon + ½ cup rehydrated caramelized onions, with Italian seasonings and salt to taste
Sauces
Mix with water to create a tomato paste or more water and create a tomato sauce
Create a spaghetti sauce from a mix (see recipe below)
Add to store-bought tomato centered sauce to boost the flavor and cover the 'tinned or commercial' flavor
Mix with a jar of diced tomatoes (or a large tin of diced tomatoes) and some garlic/onion powder to taste for a delish meatball sauce.
Sprinkle on buttered noodles with a little garlic powder and salt
Add to shepherd's or cottage pie to increase the intensity of the sauce
Make Ketchup - recipe below
Snacks & Spreads
Sprinkle on tomatoes with a little ranch dressing before dehydrating for tomato chips
Mix into cream cheese, sour cream or yogurt with vegetable bit powder (dehydrated vegetables not quite powdered fully) and a little garlic for bagel spreads or dips for veggies or crackers
Mix into hummus to change up the flavor
Mix with some Italian seasonings, garlic, and onion powder and sprinkle on pineapple before dehydrating.
Mix with whipped cream cheese and a little salt, garlic and onion powder (and dried veggie bits) to use as a sandwich spread
Sprinkle tomato powder onto a mini bagel, top with cheese, and have a 'cleaner' mini pizza bagel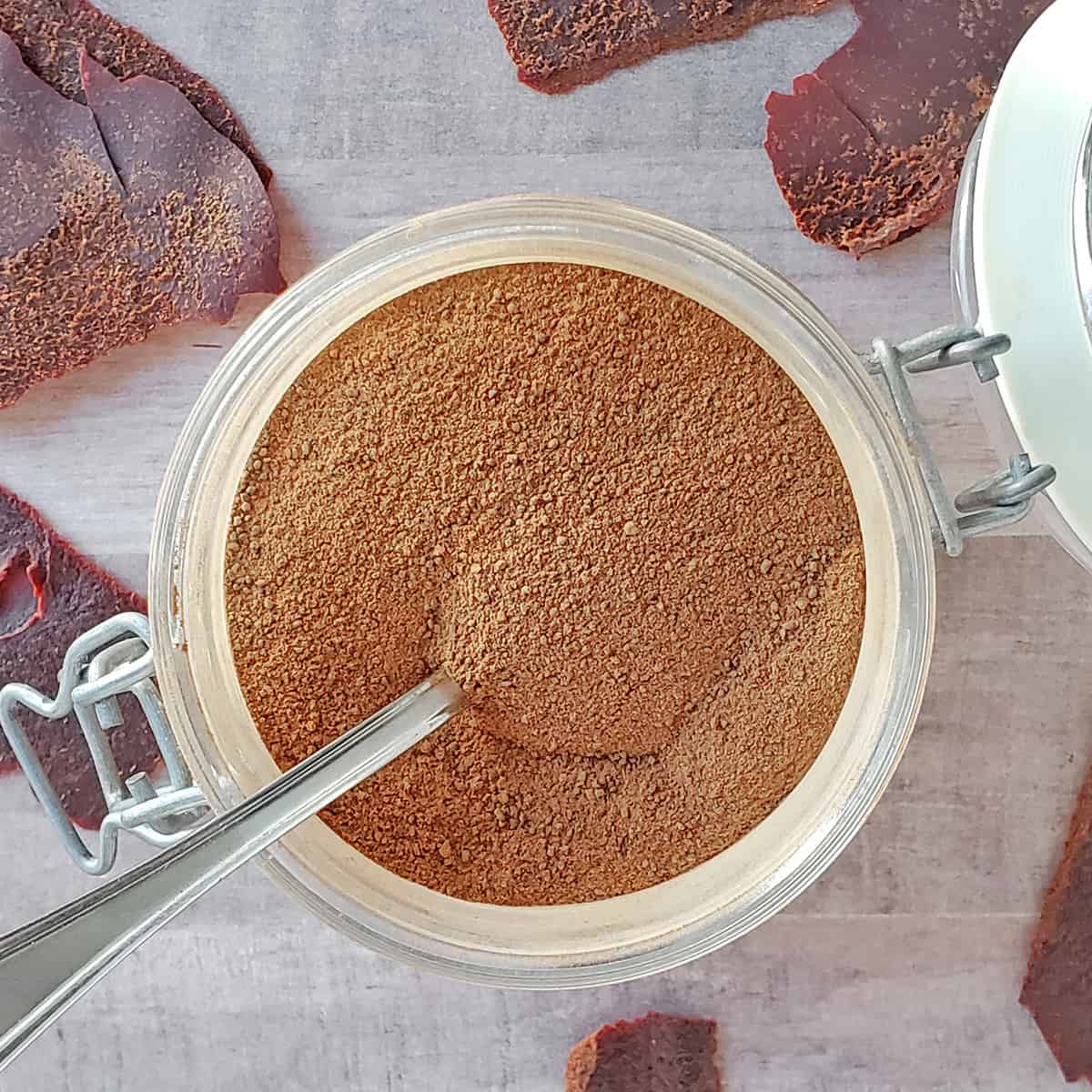 Seasonings
Add to BBQ rubs
Add to Jerky rubs
Mix with granulated garlic and sprinkle on potatoes or other vegetables before roasting
See recipe below for Cheesy Tomato sprinkle
Mix with granulated garlic, "bagel seasoning" and sprinkle on top of tomato slices for dehydrating, on top of homemade bagels, on top of celery stuffed with cottage cheese..... on toothpaste...YUM!
Drinks
Tomato juice: 8 Cups water + 1 Cup Tomato powder + salt to taste (add a little celery powder and vegetable powder to kick it up a notch. You may want to put the veg powder in a reusable tea bag and use it to flavor if you don't like the grit left at the bottom since it may not dissolve fully.
Bloody Mary Mocktail - see recipe below
Desserts
Add tomato powder to your favorite spice cake
Tomato Soup Cupcakes - just substitute the soup with the equivalent of tomato powder + water
Recipes Using Tomato Powder
Bulk Spaghetti Sauce in a Jar
Ingredients
½ TB dehydrated diced carrot
½ TB dehydrated celery
½ TB dehydrated bell pepper
1 TB dehydrated diced onion
1 TB dehydrated diced tomatoes
1 TB dehydrated vegetable powder
1 TB dehydrated green powder
2 TBS dehydrated mushroom pieces (or use powder to taste)
½ teaspoon salt
½ teaspoon garlic powder
½ teaspoon dried oregano (to taste)
1 teaspoon dried basil
4-5 TBS Tomato Powder
2 cups water or broth
½ TB oil

Instructions: Bring water to a boil, include ingredients, and simmer for 15-20 minutes. Use an immersion blender if you prefer a smooth spaghetti sauce.
Cheesy Tomato Snack topping
½ teaspoon tomato powder
½ teaspoon salt
½ teaspoon pepper
1 TB grated parmsan cheese (yes, the one from the an for shelf-stable topping)
Instructions: Sprinkle on top of popcorn, warm french fries, double or triple it for pizza crust or garlic bread, etc.

Bloody Mary Mocktail
2 Cups water + ¼ c tomato powder + vegetable powder
½ TB powder horseradish or 1 teaspoon prepared horseradish
1 good shake of hot pepper sauce (or some pepper powder)
1 teaspoon Worchestershire sauce
2 dehydrated lemon slices
Stir into a pitcher and give 30 min for flavors to meld. Serve over ice and garnish with lemon slices
Homemade Chili
Use your regular chili recipe and replace the canned tomato paste with reconstituted tomato powder.
To make the equivalent of a 6 ounce can tomato paste use 6 tablespoons tomato powder + ½ cup water + ½ teaspoon salt
Spaghetti Sauce
Like the suggestion above, you can make your family favorite spaghetti recipe and replace the tomato sauce with reconstituted tomato powder.
To make a 15 ounce can of tomato sauce use ⅔ cup tomato powder + 1 ¾ cup water + ¾ teaspoon salt
Homemade Ketchup
To make homemade ketchup use 6 Tablespoons tomato powder + 1 cup water + 1 ¼ teaspoon salt + ¼ teaspoon onion powder + ⅛ teaspoon garlic powder + ¼ cup honey + ⅓ cup white vinegar. Simmer for 20 minutes.
Homemade BBQ Sauce
Use the homemade ketchup recipe above and make 8 ounces of tomato paste – then use them to make this tasty Homemade BBQ Sauce from Tastes Better From Scratch.
We'd love to hear your ideas!
Please comment below with your favorite ways to use tomato powder!
Want even more ideas? Come join the Dehydrating Tips & Tricks Facebook group where there are tons of incredible folks making wonderful food from their dehydrated products all the time!