Need ideas on ways to use tomato powder? Check out all of the incredible ways to use tomato powder in day to meals, snacks, and even desserts!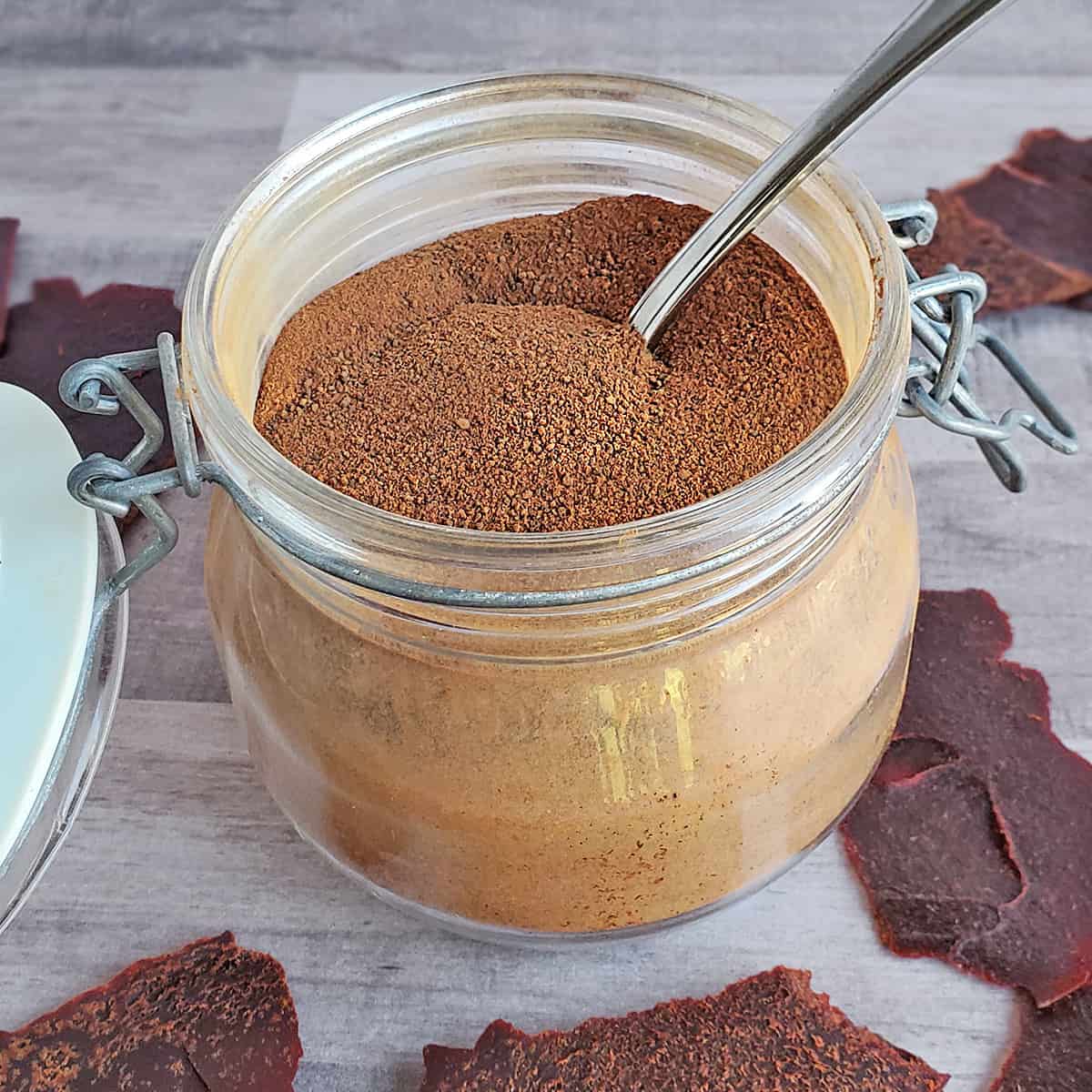 This post may contain affiliate links. As an Amazon Associate, I earn from qualifying purchases. Please read our disclosure policy.
Dehydrated tomatoes (and yes, you can use freeze-dried) are a wonder vegetable in the food preservation world. Meek and beautiful on their own, they can transform themselves into a powder that gives a wonderfully rich tomato flavor to so many things while not overpowering a dish.
Jump to:
Two Ways to Make Tomato Powder
From Tomato Paste: Start simply with tomato paste any time of the year if you can't grow your own.
From Fresh Tomatoes: dehydrate tomatoes (slices, dices or puree), including the flesh AND skins. Alternatively, use the leftover skins from canning tomatoes for a rich tomato flavor. Dry tomatoes in a dehydrator at 125°F/52°C until fully dry. You can dry tomatoes in the oven on a parchment paper lined cookie sheet at 170F/76C or lower, with the door propped open with an oven-safe spoon. Keep a sharp eye not to burn the tomatoes, but dry them.
Types of Tomatoes to Use
You can use any type of ripe tomato to create tomato powder. Most work best to puree first to create a leather and then dry. Meatier tomatoes can be sliced thin or diced and dried.
If making tomato powder isn't an option for you, you can purchase commercially dried tomato powder from a variety of companies, including Augason Farms or Thrive Life.
Ways to Use Tomato Powder
Breakfast Dishes
Sprinkle in an egg dish - yummy as a garnish on fried eggs and makes scrambled eggs elevated!
Sprinkle into your gravy for biscuits and gravy (I remember my grandmother doing tomato slice and loving the change of taste)
Try that tomato gravy with these savory tomato biscuits and your DIY version of the tomato juice cocktail from below.
Savory Dishes
Add to meatballs or meatloaf to increase the tomato intensity.
Make pizza sauce with 4 TB tomato paste powder, 4 TB water, pepper, ½ TB dried oregano, basil, and rosemary, 1 teaspoon garlic powder, and salt to taste. Mix with a little olive oil and 1.5 C water.
Add to curry sauces.
Add to beef stew to increase the depth of flavor.
Use as a base in a creamy rice dish.
Use to flavor or color pasta.
Sprinkle on a grilled cheese sandwich.
Mix into chicken or tuna salad for a change of flavor.
Tomato soup - 1 cup powder + 3 cups water + 1 tablespoon bouillon + ½ cup rehydrated caramelized onions, with Italian seasonings and salt to taste.
Sauces
Mix with water to create a tomato paste or more water and create a tomato sauce.
Create a spaghetti sauce from a mix (see the recipe below).
Add to store-bought tomato-centered sauce to boost the flavor and cover the 'tinned or commercial' flavor.
Mix with a jar of diced tomatoes (or a large tin of diced tomatoes) and some garlic/onion powder to taste a delish meatball sauce.
Sprinkle on buttered noodles with a little garlic powder and salt.
Add to shepherd's or cottage pie to increase the intensity of the sauce.
Make Ketchup - recipe below.
Snacks & Spreads
Sprinkle on tomatoes with a little ranch dressing before dehydrating them for tomato chips.
Mix into cream cheese, sour cream, or yogurt with vegetable bit powder (dehydrated vegetables not quite powdered fully) and a little garlic for bagel spreads or dips for veggies or crackers.
Mix into hummus to change up the flavor.
Mix with some Italian seasonings, garlic, and onion powder, and sprinkle on pineapple before dehydrating.
Mix with whipped cream cheese and a little salt, garlic, and onion powder (and dried veggie bits) to use as a sandwich spread.
Sprinkle tomato powder onto a mini bagel, top with cheese, and have a 'cleaner' mini pizza bagel.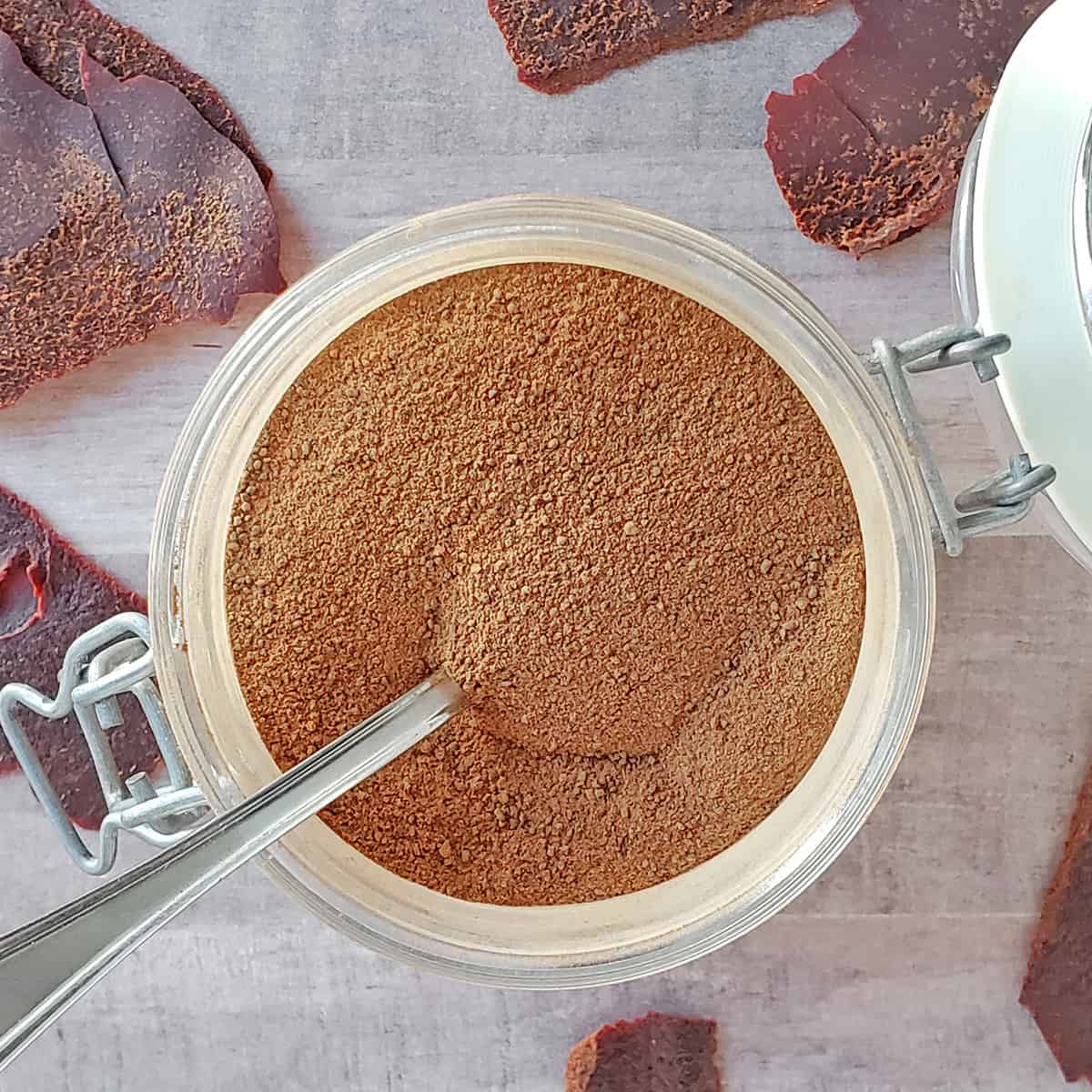 Seasonings
Add to BBQ rubs.
Add to Jerky rubs.
Mix with granulated garlic and sprinkle on potatoes or other vegetables before roasting.
See the recipe below for the Cheesy Tomato sprinkle.
Mix with granulated garlic and "bagel seasoning," and sprinkle on top of tomato slices for dehydrating, on homemade bagels, on celery stuffed with cottage cheese, or on toothpaste...YUM!
Drinks
Tomato juice:
TIP: Add a little celery powder and vegetable powder to kick it up a notch. You may want to put the veg powder in a reusable tea bag and use it to flavor if you don't like the grit left at the bottom since it may not dissolve fully.
Bloody Mary Mocktail - see full recipe below.
Desserts
Add tomato powder to your favorite spice cake.
Tomato Soup Cupcakes - just substitute the soup with the equivalent of tomato powder + water
Recipes Using Tomato Powder
Spaghetti Sauce in a Jar
Ingredients
Instructions:
Bring water to a boil
Add above ingredients
Simmer for 15-20 minutes.
Use an immersion blender if you prefer a smooth spaghetti sauce.
Cheesy Tomato Snack topping
Ingredients:
½ teaspoon tomato powder
½ teaspoon salt
½ teaspoon pepper
1 TB grated parmesan cheese. You can use fresh if you're snacking, but use the commercially canned version for storage or if making the topping in bulk.
Instructions
Sprinkle on top of popcorn, and warm french fries
Double or triple it for pizza crust or garlic bread, etc.
Bloody Mary Mocktail
Ingredients
2 cups water
¼ cup tomato powder
⅛ cup vegetable powder
½ TB powder horseradish or 1 teaspoon prepared horseradish
1 good shake of hot pepper sauce (or some pepper powder)
1 teaspoon Worchestershire sauce
2 dehydrated lemon slices
Directions:
Stir into a pitcher
Allow it to rest for 30 minutes for flavors to meld
Serve over ice and garnish with lemon slices
Homemade Chili
Use your regular chili recipe and replace the canned tomato paste with reconstituted tomato powder.
To replace one 6-ounce can of tomato paste mix
6 tablespoons tomato powder
½ cup water or broth
½ teaspoon salt (optional)
Allow to rest and adjust as needed for preferred consistency
Spaghetti Sauce
Like the suggestion above, you can make your family's favorite spaghetti recipe and replace the tomato sauce with reconstituted tomato powder.
To replace one 15-ounce can of tomato sauce mix:
Homemade Ketchup
Ingredients:
6 Tablespoons tomato powder
1 cup water
1 ¼ teaspoon salt
¼ teaspoon onion powder
⅛ teaspoon cayenne pepper
⅛ teaspoon garlic powder
⅛ teaspoon ground clove (optional)
⅛ teaspoon ground allspice (optional)
¼ cup honey
⅓ cup apple cider vinegar
Directions:
Simmer for 20 minutes.
Cool and serve
Store in the refrigerator for up to three weeks.
Homemade BBQ Sauce
Use the homemade ketchup recipe above and make 8 ounces of tomato paste – then use them to make this tasty Homemade BBQ Sauce from Tastes Better From Scratch.
We'd love to hear your ideas!
Please comment below with your favorite ways to use tomato powder!
How long does tomato powder last?
Optimally, tomato powder lasts for 6-9 months. But you may find you get longer on the shelf. If you can still identify it by smell and taste, it's still good.
Is tomato powder the same as paprika?
No. Paprika is made from peppers as opposed to tomatoes.
Does tomato powder dissolve?
No. It will incorporate itself into a dish but mixed just with liquid, it does not completely dissolve, and you may have some 'grit' left at the bottom of a glass.
📖 Recipe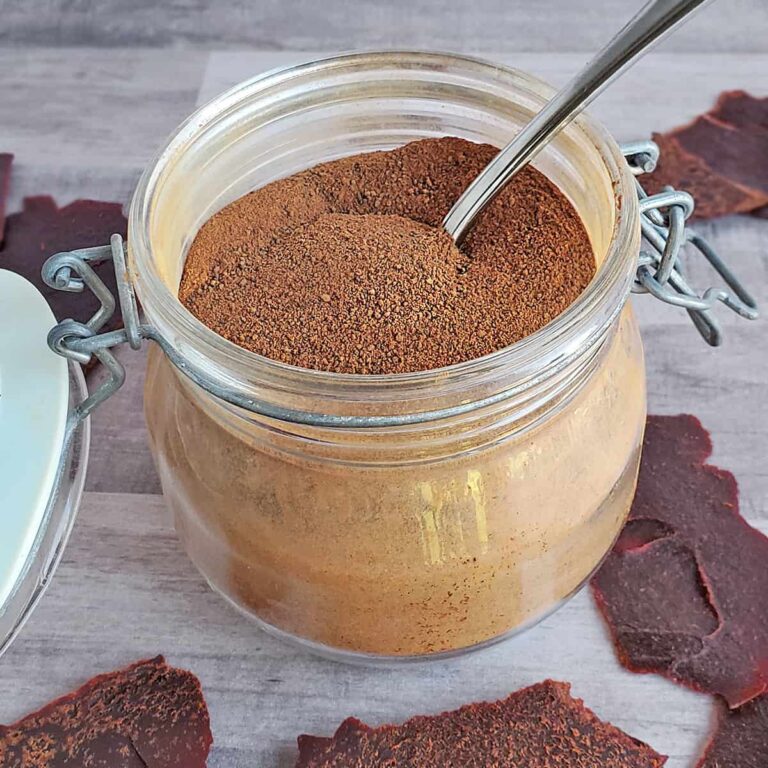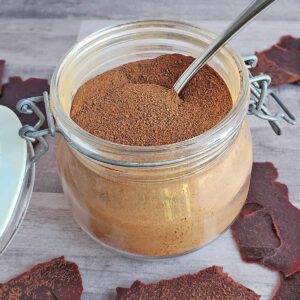 Bulk DIY Spaghetti Sauce in a Jar
Use tomato powder to create a fabulous DIY spaghetti sauce in a jar that you can use to create emergency meals, camping meals, or just make quick meals at home from your pantry.
Print
PIN THIS!
Rate
Instructions
Bring water to a boil in a medium saucepan

Add above ingredients

Simmer for 15-20 minutes.

Use an immersion blender if you prefer a smooth spaghetti sauce.
Darcy's Tips
Mix this in large quantities for shelf-stable spaghetti sauce for long-term storage.
Store in an airtight container for about a year.
Nutrition
Calories:
22
kcal
|
Carbohydrates:
2
g
|
Protein:
0.4
g
|
Fat:
2
g
|
Saturated Fat:
0.1
g
|
Polyunsaturated Fat:
1
g
|
Monounsaturated Fat:
1
g
|
Trans Fat:
0.01
g
|
Sodium:
294
mg
|
Potassium:
71
mg
|
Fiber:
0.5
g
|
Sugar:
1
g
|
Vitamin A:
391
IU
|
Vitamin C:
2
mg
|
Calcium:
13
mg
|
Iron:
0.4
mg
Nutritional information is an estimation only. Nutrient information for dehydrated foods is based on fresh. Use ¼ of the servicing size for the same nutrient information. Thus 1 Cup of fresh fruit has the same sugars as ¼ dried.
©ThePurposefulPantry. Photographs and content are copyright protected. Sharing of this recipe's link is both encouraged and appreciated. Copying and/or pasting full recipes to any social media is strictly prohibited.