Learn how to dehydrate parsnips and carrots for a colorful, healthy snack that even your kids will love! And you'll have a soup-ready vegetable that needs no prep!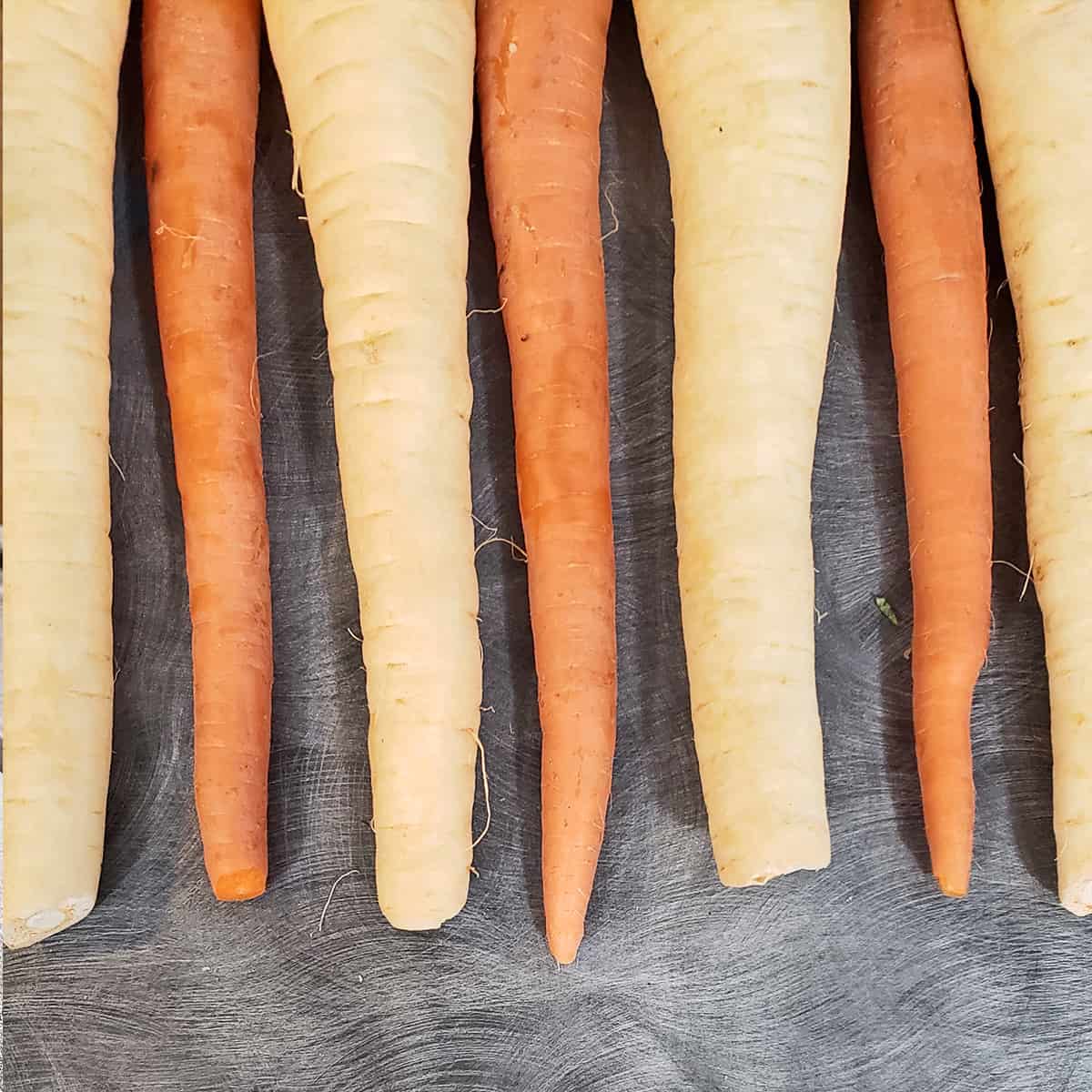 A carrot stick with a side of ranch dressing is a typical lunchtime side dish for lunches or after school snack.
But what if you could do something amazing with carrots that would elevate snack time, introduce a new food to your kids, allow you to stock your pantry with a ready-made ingredient for soup, and feel better about what you're feeding your kids? Win-win, right?!
Better yet, build your food storage with parsnips & carrots that are at the ready the next time you want to make Shepherd's pie, or toss some extra veggies into your next soup or stew! You can do that with dehydrated parsnips & carrots.
So let's look at the humble parsnip! It's carrot's root cousin, with a starchier texture and more peppery punch. They make great sticks to dip in hummus, coins to dip in ranch dressing just like carrots do, and offer an additional flavor profile. Consider shaking up your child's lunchbox with both parsnip & carrots and some peanut butter hummus!
Let's get started on this really easy to do project to build both your food storage and snack offerings!
How to Dehydrate Parsnip & Carrots
1. Cut, wash and peel your parsnips and carrots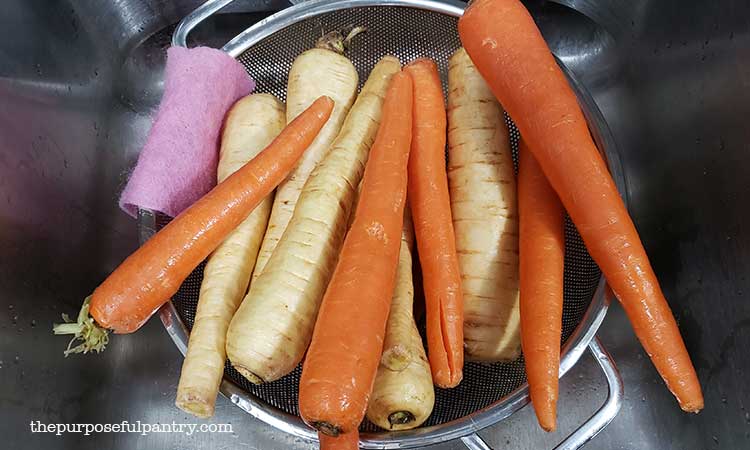 If you are harvesting your own parsnips and carrots! They can be dehydrated and incorporated into green powder!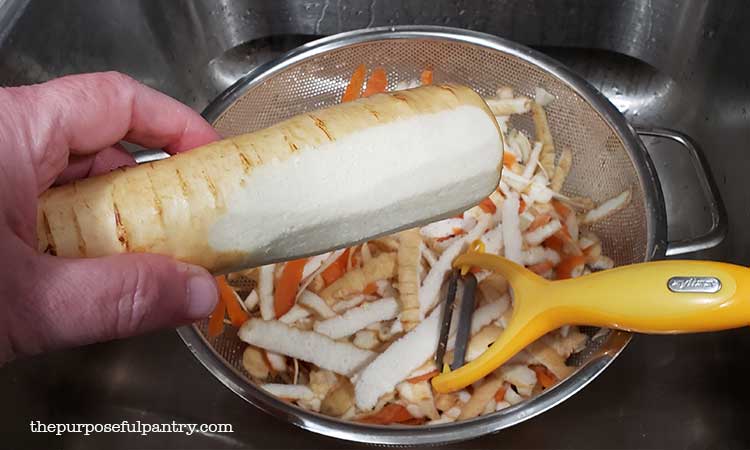 2. Cut into thin coins
Cut less than ¼" or use a mandoline AND a protective glove)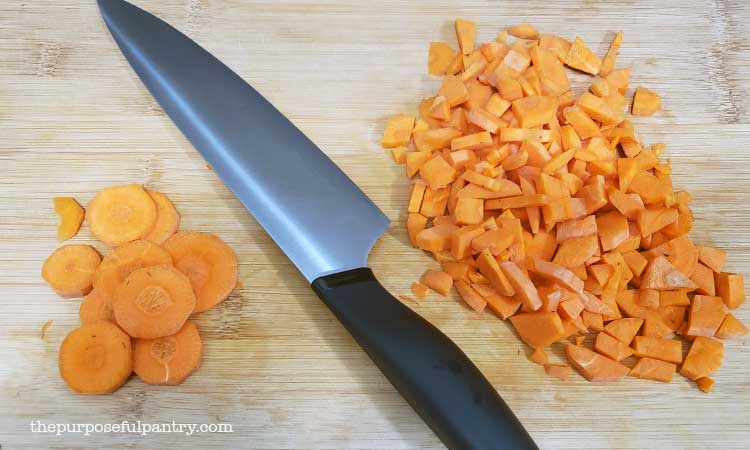 I also chopped up the coins into smaller pieces in order to make them a little easier to store, a little easier to toss into a soup or stew when ready to use. We find them better for our texture preferences. You can also do this with a food processor if you have one.
3. Blanch Parsnips and Carrots
Blanch parsnips for four minutes for parsnips, four minutes for carrots. The timer starts at boiling.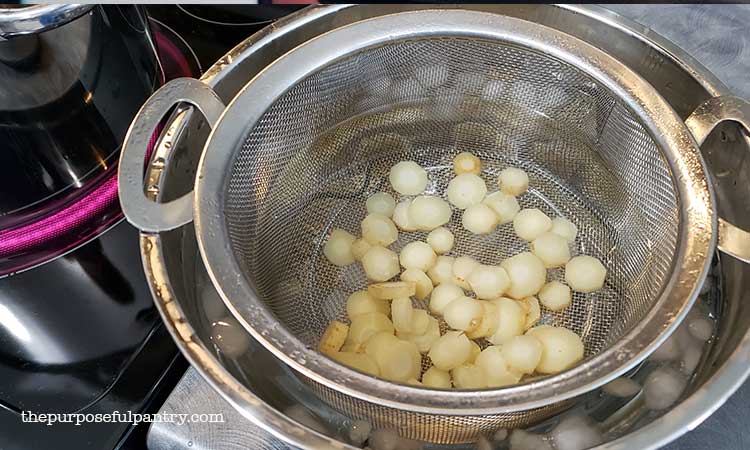 4. Place on dehydrator trays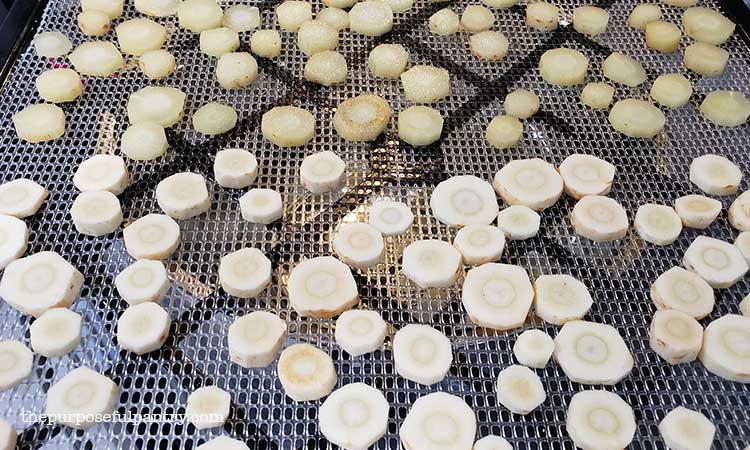 5. Dry at 125F / 52 C for 4-6 hours
6. Cool and test
Allow the coins to come to room temperature. You're looking for crisp, not chewy pieces.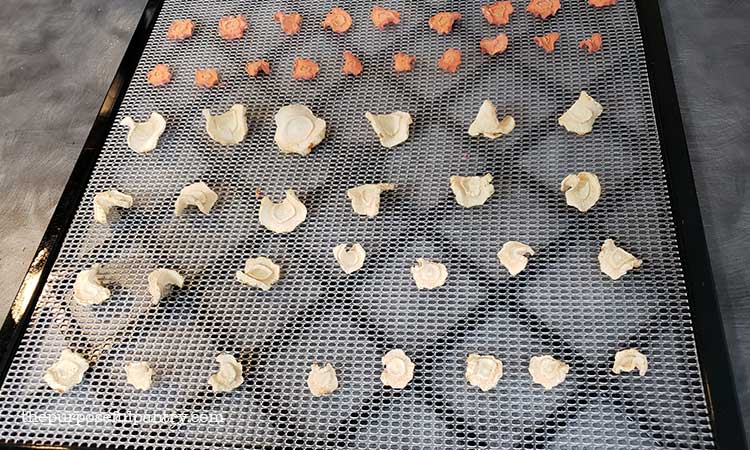 7. Store in airtight containers
Storing in an airtight container for snacking. Vacuum seal into canning jars if storing for food storage in the pantry.
How to Rehydrate Dried Parsnips & Carrots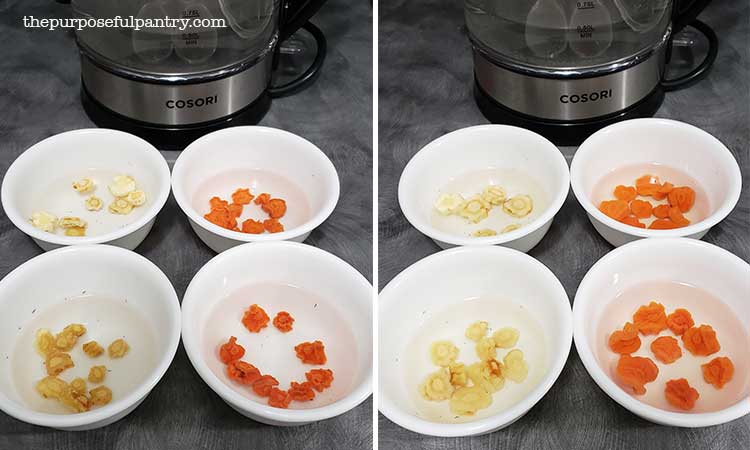 Fill a bowl with the desired amount of parsnip or carrot coin
Cover with boiling water and allow to sit for 30-45 minutes
Alternatively, you can throw coins or bits into a stew or soup that will simmer for at least 30 minutes.
How to Dehydrate Parsnips & Carrot Chips
You'll want to ensure that you have young parsnips and carrots for this. The longer they've been languishing, the tougher they become, and the more fibrous centers they have.
Wash, cut and peel parsnips and carrots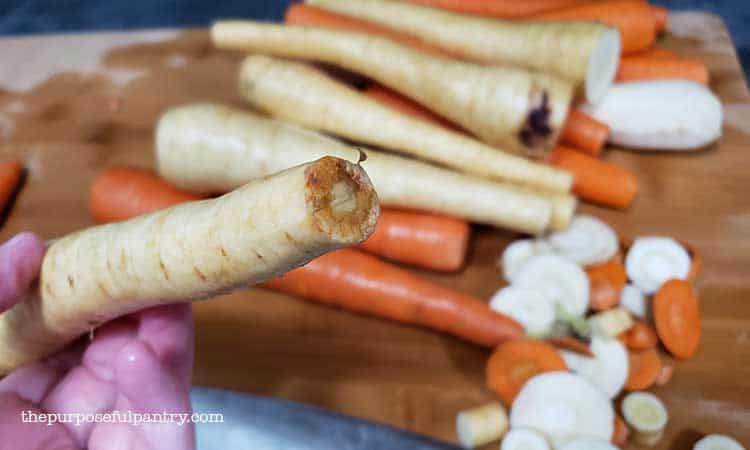 When you have store-bought parsnips, be sure to cut off the ends for this reason. They are always best up to a few weeks after harvest when purchased from a store, but the cut ends still can develop this condition and need to be cut off from the rest.
Add Seasoning Toppings
Sprinkle desired toppings by hand, or place coins in a bowl with the seasoning blend of your choice and toss to cover. You can get a great list of seasoning blends for veggie chips here.
*Note, you can add a touch of lemon juice to help seasonings adhere, or even oil. However, understand that the addition to even a small amount of oil inhibits storage, so these would need to be snacks that you eat soon, rather than put on your shelves for storage.
Place on dehydrator trays.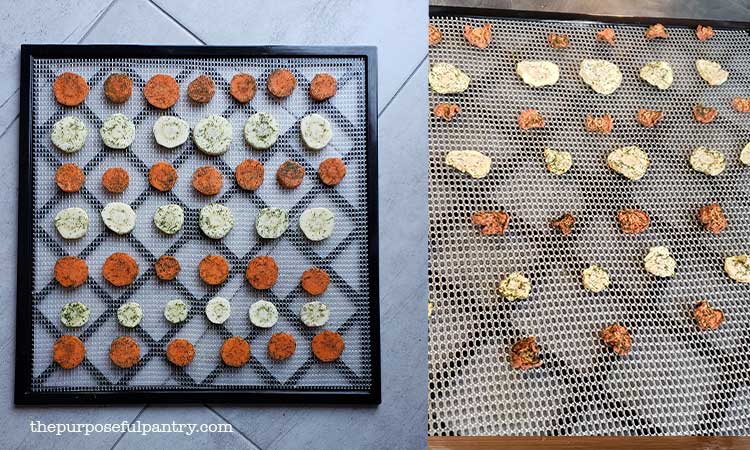 Dry at 125F / 51C for 4-6 hours until done
Cool and Test
Allow to cool to room temperature and double-check for doneness. Coins should be crisp and not chewy.
Store in an airtight container.
Stored in an airtight container. Do not rely on zip-top bags as they are air permeable over time, and for dehydrated goods, this is bad. Just an airtight container is great. Think mason jar or other food storage container.
Flavor Ideas for Parsnip Chips
Lemon juice, dill, and salt
Nutritional Yeast
Butter Buds
Do you have a favorite seasoning blend to use? Share it with us in the comments below!
Should I Blanch Parsnips & Carrots Before Dehydrating?
Conventional knowledge suggests to blanch parsnips and carrots before dehydrating them if you intend to use them for cooking later. Why?
It helps maintain color;
It helps break down enzymes to make food more digestible for our bodies, e.g. greens;
Makes rehydrating easier;
Improves the texture of the vegetable in a dish.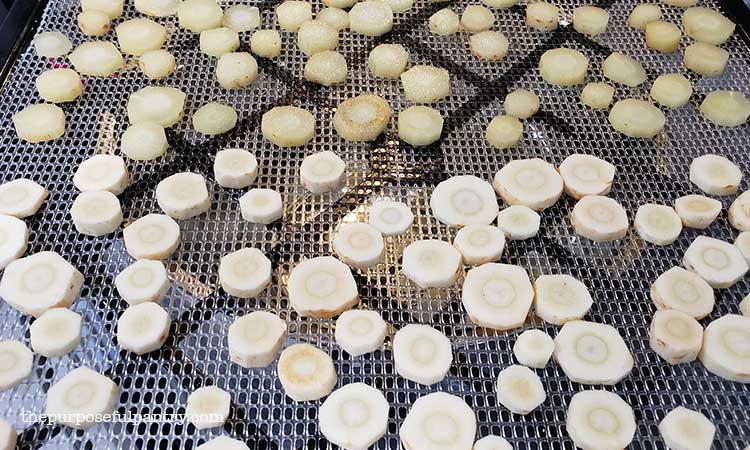 **However, my experience is that parsnips just don't need to be blanched.
The color isn't preserved but turned yellow
The resulting dehydrated piece became a rock
Rehydrating did not improve the texture of the parsnip at all - we still prefer the taste of the non-blanched parsnip in our dishes and for snacking.
HOWEVER - the enzymatic process still happens which makes them more shelf-stable over time.
Our results for the testing of carrots were the same. Yes, they became a little more bright orange, and yes, they may maintain that orange color for longer in long-term storage, but our enjoyment of them after was lessened by blanching than not.
As far as the need for blanching for these particular root vegetables, it is a matter of personal choice. There are other root vegetables that do, indeed, need to be blanched before dehydrating and storing, and even for making snacks. But for carrots and parsnips? Save yourself the step!
Additional Ways to Preserve Parsnips
If you're looking for more ways to use a bountiful parsnip harvest, or a really great sale at the store, try these parsnip recipes!
Mashed Parsnip & Potatoes (this freezes just fine!)
Lacto-fermented Carrots & Parsnips
How to Dehydrate Carrot Tops and have Carrot Top Powder
If you're lucky enough to grow your own parsnips, too, you can do this with those greens as well.
Cut from carrot
Wash and spin dry (or layout on a towel to drain)
Dehydrate at 95-115F for 3-5 hours
Grind into powder
Store in an airtight container